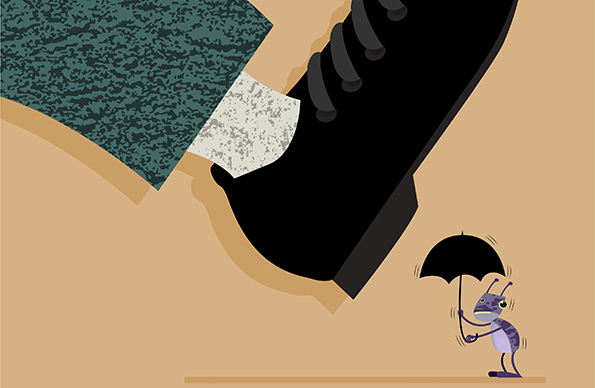 Travelers may bring home more than just memories from their next trip. Bedbugs are on the rise. Pest control company Orkin, which clears the pesky critters from five-star hotels, private homes, office buildings and public transportation, reports an 18 percent increase in business from 2013 to 2014.
Bedbugs are about the size of an apple seed. They feed on human blood, and their bites cause severe itching and welts. The insects have been found in all 50 states; often hitching rides in the suitcases of unsuspecting travelers.
Most hotels today are proactive about preventing bedbug infestations; however Health.com offers travelers these suggestions:
Before checking out the ocean view (or the mini bar), inspect the room. To prevent your bags from getting infested during the investigation, stash the luggage in the bathroom. Bedbugs do not like slippery tiles, and bathrooms do not have a lot of places where they can hide.
Bedbugs usually congregate in beds, so pull back the linens and carefully examine the mattress. Hunt for blood stains or small black dots that resemble mold or ground pepper; signals that bedbugs have been there.
Look behind the headboard, under picture frames and beneath the telephone. If there are chairs or a sofa in the room, remove the cushions and examine the seams.
Even if your particular room is clean, bedbugs can infiltrate from a neighboring room. To minimize that risk, elevate your suitcase on a luggage rack or atop a desk or dresser. Don't leave clothes strewn on the floor.
As an added precaution, some people encase their luggage in plastic. This is not a bad idea, since bedbugs have been found in airplanes, trains and taxis.
If you do discover bedbugs, notify hotel staff immediately. They will want to rectify the problem to protect you, as well as their other guests.
When you return home wash all your clothes in hot water, since bedbugs cannot survive in temperatures over 122 degrees Fahrenheit. Suits and jackets should be sent to the dry cleaners.
Before putting your suitcase away, vacuum it out to assure you haven't unknowingly brought home any unwanted souvenirs.