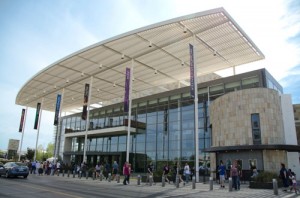 Tucked between Napa Valley and Sacramento, Calif., Yolo County quietly fuels many passions of Californians and those beyond. Its rich soils led farmers to produce the organic vegetables that launched a food revolution in the San Francisco Bay Area beginning in the 1970s. The University of California Davis is one of the top research universities in the world and is particularly known for producing top winemakers through its advanced programs that range from agricultural and environmental education to viticulture and enology (that's the study of wine). The city of Davis is also home to the U.S. Bicycling Hall of Fame and the Robert Mondavi Center for the Performing Arts, which focuses on major dance, music and theater programming.
Meet and stay in Davis at the Best Western Plus Palm Court downtown and walk to cafes, restaurants and shops or the Hyatt Place UC Davis next to the campus. The top meeting venues are The Odd Fellows Hall, Veterans Memorial Center and the facilities at the UC Davis campus.
The town of Woodland is for history buffs with its wide range of historic buildings and houses, including the opera house and the Heidrick Eg History Center, the largest agricultural equipment museum featuring tractors, trucks and more. It also has a 4,800-square-foot conference and event space.
Winding out into the rural backroads past Capay, where the farming is plentiful, a full-fledged gaming destination awaits in Cache Creek Casino Resort. It hosts name entertainment in the showroom and has elegantly-appointed rooms and small meeting facilities.
Old-fashioned Americana can be found in Winters, a quaint town with cafes, wine-tasting rooms, art galleries and The Palms Playhouse music venue. If you were looking for a custom-made guitar or an expert repair, check out Arc Guitar to get ready for your next gig.
—Josef Aukee
Main image: Robert Mondavi Center for the Performing Arts in Davis, Calif., courtesy of Yolo County Visitors Bureau