Photo credit: Skidmore, Owings & Merrill LLP/ rendering by Methanoia Inc.
On March 29, Waldorf Astoria New York released plans for the restoration and revitalization of the landmark's exterior and interior. In a submission for public review by the New York City Landmarks Preservation Commission, the historic property shares images of the plan designed by a world-class team, including Skidmore, Owings & Merrill (SOM) and renowned interior designer Pierre-Yves Rochon (PYR).
SOM will be leading the architectural design team. The architectural firm has overseen restoration and adaptive reuse projects for other New York City landmarks, including the in-progress renovation of Penn Station, which will become Moynihan Train Hall; the General Electric Building; and Lever House, which became New York City's second curtain wall skyscraper when it was completed in 1952. PYR will lead the interior segment of the project, which includes both public and guest room areas. PYR is well-suited for the task with expertise in redesigning five-star luxury hotels, including the upcoming Waldorf Astoria Beverly Hills, which is scheduled to open in June.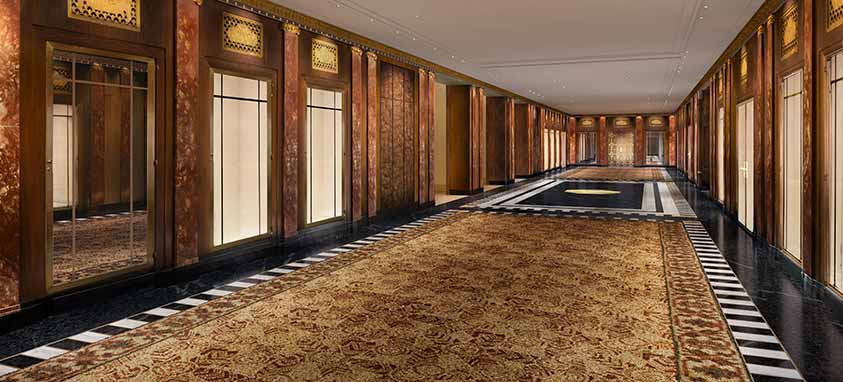 Photo credit: Skidmore, Owings & Merrill LLP/ rendering by Methanoia Inc.
"Protecting the spirit of this iconic property and reflecting its history through a modern, more forward-thinking lens will be at the heart of the hotel's interior design. From the overall atmosphere down to the finest Art Deco details, American grandeur and international glamour will meet in the Waldorf Astoria New York—no other hotel in New York will compare," says Pierre-Yves Rochon, principal and global design director of PYR.
If the plan is approved, the luxury property will recover key elements of its original Art Deco form. Overall, the goal is to preserve the original experience while providing an improved guest experience through modernized functionality. After all, there's no question that a New York hotel as lavish as Waldorf Astoria needs the latest features and capabilities.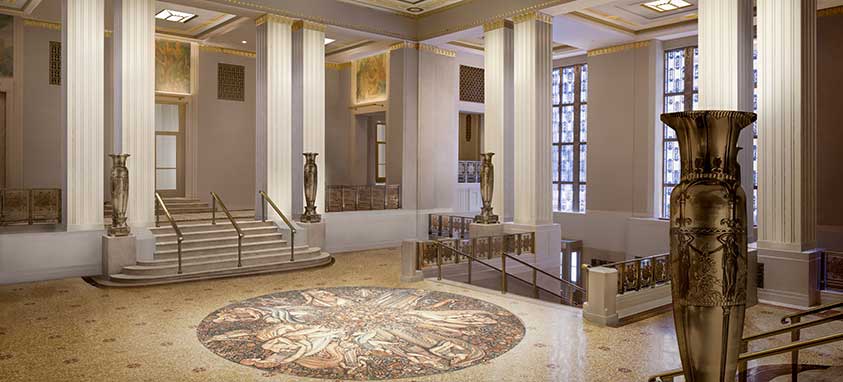 Photo credit: Skidmore, Owings & Merrill LLP/ rendering by Methanoia Inc.
"We are at an exciting and transformative point in Waldorf Astoria's renowned history, during which time Waldorf Astoria New York will be restored to its original grandeur while maintaining a modern and inspirational look and feel," says John T. A. Vanderslice, global head of Waldorf Astoria Hotels & Resorts. "It is an honor to be working with such a talented architectural and design team to breathe new life into this iconic hotel and provide unparalleled True Waldorf Service to its future guests."
The Waldorf Astoria plans to restore all of the hotel's spaces, making public and event spaces accessible for many years to come. Already, the hotel restoration is one of the most extensive and intricate in New York's preservation history. The luxury property originally opened in 1893 at the present site of the Empire State Building. It opened at its current Park Avenue location in 1931, and in 1993 the Waldorf Astoria was honored as an official New York City landmark. This year, the most significant interior spaces were qualified as landmarks as well.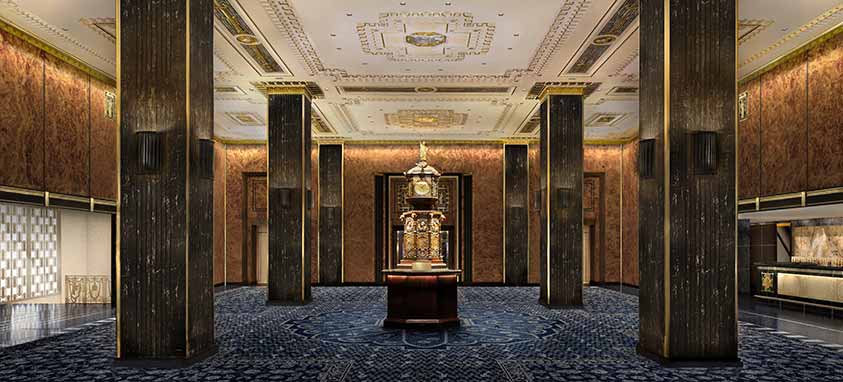 Photo credit: Skidmore, Owings & Merrill LLP/ rendering by Methanoia Inc.
The Waldorf Astoria will feature new guest rooms, suites and condominiums when it reopens in two to three years. Once open, the hotel will continue to be managed by Hilton as part of a 100-year management agreement.