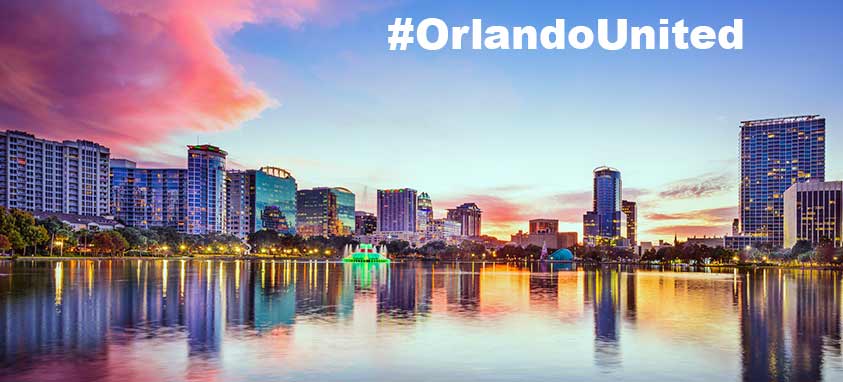 While we're inundated with news updates and varying opinions about Saturday's nightclub shooting that left 50 dead and more than 50 wounded in Orlando, the hospitality industry has again come together to do what they do best amid tragedy: lend their support.
Social media has proven once again to be a dominant medium for everything from spreading the news around the world and sharing updates lightning-fast, to being a place to stand together in solidarity.
The conversation will inevitably turn to how this shooting will affect the travel industry in Florida; the same fear that was experienced after attacks in Brussels and Paris left travelers questioning their future plans.
"Orlando, as one of the world's most popular and iconic destinations for travelers, and a community that proudly cherishes its diversity, has long been considered a high-value target for would-be terrorists. Now it appears our worst fears have been realized," writes The Orlando Sentinel.
"Let our community define itself by our unequivocal response: United…How we proudly reaffirm Orlando's identity as a welcoming, inclusive place for people who live here or visit, no matter their background or orientation."
While the headlines today focus on gun control, terrorism, and the LGBTQ community, we'd like to take a moment to shed light on some of the beautifully powerful ways our industry is standing together to show their support.
.@MPI CEO Paul Van Deventer sharing a moment w/ @MPIOrlando Chapter President #StrongerTogether #WEC16 pic.twitter.com/HZ0vwuB1m2

— Alex Plaxen (@APlaxen) June 13, 2016
Thank you Paul for brining the @MPI family together in an emotional moment of silence. #WEC16 #OrlandoUnited

— Miguel Neves, CMP (@IMEXMiguel) June 13, 2016
aloft hotel in Downtown Orlando lit up in solidarity. #OrlandoUnited pic.twitter.com/xRkoH93NqK

— Nestor Montoya (@NMontoya_) June 13, 2016
We are heartbroken over the tragedy in #OrlandoUnited. Our thoughts are w/the families & friends of the victims. pic.twitter.com/MgpFG4cppN

— Fleet Week SF (@FleetWeekSF) June 13, 2016
We're thinking of you. #OrlandoUnited pic.twitter.com/Rlx2dHZ0KE

— Baltimore Ravens (@Ravens) June 13, 2016
Thank you @MPI for the moment of silence to honor our loss. In a place known for happy, we choose love. #OrlandoUnited

— MPI Greater Orlando (@MPIOrlando) June 13, 2016
Landmarks around the world turn rainbow in honor of the #Orlando shooting victims:https://t.co/ZSn5yxSu56

— Mic (@mic) June 13, 2016
Dublin standing in solidarity with #Orlando pic.twitter.com/K5uOOTqOus

— Cormac Cashman (@CormacCashman) June 13, 2016
Piper plays Star Spangled Banner as people leave tributes to #Orlando victims in Glasgow's George Square #HeartNews pic.twitter.com/PQ1s2akUYR

— Heart Scotland News (@HeartScotNews) June 13, 2016