Chef Masaharu Morimoto will open his highly-anticipated restaurant on Sept. 30 at Orlando's Downtown Disney in Walt Disney World Resort as the theme park transitions into Disney Springs. Morimoto Asia is the chef's first pan-Asian restaurant. The two-story 36-foot tall building will include lounges, dining spaces, a second-level sushi bar and an exhibition kitchen where guests can watch the culinary action.
The new restaurant, with a three-story glass corner, multi-level bar and spiraling chandelier, will open in The Landing neighborhood. The sculptural bar at Morimoto Asia is more than 270 feet tall, connecting the grand dining room on the ground floor with the upper level. Custom glass-beaded chandeliers are reflected in antique mirrors and glass mosaic artwork based on Japanese prints. The sushi bar is built from hundreds of pieces of hand-selected ash wood, backed with hammered copper. A two-story outdoor terrace with patio seating will offer expansive views of Disney Springs.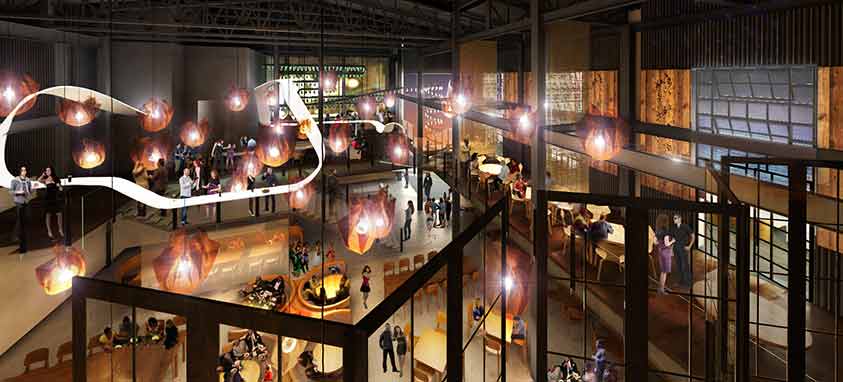 The menu is Chef Morimoto's take on his favorite Asian cuisines. Main dishes feature moo shu pork, Peking duck, lobster chow fun, sweet and sour crispy whole fish and kung pao chicken. Dim sum will be served during brunch on weekends, and include dumplings, shumai, bao, spare ribs and more. Kid-friendly options are chicken ramen, kakuni pork bao and karaage fried chicken. Guests can also sample sushi and sashimi delicacies, such as toro, kanpachi, Japanese red snapper, uni, sea eel, hamachi, fluke and salmon.
Asian influence will also extend to alcoholic beverages. Among a selection of Asian brews, Morimoto's signature beer, Rogue Ales, will be on draft. Collector's edition Imperial Pilsner, Morimoto Soba Ale and Black Obi Soba will be offered by the bottle. Plus there are assorted sakes, including Morimoto's signature line, and a wine list of varietals from around the world.
"I am excited to create a menu that allows so many of my favorite Asian flavors to come alive all in one place,"  Morimoto says. "I hope the guests at Morimoto Asia have as much fun eating this food as I have creating it."
Morimoto has several restaurants around the world. After success starring on Iron Chef and Iron Chef America, he opened his first restaurant in 2001 in Philadelphia and went on to expand in Mumbai, New Delhi, New York City, South Beach, Waikiki, Napa and Mexico City. Morimoto has received numerous awards and accolades, including the James Beard Award in 2008.