Downtown Wilmington, North Carolina
Wilmington Convention Center in North Carolina will soon have its own convention center hotel. A full-service Embassy Suites broke ground this month, with an opening scheduled for spring 2017. The hotel site is adjacent to the conference venue and within walking distance of Wilmington's historic river district.
"This is great news for the city of Wilmington," said Wilmington Mayor Bill Saffo. "We have been anxiously awaiting a hotel next to the convention center, since it opened late 2010. The new Embassy Suites will allow us to satisfy demand for larger groups in the downtown area and in onsite accommodations from a wider variety of groups and conventions that may not have considered us before now."'
The new Embassy Suites will offer 186 guest suites and 6,600 sq. ft. of meeting space, including a ballroom and prefunction space on the first floor. There will be additional meeting and dining space on the second floor with a riverfront restaurant, boardroom and three smaller meeting rooms.  Hotel amenities include an indoor pool, fitness center, snack/coffee area and atrium seating. Plus, there will be a 4,003 sq. ft. roof deck and bar.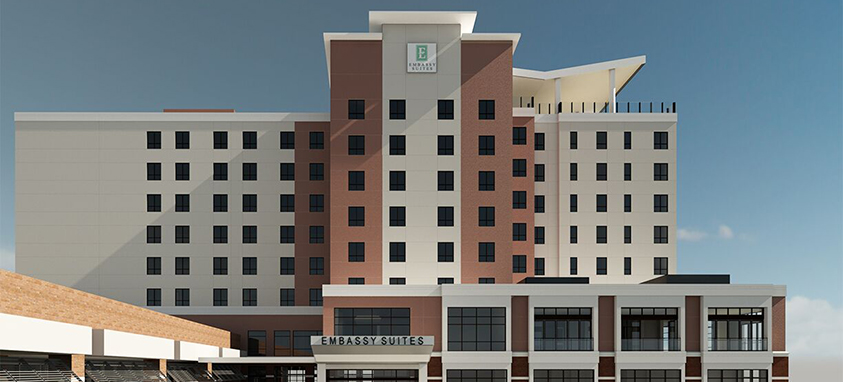 Rendering of Embassy Suites Wilmington Downtown Hotel
The new convention center hotel joins several other establishments proposed for a convention center district. There will also be new restaurants, retail space, an event pier, a riverfront park and marina located close to three beaches. A neighboring 92-room Hampton Inn will open later this year. Nearby, the historic river district already has more than 200 restaurants, shops and attractions in the downtown area. Wilmington has an inventory  of nearly 8,000 hotel rooms.
Construction of the convention center hotel project is expected to generate approximately $46.8 million in economic activity in Wilmington, along with 346 jobs created. After the hotel opens, the city expects to receive a $19.9 million economic boost and 207 additional jobs.
Wilmington Convention Center is LEED Silver certified and can host up to 2,000 people. It has a 30,000-square-foot exhibit hall, 12,000-square-foot ballroom, 12,000-square-foot event lawn, more than 15,000 sq. ft. of prefunction space and nearly 6,000 sq. ft. of additional meeting space.