As the entertainment capital of the world, Las Vegas never lacks in new developments. These new spaces on the block that will have planners knocking. And newly renovated venues couldn't come at a better time, when industry compression has a sea of planners competing for meetings and event space.  Here are some of the highlights that are open now or slated for later this year.
What's New in Hospitality
If glamour is what you're looking for, these renovation projects will provide. Mix up your Vegas experience with new hotel amenities and a revived brand.
Plaza Hotel & Casino Expands
Multiple additions will expand Plaza Hotel & Casino's dining, drinking and gaming options. Most extravagant is an animated Carousel Bar under the venue's distinctive glass dome. The new 2,500-square-foot space offers seating for just under 100 guests. An air-conditioned bar, booths and a railing overlooking Main Street will keep away the desert heat as attendees network over drinks under vintage Vegas lights.
Next door, Plaza Hotel & Casino is opening downtown Vegas' first smoke-free, social media-friendly gaming room. It will be stocked with the latest slot machines including the Brian Christopher Slots that were new to the scene last year. Above the gaming room, a rooftop patio will be added to Oscar's Steakhouse, and the full dinner and drink menu will be available to guests in all 225 seats.
To sweeten the deal, local favorite Pinkbox Doughnuts will open opposite the game room. Its 1,200-square-foot store will be home to a 16-foot-long display case featuring more than 70 flavors of doughnuts. These new spaces, soon to heighten the draw to Vegas for meeting and incentive planners, are expected to be completed by the end of this year. Plaza Hotel & Casino will stay open throughout construction.
Horseshoe Las Vegas: Homage to a Classic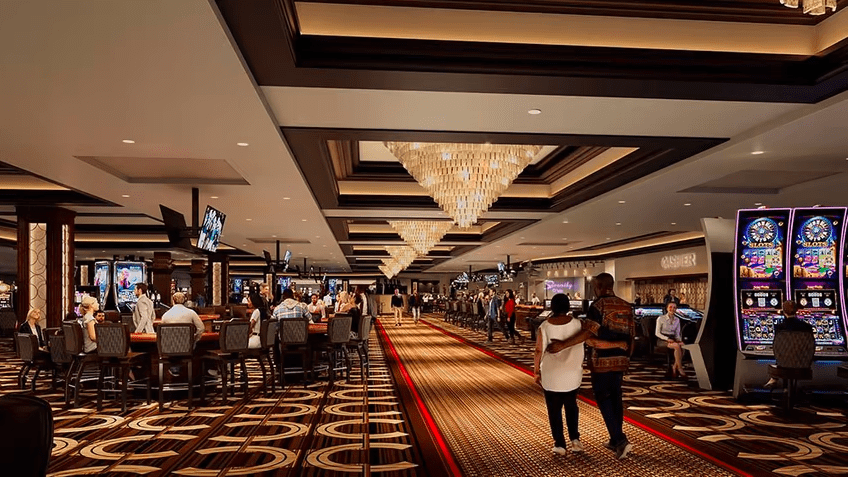 Caesars Entertainment has started the renovation and rebranding of Bally's Las Vegas Hotel & Casino. It will revive the classic name of Horseshoe Las Vegas, a gambler's club known for its no-limits betting and gambler-first policies. The casino, situated on the corner of Flamingo Road, will exude a rustic feel with leather seats, bold colors and the Horseshoe golden horseshoe emblem.
From May 31 to July 19, Bally's is hosting the 53rd annual World Series of Poker, an event first held at the original Horseshoe Club in 1970, just as renovations start.
Read More: IACC Plans to Fill in the Gaps on Latest Meeting Intelligence at Las Vegas Conference
What's Coming to Entertainment
If your incentive groups need something to wow them, look no further than the biggest shows in Vegas. These performances are also perfect for a fun night out in between convention days.
Encore at Wynn Las Vegas
Celebrating a legendary career, Diana Ross will hold six shows in Encore at Wynn Las Vegas at the end of September. Her signature extravagant fashion and colorful sets will be featured in the feel-good performance.
Also at Encore, comedian Sebastian Maniscalco will be performing four additional sets in October due to popular demand. Praised by the The New York Times as today's biggest comedian, fans can expect more of his unique brand of comedy.
The Colosseum at Caesars Palace
Sting will extend his residency at The Colosseum with six new dates in April 2023. His set, titled "My Songs," is made up of his greatest hits, and songs from his latest album.
Zappos Theater at Planet Hollywood Las Vegas Resort & Casino
A newly launched residency, John Legend is set to perform at Zappos Theater through October. His "Love in Las Vegas" show features 91 different looks onstage, all designed by Legend's longtime stylist Dave Thomas.
Miranda Lambert will start her own residency at Zappos. She was named Entertainer of the Year at this year's Academy of Country Music Awards. Her show, "Velvet Rodeo, the Las Vegas Residency," will start in late September.
Read More: Las Vegas: Silver and Green
New Dining Options
If you need a new place to take your group, or even a few friends, these restaurants will satisfy your hunger with style.
Nellie's Southern Kitchen
Inspired by the grandmother of the band Jonas Brothers, Nellie's Southern Kitchen has opened in Las Vegas' MGM Grand. The restaurant's first West Coast location is headed by the Jonas Brothers' parents, Denise and Kevin Jonas, Sr. Nellie's is home to nightly live music, a culture of Southern hospitality and comfort food.
Ramsay's Kitchen
Multi-Michelin starred Chef Gordon Ramsay is opening a new restaurant this fall at Harrah's Las Vegas. His sixth restaurant on The Strip will have a menu inspired by his personal kitchen and global flavors. Some specialties will also incorporate a Vegas flair. A total of 240 guests can sit at a seafood counter or private booths, and the restaurant has a private dining room for those post-convention team dinners. Ramsay's Kitchen will open this fall.