Vegas is poised for a robust return to meetings
There is a reason some of the most high-profile events to happen in the last year—World of Concrete (the first major convention to return to the U.S. post-pandemic), hybrid CES, and the meeting industry's own IMEX America—took place in Nevada.
The state has the space, event business-friendly attitude and access to make the decision to move ahead a little easier. There are no limits on size of gathering, but safety protocols are in place and enforced.
Expanded Las Vegas Convention Center (LVCC) alone hosted 52 trade shows in 2021, welcoming more than 700,000 attendees back to its 1.4 million sq. ft. Five of those events, including the International Council of Shopping Centers, Working Ranch Expo and The ARA Show, were new to the destination. Another 20 are scheduled through March.
"It's clear that organizers, exhibitors and attendees are ready to get back to in-person events as we move into the new year and beyond," said Las Vegas Convention and Visitors Authority (LVCVA) Vice President of Business Sales, John Schreiber.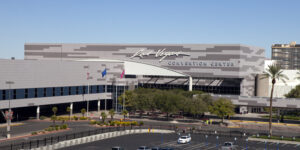 Nevada's northern meeting hub is similarly busy. Reno-Sparks Convention and Visitors Authority (RSCVA) hosted 80 groups and has booked 69 future events. That is, in addition to the virtual events they helped facilitate from new studio spaces.
In fact, the destination ended its fiscal year in July with June as one of the highest taxable room revenues in the history of the agency tracking the numbers.
"We've learned a lot over the past 18 months, and we're prepared to continue pushing forward and pivoting, when necessary," said Reno Tahoe President and CEO Charles Harris in a statement.
For those who haven't had a chance to see the Silver State in action lately, we are sharing highlights of what you can look forward to when you return. As always, the state is one of the most Instagram-able out there. How will you frame it?
Read More: Las Vegas Approves 29-mile Hyperloop
View from the Event Floor
By empowering meeting professionals to safely bring people together, Nevada venues are helping show the way back to meetings.
Nevada, as of press time, does not limit size of groups, but does mandate that everyone, including the fully vaccinated, wear a mask in public indoor areas. Conventions of more than 4,000 can apply for an exception if they require that all attendees are vaccinated.
What does unlimited meeting look like on the big stage? The Diving Equipment and Marketing Association (DEMA) Show returned to expanded LVCC in November.
A new $1 billion, 1.4 million-square-foot West Hall now boasts Las Vegas Convention Center Loop, the underground tunnel developed by Elon Musk's The Boring Company designed to shuttle convention attendees throughout the 200-acre campus in all-electric Tesla vehicles.
Show organizers reported that exhibitors were delighted by the quality of the attendees and pace of business, and most have already re-contracted for DEMA Show 2022.
"We are so happy to be back face-to-face, but more importantly, our exhibitors and attendees were extremely happy that DEMA took the steps to safely stage the show," said Tom Ingram, DEMA president and CEO in a statement. "Everyone had a great show, enjoyed seeing each other in-person again, conducting business, attending professional development sessions, and once again building important personal relationships."
In January, more than 40,000 attendees gathered at Global Biorisk Advisory Council (GBAC) STAR-certified LVCC for CES 2022 after going completely virtual in 2021.
Although some big names made the decision to go virtual after an Omicron surge, Consumer Technology Association President and CEO Gary Shapiro pointed to more than 2,300 exhibiting companies from around the world, including more than 800 startups, that launched products featuring innovation in the areas of artificial intelligence, automotive technology, digital health and smart home.
"Innovation came to life…at CES 2022 with technologies that will reshape industries and provide solutions to pressing worldwide issues from healthcare to agriculture, sustainability and beyond," Shapiro said in a statement. "The CES show floor buzzed with the joy of human interaction and a five-sense innovation experience with products that will redefine our future and change our world for the better."
Read More: Live Shows in Las Vegas Are Back and Beckoning
Big Time Comeback in the Little City
Blame it on the world-class hospitality and recreation options, the growing local economy or the fresh air, but 2021 clocked in as one of the most robust taxable room revenue calendar years on record.
"It's inspiring to see this destination's ability to meet the demands of travelers looking for a getaway with an abundance of outdoor and natural amenities," said Visit Reno Tahoe President and CEO Charles Harris in a statement.
Airports Council International was one of the first big groups to return. An estimated 1,200 industry experts gathered for three days at Reno-Sparks Convention Center to discuss sustainability, resiliency and capital. The trade show included more than 160 booths and 90 companies.
Sporting events safety staged in the high desert include UCS Spirit National Pole Vault Summit in January at Reno, Nevada Livestock Events Center and USA Climbing's 2021 Youth National Championships in July with nearly 500 competitors at Reno-Sparks Convention Center and Mesa Rim.
Some are expected to compete at the 2024 Paris Olympic Games. The expanded competition combined bouldering, lead and speed over six-days competition, the largest such event in the United States.
Special event activations included Virginia City Outhouse Races in October and Legends of Beer at Sparks Marina in September.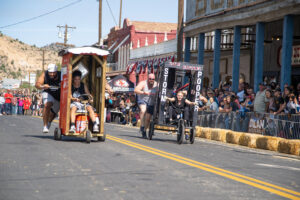 Harris and his team are working with meeting, convention, trade show and sports event planners to negotiate future group events at Washoe County event and lodging facilities.
Meanwhile, closer to the sparkling Alpine Lake, Tahoe South Events Center is taking shape on the Nevada side of Stateline.
By early 2023, another 10,000 sq. ft. of flexible meeting space, a more than 26,000-square-foot event/exhibit floor, and a 10,000-square-foot sweeping outdoor lawn area will front the base of legendary Heavenly Ski Resort.
Forward-Looking Events
The 24-hour city is just getting started again. LVCC has plans to host nearly 20 events from January through March, including: MAGIC Marketplace and ASD Market Week retailer show. Citywide conventions and special events returning in 2022 include Sin City Classic at the Flamingo, SHOT Show at The Venetian Expo and Las Vegas Market–Winter at The Expo at World Market Center Las Vegas.
At Station Casino's six properties, including luxury Red Rock Resort, Casino & Spa (796 guest rooms and 100,000 sq. ft. of meeting space) and Green Valley Ranch, Resort, Casino & Spa (497 guest rooms and 69,000 sq. ft. of meeting space)—Vice President and General Manager Deanna Burgess reported in an interview with Smart Meetings in late January that lead volume is above pre-pandemic levels and short turn-around bookings are finding windows of availability for groups from 10-500 people.
"We are seeing some attendance fall, but some are exceeding projections and coming back to add rooms," she said.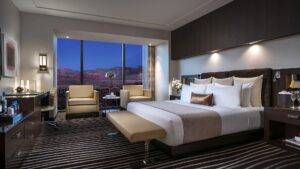 "Vegas tends to rebound sooner because of the value proposition with something for everyone, including airlift and the weather; we are in the meetings and entertainment business," she said.
Properties like Red Rock are focusing on outdoor opportunities and health and wellness, increased air filtration inside and pampering at signature spa facilities.
Over at Circa Resort & Casino Las Vegas (777 guest rooms and 21,654 sq. ft. of meeting space, not including the massive outdoor pool sports deck), the new downtown sports casino on the block, Director of Sales Sasha Lee is seeing "a ton of demand for Fall of 2022 along with some very short-term requests for Spring 2022."
Companies are asking about long-term rates but waiting to contract until as little as 30-120 days out.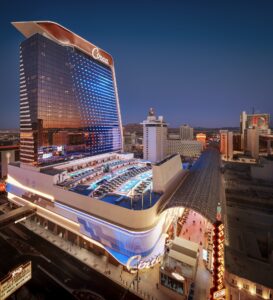 She is still providing flexibility on cancellation and tiered attrition terms on a case-by-case basis. with no charge up to 90 days out.
"Of course, if it falls under force majeure, there is no penalty, but if a company needs to make a personal choice to cancel in the best interest of their attendees, we are being sympathetic to those decisions and offering this flexibility," she said.
Another Covid-new attraction is the experiential entertainment district of AREA 15. Billed as "an interactive surrealist supermarket," tenant Meow Wolf's Omega Mart offers a colorful backdrop for team building, scavenger hunts or curiosity seekers. Full buyouts are available.
Live Action Enticements
The sound of mega-musicians coming back up and down the Las Vegas Strip is music to meeting professional ears. Big name entertainment in town helps sell event tickets, simplifies VIP experiences and adds that wow factor.
The good news is that the attraction could hold even more widespread appeal as classic and up-and-coming acts are being booked in more stadiums than before the pandemic.
Case in point: IMEX America brought some 10,000 event professionals together in Las Vegas in November. That week, Caesars Entertainment hosted a group of 25 press people to join the sold-out crowd at 4,300-seat The Colosseum at Caesars Palace to see Sting perform a live concert.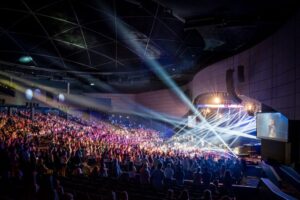 Stephanie Byrd, marketing specialist at Caesars, who spoke with Smart Meetings about both corporate and entertainment events returning to Caesars' Vegas venues, explained the connection. "The value of bringing folks back to entertainment in-person excites and engages attendees," she said.
In fact, Caesars staged an encore when it hosted Professional Convention Management Association's (PCMA) Convening Leaders conference at 550,000-square-foot CAESARS FORUM in January. Festivities featured live shows from "America's Got Talent" finalist Daniel Emmet and the acclaimed male vocal group, Tenors of Rock.
The largest, tallest and freshest venue on the Strip, Resorts World Theatre at Resorts World Las Vegas (3,500 guest rooms and 250,000 sq. ft. of meeting space) opened June of 2021, extending the energy north.
The theater boasts 5,000 sq. ft. of LED screens and fits 5,000—with not one concertgoer seated more than 150 feet from the stage. Celine Dion has been in residency at the venue since November and "Teenage Dream" singer Katy Perry is arriving in early March. She will be followed by crooner Michael Bublé in April and crossover star Carrie Underwood in March.
Nearby, Westgate Las Vegas Resort & Casino (formerly the Las Vegas Hilton with 2,956 guest rooms and 225,000 sq. ft. of meeting space) boasts the showmanship of the legendary Barry Manilow in 1,607-seat International Theater.
The Theater at Virgin Hotels Las Vegas, Curio Collection by Hilton (1,500 guest chambers and 60,000 sq. ft. of meeting space) can seat 4,500. Incubus has booked a special two-night show there in March.
At The Showroom at South Point Hotel & Spa (2,163 guest rooms and 110,000 sq. ft. of meeting space) acts such as the Righteous Brothers Keep that Lovin' Feelin' alive.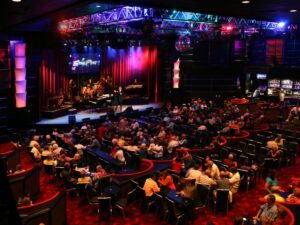 MGM Resorts boasts multiple stages. Lady Gaga Jazz & Piano is coming to Dolby Live at Park MGM (2,700 guest rooms and 90,000 sq. ft. of indoor-outdoor meeting space with NoMad Las Vegas).
The Black Keys will be at MGM Grand (5,000 guest rooms and 850,000 sq. ft. of meeting space) in July and comedian Carrot Top is a popular residency at Luxor Hotel & Casino (4,411 guest rooms and 45,000 sq. ft. of meeting space).
John Legend performs at Caesars' Zappos Theater, the 7,000-seat space at Planet Hollywood Resort (2,496 guest rooms and 88,000 sq. ft. of meeting space), starting late April.
Even "Mr. Las Vegas" Wayne Newton is back in Vegas on a longer-term residency at The Wayne Newton Theater at Bugsy's Cabaret at Caesars' Flamingo Las Vegas Hotel & Casino (3,460 guest rooms and 73,000 sq. ft. of meeting space).
At Treasure Island Las Vegas (or TI) (2,884 guest rooms and 30,500 sq. ft. of meeting space), Mystere by Cirque du Soleil is back swinging with two shows a day Friday through Tuesday.
The city's wide range of musical genres attracts diverse crowds. From younger to older visitors, the accessibility of top entertainers makes incentives, retreats and VIP plans easy—and safe.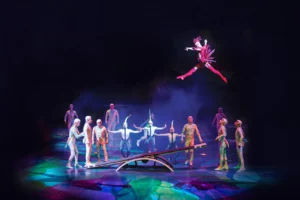 Shows require masks at all events. The Sting performance required proof of vaccination. Some shows, such as Adele's postponed Las Vegas residency, will also require a non-at-home Covid test within 48 hours before.
Keith Urban will be stepping up to the Colosseum stage in her place and will perform on several dates from March 25 through April 2—a testament to the versatility and opportunity Vegas presents to event planners. With so much talent in one place, there's always someone to call for a show and a place to host.
AEG Presents partnered with Resorts World Theatre at Resorts World and The Theater at Virgin Hotels Las Vegas, and both venues maintain strict mask policies and ask for proof of vaccination at every event.
-Skylar Sjöberg
Resources
Las Vegas Convention and Visitors Authority
Tahoe South
Visit Henderson
Visit Reno Tahoe
This article appears in the February/March 2022 issue.