Wyndham Rewards is the best hospitality benefits club, according to WalletHub's 2018 Hotel Rewards Program report. This marks the fourth year in a row that the hotel chain's loyalty program has come in first, with up to $14.30 in rewards value per $100 spent.
The results come from 21 key metrics, ranging from percentage of hotels with award night availability to short-notice reservations to ease of achieving top membership status.
More: The Ultimate Hotel Brand Guide
Wyndham maxed out—or came close to maxing out—many of the 21 metrics, including blackout dates, how far in advance reservations can be made and short-notice reservations. It earned 74.07 out of 100 for the total heavy traveler, 73.07 for the moderate traveler and 73.07 for the light traveler.
Wyndham also stole the show in many of the awards categories. Apart from winning best overall hotel rewards program, with its average WalletHub score of 73.40, it also snagged first place for its rewards value and redemption options.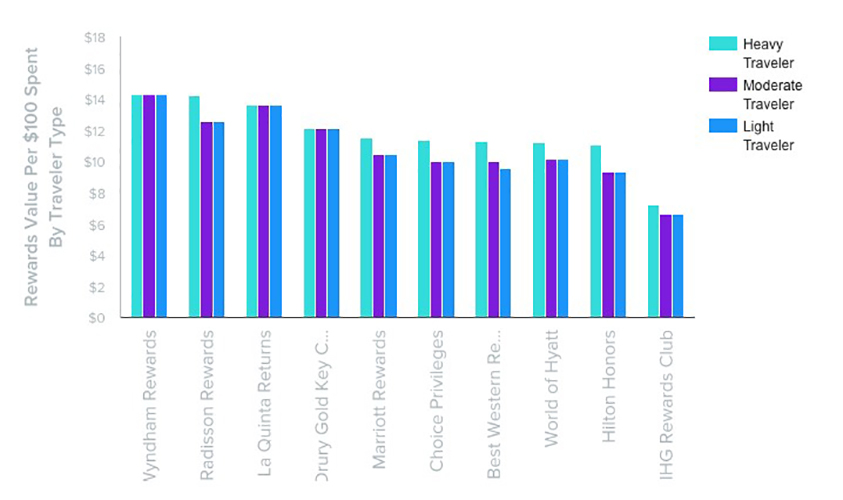 Best Western Rewards came in second place, with a score of 72.11 for the heavy traveler, 68.89 for the moderate, and 67.59 for the light. It earned maximum points in the blackout dates and valuable membership level perks for heavy, moderate and light travelers. It is the only major hotel chain that imposes no expiration date on points, despite inactivity; unsurprisingly, it won best for points that won't expire.
More: Unified Rewards for Marriott Brands to Begin
Rounding out the top five, Radisson Rewards came in third, with an average score of 68.89; it also earned the reward for fewest earning limitations. Marriott Rewards came in fourth, averaging 62.31 and Choice Privileges in fifth, with an average score of 59.74.
Winning in other categories were Radisson Rewards, ranked best for fewest earning limitations, while Marriott Rewards is ranked best for international travel. Hilton Honors won bragging rights of best for transfer partners.
WalletHub also reports that the merger of Marriott, SPG and Ritz-Carlton yield $10.85 per $100 spent—a larger amount than guests would have earned with each company on its own previous to the merger.