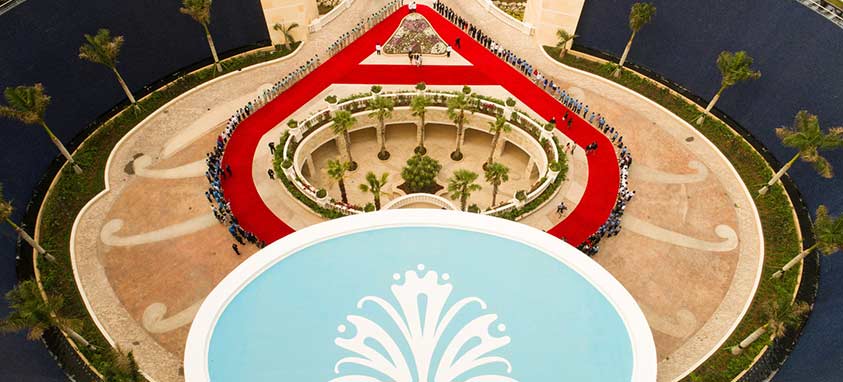 Baha Mar in Nassau, Bahamas, brings new meaning to the term deluxe resort. Surrounded by pristine beaches and the turquoise waters of the Caribbean Sea, the $4.2 billion integrated development includes three hotel brands and will eventually offer 2,300 rooms. Grand Hyatt Baha Mar is the largest and first to debut, with SLS Baha Mar and Rosewood Baha Mar to follow in the coming months. Although everything now seems to be progressing swimmingly, this project actually had a very long and bumpy road to success.
In 2005, the Baha Mar saga began with a proposal to build a $1.6 billion resort complex. It wasn't until 2011 that construction actually began. Three years later, a late 2014 opening was delayed. Then, several scheduled opening dates in 2015 came and went. Although the resort was more than 90 percent complete, the developer of Baha Mar filed for bankruptcy in June 2015. For more than a year after that, the complex sat unfinished, and many wondered whether it would ever be completed. Late last year, the project was finally revived by its new owner. Now, 12 years later, the day has finally come. On Friday, April 21, Baha Mar made its official debut.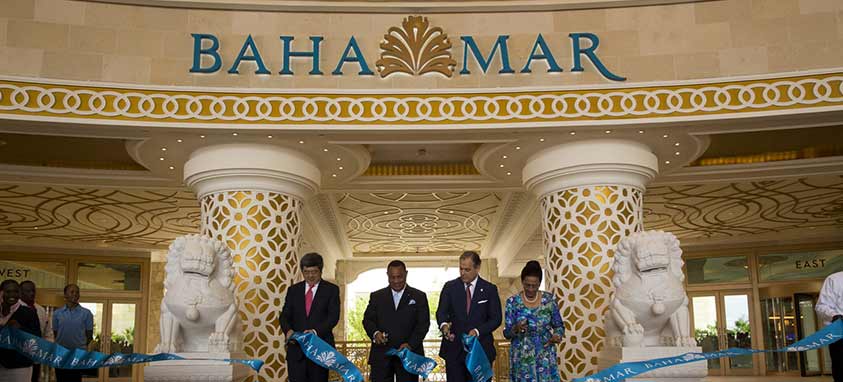 The first to open of Baha Mar's three hotels is the Grand Hyatt Baha Mar. Scheduled to open in three phases from 2017 to 2018, Grand Hyatt Baha Mar resort has two distinct towers with 1,800 guest rooms and lavish amenities. The rooms and suites feature contemporary decor and outdoor balconies that offer a variety of views—ranging from the beach and resort pools to fountain displays and the Royal Blue Golf Club.
In addition to its easy access to Caribbean beaches, the Grand Hyatt will offer five expansive pools, including Blue Hole, inspired by the natural saltwater blue holes of the Bahamas.
Royal Blue Golf Club is a Jack Nicklaus signature course featuring nine holes with dramatic views of rolling white sand dunes. The back-nine holes showcase a stunning limestone landscape and surrounding dense jungle.
Another central feature of the resort complex is Baha Mar Convention, Art and Entertainment Center, also managed by Grand Hyatt Baha Mar. The 200,000-square-foot indoor and outdoor convention facility connects directly to Baha Mar's casino.
Boasting the largest casino in the Caribbean, Baha Mar includes 100,000 sq. ft. of gaming space, more than 1,000 state-of-the-art slot machines, 126 table games, race and sports betting.
Baha Mar guests will also have access to a deluxe spa, with 30,000 sq. ft. of space, 24 private treatment rooms, saunas and steam rooms, and relaxation zones.
Food & beverage offerings are plentiful, with a variety of onsite restaurants, bars and lounges. Three Tides satisfies cravings for Mediterranean seafood; The Swimming Pig is said to be a modern riff on British gastropubs; Drift offers a casual setting with Pan-Latin food; Palms is an upscale restaurant with beachside dining.
Baha Mar also includes a noodle bar and authentic Chinese food; a live-jazz club called Blue Note; and a rum-and-cigar lounge that pays homage to Nassau and Winston Churchill.
Baha Mar's phase-two celebration, when 300-room SLS Baha Mar is set to open, is scheduled for fall 2017. The final phase—unveiling 200-room Rosewood Baha Mar resort—is scheduled for spring 2018.