Pandora–The World of Avatar, courtesy Walt Disney Imagineering
On May 27, the theme park that has everything will unveil its newest immersive attraction: Pandora–The World of Avatar. Set to debut in Disney's Animal Kingdom at Walt Disney World Resort in Florida, Pandora transforms the mythical universe depicted in Academy Award-winning filmmaker James Cameron's smash 2009 film Avatar into a real-life wonder.
Creating the kingdom of Pandora required plenty of creative brainpower. Walt Disney Imagineering, Cameron and Cameron's Lightstorm Entertainment collaborated on the project. The result is an astonishing dreamscape poised to captivate park visitors.
With floating mountains to add drama to daytime views and bioluminescent rainforests to reveal an ethereal beauty after dark, Pandora's lush landscape mirrors the world that mesmerized moviegoers. But compared to the film, there is one notable departure. Disney guests will experience a post-conflict Pandora, far removed from the battle between humans and the native Na'vi. All the better to enjoy the largest-ever addition to Disney's Animal Kingdom in peace.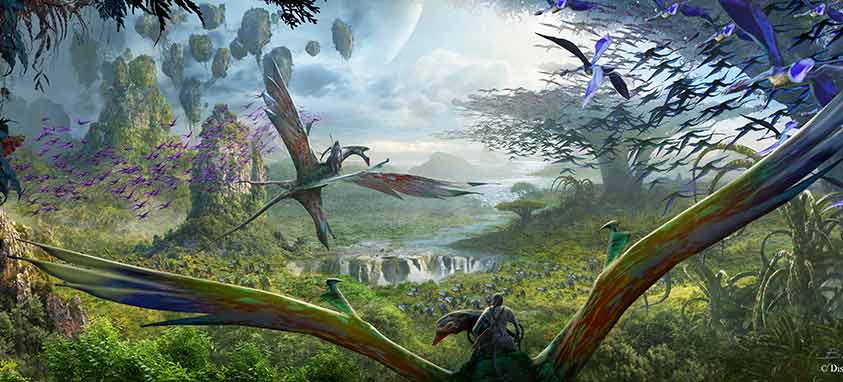 The Avatar Flight of Passage, courtesy Walt Disney Imagineering
The Avatar Flight of Passage experience will give guests the chance to ride on the back of a flying mountain banshee toward a face-off with the Great Leonopteryx, the fiercest predator in the land. Visitors can also choose Na'vi River Journey, a float trip through the rainforest on the Kaspavan River into the sacred heart of Na'vi culture.
Na'vi River Journey, courtesy Walt Disney Imagineering
"We are taking our guests on a journey to this world in an experience that's as realistic and immersive as possible," says Joe Rohde, Walt Disney Imagineering portfolio creative executive.  "In the movie, the world of Pandora is a setting for the action and characters whose story we follow.  Here, guests are the primary characters immersed in an extremely vivid, authentic experience."
Pandora is intended not only to inspire awe, but also to convey an understanding of the value of nature, transformation through adventure, and conservation and stewardship—three traditional pillars of the Animal Kingdom message. An emphasis on storytelling helps to awaken that sense of connection.
"The attractions have very deliberate emotional moments crafted into them, the way a good story does, the way a good film does." Rohde says.  "It's not as simple as just coming to a place that looks realistic. It's a place that's been deliberately imbued with the emotions of awe, of wonder, of respect, of harmony."
In addition to sensory wonders and fantastical experiences, Pandora will include healthy fast-casual restaurant Satu'li Canteen, Pongu Pongu beverage stand and Windtraders retail store.