Financial & Insurance Conference Professionals (FICP) brought 700 thought leaders together at JW Marriott Marco Island Beach Resort in Florida to prepare meeting professionals for whatever comes next with a call to reflect, discover and recharge.
Smart Meetings was in attendance and sent back this report from beyond the horizon, touching on topics like the disruption from artificial intelligence, ever-increasing costs and shrinking teams.
Read More: Marriott's Scented Supper Made Memories
Face Your Fears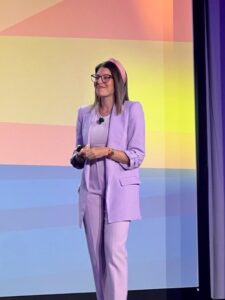 The future can be scary, but so can things like spiders and heights. Event professionals know what it is like to take high-stakes risks in public while struggling with our own negative voices. Michelle Poler, author of "Hello Fears" and keynote speaker, suggested moving toward the things that scare us because in that direction lies growth. "The enemy of success is not failure, but comfort," she said.
Poler started a buzz when she decided to embark on 100 days of doing things that scare her every day, ending with a wildly successful TEDx Talk. She learned that most of the time people are encouraging and the critic you have to manage is yourself. That is why she suggested replacing the question, "What is the worst that can happen?" with "What is the best that can happen?" That sets the stage for dreaming bigger.
AI is Closer Than It Appears
Artificial intelligence is actually not new. The ability to program computers to make decisions based on data has been around since the 1950s if you count the famous Turing Test of intelligence. What is new is the ability for non-programmers to use the cognitive tool for everything from writing marketing copy and agendas to answering attendee questions and managing registration.
Samantha Jordan, a futurist and consultant with Future Today Institute, led a discussion with industry leaders and explained that companies, including major retailers, are already using the tool to negotiate contracts. She reported that attorneys who work with these companies say they like the experience better than negotiating with a human. The challenge is ensuring sensitive information is not input into an open system that could make proprietary secrets available to all. "It is crucial for organizations to understand and embrace its potential, as well as work through the risks and ethical challenges it presents," she said.
Read More: Why AI Might Mean Salvation for the Meetings Industry
Jordan was joined on stage by McNeel Keenan, vice president of product management at Cvent; Robert Marusi, chief commercial officer with Turtle Bay Resort on Oahu's North Shore; and Junior Tauvaa, chief business officer with PCMA, which launched its Project Spark AI product at IMEX America.
Keenan saw the integration of AI as inevitable and something that could help meeting professionals do more with a lean staff. Marusi said he is already finding that an AI chat bot can answer questions from potential guests so front desk staff can focus on higher-value personal interactions. "AI technology is not going away," said Tauvaa. Project SPARK gives business event stakeholders access to connect, learn and co-create how and where AI fits into the meeting space.
Read More: Event Design Truths
6 Event Design Truths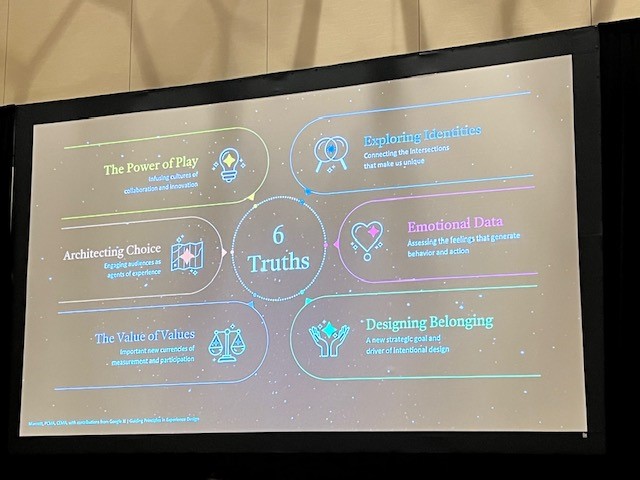 Even as the tools increasingly have a digital operating system, the basics of human behavior will continue to be the core of event design for successful programs. Michael Clarke, senior director of B2B events and programs portfolio, luxury and leisure for Marriott International's Global Sales organization, shared recent research from "Guiding Principles in Experience Design," a project with PCMA and CEMA that explored how to better engage attendees after the pandemic. Strategies for producing memorable events boiled down to the following.
Exploring Identities: We must help attendees find others like them and seek others outside their comfort zones. That is how more meaningful tribes are built.
Emotional Data: How do we measure feelings to get a truer ROI on events? Emotions drive loyalty so emotions mean business. Encourage use of emojis in the moment to measure more accurately than follow-up surveys and use the data to iterate and improve the program.
Designing Belonging: The human is the center of the design, not the content. When you put people at the center, you can continue to engage all year long.
The Value of Values: People value their time more than ever. You have to find out what is important to them and make it worth their while to attend.
Architecting Choice: Attendees now want to be co-creators of their journey. That means you can't force them to listen to your content. Giving choice (but not overwhelming with choice) can result in more satisfied and happier attendees.
The Power of Play: Giving attendees permission to have fun and create together can result in collaboration and innovation not before imagined. There is a powerful connection between play and productivity.
Advanced Meeting Principles in Action: JW Marriott Marco Island was the stage for an "islandwide" conference that presented attendees with a different experience each evening, including a sunset ceremony on the beach, a Polynesian feast that featured the culinary artistry of all eight of the restaurants on site (including a 17-foot wooden boat filled with fish) and a three-course elegant plated dinner. The out-of-the-spa offerings of Spa by JW enhanced the experience with a Zen Den and yoga classes. The gaming room and miniature bowling alley at 10K Alley offered space for late night "kidulting." How fun is that?
FICP 2024 Annual Conference will be Nov. 10-14 at Sheraton Denver Downtown Hotel.