How to apply behavioral triggers to conference programs to increase engagement
If the golden ring everyone is reaching for on the merry-go-round of events is "engagement," then we had better get real about what causes people to pay attention and interact with the content we work so hard to present at conferences and meetings. A new study titled, "Guiding Principles in Experience Design," by Marriott International in partnership with PCMA and CEMA that will be presented at IMEX found six truths that draw on the core behavioral urges that drive human beings and teased out strategies to leverage them to help people process and remember.
"We want to help move the industry forward and help meeting professionals explain the relevance of meetings to their CEOs now that everyone is meeting again," said Julius Robinson, chief sales and marketing officer for the U.S. and Canada with Marriott International.
From identity seeking, a longing for freedom of choice and a sense of belonging to aligning values, emotional understanding and the power of play, this global study boiled down the essence of group motivation from a total of 1,987 unique insights identified from the interviews into lasting concepts that meeting professionals can use to advance their conversations with audiences at each point in the meeting journey from initial awareness through registration to post-even follow-up.
A quiz based on the findings was designed to help participants self-identify their dominant motivational triggers and interactive exercises were built to bring the ideas to life in a portable "lab" that is being featured at Marriott customer events across the country.
The Truth Will Set Ideas Free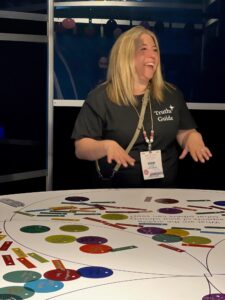 "People want meaning personally, professionally and in the things we do," said Naomi Clare, founder and CEO of Storycraft Lab, who helped with the research. "That is why we focused on truths rather than trends."
Read More: A Master's in Meetings and Events Gives New Meaning to Emotional Intelligence
Following are the main findings with an emphasis on how these truths impact human interactions in group settings.
1. Exploring Identities
Humans seek the ability to find their own individualized uniqueness but also to find where they overlap with others. These intersections are fundamental to one's ability to connect and emphasize a need for connection to local communities.
What that means for events: The role of the event designer will be to reimagine networking and create an environment where people feel open enough to stretch their minds and fully participate.
2. Architecting Choice
Audiences desire choice and want to be involved in selecting the various pathways available to them. They also want adequate support and resources to make clear and informed choices. These tools, when leveraged effectively, can help audiences reduce complexity and make confident, informed decisions.
What that means for events: To develop the user experience, event strategists need to understand the problem they're solving for from the perspective of the audience. Asking the audience why they are coming to an event may be a step in the right direction.
3. Designing for Belonging
A sense of belonging for attendees should be a central mission for the experiences that event strategists create. When all audiences are able to participate as they are and feel included for who they are, they can have more positive and impactful experiences.
What that means for events: Event strategists need to design events for inclusion, considering different abilities and varying needs related to mental health. As part of Marriott International's commitment to belonging, Marriott has collaborated with the Google Experience Institute (XI) on The Neu Project to enable more neuro-inclusive meetings and events.
4. Value of Values
Audiences search for experiences that provide value beyond the dollar, prioritizing elements like sustainability, inclusion, hybrid channels, community engagement, time and uniqueness. Distinct offerings and value propositions continue to be crucial in meeting audience needs.
What that means for events: For the time-conscious, the virtual-hybrid experience will remain essential to be connected to their communities wherever they are.
5. Emotional Data
Understanding the emotional state of participants is key to driving loyalty and decision making. Event strategists need to discover how to leverage emotional data, measure it consistently and analyze it effectively.
What that means for events Audience segmentation tools use personalization to create dialogue and encourage preference sharing. When used pre-event as a vehicle for experience design, they can demonstrate how the emotional data collected has been used to create better experiences for the audience.
6. Power of Play
The process of playing with something, breaking it apart and putting it back together creates opportunities for ideation and collaboration. Developments in AI are opening new avenues for experimenting and playing with new tech tools that can facilitate connection.
What that means for events: Event designers may want to create play-first spaces that celebrate testing and experimentation to help audiences better understand new ideas and synthesize learnings.
How to Take Baby Steps in Event Design
Just because there are six "truths" doesn't mean meeting professionals have to rent a ballroom and ship the physical activations of each one to their event in order to realize benefits of the insights. Pick an area that aligns with your messaging and use it as a jumping off point for discussion, Robinson suggested.
Read More: Spectacular Spaces: Event Design with Ed Libby
To that end, a "Magic Truth Ball" was designed as part of the lab activation of the report to help planners find a starting point for envisioning how they might put these ideas to work in their programs.
And planners aren't alone in their quest to incorporate these findings into their agendas. "We hope we can help incorporate these exercises into the experiences being designed for our hotel spaces," he said.