How the fine dining brand never lost momentum
In 1998, Jack Nicholson won the Oscar for best actor in "As Good as It Gets." During that same year, the first national chef-led catering company launched with a mission to carry out that title as a company motto. The foundation for providing top-shelf catering was laid by celebrity chef Wolfgang Puck, who believed that catering services shouldn't be mired in mass-produced batches of food in hot boxes and served in chafing dishes.
Puck's flagship restaurant, Spago, served as the catalyst for the chef's expansion into catering as many of the Oscar-viewing parties including Hollywood A-listers were hosted at the fine dining establishment at the behest of literary agent, Irving "Swifty" Lazar, highlighting a blind spot in the special events catering industry. And Spago's star-studded fanfare didn't go unnoticed. The event organizers behind the Oscars recognized the restaurant's popularity and decided to bring Puck's culinary creations directly to the awards show—leading to the launch of Wolfgang Puck Catering (WPC).
Smart Meetings caught up with the president of Wolfgang Puck Catering, Pamela Brunson to discuss the brand's origins and future. "Lazar very famously had an Oscar viewing party where he had a lot of literary type of guests for a seated dinner and then had an incredible A-list reception after the awards during a time where there weren't a lot of post-award events happening," Brunson said. "It was a very unique opportunity." Some big Hollywood names that joined Swifty's receptions included Don Rickles, Ed McMahon, Angie Dickenson and Bob Newhart, to name a few.
While the Academy of Motion Picture Arts and Sciences is a membership organization and had traditionally been an industry insider event, the organization eventually began to reimagine what type of experience they would deliver and reached out Puck in the hopes of capturing the fun and vibrancy experienced by Lazar's guests thanks to the atmosphere and food provided by Spago. "They were really interested and willing to change it up," Brunson said.
Read More: SIAL America 2023 Kicks Off in Las Vegas
Elevated and Personalized á La Minute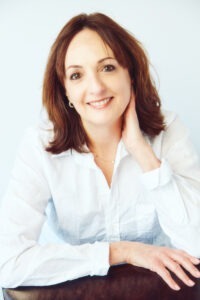 An established standard of popularity may have been what catapulted Puck's brand into the catering and events industry, but it was the brand's keen sense of the finer details around presentation and diner experience that has kept the brand on the top shelf of the culinary industry since the 1980s, embracing the concept of á la minute, or made-to-order.
"Thinking about how to bring restaurant quality and restaurant style of attention, creativity and welcoming hospitality into non-restaurant environments that range from a workplace to an outdoor space or similar setup," Brunson said. "You pull all the levers you have to, but how do you continue to push creativity and your team's flexibility to create an experience that feels like 'yeah, that just came out of that kitchen right behind me.'"
Brunson says that WPC focuses on creating moments to anticipate what people might be in need of and find "those surprise and delight opportunities," she said. "that's what we focus on, making sure that welcoming hospitality and personalization still comes through."
And the Balancing act of creating dishes that straddle the line of tradition and innovation is transposed through the brand's hospitality component, centered around elevation and approachability. "I think [Puck] has done it particularly well," she says, noting that when Puck first started off in the '80s, the concept of offering pizza, regardless of the toppings, was unheard of at fine dining restaurants. "He really elevated it with smoked salmon and caviar on the pizza and was able to get people comfortable with something that maybe felt a little fancy or unexpected," she said adding that this approach has been crucial in helping their diners feel comfortable and special.
"Wolfgang is a very talented chef, but I think Wolfgang's real magic is being a people person and understanding how to make people feel welcome and how to make people feel special," Brunson says. At the start of her career in the restaurant industry, Brunson admits that she wasn't very familiar with the nature of the business and credits Puck with providing education on the intricacies of working at restaurants and how to provide an elevated dining experience. "I learned a lot by seeing what the standards were of how people were treated," she said. "If you went to Spago back then on any given night, and you were a regular, there'd be a smoked salmon pizza on your table." This special treatment wasn't limited to guests with celebrity status. "I see how he interacts with people in all different types of environments and it's really the same thing—it's about connecting with people and making them feel special," Brunson says.
Read More: Tried and True
Leveraging Partnerships
Both the food service and hospitality industries faced major challenges over recent years, forcing many companies to pivot and evolve amid staffing shortages, supply chain disruptions and other issues, but it was the company culture and external partnerships that kept Wolfgang Puck Catering strong throughout the rough times.
Menus, particularly those for events, have also undergone major shifts in recent years, as planners are constantly seeking the best avenues for finding inclusive menus to ensure no attendee feels left out and overlooked.
Brunson attributes much of the brand's success and longevity to Puck's ability to retain top talent, particularly on the culinary team, such as Wolfgang Puck's Senior VP of Culinary Eric Klein, who has been with the company for 25 years. "I think that making sure we've got a lot of team members who understand the vision is really important to help teach that and stay focused on the goal," she said.
And the partnerships shared with other companies and service providers have also played an integral role in ensuring the brand's ability to function at a high level, delivering the quality service and dining experience that's made it so well-known.
With the abundance of individuals who have food allergies or dietary restrictions, finding catering services that are equipped to create inclusive menus has become compulsory for meeting planners.
"We have been building strategies around dietary restrictions into our business from the beginning," she says. One shift that evolved with the Academy Awards and the Governor's Ball is offering a wide variety of smaller plates with a good portion of those offerings consisting of vegan or vegetarian options, for example.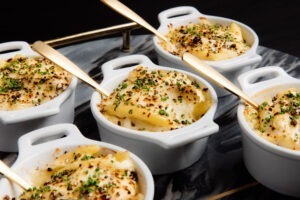 "Having different stations where diners choose how things are prepared is also a great option," she said. "It makes it very easy to make those adjustments for people."
Working with organizations committed to food rescue with the purpose of helping those in need is another partnership vital to WPC operations. While the catering often consists of a wide variety of dishes, Brunson attributes a low level of food waste produced at WPC-catered events to the agility and discipline of the kitchen staff that is well-versed in measuring just the right amount of food that needs to be prepared. "There are definitely some recipes we use that produce zero food waste," she says, noting that much of the time, food is prepared as needed, as well as using extra prepped and uncooked food in a dish the following day.
WPC also works with food rescue organizations in nearly every location, including California, where WPC works closely with the organization Chefs to End Hunger, which supports over 30 organizations in Southern California. WPC also works with Vesta Foodservice to collect fresh produce that goes unused during a catered event and redistributes it to agencies in Los Angeles and Orange counties.
Read More: Food Rescue and Donating to Those in Need: The Law Is On Your Side
WPC Expands to Bay Area Market
WPC recently set out to bring the national catering service's brand to the San Francisco Bay Area and has opened a commissary kitchen in San Francisco to support the company's growing list of clients. WPC's latest venture aims to bring the catered fine dining experience to the workplace, expanding its footprint across the U.S.
WPC will focus on four key areas including workplace catering, workplace dining quartered in onsite cafes, grab-and-go options geared toward offering clients a one-stop solution for all-day food and beverage requirements and retail coffee and barista bars.