Wylder Windham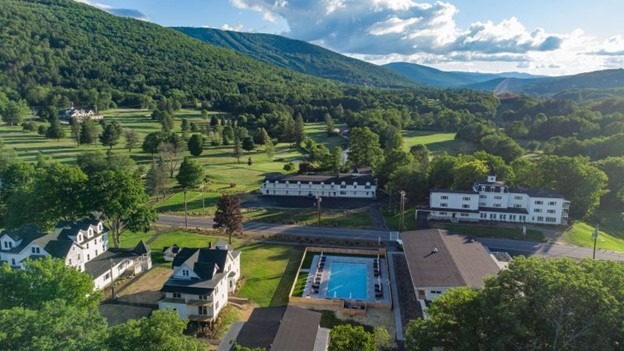 In the Great Northern Catskills of New York, Wylder Windham has undergone a modern transformation while staying true to its roots. Founded in 1880 as Thompson House Resort, the property has softly reopened with 29 rooms available. All 110 guest rooms and seven buildings will be available by September along with the onsite restaurant.
Each room type caters to different types of guests. Charming rooms are simple options with modern touches; Cozy and Manor rooms have soaking tubs or communal balconies for comfortable relaxation; Balcony rooms have private views of Windham Mountain or the Batavia Kill stream; Suites give plenty of space with a separate sitting room and luxury amenities. For groups and parties, the Farmhouse has four bedrooms and plenty of space to host gatherings.
Babblers, the onsite bakery and restaurant, takes advantage of the homey atmosphere of the resort with refined comfort food and local cuisine. The bakery is open to guests, with the restaurant following with the grand opening in September. Breakfast is served daily at The Evergreen Lodge. Other local restaurants, including The Vineyard at Windham, Millrock Restaurant and West Kill Brewery, are a short distance away.
Read More: New York: All That Glitters
Wylder Windham offers more than 4,000 sq. ft. of indoor and outdoor event space that can host up to 200 guests. Attendees will stay occupied with a variety of outdoor activities across 20 acres. A heated pool is nestled between buildings, while the expansive lawn hosts pickleball, hammocks, tree swings, fire pits, lawn games and live entertainment. Windham Path, Windham Mountain and Windham Country Club are within minutes of the resort for more rigorous activity. For those who would rather stay inside, the recreation room is outfitted with nostalgic games.
The Hermitage Hotel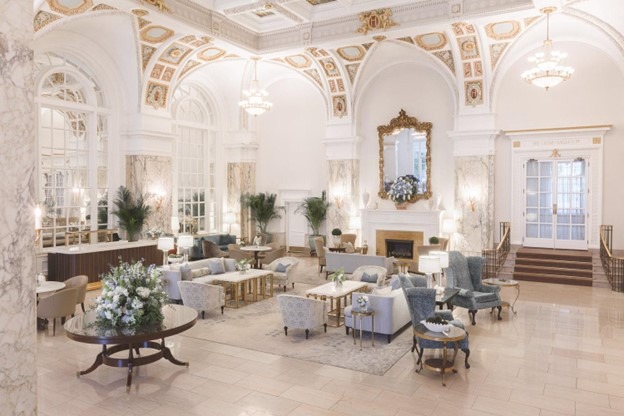 The Hermitage Hotel, after 110 years of serving Nashville, is receiving a restoration and redesign to its lobby, ballroom and 122 guest rooms and suites. Its modern Southern Hospitality and refurbished vintage architecture make the property the social hub that earned it the adage, "Meet me at the Hermitage."
Historic Beaux Arts lobby retains its characteristic hand-painted glass ceiling, ornamental plasterwork and Tennessee marble. Furnishings like seating and lighting are all new, largely following a modern blue and silver palette. In The Hermitage Hotel Ballroom, the biggest of four event spaces at more than 2,000 sq. ft., new carpeting, artwork and AV controls bring the room into the 21st century while keeping its classical Circassian walnut paneling.
Guest rooms at The Hermitage are an average of 500 sq. ft., among the biggest in Memphis. They have been similarly updated to reflect modern designs. Desks have been replaced with tables that double as workspaces and group dining; new millwork makes the minibar and other amenities blend into the design; carpets, drapes and upholstery has been replaced; locally sourced artwork can be found throughout the guest rooms and hallways. The Presidential Suite now has a functional library and a more open floor plan.
Michelin-starred chef Jean-Georges Vongerichten has opened two new dining spots at The Hermitage. Druise & Darr is a new-American restaurant and bar that focuses on regional produce and seasonal cuisine. A variety of dishes can accommodate a family night out or a formal dinner service. Around the corner, The Pink Hermit serves light meals, pastries and coffee throughout the day. An afternoon tea service, "Spillin' Tea with Draper James," celebrates new custom staff uniforms by Reese Witherspoon's brand Draper James. Recipes from her cookbook "Whiskey in a Teacup."
W San Francisco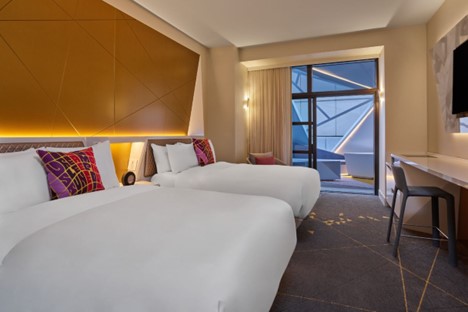 In the quirky area between the SFMOMA and Moscone Convention Center, W San Francisco is experimenting with enclosed tent-shaped "patios." These geometric, pet-safe structures are in five of the 408 newly renovated guest rooms and suites and can give guests a unique secluded space.
The tent structures were designed by Skylab Architecture to reflect San Francisco's local history. The idea came from Gold Rush-era shelters in goldfields, where miners pitched tents and dug out caves to rest. An overhead heat lamp is a callback to the 19th century oil lamps that these miners used. Geometric lines are continued from the room to the structure, which is made up of a series of triangles.
Pet owners staying at W San Francisco can take advantage of the Bed & Bowl package. It includes a "Welcome Pooch Perks Box," a dog leash, eco-friendly waste disposal bags and pet treats. While the Spectacular Studios are well-suited for pet owners, the whole hotel welcomes pets.
Dining options are plentiful in downtown San Francisco, and W San Francisco is no exception. TRACE serves seasonal breakfast and lunch, while Living Room Bar attracts locals and guests alike with local beers, cocktails and a restaurant. Upstairs Bar is only for private events and serves modern local food and drinks. Events can also utilize more than 17,000 sq. ft. of meeting space across 15 rooms.
 

Hotel Granduca Austin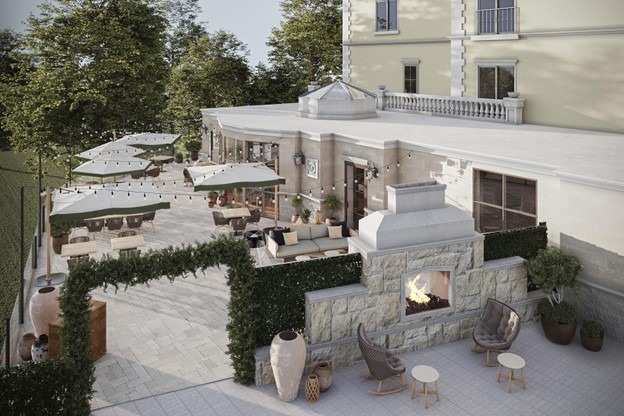 The spirit of the Italian countryside will be refreshed with renovations beginning last month at Hotel Granduca Austin. In the hills ten miles outside of Texas' capital, the pet-friendly palazzo villa hosts 194 guest rooms and suites on 38 acres of greenery. It will remain in operation during the renovations, which are expected to finish in early fall.
Guests will be greeted with a living room-like lobby lounge area. A boutique market with local goods and necessities will be nearby. Outside, the redesigned pool deck will see the addition of poolside cabanas and a fireplace. The second floor has a luxury spa with eight treatment rooms and a variety of services available.
Read More: Austin and San Antonio: Driving the Cultures
The Italian theme continues with Visconti Ristorante and Bar. Traditional Italian cuisine is served inside and outdoors throughout the day. Several signature cocktails, including the Basil Limoncello Margarita and the Old Thymer, offer unique flavors. Every guest room welcomes visitors with a bottle of wine from Trinitas Cellars in Napa Valley.
Hotel Granduca Austin has 11 indoor and outdoor event spaces available with more than 12,000 sq. ft. A newly designed chapel will also be available when renovations are complete. Groups can add catering, activities and more based on the event's needs.