Singer-songwriter Andrew McMahon at Austin City Limits Festival in Zilker Park
Highly diverse music festivals invigorate Austin and San Antonio
Music flows like a river around and about Austin and San Antonio, injecting an excitement and pulsating vibe that sets the tone in these effervescent cities. "The music scene in Austin is eclectic and dynamic," says Steve Genovesi, executive vice president of Visit Austin. "It is the central driving force of the culture, and takes shape in unexpected places and spaces. Our music scene has grown dramatically—today Austin has more than 250 music venues and more than 2,000 recording artists."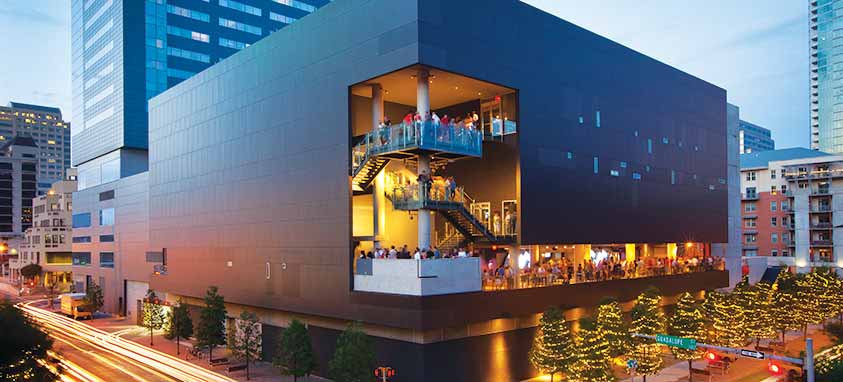 San Antonio, 80 miles southwest of Austin, also features a wide variety of music, drawing on everything from its roots to contemporary trends.
"San Antonio is an incredibly diverse music city, and that diversity is reflected in the wide variety of musical genres and venues that you can experience across the city," says Casandra Matej, president and CEO of Visit San Antonio. "From traditional mariachi music on the River Walk to heavy metal along St. Mary's Strip, there truly is live music for all tastes in San Antonio. Music is an important part of San Antonio's vibrant culture and is one of the ways we express who we are to our visitors."
The sounds of the two cities can be enjoyed in many different settings, including stadiums, arenas, clubs, bars and the streets. But perhaps the best way to experience the full vitality and diversity of music is at the abundance of festivals, which energize groups while providing intimate hyper-local experiences.
Austin
The beating heart of Austin's identity is its music, which has significantly expanded in scope over the years.
"Music in Austin crosses cultural boundaries," Genovesi says. "On the same block, you can see blues musicians plucking away next to honkytonks, and catch indie-rockers heading across the street to see up-and-coming hip-hop acts. This cross-pollination of genres and styles has helped spur great collaborations and innovations across the music scene."
The Capital City's diversity of music offerings is reflected in its stirring festivals.
Exciting Festivals
Pecan Street Festival is a free, two-day arts festival held twice annually—on May 5–6 and Sept. 22–23 this year—in downtown Austin's Sixth Street Historic District. Hundreds of local and national artisans offering original handcrafted creations in a variety of mediums are backed up by nearly 50 of the city's top musical acts on three stages, located on Trinity, Neches and Red River streets. Nearly three dozen food vendors, located throughout the festival, offer both indulgent and healthy options.
From humble origins in 2002, Austin City Music Festival has grown to be a massive, multigenre event spanning six days, over two weekends. Inspired by the famed music TV show with the same name, the festival annually features one of the best lineups anywhere in the world. More than 130 bands perform in Zilker Park, along the Colorado River, on eight stages, in small and intimate to stadium-type settings. The festival will be held Oct. 5–7 and Oct. 12–14 this year.
The Urban Music Festival, which will be celebrating its 13th year next spring, is a fun-filled, family-centric weekend full of great entertainment and community participation. Located at Town Lake Auditorium Shores, it features R&B, jazz, funk, reggae and more.
Old Settler's Music Festival relocated this year from Salt Lick Pavilion in Driftwood, just southwest of Austin, to a 145- acre property in the Lockhart area, southeast of the city. The signature down-home event features Americana, roots rock, blues and bluegrass music, as well as arts and crafts, camping food and local libations.
Founded in 1994, Austin Reggae Festival, which is held in the spring at Auditorium Shores, showcases three days of live reggae music, including top headliners. Craft beers and a wide selection of international foods are available. The festival has raised more than $1 million for Central Texas Food Bank to help families in need.
Carnaval Brasileiro, slated for Palmer Events Center March 1–6, 2019, has grown from a small gathering of a few Brazilian students and their friends to a huge public bash highlighting Brazilian culture, especially its music.
"Flamboyant costumes, Brazilian samba music and the uninhibited, spirited atmosphere make Austin's Carnaval one of the biggest such festivals outside of Brazil," Genovesi says.
South by Southwest (SXSW), which began in 1987, has grown in scope and size every year, and now is an internationally recognized event featuring music, films, interactive media and conferences. One of the main components of SXSW 2019, to be held March 8–17, will be a broad mix of artists performing in bars, clubs, parks, churches and hotels.
Capital City Testimonial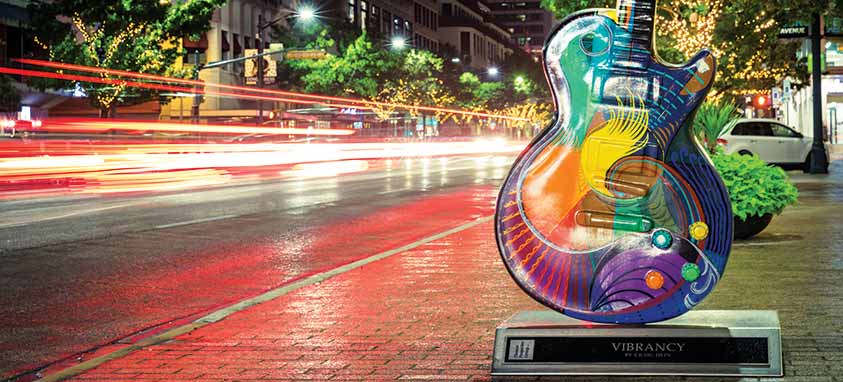 "Austin turned out to be one of the best places I've ever held a meeting, and Visit Austin was the best introduction I could have had. The city, food, music, people—everything there is a feast. Where else can you bring your group to a dive bar and a Michelin-starred restaurant, and have the food be just as good in both places? Where else is the music as good on a street corner as in a concert hall? I can't wait to come back." –Bonni Scepkowski, president and chief security officer, Stellar Meetings and Events
Top Meeting Spots
One of Austin's major challenges has been to supply sufficient quality lodging and meeting facilities for the burgeoning numbers of meeting groups and tourists.
"The group demand has dramatically increased for Austin, and the new hotels and airport expansion are able to accommodate those interested clients," Genovesi says. "Regarding convention center groups, walkways connect the Hilton and Fairmont to provide convenient meeting space for additional programming."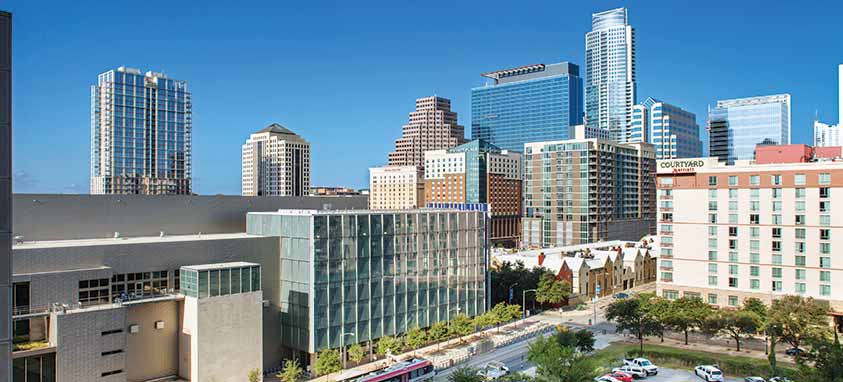 Austin-Bergstrom International Airport, (AUS) is adding nine gates to its terminal as well as two new parking garages. Austin Convention Center boasts 881,400 sq. ft. of meeting space, including five column-free exhibit halls, seven ballrooms and 54 flexible meeting rooms. The newly renovated Hilton Austin, which features superb views of the impressive Capitol Building and Lady Bird Lake, a reservoir on the Colorado River, offers 801 guest rooms and more than 80,000 sq. ft. of meeting space.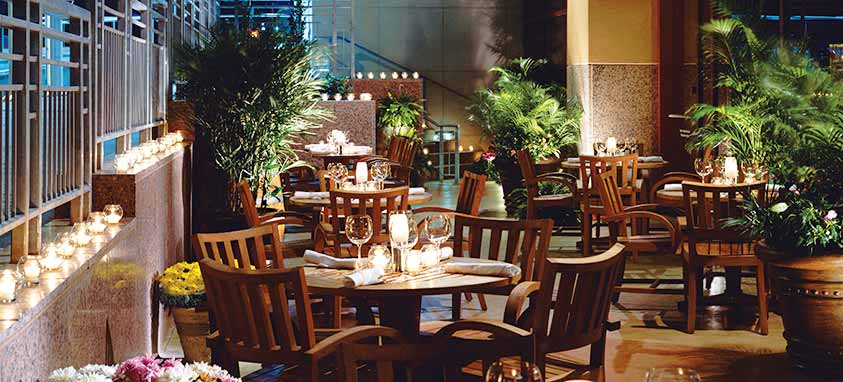 Conveniently situated in the Central Business From top: Fairmont Austin; guest room at Wyndham Garden Austin District, Fairmont Austin is situated alongside the lush greenery of Palm Park and Waller Creek. The luxury property, which opened in March, has 1,048 guest rooms and nearly 140,000 sq. ft. of meeting space, including two ballrooms with more than 25,000 sq. ft. each and a 21,000-square-foot outdoor deck.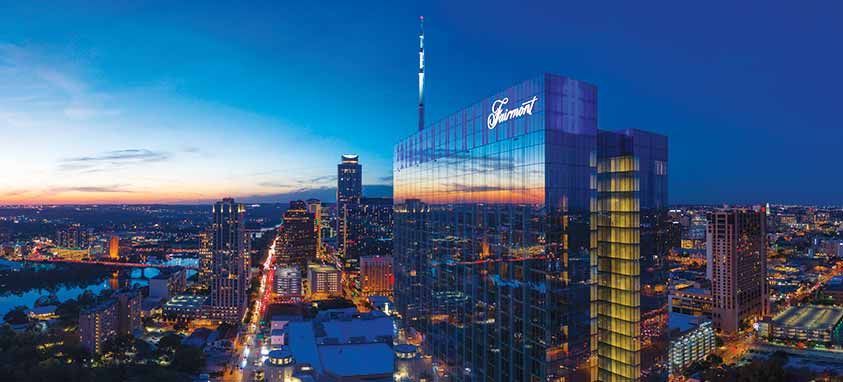 Conveniently situated in the Central Business District, Fairmont Austin is situated alongside the lush greenery of Palm Park and Waller Creek. The luxury property, which opened in March, has 1,048 guest rooms and nearly 140,000 sq. ft. of meeting space, including two ballrooms with more than 25,000 sq. ft. each and a 21,000-square-foot outdoor deck.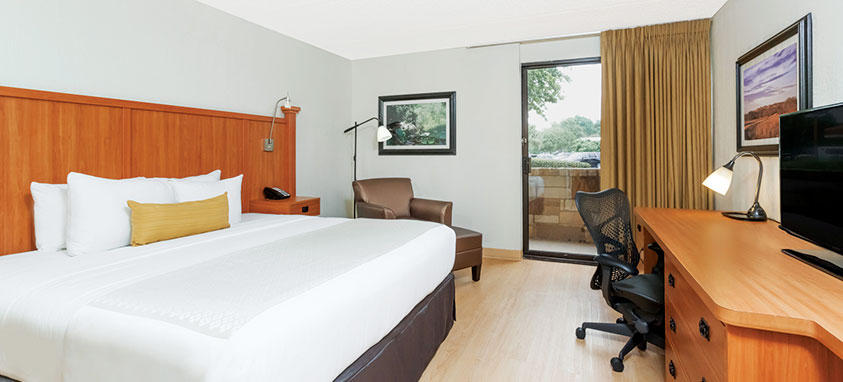 The 189-room Wyndham Garden Austin, which opened in February, is located on the banks of Lady Bird Lake. It features an outdoor pool and a business center.
Scheduled to open in 2020 are Austin Marriott Downtown (613 guest rooms, 64,000 sq. ft. of meeting space) and a Kalahari Resorts and Conventions property in Round Rock with 990 guest rooms, a 40,000 square-foot ballroom and a 20,000-square-foot ballroom.
Alamo City Testimonial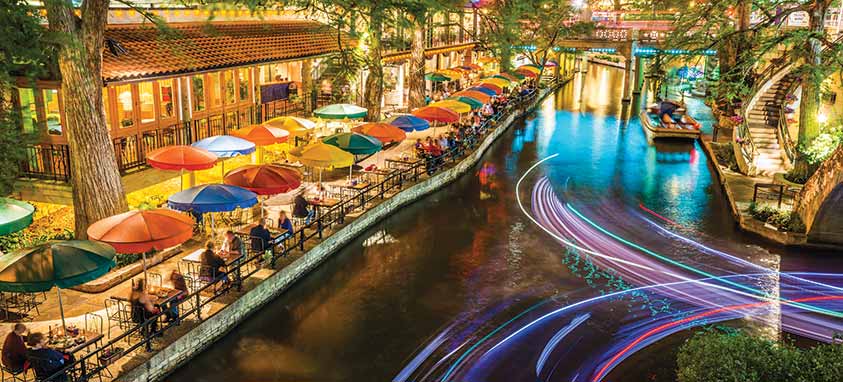 "ICMA's annual conference returned to San Antonio in 2017 just as excitement was building for the city's big tricentennial celebration. We again enjoyed a recordsetting attendance, attributable in part to the many highlights that have made San Antonio a favorite meeting destination for years—the historic Alamo and other Colonial missions, the delightful River Walk and the marvelous sights, sounds and tastes of South Texas culture and cuisine." –Ross Hoff, conference director, International City/County Management Association
San Antonio
Music in the Alamo City is elevated by the great variety of genres, several of which have emerged from the city's cultural diversity.
"San Antonio's rich musical heritage results from the confluence of many cultures, such as Mexican, Spanish, German and French," Matej says. "The blending of those cultures, along with the many heritages that now call San Antonio home, result in unique musical genres, including conjunto and Tejano, which are still performed and celebrated in San Antonio today and continue to influence young musicians who are using it to shape the sounds of modern San Antonio."
Several of the Alamo City's major festivals highlight these unique genres.
Exciting Festivals
The annual Texas Folklife Festival is a three-day cultural extravaganza that brings more than 40 ethnic groups together to showcase their heritage. More than 65 bands are featured, along with 50 folk dance groups, 50 crafts vendors and 150 food purveyors. The event is hosted by University of Texas San Antonio's Institute of Texan Cultures and will take place June 8–10 at HemisFair Park, a short walk from the River Walk and The Alamo.
Jazz lovers once again will be flocking to Jazz'SAlive, set for Sept. 21–22 at recently renovated Travis Park in the heart of downtown San Antonio. The festival features award-winning national, regional and local talent playing diverse styles of jazz and performing on two stages, as well as food from more than 20 local vendors, crafts created by local artisans and more.
The yearly River City Rockfest, featuring music icons from around the world, will take place that same weekend, on Sept. 22, at AT&T Center. Previous headliners have included Kid Rock, Alice in Chains and Def Leppard.
Hip-hop enthusiasts enjoy Mala Luna Music Festival, a two-day event focusing on the musical genre that features national headliners as well as homegrown musicians, artists and merchants. It will be held at Nelson Wolff Stadium in October.
The Rock 'n' Roll Marathon Series, which raises funds for many nonprofit groups, rolls into San Antonio this year with music—including live bands, DJs and drum lines—throughout the running course. The local event, San Antonio Rock 'n' Roll Marathon & 1/2 Marathon, will take place Dec. 1–2.
"This marathon features multiple musical bands along the course, which passes by some of San Antonio's most notable attractions and historic sites," Matej says. "South Texas' mild weather in the fall and the picturesque terrain of San Antonio match up for the perfect marathon mix."
Offering an eclectic mix of national, regional and local pop, electronic dance music, hip-hop and rock performers, Botanica Music Festival debuted this year. It was held in March at Six Flags Fiesta Texas, and included headliners Logic, Deftones and Alessia Cara. The event also featured artwork, games, and food and drink that celebrate San Antonio's infectious culture and progressive energy.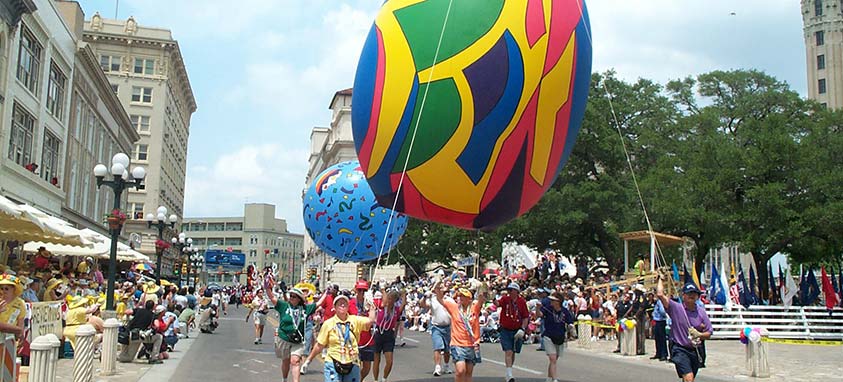 The city's biggest celebration of all, Fiesta San Antonio, features a bit of everything, including parades, carnivals, balls, art fairs, and an abundance of foods and beverages. Music—including mariachi, blues, jazz, rock and country—provides the backdrop to most activities and attractions, and often is the focal point. Fiesta is one of America's greatest festivals, attracting 3.5 million people and offering more than 100 events. It will take place April 18–28, 2019.
Top Meeting Spots
To better accommodate San Antonio's ever-increasing numbers of visiting groups and tourists, several hotel properties recently have completed major renovations.
St. Anthony Hotel, a National Historic Landmark built in 1909, recently underwent a renovation that restored, uncovered and polished original Venetian-tile mosaics, and restored museum-quality sculptures, tapestries and murals. Modernizations included restructuring public spaces for modern use, and techfriendly improvements throughout the property. Located along the River Walk, the hotel offers 277 guest rooms and 31,527 sq. ft. of meeting space.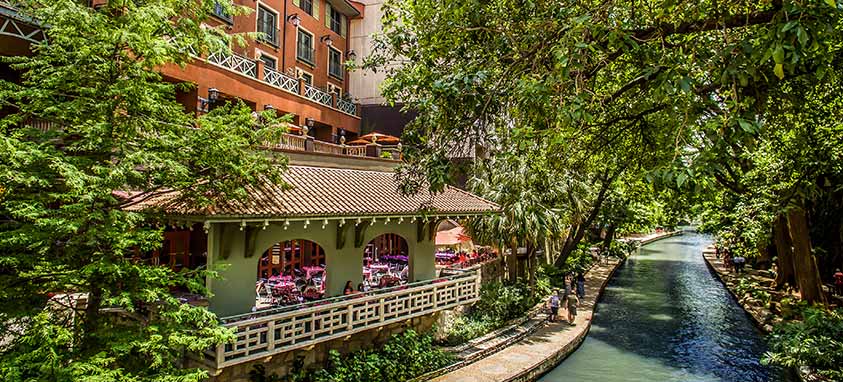 Another major property nearby, Hotel Valencia Riverwalk San Antonio, recently completed a $10 million renovation that transformed its look and feel. It marked the first major renovation since the boutique property opened 14 years ago, and transformed the 213 guest rooms by blending Spanish Colonial and Modern Mediterranean architectural styles. Hotel Valencia offers 7,000 sq. ft. of meeting space.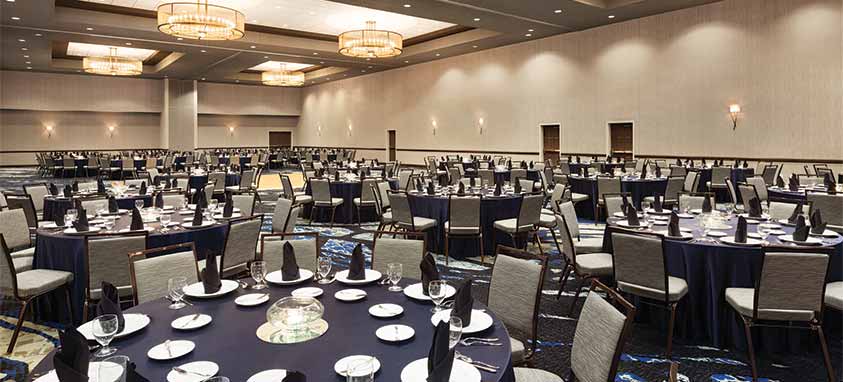 Embassy Suites by Hilton San Antonio Brooks Hotel & Spa opened recently at the former site of Brooks Air Force Base. The all-suite property, which is an 11-minute drive from The Alamo and downtown San Antonio, offers 156 guest rooms and 20,000 sq. ft. of meeting space.
Two significant hotels are scheduled to open by early 2019. Canopy by Hilton San Antonio Riverwalk Hotel will have 195 guest rooms, a restaurant with an outdoor terrace, and 3,000 sq. ft. of meeting space. Thompson San Antonio Hotel and Arts Residences will offer sweeping views of the area, 162 guest rooms, 58 residences and more than 5,000 sq. ft. of riverfront meeting space.
Tricentennial Celebrations
Throughout 2018, San Antonio is celebrating its 300th anniversary by honoring its history, arts, culture and cuisine at unique events and experiences. No surprise—music is center stage.
"Many of our tricentennial moments are built around music," says Casandra Matej, president and CEO of Visit San Antonio. "Music is woven into the fabric of our city and plays an important role in the celebration of our 300th year."
Tricentennial celebrations kicked off with a huge New Year's Eve celebration at HemisFair Arena that featured national acts Pat Benatar and REO Speedwagon, as well as regional bands, including Little Joe y La Familia and Sam Riggs. Other musical performances are scheduled throughout the year.