"This is a great opportunity to get everyone out and together in these smaller groups to be able to experience a city and really get back into what everybody loves about this part of meetings—the momentum of connection," said Brian Gilligan, senior vice president of sales and distribution for the United States and Canada at Marriott International, in an interview with Smart Meetings at last week's Meet with Momentum Boston, hosted by Marriott Bonvoy's 3-2-1 Connect hotel network in Boston's Back Bay.
Meet with Momentum Boston, the second installment of a new event series by Marriott that began this June, continued the brand's mission to educate meeting and event planners in its redevelopment projects—from convention resorts to spaces to food and beverage—and to empower planners amid a booming return to meetings. The event added perspective to the crucial role planners play in being drivers of industry innovation, evolution and reconnection.
Marriott Bonvoy's meetings portfolio, also known as its Convention & Resort Network (CRN), is a collection of over 110 properties throughout the Western Hemisphere specifically designed with in-house event support infrastructure and meeting space in mind.
Among these, Boston Back Bay's 3-2-1 Connect, a network of closely localized meetings hotels, saw over 60 planners and industry professionals gather June 22-24 to talk about what is new and improved for planners, what is coming with the return of meetings and what has concretized into an industry-wide movement for customer-centric, personalized experiences and sustainable change.
In a destination where history and innovation intersect, a vision for the future of meetings and events is emerging with a focus on leveraging local experiences and learning how to be leaders in getting back up after two years of feeling face down.
Opportunity in Urban Markets
Attendees stayed at The Westin Copley Place, a property with over 57,000 sq. ft. of meeting space. The hotel is particularly unique, with its 38 floors that climb up from the skyline behind Back Bay's rows of historical brownstones, and 803 guest rooms.
Read More: Marriott Announces 'Bridging the Gap' Program to Support Minority Franchisees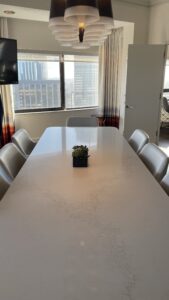 Boston's Back Bay area began to take shape in the late 1850s, built along the Charles River. Buildings of The Westin's stature, however, cannot be erected on the area's narrow waterfront landfill to this day; the result is a sprawling, unobstructed view of the river, community and commercial area below—from every guest room in the hotel.
The Westin Copley Place Boston, Boston Marriott Copley Place (59,000-plus sq. ft. for meetings) and Sheraton Boston Hotel (74,000-plus sq. ft. for meetings), joined by Copley Place shopping center, Prudential Center and Hynes Convention Center (176,840 sq. ft. for meetings), form an entirely indoors-accessible complex, making the destination a convenient location for meetings and events of all sizes.
In tandem with the hospitality industry at large, Marriott International is making strides in its initiative dedicated to improving sustainability and the brand's social impact, Serve 360: Doing Good in Every Direction. The initiative guides Marriott's lofty goals to cut food waste in half, have 100% of its portfolio sustainably certified, responsibly source 95% of its top 10 priority categories and minimize overall landfill waste by 45% by the year 2025. As of its 2021 Serve 360 Report, the hospitality powerhouse is on track to meet its goals in two of its four categories across all aspects, and seeing mixed status across efforts in its remaining two categories.
Sustainability movement at the C-suite level is also evident on the ground. From cultivating bee hives that benefit both the hotel and surrounding city by miles to reducing single-use bottles in guest rooms, Marriott's Boston hotels are thinking regeneratively. But the city is also regenerating post-Covid, and Marriott is working to strategically utilize the opportunities and unique regional experiences that urban markets afford meeting professionals.
Leveraging the Locale
The events industry has changed pace and hospitality is racing to keep up, creating new avenues and bolstering old ones to create more informed, efficient and effective systems of support for planners amid record industry compression post-pandemic.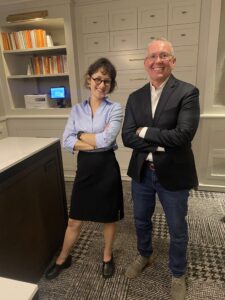 "Especially now as meetings start coming back, and especially our urban markets in some of our bigger cities, the experience and the destination aren't new to having a great meeting in a local destination," Gilligan said. "[But] that decision definitely depends on the local engagement opportunities. I think now, more than ever, as things are opening in cities, things may look a little bit different… as far as new venues that have popped up, new experiences that might be popping up, or experiences that are more limited and for which you need better access."
This is why local partnerships between the hotel and destination marketing or smaller, tourism-oriented organizations are so critical for meeting hotels to have in place. Bleisure is taking a front seat. And it's all because of an obvious need for more space in the event schedule to network.
"One thing we're definitely hearing and seeing more of is this need for more curated networking time… no one has seen each other in two and a half years. They're getting to the meeting and they want extended break time," Gilligan offered.
Bleisure programming can drive that networking time. "Having [these local experiences] proofed already… Whether that's that it could have started earlier, or we could have introduced preregistration ahead of time or we could have promoted it differently so that people knew they could have come early or stayed late to take advantage of something… is a valuable part of being able to share the learnings," Gilligan explained.
Growing Resources for Planners
Multiyear events are another way to share nuanced learnings about returning groups and teams. Jeremy Shears, vice president of finance for Marriott International and a co-leader of its CRN, asserted that customization is key.
Multiyears also allow for longer planning timelines, a widely sought-after and seldom found treasure in a current climate of industry-wide compression. As a result, multiyear contracts offer planners more opportune timelines, which provides time to plan early, and plan more detailed and customized events. "Almost 50% of group business booked in May are arriving in the next 120 days," Gilligan said.
In light of this compression and the rise of 'in the year for the year' bookings, Gilligan noted that transparency on both sides is critical. It takes both the planner having the conversation the first time about the compression of timeline and the hotel's account manager being upfront from the get-go about competitors for a space.
Gilligan also highlighted a tool more properties are beginning to use and one that Marriott has invested in for more efficient site inspections during an era of business travel challenges and properties being short space and dates. Take advantage of the search functionality of virtual mapping tools when discussing best properties for your next event with an account manager.
"People want to meet much faster and sooner," Gilligan remarked. "Whether that's being driven by budget or timing or because they haven't gotten together in so long—that's a really big difference."
New Wave F&B
Executive Chef at Sheraton Boston Hotel Joseph Florio and Executive Chef at Boston Marriott Copley Place Michael Panasuk highlighted that what has made and continues to make efforts to improve F&B practices so effective is  shared vision. F&B professionals in hospitality are seeking out fresh, locally grown, locally sourced ingredients and exemplifying sustainability in and outside of the kitchen.
"We're really trying to position ourselves to make some changes. Don't overcomplicate it. Let the food speak for itself," Florio said.
Read More: How a Storied F&B Kitchen Went Halal to Accommodate Allies
"I met my fishmonger this morning and handpicked scallops for tomorrow. You can't just wait for the truck to back up to your dock. You've got to see what's going on out there. It's the same thing with farms," Florio explained, handing off the floor to Panasuk, a leader in New England culinary organizations.
"Local is mainstream at this point," Panasuk began. "Now, it's a question of, 'What next? How can we improve our food and sourcing even more?'" Panasuk expressed that the talk about food sustainability and minimizing our carbon footprint and food waste on an organizational level ends with the individual.
"I take it personally. Climate change is serious and it is happening. We are a part of the problem in producing [big quantities] of waste, and we want to see how we can shrink that footprint as much as we can," he said.
Planners also play a part in promoting sustainable F&B. Be aware of what's in season and when while planning your event, especially is you're looking to provide attendees with specific dishes iconic to the host city. Another note from the chefs: Be flexible when the season of your event makes a dish less available and less sustainable to source.
"I'd hate for someone to leave the table before getting enough of something they like to eat. We work with so many different folks trying to make a living—whether its cooks, utility guys or a purveyor we're working with—you can't help but feel like it's a big family. We're all in the hospitality business together."
How to Be Leaders in Getting Back Up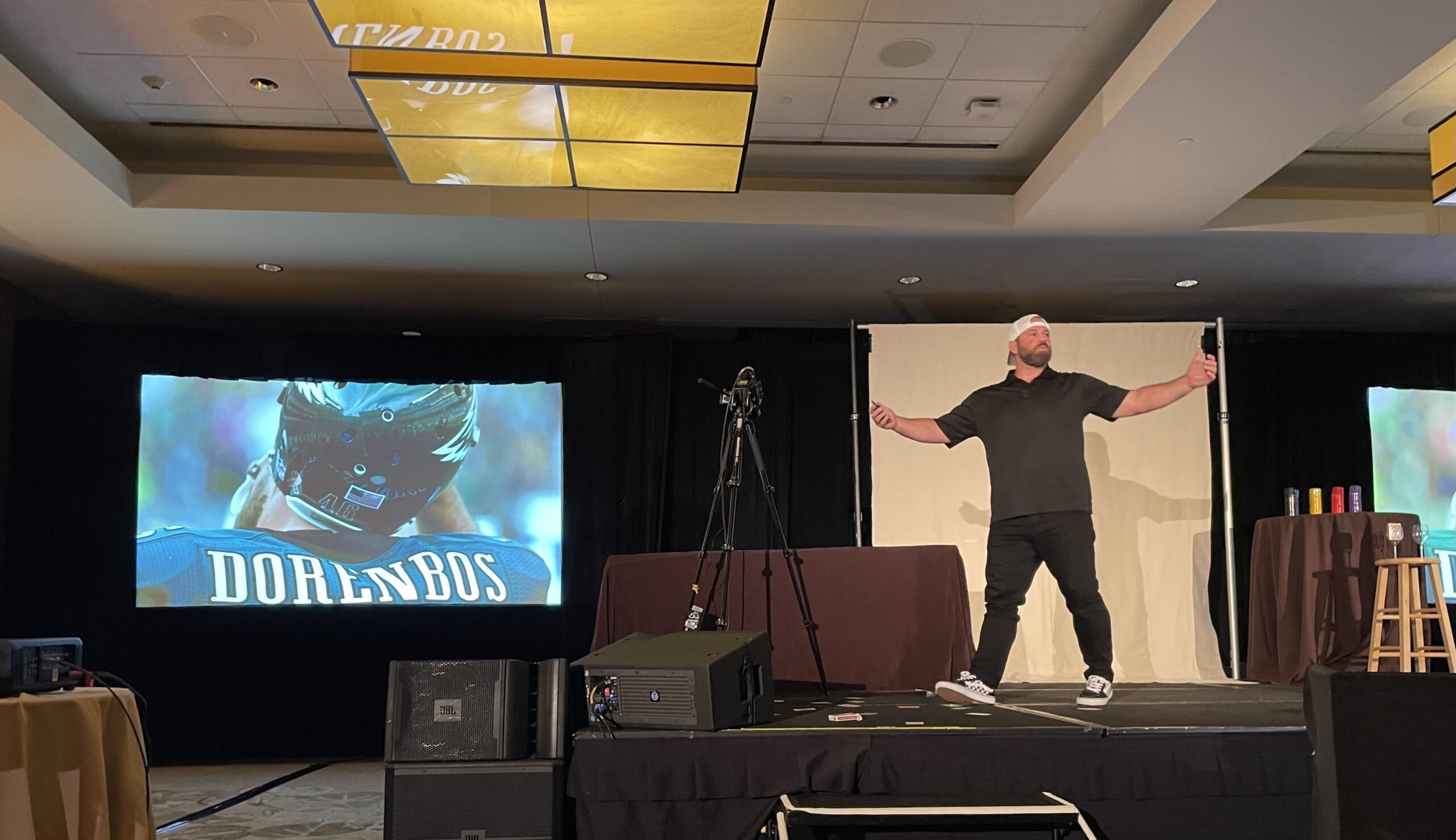 "May every one of us forever realize that when we don't think people are watching us, they are," said the event's guest keynote speaker and magician Jon Dorenbos, a former NFL long snapper who never really wanted to be identified as the football guy, nor a magician, he said. As he's come to learn through career shifts and switches following a family tragedy in his childhood that took his parents and threatened to define him, Dorenbos defines himself as a storyteller.
"The story came first," Dorenbos began in his interview with Smart Meetings after the show. "I was able to figure out the tricks I wanted to do with the stories I wanted to tell. And I never looked back. I realized I was never really in the magic business; I was in the speaking business."
When Covid hit and our global recovery became an open-ended question, it knocked industries face down, turned our work and home lives inside out and forced us to reexamine the events we planners create and their reach. It has led us to face a few choices: Who do you want to be, and what story do you want to tell? When you fall face down, as Dorenbos asked the crowd, are you going to be defined by that defeat or by the victory of getting back up?
Planners are uniquely poised to be leaders in bringing back business, travel and so many other global industries that meetings inevitably intersect. Planners are already storytellers—every meeting and event has a mission, a message and a story. You tell that story through the experiences you create as we return to meetings.
Dorenbos told the audience during his performance, "We hold ourselves to a higher standard of accountability, every day, so that when moments like this come about, we find motivation in defeat."