In socially distanced meeting rooms, on marathon webinar streams and through a Clubhouse Parking Lot discussion, meeting professionals came together to celebrate the advocacy, growth and support the meetings industry witnessed during an immensely challenging year for Global Meetings Industry Day 2021.
Smart Meetings fanned out to cover celebrations all over the country, including MPI's 12-hour streaming program, a panel discussion in San Francisco and a group in Las Vegas at the expanded Las Vegas Convention Center West Hall for a panel discussion and watch party. The mood in the spacious foyer, with chairs set six feet apart, was one of relief and optimism. Following is your best-of report.
Read more about the meaning of GMID here.
Time for Advocacy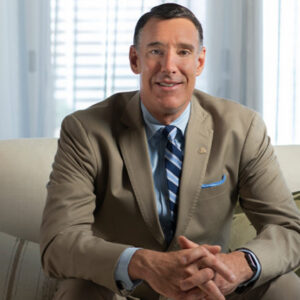 "It has never been more clear that we have to advocate for our industry, declared Michael Massari, chief sales officer with Caesars Entertainment, who is also serving as Meetings Mean Business Coaliton co-chair this year.
The year of dark conference spaces and the struggle to get elected officials to see the vital economic role of the meetings industry made speaking with a shared voice critical in the struggle to get relief.
Chris Flatt, executive vice president of hotel sales and marketing with Wynn Las Vegas, praised the work U.S. Travel Association has done to tell the story of the power of tourism. "We have been forced to have difficult conversations with customers, but in the end it strengthened relationships," she said before adding, "and staying positive has been essential."
Duty of Care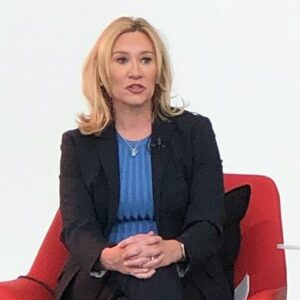 During the pause, leaders from all over the industry came together to design the protocols that will keep everyone safe once meetings ramp up again. "We are executing safe meetings all around the country and we are quite capable," said Massari. Las Vegas has hosted hundreds of small groups successfully since June 2020. Most properties have their own brand for their safety practices, but all include increased cleaning, mask requirements and most have access to testing and vaccine tracking if requested.
Once attendees see all the sanitation and creative F&B in place, they will feel confident enough to return again, so the industry can get back to work hiring employees.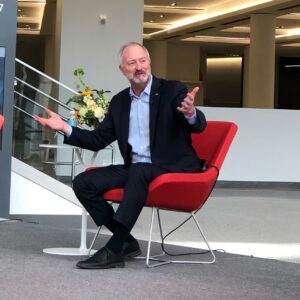 "Meetings will feel a little different for the rest of the year, but when we look to the back half of the year it is very strong with a lot of pent-up demand," said Chandra Allison, senior vice president of sales and marketing at The Venetian Resort Las Vegas and Las Vegas Sands.
"By the time the first big group, World of Concrete, arrives in June, everyone, including elected officials, should feel comfortable that enough people are vaccinated," said Steve Hill, CEO and president at Las Vegas Convention and Visitors Authority.
A Bright Future
While the tour buses were parked in the garage, construction crews were out in full force. Returning conventioneers will find 2 million sq. ft. of new, innovative space in southern Nevada, including Las Vegas Convention Center expansion, a 550,000-square-foot conference center in CAESARS FORUM and the 3,500-room Resorts World, which will encompass three luxury Hilton brands—Conrad Las Vegas, Crockfords Las Vegas and LXR Hotels & Resorts. The Venetian added a VIP dining area, Stella Studio, designed with a natural, light-filled, modern aesthetic. Wynn Las Vegas debuted its new 439,000 sq. ft. of meeting space just before the unprecedented lock down in February of 2020.
MGM Resorts spent the last year focused on digital innovation to improve the attendee experience with contactless check-in and other Covid-proofing measures.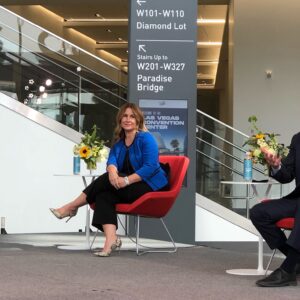 Massari extolled the trend toward hybrid as a powerful marketing tool for face-to-face meetings. "People attending virtually will see the in-person activities and will want to be part of the magic," he said.
Stephanie Glanzer, chief sales officer and senior vice president of sales at MGM Resorts International agreed with Massari's prediction. "FOMO will play a major role in bringing attendance numbers back to pre-pandemic levels as people go back and talk about their experiences," she said.
"Now that we have seen what it feels like to have to do without, we will be stronger," said Hill.
He described the forced break as the impetus for people to look at their programs with fresh eyes. "The industry will have to show that the return on attendance is there; this is an opportunity to create new fans and revenue streams."
Hill also talked about lessons learned from the social upheaval of the last year. "Las Vegas has always been inclusive, but now we have a new understanding about how to help people bring their best selves to a meeting," he said.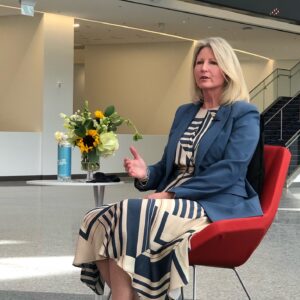 "Our mandate is to take the good things that came out of the last year and be better," said Flatt.
"We appreciate things so much more than we did last year. My team has become so much closer," said Glanzer. "We are clear that we do what we do because of the energy of face-to-face, and we know how to have fun at the same time."
"The last year of supporting each other has humanized a human industry," Allison concluded.
Home Run
Meanwhile, in San Francisco, a GMID Bay Area Hospitality Grand Slam virtual event presented an afternoon panel, "Return to Gatherings," moderated by San Francisco Giants Multimedia Producer and Reporter Amy Gutierrez, and featuring prominent local meeting planners. It was followed by a choice of Zoom breakouts hosted by Northern California chapters of MPI, PCMA and Green Meetings Industry Council.
Panelist Edward Perotti, director of global events at Pure Storage, a data storage company based in Silicon Valley, called this moment in the meetings industry a huge opportunity. "Covid has given all of us in our industry such a gift," he said. "We have been doing the same thing the same way forever. This is our chance to step back. Our roles really become that of a culture driver for the organization. We now have a say in how that best happens."
His company's executive team, Perotti said, is turning to him to tell them how to re-engage customers and employees.
"We do tend to do things that are lather, rinse and repeat, so here was the chance to rethink all that," agreed Leslie Hasvold, director of corporate event marketing at Splunk, a San Francisco-based tech company. "What does everybody need from us? Our sponsors need traffic drivers and flexibility. Customers need our education, our splunkiness [the company culture emphasizes fun, even silliness], but also they want that health and safety. Our executives need each of our community members to walk away thinking they are still part of the community. We need to make sure we are straddling all those lines for all of those stakeholders."
Asked to share strategies that will ensure success in returning to live as well as continuing hybrid meetings, Hasvold added, "Make sure you're working very closely with your safety and legal team. We need their expertise now."
Jody Brandes, group manager for strategic event services at biotech company Genentech, commented, "It is not same old, same old. It's not going to cost the same, same. But the benefit is, we can be more inclusive; we can invite more people and reach a broader audience."
"We're striving to navigate our leadership, who thinks it's going to cost the same as a Zoom meeting," said Perotti. He also sees another upside in an ongoing virtual component. "I can bring speakers in from all over the world," he said, then referenced a recent virtual meeting: "I was able to remove the white man mentality on stage. It was just a beautiful thing."
Read about the history of the MMB Coalition here.
MPI GMID: Virtual
Meeting Professionals International (MPI) celebrated Global Meetings Industry Day, all day, hosting a 12-hour broadcast with panels, activities and resources to move the industry forward. We tuned in to a special panel with Massari, Julie Coker, president and CEO of the San Diego Tourism Authority; Paul Van Deventer, president and CEO of MPI; and IMEX Group CEO Carina Bauer. Below are their highlights of advancements made and the one takeaway for the industry they all agree on.
The 1 Thing the Industry Needs to Achieve in Order to Prevent Another Crisis
All four speakers agreed that the biggest lesson learned in the industry throughout the pandemic—and the biggest goal to achieve in the next two years—is to separate professional business events from other mass events, like festivals. This, Massari says, requires maximum effort and advocacy.
Specifically, the goal would be to gain a faster reopening roadmap for business events that includes international travelers.
"There is a lack of understanding that meetings and events are a controlled situation," he said, citing planners' distinct ability to safely track who comes and goes and comply with social distancing and state guidelines.
Van Deventer said a unified voice among meeting professionals is the best way to broaden understand of this critical separation. "We fragmented our voice at the beginning—out of panic and trying to get everything done. We done. We tried to problem-solve instead of saying, 'How do we come together as a single industry, so that our voice can be heard above all this noise?'" He said the industry needs to unite in underscoring what a controlled environment its events are and what really goes on at its events.
Bauer spoke to the powerful lobbying that happened in Germany in April 2020 to separate business events from mass events. "There is already understanding of the value of the trade show and events industry [in Europe]," she said.
In San Diego, Coker has seen the benefit of presenting industry facts and figures, including ROI, job losses and revenue, to the government, as California recently announced that it would reopen for meetings with fewer than 5,000 people with no restrictions starting June 15.
Celebrating Wins
The speakers also shared their wins—proving that pandemic disruptions can also be industry advancements.
Bauer: The pandemic hasn't changed everything; it's just accelerating aspects like meeting design and experience. What is clear to us is that there is no substitute to what we provide in the real world, but there are benefits to mixing digital and in-person environments. For us, we are focusing on producing an awesome live event in November—but also taking these learnings to see how we can drive connection online in between the big trade shows. There is a small percentage of people that never attended in-person events but are now attending online, so the reach is much bigger for everyone.
Coker: We had to remarket as a DMO. Instead of looking outside to bring others in, we focused on staycations and having San Diegans come stay in local hotels and support local restaurants, while also keeping them informed on safety protocols. While a different position than we are normally in, it helped us create relationships with county health departments and prove to our members that we provide more value than just hotel leads. It has taught us and many DMOs to diversify, and the importance of working with cities to have a reserve.
Van Deventer: In the past five years, the industry focused on terrorism and crisis management. We developed relationships with first responders, and now, with the pandemic, this is just the next step to building relationships, protecting attendees and moving forward.