I'll be honest. After being grounded for five months, the idea of flying across country to experience innovative strategies for physically distanced meetings—face to face and in the flesh!—had a certain appeal.
When Mike Dominguez, president and CEO of Associated Luxury Hotels International (ALHI), extended the invitation to attend the Executive Women in Leadership showcase event at Naples Grande Beach Resort in Florida at the end of July, I saw it as a chance to go beyond the endless stream of venue protocol documents I have been reading. I decided to live the new way of meeting and report back to the Smartie community.
If I had fears, the ALHI team was eager to address them. A Zoom call explained the approach of strictly following CDC guidelines, with fewer than 50 hotel and meeting planner leaders. The goal: arm attendees with the tools and relationships to lead the return to meetings.
I was on board with all those things. So, I signed the code of conduct statement, promising to wear a mask when required, follow distancing guidelines and not attend if I felt ill or had been in contact with someone who was sick.
I was ready to shake the dust off my suitcase.
Act 1: In the Terminal to Arrival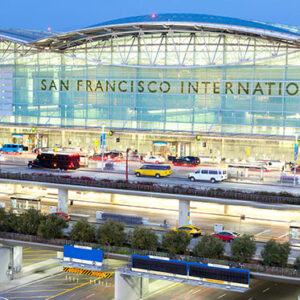 I boarded Delta flight 960 at SFO and was greeted by packaged sanitary wipes, open middle seats and a baggie with a pre-packaged water, cookies and more wipes. Messaging on the seat-back screen proclaimed, "All of our aircraft are ventilated with fresh, outside air and any air that is recirculated passes through high-grade HEPA filters, which extract more than 99.99 percent of particles, including viruses such as coronavirus." So far so good.
Norma Dean, director of specialty sales with Delta Air Lines, later joined the group and explained the company's commitment to people over profits in these perilous times. "We are flipping Maslow's Hierarchy of Needs on its head and attending to the psychological need to feel safe first," she said. The company has hired sanitation officers, is retooling restrooms with self-cleaning treatments as part of a partnership with Lysol, and is making cleanliness protocols just as important for safety as the operation of the aircraft.
Once on-property at Naples Grande (83,000 sq. ft. total indoor and outdoor function space), registration was as easy as finding my name on a table that included my name badge, a safety kit from Boundless Collection with a pair of branded masks, more sanitizer and a face moisturizing mask to combat all the chemicals.
Act 2: Meeting the Ensemble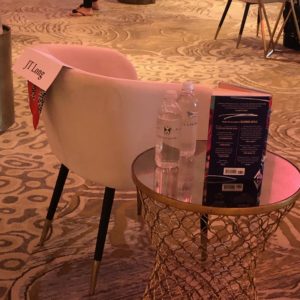 The opening session was short on pre-dinner cocktail time and sprinkled with the storytelling that would be the theme of the event. An icebreaker phone call in advance with Vicky Hettleman, senior vice president of sales with ALHI, and a subgroup that would be seated in the same area, ensured everyone knew a handful of other people and could have a meaningful discussion.
While all the diagrams I had seen of 72-inch rounds with three lonely little chairs poking out seemed sterile, special touches made all the difference. Low, floral centerpieces around the talking point of storytelling allowed everyone to see eye-to-eye.
It occurred to me that when the same table hosted 10 people, most conversations involved only the couple of people immediately around me. And I always wondered if those seated across the way were having more fun than me. Triangulating like this actually seemed more intimate, in a way.
Savory Mediterranean-themed food from Chef Ali Bader spiced up the evening even more.
Act 3: Untamed Encounters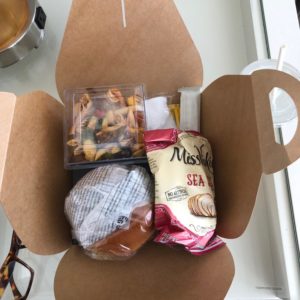 A surprisingly large percentage of the group was up bright and early to start off the next day with a poolside stretch with instructor Raquel Bueno, followed by an al fresco breakfast with stations featuring individually labeled pastries, fruit parfaits and empanadas behind breath guards. We pointed, and a gloved and masked server plated and handed our selections over the top. Coffee was prepared by a dedicated barista, with a cold-brewed and traditional tap made to order and handed over with another gloved hand.
I was eager to see what the meeting room would feel like. I had seen pictures of a grid of straight-back chairs spaced out like bumpers in a pinball machine. This was very different. The light, warm space was filled by Global Works Events & DMC with a variety of comfortable soft seating, padded bucket chairs and side tables that were assigned for the duration of the conference with name tags, just as you would see a at a fancy dinner. Rugs and plants added even more warmth.
The stage was equally low and intimate, and when keynote speaker Glennan Doyle, author of the bestselling memoir Untamed, took the stage, she immediately shed her beige pumps and perched on the plush rose chair to tell her story of finding herself again at age 45. "What we need right now is more women who are full of themselves," she declared. Her message obviously connected with the women in the room.
"We have to learn to trust our gut," Doyle said. Nodding all around.
That conversation was followed by an interactive session with personal coach Brenda Bertrand, who helped us break into even smaller groups (masked-up when not in our personal spaces) and reflect on our losses, celebrate the gifts the global pause has given (yes, we identified some important ones) and identify what is worth pursuing in the future.
Act 4: Safe Dining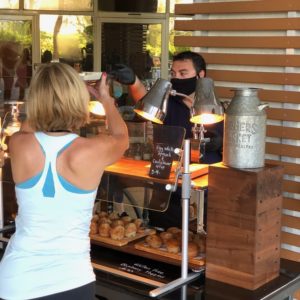 I think everyone is trying to figure out what upscale, sanitized food service will look like. The night before, we saw plated service in the conference space and would get another taste of it at a private event that took over the hotel's signature restaurant, The Catch of the Pelican. Lunch was outside, a grab-and-go with style. Prepackaged sushi, tempura shrimp and herbs were appealing to the eye and palate. The line was staggered to avoid bunching up. We picked up the packaged goods and found a place, three to a table again.
Even the group photo was staged so everyone could stay in their safe spaces and be photographed in the round from the stage. As we struck a distanced pose, I realized I had been holding my breath all this time. I had wondered if it would feel strange to be around a group of people. And would we have the discipline to do the right thing?
But these women understood the importance of compliance and the significance of taking baby steps, so they can report back to their clients about what worked—and what didn't.
Someone had to go first.
RSVP for Your Return to Meetings
The Smart Meetings team has been buying acrylic sheets by the pallet and is getting ready to put all the lessons to work that we have learned reporting on safety and hygiene protocols for the last seven months. We will host a pair of events in September. Smart Meetings Experience Colorado is Sept. 28 at The Ritz-Carlton Denver, followed by The Smart Woman Summit on Sept. 29. These boutique experiences will showcase upscale, contactless F&B, safe one-on-one meetings and an intimacy borne of sharing ideas, rather than close quarters. Register on SmartMeetings.com today to see for yourself how to get your group back in the ballroom.