In a major move reflecting the meetings industry's ever-increasing interest in health and wellness, the Wyndham Hotels and Resorts brand announced on Thursday that it will be offering Stay Well rooms in all of its U.S. hotels by 2019.
Stay Well Rooms were created and developed by Delos, which since 2007 has focused on designing homes, offices, schools and other indoor environments that nurture and promote health and well-being. Dr. Deepak Chopra, founder of The Chopra Foundation and a Delos advisory board member, emphasized the importance of Wyndham's new venture in a press release.
"Travel is stressful on the mind and body, making the hotel room—the space we spend most time in during our travels—a critical environment for our well-being," he said. "By making wellness a priority in the makeup of every Wyndham hotel, the Stay Well experience is fundamentally changing the way we travel—for the better."
The program will be implemented at the Wyndham Hotel and Resorts brand's 114 properties, but not at the 19 other Wyndham Hotel Group brands. Initially, each hotel will have five to 10 Stay Well rooms, depending on the layout.
"But if there is a lot of interest, we could expand the number of rooms," said Gabriella Chiera, senior manager of public relations for Wyndham Hotel Group, adding that preliminary feedback suggests that the rooms will be very popular.
Wyndham's Stay Well program was piloted at six properties, including Wyndham Hamilton Park Hotel & Conference Center in Florham Park, New Jersey, located near Wyndham Worldwide's headquarters. Wyndham properties will offer these features:
Air purification, which circulates filtered air in guest rooms to reduce pollen, odors, allergens, toxins and other pollutants from the air.
Aromatherapy, an optional feature that uses a mood-enhancing scent to improve ambience and mood while promoting relaxation.
Circadian lighting, which creates a personalized room-light environment that emulates the color of natural outdoor light to enhance sleep quality, energy levels and productivity.
Dawn simulator, an alarm clock that simulates a sunrise, allowing for a more natural waking process by using gradually increasing light.
Stay Well mattress, a foam mattress derived from organic cotton, pure hevea milk and essential oils.
Guided Meditation by Deepak Chopra, including a welcome message that lends wisdom and insight to the features of the Stay Well experience.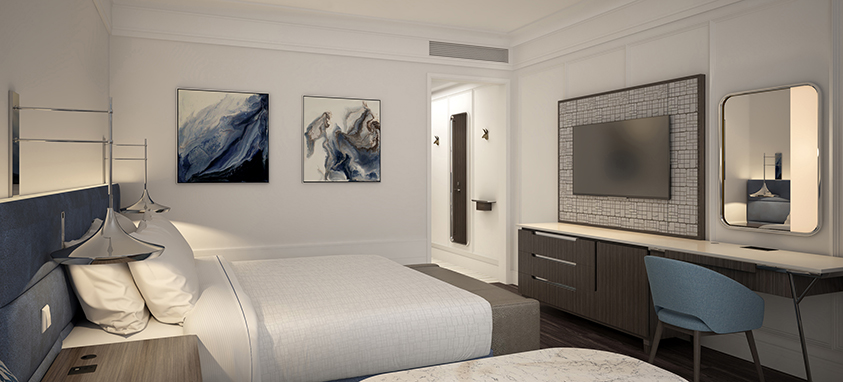 Delos' Stay Well program resulted from a collaboration with doctors, scientists, architects, designers and thought leaders to identify, develop and integrate wellness features. The company first partnered with MGM Grand Hotel & Casino in Las Vegas in 2012 to transform 42 hotel rooms into Stay Well Rooms, which contain features designed to enhance the quality of air, light and water and to promote better sleep, comfort, mental acuity, nutrition and overall health. MGM Grand now offers more than 300 Stay Well rooms and added Stay Well Meetings spaces, based on the same principles. MGM also offers the Stay Well program at Mirage Las Vegas and the new Park MGM Las Vegas.
The Wyndham brand is researching Stay Well Meetings spaces, and might also implement them in its hotels, Chiera said.
Wyndham's Stay Well program is part of a complete redesign of the brand's interior, including guest rooms, by renowned designer Jeffrey Beers International (JBI).
"At JBI, we always think first about the guest experience: how people feel when they enter a space," said founder and CEO Jeffrey Beers, in the press release. "We've designed with this in mind—how the room balances between clean, modern lines and soft curves. This balance creates a feeling of tranquility and invites you to breathe a sigh of relief when you close the door behind you."