Sleep is extremely important for event planners, but with the stress of planning, the need for constant communication and the pressure to execute a flawless event, it can be difficult to find eight hours of shut-eye. In fact, National Sleep Foundation recently released a study that found only 27 percent of adults in the United States get seven to nine hours of sleep.
This is made even more difficult when adding in the extra variable of traveling. Cramped seats, crying babies and extreme turbulence can make the idea of sleeping on a flight seem impossible. But this is beginning to change—from the airport terminal to the flight itself, to the hotel post-landing, sleep is becoming available everywhere.
Snoozing in the Terminal
Plenty of times, you want to rest at the airport because you arrived early, flew in late or have a long layover. But nodding off in uncomfortable terminal seats can feel impossible with the hustle and bustle of the airport. Some airports are beginning to implement pods and rooms that can be booked by the hour, though.
If you're flying from England's Gatwick Airport (LGW) or Heathrow Airport (LHR), Amsterdam Airport Schiphol (MAS) or France's Charles de Gaulle Airport (CDG), you can book a room with Yotelair. These rooms can be booked for a full night of sleep or a quick hour-long nap in between flights. The rooms come equipped with adjustable SmartBeds that include memory-foam gel mattresses and extra pillows, and duvets by request. And if you'll be flying from Singapore Changi Airport (SIN), starting in 2019, you'll have the option to rent a cabin there, too.
GoSleep is another option for those wanting to take a second to re-energize. These Finnish pods convert into beds, and a moveable, breathing shade hides passengers from noise, light and unwanted attention from other passersby. GoSleep Pods are available in 16 airports so far, including Beijing Capital International Airport (PEK), Tokyo International Airport (HND), Abu Dhabi International Airport (AUH) in the United Arab Emirates and Hamburg Airport (HAM).
For those wanting their own private suite in the United States, Minute Suites is the perfect nap station. Located in Hartsfield-Jackson Atlanta International Airport (ATL), Dallas/Fort Worth International Airport (DFW) and Philadelphia International Airport (PHL), the company considers itself "The Traveler's Retreat"—for good reason. Each room comes with a portable daybed sofa, a pillow and fresh blankets. A sound-masking system offers to "neutralize noise to help deliver a refreshing power nap," making it the perfect area for those with a longer layover.
Sleeping 36,000 Feet Above Ground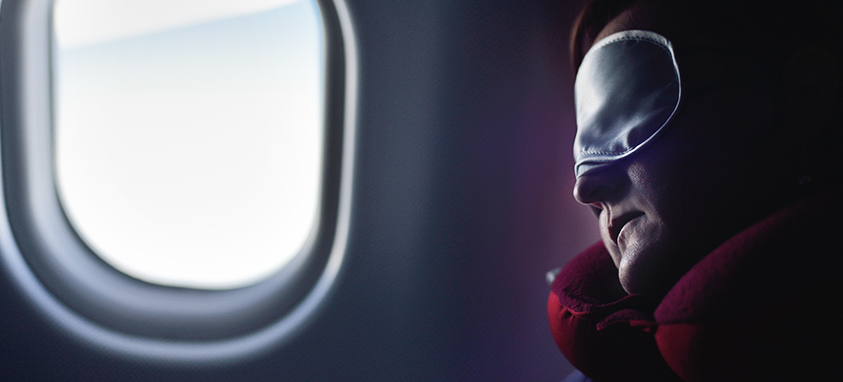 Every traveler's dream is to get on a plane, slip an eye-mask on, put on headphones and doze off for the long flight. But unless you're one of the lucky few who can sleep through everything, the situation is a dream. Some airlines, however, are looking to change this by adding features and portable seats for those looking to doze off.
JetBlue has begun offering JetBlue Mint, suites for those traveling cross-country on certain flights and occasionally to the Caribbean. With seats that recline to a full 180 degrees, with a comforter and pillow, you'll be able to doze off easily. If that's not enough, the cushions offer a massage feature and the suite has its own door, so you won't be interrupted as you're lulled to sleep.
If you're traveling in the new business cabin of Air France, you're in for a treat. With a seat that molds to your body, you'll feel as though you're sleeping on memory foam as the seat extends to more than 6 feet. Aside from the usual feather pillow and soft duvet, Air France also offers a "comfort and well-being kit" that contains toiletries and Clarins skin treatment. Say "ahh" as you recline.
Hawaiian Airlines is also getting in on the sleep trend. In May, the airline will roll out its first aircraft featuring lie-flat seats in its premium cabin. To help you prepare for bedtime, the company has an array of amenities for those getting ready to kick back. From socks reading E Hiamoe Maikal (meaning "sleep well") to toiletries featuring tropical scents of the islands, Hawaiian Airlines is pulling out all the stops.
Hotel Dozing
You've made it to your destination, and you're absolutely exhausted. Luckily, there are plenty of hotels that offer special perks for those dedicated to their sleep. National Sleep Foundation also found in its study that only 10 percent prioritize sleep over other activities—but with hotels dedicated to resting, that 10 percent is bound to raise.
If you're looking for rest inside the airport, Hilton Chicago O'Hare (ORD) offers silent rooms with blackout curtains, soundproof windows and extremely comfortable beds. You'll forget that you're situated in one of the busiest airports in the United States.
For those who are serious about their sleep but require special pillow firmness, look no further than Conrad Miami. Its Pillow Menu offers six selections: the L-shape Pillow, Tri-Core Pillow and Mediflow Water Pillow are a few of their options. Each pillow offers its own perk, from antisnore assistance for those who wake themselves up from their zzz's to cold relief for those who caught the traveler's cold.
Hoping to relax into the perfect siesta following a day of travel on barely any sleep? Consider The Westin La Paloma. It contains its own unique amenities, including the Sleep Well Menu, which offers food packed with amino acids, vitamins and minerals to aid in your best sleep yet.