The most recent tool being embraced by meeting professionals looking to safely bring groups back together while protecting sensitive data is third-party health verification. Companies such as InHouse Physicians and Clear Health Pass are offering pre-event vaccine verification and wellness tests along with on-site temperature monitoring and screening. But meeting professionals are still tasked with designing the level of screening required and communicating expectations appropriately. Following is a case study of how health verification was used and tips for managing expectations effectively.
A Healthy Bubble
This week, at The Exchange, a Marriott International event for 800 association and corporate partners and associates at Walt Disney World Swan and Dolphin resorts in Orlando, Florida, attendees were instructed to download the Clear Health Pass app and enter either their Covid-19 vaccine type and date details or proof of negative Covid-19 test results within 72 hours of the event starting. Each day, they were asked to fill out a short health survey on the app and show the green screen with a QR code and their face to the attendant at the entrance to the event space where "All for One" was the theme.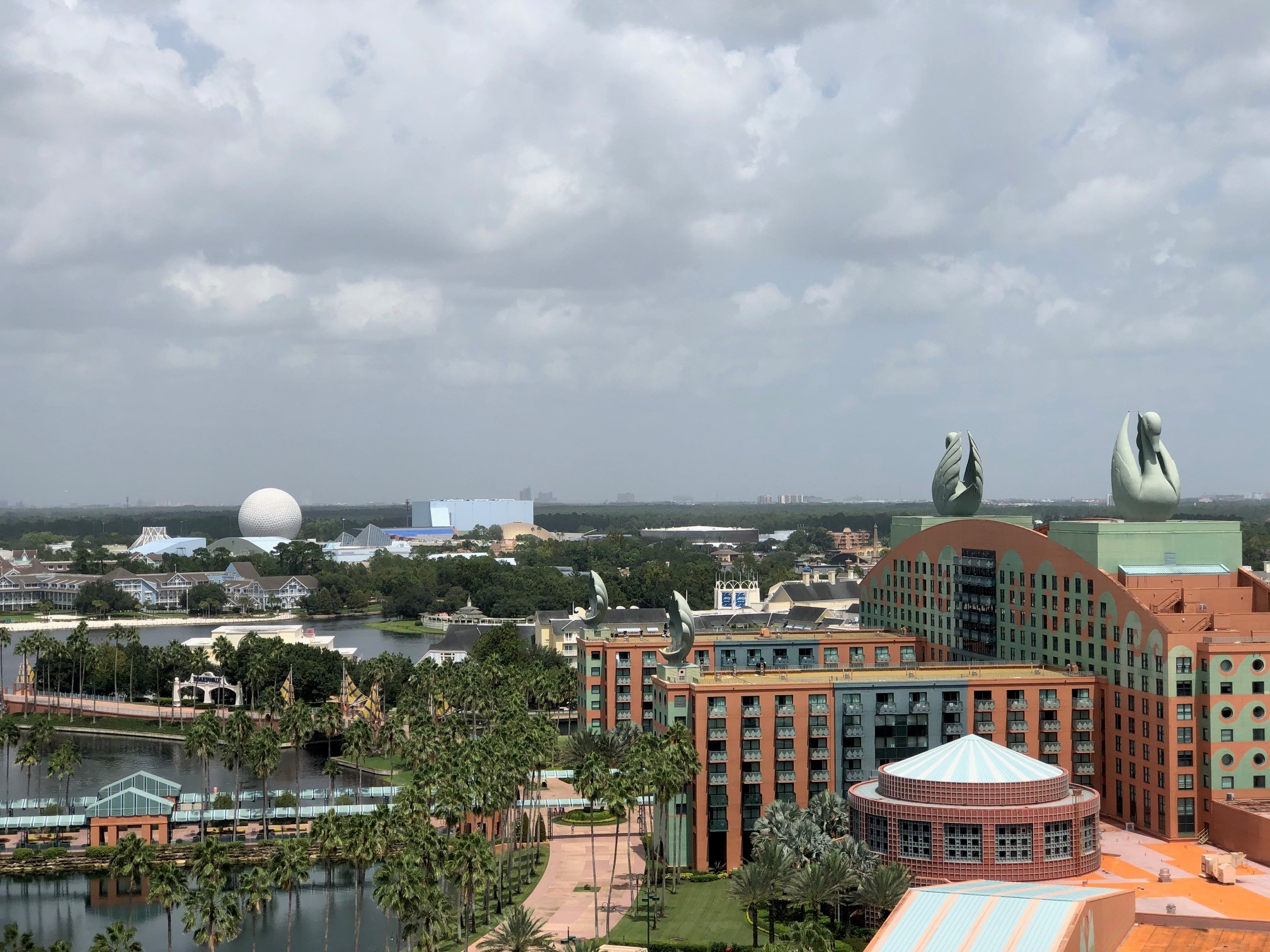 That process created a bubble of people who had been cleared in the space, something Resort Area General Manager Sean Verney explained the hotel pioneered when it hosted Major League Soccer (MLS) in 2020. "These tools and resources allow us to conduct safe, productive meetings, bring people back to work and support the local market and beyond," he said. "It takes a village."
More: Read more about destinations requiring proof of vaccination. 
Early in the pandemic, Verney's team identified that the layering of social distancing, masks, verification and planning for how to handle positive cases if do occur, as the best way to protect attendees and cast members (employees). "We can still have creative food and beverage offerings that are enjoyable without hampering the quality and service; we can still be creative," he said, pointing to the 5,000 meals a day served during MLS season. Those protocols and been adapted over time as vaccines rolled out and case number fluctuated. "Work with the hotel where you are meeting," he advised. "They have tools and resources to help you execute safely."
Bespoke Screening Tips
Verification is not a one-size-fits-all endeavor. Chris Meyer, former vice president of global business sales for Las Vegas Convention and Visitors Authority and a strategic advisor with Clear, explained that the technology can be configured to whatever level is appropriate for the type of group and reality on the ground at the time of the event.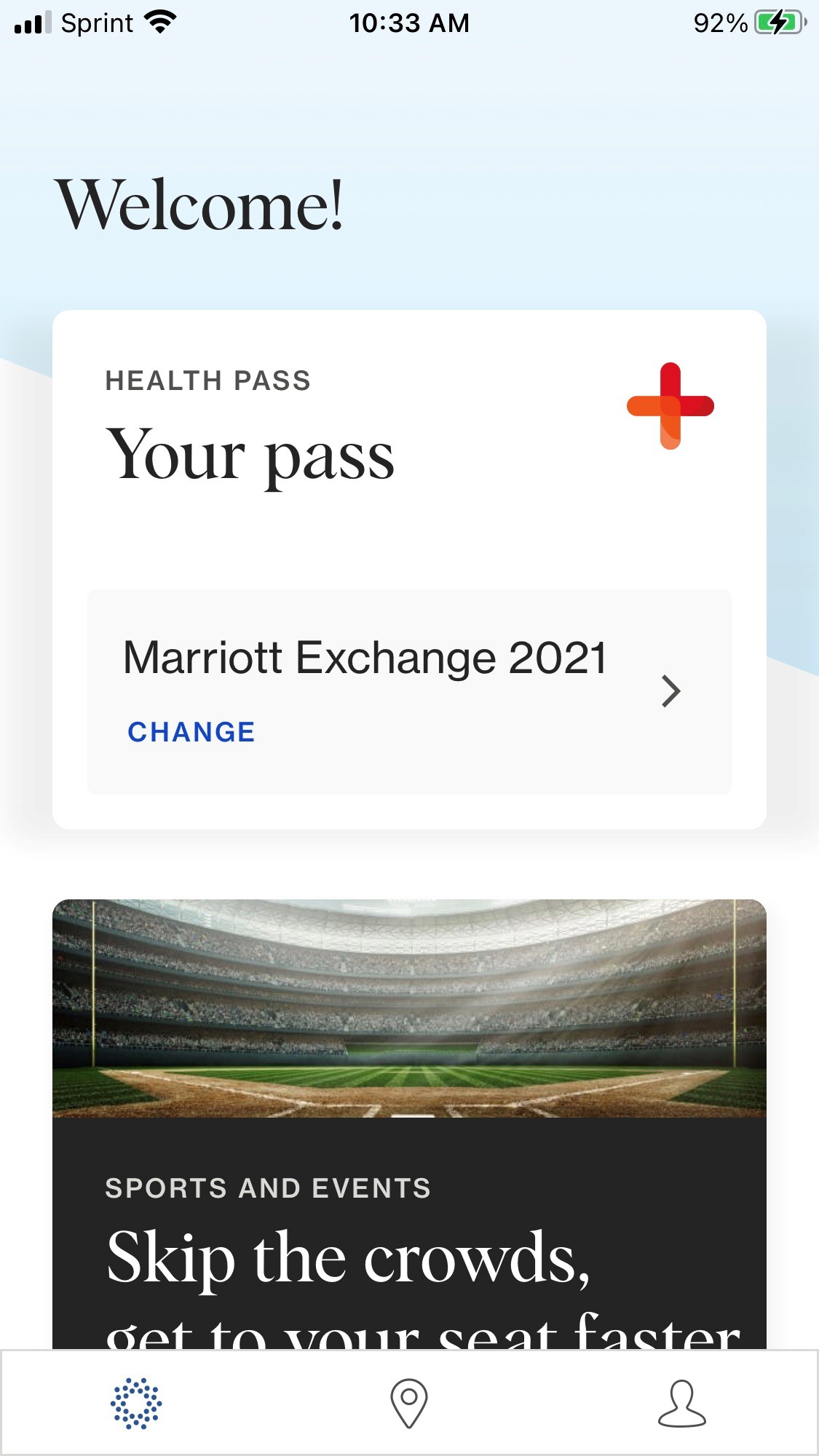 Clear's program builds on the biometric data used to move millions through airport screening over the last ten years and millions more admitted to sports stadiums in partnership with the National Hockey League and National Basketball Association.
The technology links to registration programs and can be set up to require answers to questionnaires, copies of negative Covid-19 tests or vaccine cards or a combination of the above, depending on the desired protocols. Vaccines are then verified through Clear's network with healthcare systems to eliminate fraud. The facial recognition based on 128 data points from a face scan can be used on its own or paired with temperature screening, as was done at The Exchange.
Bringing medical professionals on-site to handle any exceptions that arise with instant testing makes it easier to separate possible cases from the rest of the meeting population proactively. Daily color-coded stickers on badges allowed everyone to see at a glance that they had been cleared without scanning the QR code on the app more than once a day.
More: Learn more about what travel trends mean for meeting professionals.
The process is HIPAA compliant and removes the need for meeting organizers to manage healthcare data as they simply need to check for the green screen.
While interest in the service has followed the roller coaster of case numbers across the country, Meyer sees digital screening as a touchless, frictionless way for organizers of all types to move people into a space without long lines. Clear offers support personnel to set up and monitor with charges based on usage. A DIY version is in the works.
Set Expectations
Because smooth scanning of large groups of people requires much of the information be input before attendees arrive on-site, Meyer emphasized the importance of clear communication so people know what to expect.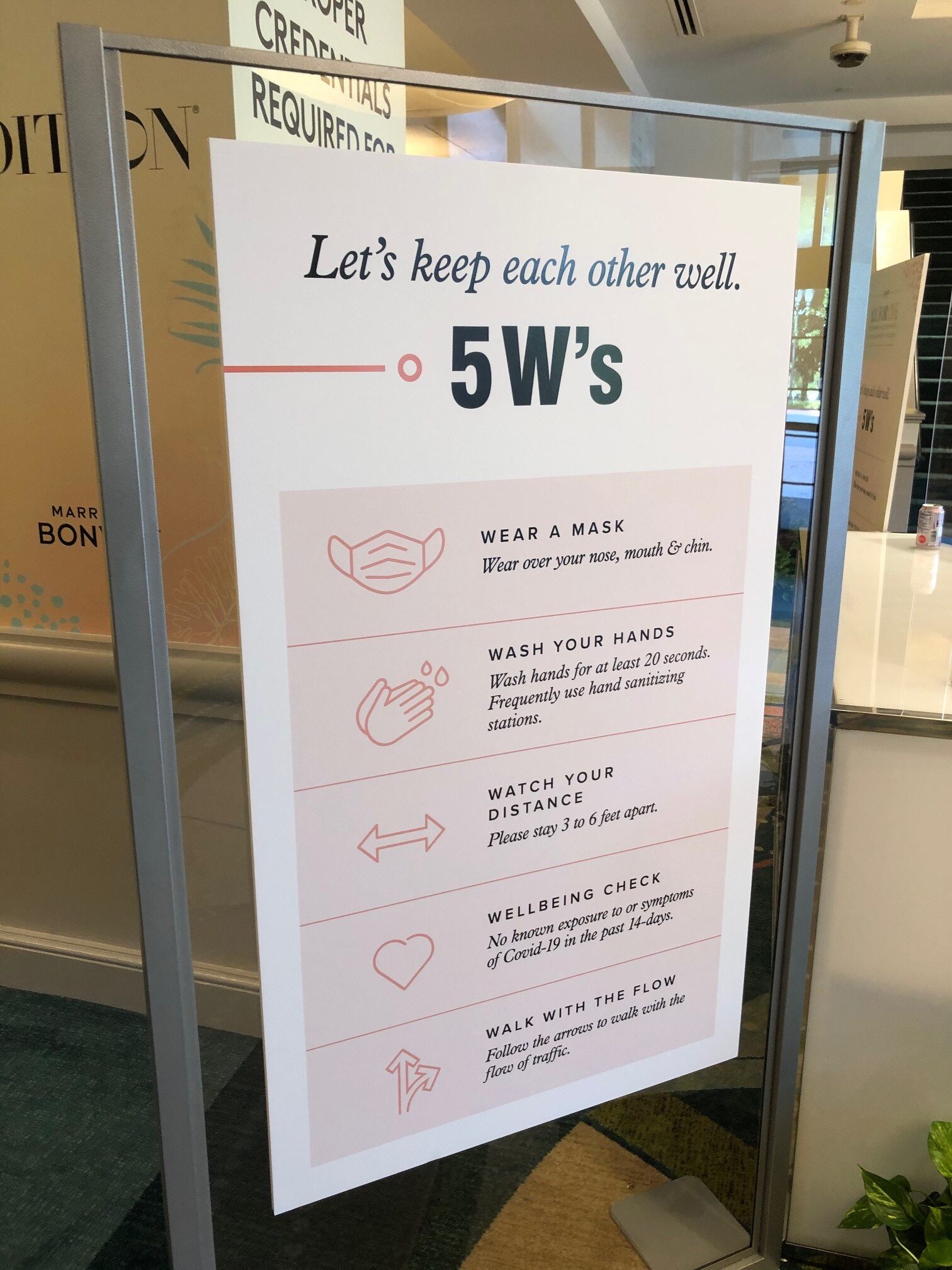 Send the link to download the free app in advance with clear instructions on what is required and the benefits. If vaccines that haven't been approved in the United States won't be allowed, tell them, especially if you are expecting international guests. "You have to communicate so people know what to expect and there are no surprises," Meyer said.
Marriott International rolled out a series of "What to Expect" emails and held a video call to walk through the protocols and take questions. Glenn Stress, Marriott senior director of global B2B marketing explained, "We need to come together to protect ourselves and each other. We are committed to demonstrating the spirit of respect and care and this is our highest priority." He stressed that, "Well being is everyone's responsibility."
To ensure that all attendees understood what was expected, they were required to fill out a Walt Disney World Health Care Waiver using DocuSign in advance of the event.