For many, January is a month replete with resolutions. Goals often include some kind of improvement in healthy behavior—exercise more, eat better, drink less. One way to keep committed to the latter is to share the effort in a monthlong (totally hashtaggable) campaign.
Enter Dry January, which officially began as a public health initiative in the United Kingdom in 2015. The month of abstention from alcohol has since caught on stateside, with one in five Americans participating last year, according to a poll from YouGov. Whether you're interested in starting the year off fresh or in finding more balance throughout 2020, there's a bevy of beverages popping up to stoke your #sobercuriosity.
A solid indicator of the growing interest comes from Hilton Hotels and Resorts, which is featuring four off-menu libations of the wet and dry persuasion at select properties this January. Crafted and curated by Elliott Clark, mixologist and founder of Apartment Bartender—which creates, curates, and manages premium drink and lifestyle experiences—the highlighted drinks range from a spirit-free concoction involving coconut water to a good ole-fashioned (not an Old Fashioned) booze-infused mix that plays off the classic whiskey smash.
Smart Meetings spoke with Clark about the Hilton menu and the growing spirit of zero-proof.
"The concept and goal [for Hilton] was to create a cocktail menu that was inclusive of the travelers that were going to be either partaking in Dry January or just seeking balance overall," he says. Make no mistake: Nonalcoholic libations are not just a trend, and they've evolved beyond the Shirley Temple.
"Typically, when you think of a nonalcoholic cocktail, you think ginger ale or something that doesn't necessarily incorporate a lot of thought or unique ingredients," he says. "What I really like about the menu we created is it takes all of that into account—whether they have alcohol in them or not, all the cocktails aim to provide an elevated experience in the lobby bar."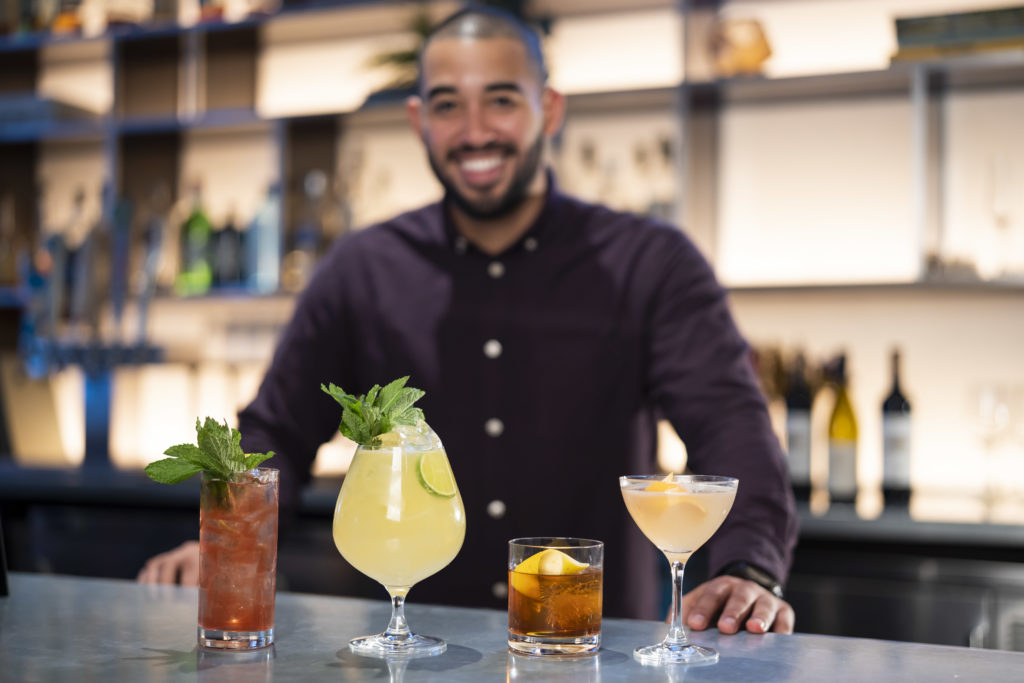 Beyond the Bar
For events, that elevation is something to consider for the attendee experience. Much in the way that catering to dietary preferences has become a focus, providing something that is more than an afterthought for those abstaining from alcohol (for any reason) can be a stand-out way to make guests feel considered—and erase the stigma sometimes associated with not drinking.
Clark says it's all about having options. "I know I've probably said that word 70 times," he says, laughing, "but that really is the key. With options comes inclusivity, and it welcomes everybody to the community."
When asked if he saw a reason this trend was growing, Clark pointed to the increasing emphasis on improving health through campaigns such as Dry January and Sober October. "I think things like that are awesome to get people thinking about balance with exercise and wellness," he says. "I started a separate company called Earn Your Booze to elevate the health and wellness of the drinks industry, because it's easy in this industry to slip into bad habits, from a health perspective."
Industry Buzz—or Not Buzzed
One can't help but relegate the same hazards to the meetings industry, where face-to-face connection and social interaction are a main focus—and drinking is ever-present as a gathering, celebratory element.
With the aim of creating that atmosphere for all sipping preferences, nonalcoholic distillates such as Seedlip are pioneering the scene, providing Clark and other mixologists with better opportunity to craft zero-proof cocktails with as much detail as their boozier brethren. "Seedlip brings a level of earthiness,  herbaceousness and spice to the drinks. It really adds depth and complexity," he says.
He spoke definitively about the benefits of providing nonalcoholic options for guests. "It's only a value add," Clark says. "It's an entirely new segment of people to reach, and having that option, I think consumers respect having been thought of, valued and presented with that option—instead of having to ask for it."
Crafting Community
When you bring alcohol-free and liquorous libations cozily together under the same umbrella, the approach to wielding ingredients in the pursuit of a fantastic drink is similar.
"One of the things I really like to take into account is seasonality, so this being winter time, I make sure that the cocktails have a sense of warmth about them," he says. "The [full-proof] Cafe Cognac, for example, has a lot of winter flavors like vanilla, coffee and of course, cognac. [Regarding the zero-proof] Tamed Tiki, the reason for a tiki drink here is that when you take a sip, it transports you mentally to someplace warm."
Clark remarked that when he thinks about crafting cocktails, he considers who is going to be drinking them.
"Then, by incorporating flavors that mesh well together or that might be new or unique, I can give people the ability to expand their palate a little bit, or perceive a spirit in a different perspective," he says.
His words on the craft of drink-mixing encourage expanding perspectives as well as palettes. It's time to view cocktails, drinking and gathering as areas still ripe for exploration—where the proof of liquid served is just the Luxardo cherry on top.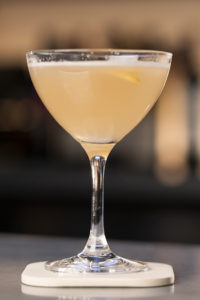 The Paloma Undercover
(Recipe courtesy of Hilton Hotels and Resorts)
Ingredients
2 ounces Seedlip Spice 94
1 ounce grapefruit juice
1/2 ounce lime juice
1/2 ounce brown sugar syrup (To make at home, combine 2 parts brown sugar to 1 part water)
1 to 2 ounces soda water
Method
Combine all ingredients into a cocktail shaker, and shake with ice.
Strain the drink into coupe glass and garnish with a grapefruit twist.