Planning a meeting for a group of connoisseurs? WalletHub has some suggestions from a new report on the best foodie cities in America based on affordability, diversity, accessibility and quality. On a 100-point scale, Portland ranked No. 1 out of 180 cities, with a total score of nearly 70 points reflecting its breadth of cuisines, number of options, affordability, freshness of ingredients and food-centricity (think farmers markets, specialty food stores, food trucks and food festivals).
Coming in after the Rose City in order of ranking were New York, Miami, San Francisco, Los Angeles and Las Vegas. Note that with the exception of Portland and Las Vegas, the other four were at the bottom of the affordability scale. Additionally, Portland was the only West Coast city present in the 30 least expensive.
With dozens of weighted factors from grocery prices to craft breweries per capita, the sparkling commendation may come as no surprise to Portland, which was also ranked best food city in the U.S. by Jetsetter magazine and best food city in Oregon by Thrillist this year.
The Making of a Food City
Accessibility to fresh ingredients, variety of options and an exploratory approach to beer, wine and spirits were common factors in designating locations as food-obsessed. In an article from Food & Wine, Dana Cowin's additional criteria includes artisanal mastery with a singular focus—think that one great boulangerie that makes sourdough einkorn loaves, or a chocolatier who crafts a sumptuous menu with single-estate cacao. Opinions at The Atlantic add that a contender should have connection to place; a city's gastronomic soul should be informed by the local terroir and seasonal bounty.
Goodbye Gourmet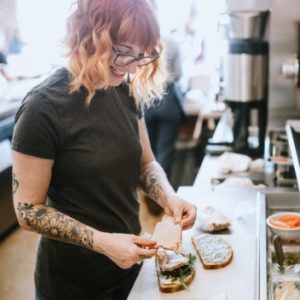 One might assume that a food city is just place with a lot of 5-star restaurants, but Portland's consistent top ranking suggests this measure is of less import. While WalletHub included a presence of Michelin-starred restaurants in its algorithm, it counted for just .77 points, while food trucks per-capita contributed 3.08 points.
The factors constituting a great food city are mostly tenets of the slow food movement, which like the tortoise is still going strong. While the real-food movement encompasses many dining experiences, its crowning achievement is not two octopus tendrils and a sprig of herbs dashed with mystery sauce and served up for $38. Rather, an emphasis on seasonality, sustainability and lifting the veil between source and product is what determines value—whether that comes from a walk-up window, a roving vehicle or atop starched linen tablecloths. An article in The Washington Post echoed similar sentiments when naming the top 10 food cities, as its writer admitted a preference for casual fare or innovative ethnic dishes over "places that charge triple digits for dinner."
FYI, Portland was at the top of that list, too. If you're booking your flight already: Fuse traditions with tropical Texas barbecue at Eem, browse artisanal products and stay all day for the buffet/deli counter/cocktail bar at staple Elephants Delicatessen, or answer emails with cocktail and coffee in hand after a homemade biscuit breakfast sandwich at Commissary.