How transformational event design engages all the sen

ses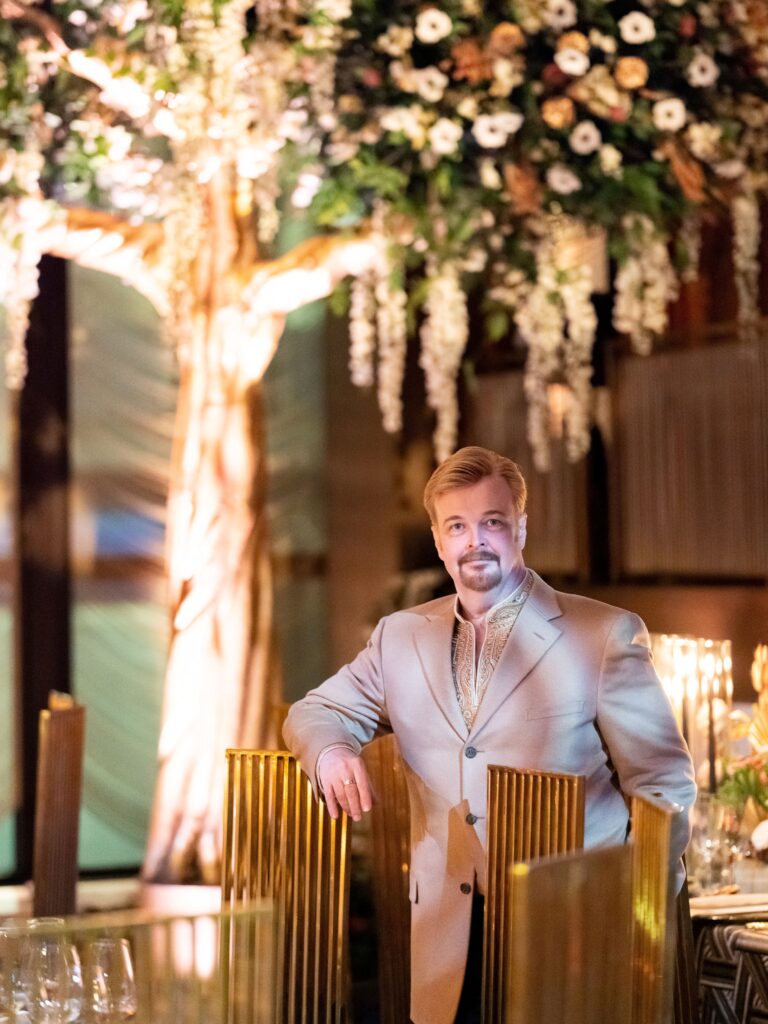 Celebrity Event Designer Ed Libby got his start as a delivery driver at a flower shop. At the time, he was attending art school, studying Flemish painting and set design. When the shop's head designer and co-owner fell sick, they prepared to close; but Libby offered himself as a designer that could help keep the store open. He had been arranging florals for his family and friends since his childhood.  
In the face of a refusal, he purchased fruits and vegetables from a nearby stand and made an arrangement resembling the paintings he was studying in his classes. He left it on the store counter for his supervisors to find. Impressed with his skill, they hired him as a designer. 
One of the shop's major clients was Jeanne More, the former creative director at Tiffany and Company. Seeing the artistry in Libby's work, she hired him to stand on the jewelry cases and make floral arrangements in real time at the opening party for the company's flagship store when it returned to private ownership.  
"One week, I was a driver at a local flower shop," says Libby. "A month later, I was standing on the jewelry cases at Tiffany's doing one of the most public events in the history of New York society." 
From there, his career took off at speed. With newfound recognition from the Tiffany & Co. event, he began freelancing for a number of New York City designers. Within a year, he opened his own event design firm. 
Libby's work at Nemacolin
Libby's newest role as creative director at world-class golf course and country club resort, Nemacolin in Pennsylvania, offers a new set of challenges.  
"I think that Nemacolin, out of any property I've worked with, gives an opportunity for a deep dive at a very personal experience guests can take something incredible from," says Libby.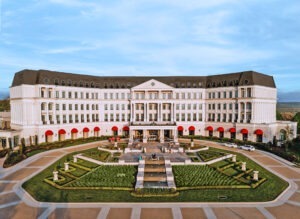 In recent weeks, Libby and his team have been visiting the property to style its dynamic spaces for events, especially those that have been underutilized in the past. This means many more functional event areas at Nemacolin without the need for expansion or renovation—simply an expert's eye.   
One of these spaces is Nemacolin's lakeside boathouse, which reminds Libby, a native New Yorker, of the boathouse in Central Park—one of the most sought-after event venues in the world. "Nemacolin has more to offer events than I think they even realize." In addition to the boathouse, potential event spaces at the property include pavilions and even a carousel.  
One of his biggest projects at Nemacolin is smoothly integrating the indoor and outdoor spaces. Their landscape and horticulture is "absolutely unbelievable," Libby says. By bringing plant life indoors and floral arrangements outdoors, Libby seeks to blur the line between the two spaces to make them function as one. 
The Design Process
When Libby walks into a space that he has been hired to design, he asks himself a series of questions. "If I'm standing here, what does it smell like? What do I hear? How do I feel when I'm here? What about when I go from this area to the next area? Is there a sound transition? What does it smell like when I get there?" 
He wants attendees to internalize the mood and ambience of the space. "It's all about the little moments of memory. Punctuating the whole experience is a big part of my design philosophy." 
One of his continued inspirations is the Botticelli exhibit in the Uffizi Gallery in Florence, Italy. "The bold, exaggerated colors catch your attention immediately, but there are things that are hidden, right there in the paintings." Every detail of an event design contributes to an attendee's experience, whether they actively notice it or not.  
Read More: Tips to Handle Event Design on a Budget
Immersion in an environment is an often unnoticed but impactful hallmark of Libby's work. "Guests are immersed and enveloped by their environment, not just looking at a specific piece but really almost participating in what it feels like to be within that piece."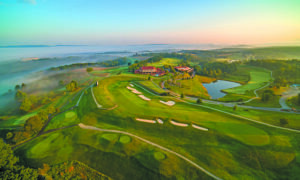 He offered the example of his design for the Falling Rock lobby. A giant pair of sunglasses allows guests to see their reflection. Beach balls add a sense of play and an overall celebratory summery feel. Glass containers holding floral arrangements reflect the light given off by Tiffany lamps. All these elements speak to each other to create a distinct atmosphere. 
Much of his design aesthetic leans towards the animated and whimsical, and to Libby's delight, Nemacolin's existing design aligns with this aesthetic; he is now working to enhance it.  
Collaborative Design
One of the most rewarding aspects of his job, Libby says, is working directly with a client. "Seeing the end results, standing with them, and knowing that they're happy" is his ultimate goal. When clients offer feedback on different elements of the design, they will tweak things and develop ideas together through the entire process. His new role at Nemacolin is an extended version of this.  
During a walkthrough of the spa at Nemacolin, he thought everything looked spectacular, when his client mentioned that the design was quite tropical and asked him what they might add to make it more serene. "It really got the wheels spinning immediately." 
"I've worked for everybody from the pope to Madonna to Beyonce. This property in Farmington, Pennsylvania has become the biggest challenge of my career. The more they ask of me, the more I find I'm capable of doing. That is the greatest honor of being there." 
Retrofitting, designing space in a building that is already constructed, which sometimes includes the addition of new structures and systems, is not something that limits Libby's creativity. If anything, it enhances it. 
He gave an example of a current project he's working on at Nemacolin: The Grand Lodge reimagining opening party and showcasing the Fawn & Fable restaurant. His vision involves paying tribute to the original interior designer's vision. "We are showcasing the reality of what guests are going to see every time they come to Nemacolin." Rather than make major changes or installments, Libby and his team are working to highlight the space's existing attributes. "We are respecting what's there and making it absolutely outrageous and celebratory. We're here to show guests what the most extreme version of an event in this space can look like." 
On working with clients, Libby says, "I can help [them] develop and execute a unique vision for events. I can be as restrained and elegant as we need to be, and at certain times also be as over the top and outrageous as we like." 
Trends in Event Design
When asked what is trendy in event space design is right now, Libby laughed, saying that he gets asked this question all the time. He shared one of his favorite quotes from Karl Lagerfeld: "Trendy is the last stage before tacky!"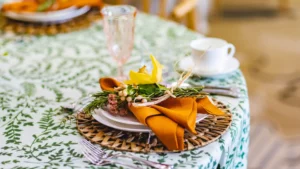 When a client shows him a design element they want, his response is usually that by the time it had been set up, photographed, shared and reached them in whatever form it did, it's been done already. Instead, Libby wants to consider what the new version of that thing is. "In inventing and reinventing what people are going to want to see and feel, I would rather set the trends," he says. 
The biggest mistake people make when they are thinking about how to design a space or experience, Libby says, is attempting to follow a formula. Doing something differently to suit your own needs is the key to a successful event or meeting.  
Once, he was designing a wedding ceremony taking place under an oak tree. The lighting was gorgeous in the morning but showed up poorly in photographs taken later in the day. Instead of an afternoon ceremony as originally planned, his team and the couple decided to hold a morning ceremony with a brunch reception in the garden, then offer guests an afternoon break before an evening reception party. People had time to rest up after the ceremony, get their hair and makeup done and change into party attire for the nighttime event. 
Just because something has been done a certain way for a long time, that doesn't mean it's the right or only way to do it. "Sometimes you have to work a little harder to make things more interesting," Libby says, "and that makes it more special." 
Read More: The Return to Innovation is on the Horizon
The Impact of Thoughtful Spaces
Ed Libby is sought-after for corporate events just as much as for milestone social gatherings. His distinct aesthetic, attention to sensory detail and commitment to his clients helps him to create events with a memorable flavor.  
Libby is passionate about creating spaces where people spend meaningful moments of their lives. He says, "I want people to leave with a feeling of where they were, instead of just what they did. Was it a feeling of inclusion, was it a feeling of whimsy? Was it a feeling of limitless possibilities?"  
He accomplishes this goal time and again, leaving a resounding impact across his clientele. His dedication to close collaboration with his clients only amplifies this. He shared one story of a couple whose wedding he designed. The morning he spoke with Smart Meetings, he had received a photo of them standing in front of a sculpture in the Nemacolin Chateau lobby, which he had designed, holding their newborn. 
Isn't that the impact we all hope to leave, as planners? 
"When I was studying painting and set design, I knew where I wanted to end up," he says. "It's almost beyond my wildest dreams that I get to do this for a living." 
His interest in living art, art that can only last for a short period of time, can be seen through his characteristic floral arrangements, a central element of nearly all his designs. That's where it all began, of course. 
Libby knows what it means to people when they have a great experience at an event. When he designs, he pays attention to every sensory experience a person will have there. "Guests notice much more than we think they're going to notice. If it's done well, they really are taking it all in," he says. 
Read more: Event Design Principles to Create Stunning Meeting Experiences