As event managers, our goal at the end of a long-awaited event is to ensure meeting planners and their constituents are happy. But often, as both parties get wrapped up in the endless details and minutia of planning, the overarching goal gets lost. Unfortunately, this can lead to lack of clarity, unclear expectations and a soured experience.
Recently, Nashville was named the No. 2 destination for meetings in North America, and one can imagine our event spaces and hotel services at JW Marriott Nashville see great demand being that we are in the heart of the happenings. With the hustle-and-bustle that is Music City, it is more important now than ever before to keep our partner's meeting objectives and goals at the forefront of our actions.
Based on my 20 years of experience working in the events world, here are a few things we need from planners at the beginning of a partnership to enable trust, honesty and open communication for a fruitful and successful event.
Provide Details at Least Six Weeks in Advance
The wise Benjamin Franklin once said, "If you fail to plan you are planning to fail." This couldn't be more true for our profession—especially when large events require months of planning and preparation. We need time to review your goals, dates, estimated headcount and flow of the event in order to create banquet event orders that reflect desired room arrangements, food and beverage menus, agendas, break schedules and more.
A rule of thumb is to provide pertinent details to the venue at least six weeks in advance. Our job is to help you visualize your event and bring it to life with minimal back and forth communication, so when you come to the initial meeting with important details mapped out, we are able to take that information and hit the ground running!
Be Transparent with Your Budget
On that note, come prepared with a budget. The struggles that come with the constant ebb and flow of an ever-changing budget can make for a particularly difficult engagement. To work together most efficiently, both parties must be transparent from the start about the dollars that can be spent, and how that budget can be used wisely and efficiently to make a lasting impact on event attendees.
Read More: Helpful Budget Tips for Event Planners in a Post-Covid World
For example, if you know your budget up front, we can help you determine if buffet-style meals or seated meals will give you the best bang for your buck. We can then work closely with the chefs and kitchen staff to determine a total F&B cost per person on the front end, which is always one of the biggest line items of an event.
Provide Daily Feedback to the Property
When our team receives daily feedback once an event begins, we are able to work diligently in real time to solve any issues to correct course or make necessary adjustments. If a room was not refreshed in time for the next scheduled meeting or if lunch was not on time; we hope you'll share that as soon as possible so we can make accommodations for the next day.
Read More: The Sure Way for Association Leaders to Get Constructive Feedback About Meetings
In our experience, day-of communication protocols are important to establish in advance to make certain this feedback gets implemented. Everyone prefers a different way to communicate, so it's important to work with our team ahead of time to determine if email or text communication is preferred on site so that we can all be prepared.
Most Importantly: Build a Relationship with Your Event Manager, and Have Fun!
At JW Marriott Nashville, our promise to you is excellent customer service. Our hope is that through transparent conversations, creative ideas and detailed execution, you will want to bring your group back to our property year-after-year. My favorite clients to work with are those that we have had the opportunity to serve on many occasions, because I know their preferences, expectations and requirements. Establishing a professional yet friendly relationship between event manager and client is the key to an enjoyable process and a successful event!
These four pieces of advice work in tandem to ensure a successful partnership between the property and meeting planners for a positive outcome. In my experience, it's always a great practice to step back and remind yourself of the steps you can take to help out your meeting counterpart to guarantee that clear expectations are met to establish a long-lasting mutually beneficial partnership.
—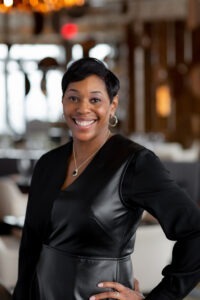 Faythe VanPelt is JW Marriott Nashville's director of event management. She is a performance-driven event management executive with notable success spearheading the planning and execution of large-scale group corporate, government, and social events in dynamic hospitality environments.
VanPelt has leveraged a progressive career record of success directing diverse, complex events for high-touch, large (up to 5,000), and small international/domestic groups. She is a motivational change agent with a history of turning around underperforming departments, optimizing process/efficiency improvements, building high-caliber teams and achieving on-target revenue projections to maximize sales/profitability goals. To learn more about JW Marriott Nashville's event spaces, please visit here.