It seems like not so long ago that everyone was talking about the death of meetings and conventions. There's no doubt that the global Covid-19 pandemic shook up the industry and left event professionals wondering what the future would hold.
But as we begin to inch ever closer to a new normal, it's clear that meetings are making a comeback in 2022—with a few changes of course.
Today we're exploring four ways meetings and conventions are evolving in 2022 and beyond, and what to expect for the future. Whether you're looking to plan an event or attend one, this is important information to know!
Let's dive in.
How Covid-19 Impacted Large-Scale Meetings and Conventions
The coronavirus pandemic had a widespread impact on just about every industry you can think of, and meetings and conventions were no exception. In 2020, we saw everything from mass cancellations to virtual-only events, as the world tried to grapple with the new reality of Covid-19.
The events and meetings industry, like many during the pandemic, was forced to adapt, and many event professionals did so in creative ways. 
Some moved their events online, while others got creative with hybrid event models that combined in-person and virtual components. And still others found ways to safely host smaller, socially distanced events.
These were all important steps in keeping the industry afloat during a very tough time, and they'll continue to be important as we move into the post-pandemic world.
What's Changing for Meetings and Conventions in 2022 and Beyond?
Now that we're halfway through 2022, it's becoming clear that in-person events are ramping back up. These days, however, meetings are far from going back to the pre-2020 status quo. Event professionals and attendees are reconsidering how they approach events and reinventing the wheel in new and exciting ways.
Here are four ways group meetings and conventions are changing in 2022.
In-person Meetings Are Back, But a Focus on Health and Safety Is Here to Stay
After a year of virtual events, it's no surprise that planners and attendees are eager to get back to in-person events. And while there's still some hesitancy around large gatherings, we're seeing more and more events taking place in person as the year goes on.
But even as things start to return to normal, health and safety will continue to be a top priority for meeting planners and attendees alike. This means we can expect to see an increased focus on things like contactless registration, temperature checks, mask requirements, and social distancing measures, even as local governments lift restrictions. 
It's safe to say that the pandemic has left society with a healthy appreciation for organizations that keep their well-being in mind when planning and event organizers will want to ensure that they take an omnichannel approach to communicate the precautions they intend to take during an in-person event.
The Great Resignation Will Impact the Corporate Event Experience
Anyone who has visited a restaurant in recent months has already experienced the fallout from what is being called the "Great Resignation." Employees across industries are quitting en masse, spurred in some ways by the wider availability of work-from-home jobs, challenges in accessing childcare, and other pandemic-era woes. The staffing challenges created by this Great Resignation have serious implications for the events industry, and organizers and guests alike will feel its effects.
Companies rely on events for everything, from team building to marketing, and the loss of experienced event staff will make it more challenging to put on a successful event. Event planners who are used to working with a large staff of reliable, professional event workers may find themselves scrambling to fill positions and dealing with last-minute cancellations.
With fewer experienced staff members available, guests may find that service is slower or less attentive than usual. In some cases, corporate event organizers may even be forced to cut back on amenities or activities due to staff shortages.
Hybrid and Virtual Meetings Will Continue With an Emphasis on Collaborative Experiences
Even as in-person meetings make a comeback, we're also seeing a continued interest in virtual and hybrid event models.
Still, after a year of Zoom fatigue, it's safe to say that attendees are ready for an improved and more personal event experience, whether in-person, hybrid, or virtual. Attendees want their voices heard, and meeting planners are taking notice, with many saying that they'll be placing a renewed focus on the attendee experience and collaborative problem-solving in the coming years.
Read More: Make Hybrid Events Worth Every Dollar for Virtual Attendees
As companies take advantage of all-hands meetings and other group events to tackle big questions and build buy-in around solutions, opportunities for collaboration will be front and center in the event and meeting landscape.
That focus on collaboration is leading to new and innovative tools and methodologies that seek to engage attendees across departments and silos, helping them effectively work together to achieve consensus.
Organizations like WebStudy Foundation, for example, are leveraging their unique methodology for facilitating collaborative convenings both virtually and in-person to encourage innovation in higher education and lifelong learning — another industry significantly impacted by the pandemic.
"In our experience, bringing all minds on deck is essential for innovating solutions for an uncertain future, especially in a world as tradition-minded as formal education," says Gisele Larose, Executive Director of the WebStudy Foundation. "Technology-enhanced methodologies like our Facilitated Collaborative Convenings minimize wheel spinning and dysfunctional dynamics, enabling highly diverse groups of attendees to be effective faster, no matter what 'wicked problem' they hope to solve."
Expect More Exploration of Augmented Reality (AR) and the Metaverse
The events industry is no stranger to new and emerging technologies. Event professionals have long embraced everything from social media to virtual reality in order to create more engaging and immersive experiences for their guests. Augmented reality (AR) and the metaverse are two of the latest technologies to enter the event space, and they offer a wealth of possibilities for event planners looking to take their events to the next level.
AR is a technology that superimposes digital content onto the real world, providing users with an enhanced or augmented view of their surroundings. The metaverse, on the other hand, is a virtual world that exists entirely online. It's often described as a "shared, persistent, 3D space" where users can interact with each other and with digital content in real-time.
Read More: Metaverse Replicas of Event Venues Make Site Inspections Faster, Easier and Greener
While AR can be used without the need for any special equipment, the metaverse requires users to have some form of virtual reality headset or similar device in order to access it. This means that currently, AR has the potential to reach a wider audience than the metaverse, as not everyone owns or has access to VR equipment.
Still, the future applications of the metaverse are exciting, and event professionals are ready to dive in!  One of the most obvious applications for large-scale events is improving virtual networking opportunities and even post-event engagement.
The metaverse allows organizers to create highly immersive experiences that would be impossible to replicate in a traditional video conferencing environment. For example, virtual attendees with VR headsets like the Oculus could experience a real-time view of the live event space, and interact with other attendees in a completely virtual world after the event is over.
The metaverse is already being used to replicate in-person experiences for everything from meditation sessions to socializing, lectures to game-playing. Future-focused event professionals will want to pay attention to this exciting new space.
Final Thoughts
The pandemic has forced event professionals to think outside the box and get creative in order to continue delivering engaging experiences for their guests. While the road ahead is still uncertain, there are many exciting trends and technologies that event planners can leverage to create unforgettable events that meet the needs of today's attendees. From leveraging data and AI to improve the event experience to exploring new technologies like AR and the metaverse, the sky's the limit when it comes to event innovation in 2022 and beyond!
​​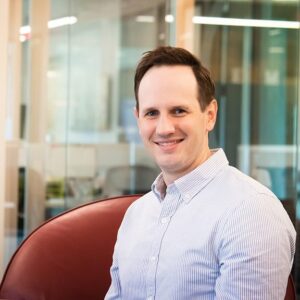 From legacy Fortune 100 institutions to inventive start-ups, Ryan Gould brings extensive experience with a wide range of B2B clients. As the Vice President of Strategy and Marketing Services at Elevation Marketing, he skillfully architects and manages the delivery of integrated marketing programs. He strongly believes in strategy, not just tactics, that effectively align sales and marketing teams within organizations.