Editor's Note: Smart Meetings filed this report from Destinations International's AC21 in Baltimore, Maryland, but while there, we asked Tammy Blount-Canavan, FCDME, executive vice president and principal of the Destination & Travel Practice with Fired-Up Culture! to share her perspective as an industry veteran seeing many of her colleagues for the first time after a year that took a toll on convention and visitor bureaus. Here is the experience in her words: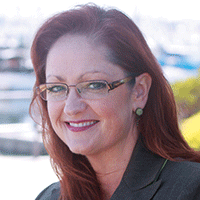 Attending Destinations International's Annual Convention in Baltimore in the middle of July was meaningful on so many levels. It goes without saying that the convention itself was terrific. It was a little shorter than previous years, but no less impactful…in fact, I would say it was the most important annual convention DI has held in my nearly 30 years of membership with the organization.
"Embrace Disruption." That was the theme of the event, and a good reminder of the implosion of our world that began just over a year ago. While we remain in a swirl of uncertainty—variants and international travel and other assorted Covid-related upsets have not yet allowed us to be fully confident in our future—there is no doubt that destination organizations are rising from the chaos as incredibly resilient, adaptable and critical to the ecosystem of our communities.
Inspired Words
Keynote Wes Moore opened the convention by captivating us with his story, and an enormous message that resonated deeply: "Before you leave here—this place, this town, this planet—make sure it mattered that you were here at all." Wow. His message that "we all have our hand on the pen that writes the story of Baltimore" brought a reality home: destination organizations help guide the narrative, but it belongs to everyone who touches our community—resident, stakeholder, visitor and meeting professional.
Keynote Kevin Brown closed by sharing a powerful family story. My biggest take-away: "When you look in the mirror, whose faces do you see when you think of who helped you become who you are today?" It's a lovely way to ask what people will say about us after we're gone, and a good reality check on our own contributions. Does anyone see you in their mirror?
Critical Conversations
Sandwiched between those two events were all kinds of important discussions, amped up to a volume we've not seen before. About diversity, equity and inclusion. About uncomfortable conversations. About workforce and organizational structure. About the kinds of partnerships we never thought we'd need, and still wish we didn't—like those we now have with local health officials. We re-energized conversations about diversifying funding. And of course, we talked about the valuable role we play in our respective communities—this is more critical than ever.
All of that was important. The discussions on and off the stage, in the meeting rooms and hallways and restaurants and lounges about the business we're in—all important. But two things stand out more than anything.
First, we are having energized discussions about the future of our industry. Some destination organizations have been having them all along. But there is a new appreciation for the role we play with our communities, and the possibilities that flow from the disruption we all experienced in the last 15 months.
The traditional role of brand management and marketing and bringing business events to our town—that doesn't go away. But the chance to rethink how we serve our communities is at hand. Throughout the darkest days of shut-downs and confusion and too much death, it was destination organizations reaching out, forging partnerships, providing support and leading with incredible courage. And it will be destination organizations who have the opportunity to forge new paths to shared understanding, defining what a successful tourism economy really looks like, and supporting the re-tooling of the talent needed to reach that success.
An Emotional Reunion
But most of all, the biggest deal of the week was the Road Family Reunion. More than 850 of us were finally together again. I know I'm not the only one who hugged the stuffing out of much-missed colleagues (after asking permission of course). I'm certain I'm not the only one that got choked up—yes, at reuniting with beloved friends, but also at the celebrations: Hall of Fame inductions, CDME graduations, 30 Under 30 recognitions, the messages of Miles and Kevin…it all hit the heart with incredible magnitude. Why is that?
Over the last 15 months all of us did what we needed to do, and we kept our noses to the grindstone. Destination organizations adapted to the needs of their community. Suppliers rallied together to support destination organizations the best they could. Everyone had to make difficult decisions. We persevered and will continue to do so. But when we finally were able to gather, we proved our mantra.
There is no substitute for face-to-face. Thank goodness for video-conferencing capabilities and the connectedness we figured out when we were grounded. But the pure joy of being with others who understand our world and speak our language is nearly impossible to put properly into words. The reason Destinations International is so important has never been more clear.
This is our tribe. We gather to get ideas, knowledge and inspiration. This is where we can speak freely without being misunderstood. This is where we find support and validation. This is where we nurture our soul. And for all the great things that happened in Baltimore, I rank the soul-nurturing at the very top. For as we begin to design our future, we must do so with a full tank if we are to reach our full potential.
Be the First to Know
Everything you need in one beautiful print and digital magazine