The meetings industry got creative in the wake of global novel coronavirus shutdowns in 2020 and that forced innovation could continue to be the norm going into next year as the industry transitions back to face-to-face gatherings, according to findings from American Express Meetings & Events 2021 Global Meetings and Events Forecast.
Innovation could ultimately benefit attendees in the form of more responsive and secure events, according to Gerardo Tejado, senior vice president and general manager for American Express Meetings & Events, a division of American Express Global Business Travel (GBT). He acknowledged the "significant hardship for many in the industry," but pointed to the immediate acceleration of existing technologies to keep people meeting as proof of the value global organizations continue to place on gathering. "The message in our forecast is clear: meetings have to happen. There is an appetite to get back to meeting in-person as soon as it's safe to do so, and hybrid meetings will be the catalyst."
Following are 10 of the trends in GBT's analysis of responses from more than 560 international meetings professionals and 16 industry experts interviewed in August and September about what comes after what the authors called "a year of uncertainty."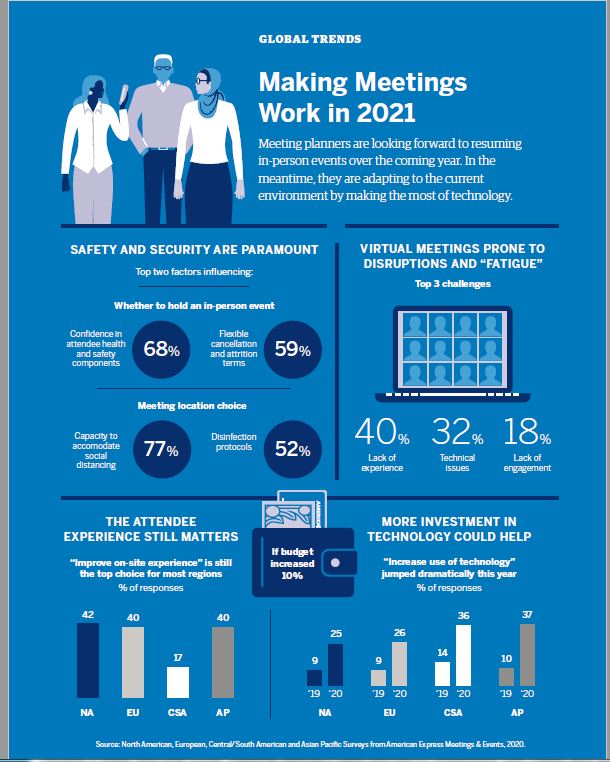 1. Meetings are essential. "It should not be a question of 'if' a meeting is going to happen, it's 'how,' " the report found. Engaging with employees and customers remains a critical driver for businesses, and meetings and events are crucial for that to continue, even during periods of disruption. Those meetings could look a little different, however. "Small and simple meetings," a new category in the report, was named as the most common type planned for 2021. One surprise was that while an almost 4 percent decrease in attendance is expected at large conferences, some respondents hoped that virtual and hybrid meeting formats will allow them to actually increase attendance.
2. Hybrid meetings are a bridge to returning to in-person events. Respondents cited concerns about disruptions and fatigue connected to streaming content due to a lack of experience, technical issues and lack of engagement as reasons they would like to return to face-to-face meetings when possible. In the meantime, RFPs are calling out the need for robust Wi-Fi and access to powerful audiovisual equipment. Beyond the pandemic, virtual and hybrid meetings will remain, the report concluded, "because our world has changed, and they have proven themselves to be useful tools in the meeting planner's toolkit."
More: Why Your Virtual Event is Failing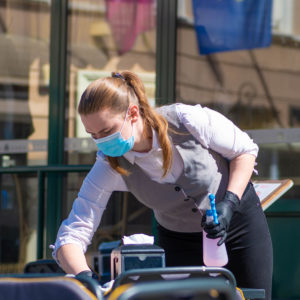 3. Safety is the job one when it comes to choosing a format and location for an event. A majority (68 percent) said confidence in attendee health and safety would be the top deciding factors influencing the decision about whether to hold an IRL (In Real Life) event. Flexible cancellation and attrition (59 percent) was the second-biggest consideration. That focus on safety also led an overwhelming majority to consider regional and larger properties with 77 percent saying capacity to accommodate social distancing was a deciding factor in meeting location choice. That was followed by a majority (52 percent) saying disinfection protocols were at the top of the list. The sudden proliferation of GBAC STAR certifications at properties around the country show that venues are listening.
4. Budgets are decreasing. Meeting professionals estimated that their budgets would decrease by almost 4 percent worldwide, with some exceptions in Asia Pacific and Central and South America where some are expecting an increase. The area of the budget targeted for cuts first was off-site activities (27 percent) with the number of nights and evening events following close behind. Conversely, if budgets were increased, a third (33 percent) said they would prefer to use the extra funds to improve the on-site experience, followed narrowly by an increase in the use of technology.
5. Meanwhile, costs for production are increasing. Virtual and hybrid events involve more than just setting up a conference call or livestreaming a face-to-face meeting. Planning a successful hybrid meeting, in particular, can be equivalent to the work of planning two separate meetings. Survey respondents indicated that 35 percent of virtual and hybrid events would require the services of a full-service agency, which, depending on what is required, could provide presenter training, prerecorded interviews, virtual studio space, and post-event, edited sessions made available to attendees.
More: All Meetingprofs Want for Christmas is a Production Studio
6. Feast and famine may be in future. Meeting space is expected to be readily available in 2021 (and possibly offered at a discount to lure groups back to the physical space), but more difficult to book in 2022 due to increased competition for space and the potential contraction of supply due to bankruptcies and closures. Combined with a need for more space for each person attending, the market could tighten in coming years. Frank Passanante, senior vice president of Hilton Worldwide Sales, put the situation in perspective. "We can look at the trends but ultimately the markets are going to dictate what will happen with rates." Properties will need to recoup some of their lost revenue, particularly in areas that experienced more severe shutdowns.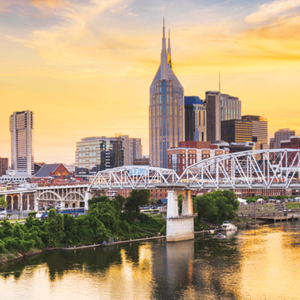 7. Smaller may be better when it comes to cities. Second-tier cities and mid-tier properties were ranked highly by respondents. Less densely populated second-tier cities and suburban areas that are within easy reach of transportation hubs were seen as particularly attractive. International destinations will be more difficult to plan for, with conflicting travel policies and procedures and the uncertainty of whether attendees will be required to quarantine on arrival or once back at home. With more lenient change and cancellation policies, venues are doing what they can to ease nerves and attract bookings. Local destination marketing organizations and convention and visitor bureaus (CVBs) are ready and able to provide a wealth of advice and information, including ideas for available outdoor spaces and larger nontraditional venues, such as stadiums.
8. The journey matters. Ground transportation must now be considered as a key component of an attendee's journey, rather than an afterthought. According to John Pino, chief strategy officer of miMeetings, an integrated transportation solution company, "Ground has always been the ugly stepchild of meeting planning that no one wants to deal with, but when it doesn't go well it can really leave attendees with a bad impression." Vehicles have to look and smell clean and will be able to carry half as many passengers.
9. Sustainability still a priority. Climate change remains an important, and growing, consideration in meeting planning. Globally, 79 percent of respondents report that their organization emphasizes sustainability in meetings and events. The top three ways they do that are: avoid disposable items (64 percent), recycle (58 percent), and choose organic, local food and beverage options (49 percent). With the explosion of hybrid and virtual meetings, corporations can more readily consider who absolutely has to travel and who can participate virtually, thereby lowering the meeting's carbon footprint.
10. Time for reflection. As one professional explained: "This break has reminded not only our clients, but people throughout the world, the importance of interacting in person. We facilitate human engagement, we create environments for people to experience new destinations, meet new people, and share memories. We provide opportunities to celebrate, receive recognition, share ideas, develop relationships, etc. The pandemic hit the reset button on what is important to our industry: the people, the places, and the need for human engagement."