The United States maintained its lead as the number one country for gathering last year according to a new 2019 Country and City Ranking list. International Congress and Convention Association (ICCA)'s annual report ranking destinations based on the number of association meetings held over the 12 month period went to members this month and it highlighted the phenomenal growth in meetings over the last decade.
A first, the 2019 report included international meetings statistics over the past 10 years to provide a global trend perspective.
Related: See the 2017 list
Top Meeting Countries
The top five international meeting countries remained the same as the year before, although France overtook Spain for the third spot. The United States maintained its commanding lead as the number one meeting country in the world with 934 meetings in 2019. Germany claimed the second spot with 714 meetings.
United States
Germany
France
Spain
United Kingdom
Italy
China P.R.
Japan
Netherlands
Portugal
Related: See Global Top 15 International Meeting Cities
Top Meeting Cities
Paris held on to the first-place spot it gained in 2018 with 237 meetings in 2019, up from 212 the previous year. Lisbon jumped from sixth place in 2018 to second in 2019 while Berlin moved up from fifth place to third.
While not one of the top 10 cities, ICCA praised Valencia and Istanbul as 'impressive newcomers' rising 44 and 40 places in the ranks, respectively. Kuala Lumpur similarly jumped from 34 to 22 in 2019. 
Paris
Lisbon
Berlin
Barcelona
Madrid
Vienna
Singapore
London
Prague
Tokyo
Related: Three Things to do in Europe's Newest Hot Spot: Istanbul
A Decade of Growth and Consistency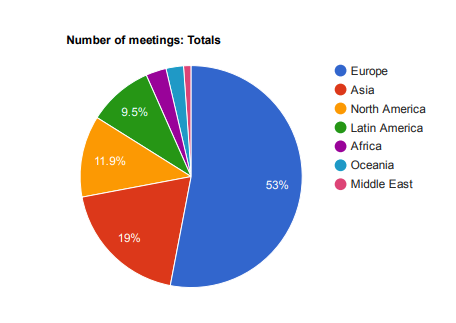 In a press release Senthil Gopinath, ICCA CEO, noted the impact COVID-19 is having on the meetings industry. "Given the current circumstances, it is great to once again highlight the consistent growth in association meetings globally. These figures show the need and importance of face-to-face events, and consequently that the industry will be instrumental in the global recovery when the time is right."
While the U.S. has consistently been ranked as the number one country for number of meetings held over the past decade, Europe has similarly held the number one spot for number of meetings held per region.
2017 broke records with the largest number of meetings held worldwide at 14,068, up from 10,538 in 2010. By the end of the decade that number had dipped to 13,254, but the overall rise in the number of international meetings globally is a sign of growth in the industry.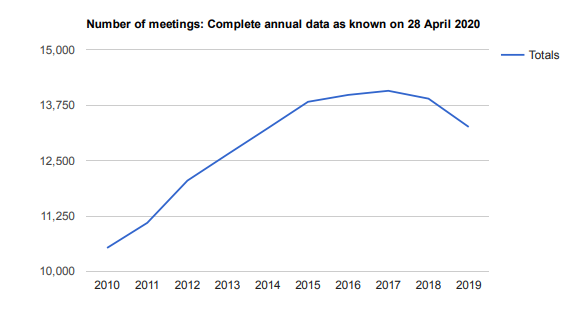 A public version of ICCA's 2019 statistical report will be available mid-June with a full list of country and city rankings.