When jet-setting for work and living out of a suitcase, do you grab a bite at Mickey D's or sit down for a juicy filet mignon? Do you try something local or stay in your comfort zone with a familiar chain? Your age may reveal the answer. Eating preferences from generation-to-generation are as far-ranging and vast as the book-sized Cheesecake Factory menu.
Dining is the third largest expense for business travelers—some $77 billion in 2016 in the United States alone—behind only lodging and airfare. That's a large piece of the pie! In a new study conducted by Global Business Travel Association (GBTA) in conjunction with restaurant consulting company Dinova, 51 percent of millennials surveyed responded they eat fast food while traveling, whereas 51 percent of Gen X-ers choose fast casual dining and Baby Boomers elect for upscale casual.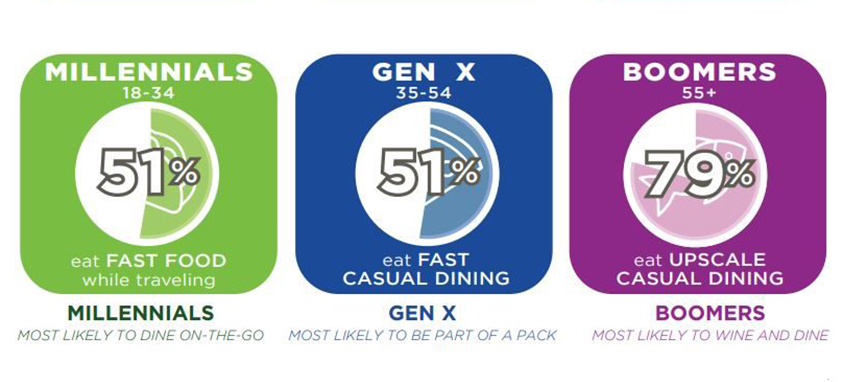 Of the 509 participants surveyed between March 16-22, about 34 percent were millennials, 37 percent were Gen X-ers and 29 percent were baby boomers. Fifty-five percent were male, 44 percent were female and one percent declined to self-identify. People from various career levels were questioned, including support staff, middle and upper management and C-suite. It should be noted that the published study results do not break down the ages of each job level. In the natural order of things, typically older people have loftier titles that come with a larger spending allowance than workers who are in the earlier stages of their careers.
"The research findings really highlight the significance of understanding the spectrum of travelers within an organization. Travel managers are serving multiple generational groups, each with their own preferences. The more they can dial in on what makes for a good travel experience, on the opportunities for reducing employee stress and increasing job satisfaction—and then cater to and engage their travelers in those areas—the more effective their overall program will be," says Alison Galik, president of Dinova. "We believe dining is an area that absolutely fills this bill. Cultivating a successful preferred dining program can both serve a broad range of needs and help create an unforgettable travel experience."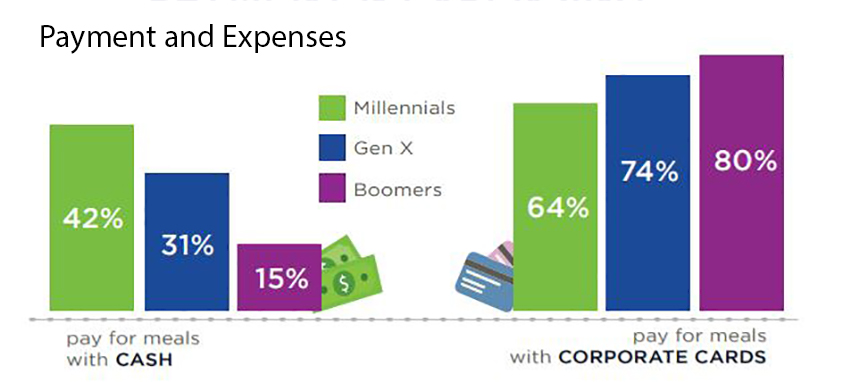 The differences between generations extends beyond the types of establishments food is purchased from. Many hotels are upgrading their grab-and-go options lately, and perhaps this is to appeal to the millennial crowd because they are deemed most likely to dine and dash (after paying, of course). They prefer to eat alone for lunch and get delivery or take-out for dinner. This correlates to this age bracket's 45 percent use of UberEats, much higher than any of the other generation categories.
Gen X-ers seek opportunities to eat with clients and co-workers, while boomers burst the budget by eating breakfast at the hotel and inviting clients to join them for lunch and dinner at more upscale restaurants.
Regardless of age, more than three-quarters of business travelers said they want an authentic, local foodie experience. Nearly the same size cohort is also concerned with eating healthy on the road. Millennials, however, have the highest tendency to have special dietary needs, such as gluten-free.
One way business travelers are seeking out these local eats for quality, convenience and budget is through social media and apps. Sixty-three percent of respondents answered they have dining apps on their smartphone, but the app of choice showed a significant age disparity. The older two categories tend to be avid Yelpers.
Dining and Cents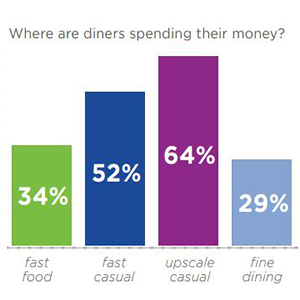 Although Millennials are stereotypically known to gravitate towards the most Instagrammable food, which one might think comes with a hefty price tag, the study revealed they are most mindful of a tight budget in comparison to their older counterparts. Seventy percent reported hesitation to expense snacks and 66 percent think twice about room service.
Form of payment is also telling. An overwhelming majority, 72 percent of people surveyed, pay with a corporate card. However, 42 percent of Millennials also make cash purchases in comparison to just 15 percent of Baby Boomers.