Grandmas are known to run up to babies and toddlers to pinch their cheeks and remark that they're "so cute and delicious" that they "could eat them up." But, we bet you've never thought of a logo in that same regard. Thanks to creative minds and innovative technology, attendees can eat or drink an adorable selfie or custom-branded sweet at an event.
Beverages
Photo credit: Tomer Foltyn Photography
Baristas often have to fulfill long, complicated coffee orders, but even the most veteran Starbucks employee may have never encountered a request for a logo latte. In June 2015, Steam CC announced it was creating Ripple Maker, which prints high-resolution images or slogans in the foam of lattes and cappuccinos in a matter of seconds. It became available the following year.
"Latte art is one of the most shared images on social media," says Yossi Meshulam, CEO of Steam CC, the parent company of Ripples. "We're taking latte art to a whole new level. When you put something beautiful in someone's hands, they want to share it. That's how we're making a ripple on the world."
Using a free-to-download Coffee Ripples App, attendees and planners can send a photograph, logo or message to the machine. A Ripple Pod, which contains natural coffee extract, is used to create the image or letters using patented 3-D printer mechanics and ink-jet printing tech. "It's awesome, because it's drawing huge crowds to our booth here at VMWorld," says Raleigh Melancon, senior event specialist for WW IBM Cloud Marketing.
In March, the company revealed its latest invention, Beer Ripples, which creates personalized pints using malt-based ink. "We are excited to unveil Beer Ripples and bring the same personalization to beers as we have over the past two years with coffee customers around the world," Meshulam says. "We have already served millions of Ripples, with customers such as Hilton, Lavazza, Four Seasons, and restaurants and coffee shops around the world. Now, venues serving beer—from pubs and clubs to hotels and sporting venues—can take advantage of the opportunities for engagement, loyalty and emotional connection that Ripples provides."
Fortune Cookies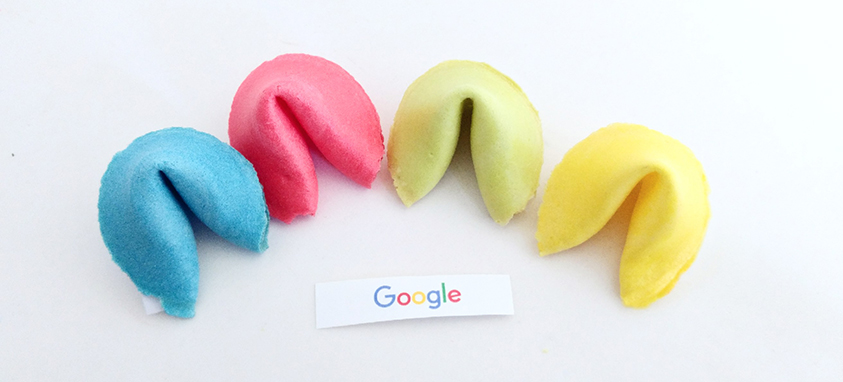 A Chinese meal often culminates with everyone cracking open a fortune cookie to read the message inside. What if that message was your event's logo, slogan or takeaway quote from a keynote? Northern California's Oakland Cookie Factory, a family-owned bakery that opened more than 60 years ago, is the oldest fortune cookie factory and one of the few remaining that makes its product by hand.
Planners can order up to 10 custom messages from Oakland Cookie Factory, to be placed inside their batch of cookies. Up to five messages can be sorted upon request. Otherwise, they're all mixed together. The company has made cookies exclusively for Producers Guild of America, Hyatt Agency, Intel and T-Mobile, to name a few.
"The cookies came out perfectly and were such a hit with our guests!" said Michal Zeevy, event sales manager for Lucky Strike San Francisco, in a testimonial.
Like Charlie finding a golden ticket in a Wonka Bar in the classic film Willy Wonka & the Chocolate Factory, planners can put a winning paper inside a select number of cookies that earn raffle prizes. Or, teams can be randomly created for an activity without worrying about being accused of choosing favorites.
M&M's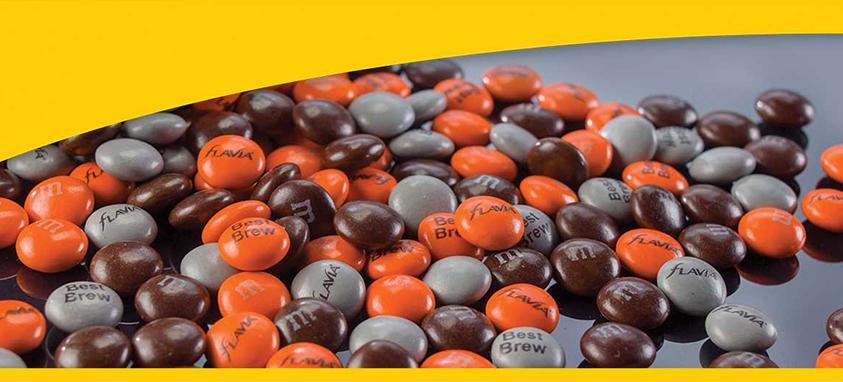 Branding can melt in attendees' mouths, not in their hands with customized M&M's. The tiny candies are available in a rainbow of more than 20 colors. Planners simply upload images and phrases to M&M's website and select or design packaging. These branded edibles are often used for employee recognition, client thank-you gifts and promotions at events and conferences, as well as in the office candy jar.
Macarons
A company called MakeLab offers a photo booth that uses sophisticated laser cutting and engraving technology, typically used in architecture and design, to laser-caramelize images onto macarons. Guests take a selfie with MakeLab's tablet and watch as their treat becomes Instagrammable and ready to eat.
Other bakeries, such as the San Francisco Bay Area's Chantal Guillon, also accepts custom orders to print logos on macarons and packaging.
Marshmallows
It's a marshmallow world made for meetings! Many hotels and resorts have installed fire pits to encourage people to gather in evening and nighttime hours and bond over s'mores. Planners can use this as another branding opportunity long after the meetings have wrapped up for the day.
Kate Middleton's younger brother, James Middleton, is one of the masterminds behind Boomf, which sells customizable marshmallows. His actual job title is Wonka-in-Chief. An event's branding can be placed on these puffy, white, pillowy treats. There are even "mallowpops," similar to the oh-so-popular cake pops, individually wrapped in cellophane as a party favor.
Toast
This may be the greatest thing since sliced bread! Continental buffet breakfasts and break stations commonly have bread and toasters. You may have seen the trendy Hello Kitty toaster circulating around the web, so it was only a matter of time until custom logo toasters became available. A hotel, brand or event logo can get burned into bread.
Cookies
Traditional, circular, butter cookies are also brandable from bakeries, such as Mrs. Fields. Logos are printed with an edible food dye and glazed onto the cookie. Each cookie is individually wrapped and the cookies are sold in cases of 48 and 96. Make sure to place your order one to two weeks prior to your event so they're out of the oven in time.