Wyndham Grand Clear Water Beach, Florida, rendering
Wyndham is enhancing the identities of all its brands
In an ambitious move that will create more and improved options for meeting planners, Wyndham Hotel Group (WHG) has embarked on a global effort to elevate travel experiences at all price points for individuals and groups—including millennials and the diverse middle class.
"We believe in an industry where every single traveler, no matter his or her budget, deserves an engaging, experiential hotel stay—and that's what we set out to deliver," says Lisa Checchio, vice president of brand marketing and insights for WHG.
The company-wide effort is the product of an 18-month study by Wyndham and Siegel & Gale, a brand strategy and insurance firm. They sought to understand guests' preferences and priorities.
Some 5,000 travelers around that world participated in the survey, answering questions about 50 popular hotel brands and 45 decision drivers affecting the hotel purchase experience.
"Our research yielded several key insights about what travelers expect," Checchio says. "First, travelers don't see segments in the same way the industry does, meaning one size does not fit all when it comes to economy."
So, WHG is enhancing the identities of its brands to accommodate the needs of its diverse clientele.
"Second, travelers care a lot more about satisfaction—whether they have a great, memorable and fulfilling experience—than they do about status," Checchio says."It's not just about a place to sleep; guests care about things like how vibrant or happy a hotel brand is and how much the hotel connects them with the local community. We also found that travelers find value and personality in each of our brands, so we set out to define and build upon them."
Rich, Global Portfolio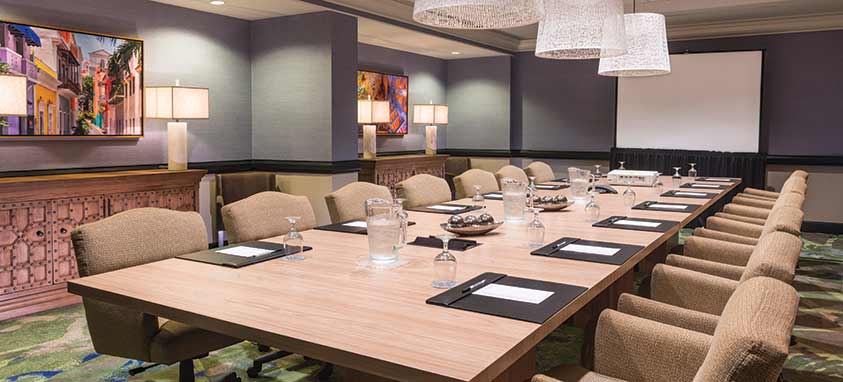 Wyndham Grand Rio Mar Beach Resort & Spa, Rio Grande, Puerto Rico
Wyndham has a rich global portfolio consisting of nearly 8,000 properties and more than 679,000 hotel rooms in 73 countries. Its 16 brands include Dolce Hotels and Resorts, Wyndham Hotels and Resorts, Wyndham Grand Hotels and Resorts, Wyndham Garden Hotels, Tryp by Wyndham and Ramada.
The transformation will feature changes at all of its brands, including refreshed interior designs as well as new marketing collateral, digital presence, travel perks and partnerships. Updates will enhance the identity and focus of each brand. For example:
–Dolce helps guests inspire discovery.
–Wyndham Hotels and Resorts offers comfort.
–Wyndham Garden lets guests travel with ease.
–Wyndham Grand is approachable by design.
–Tryp by Wyndham is powered by the city.
–Ramada helps guests sample the world.
The brands and their individual properties already have begun the repositioning and revitalization process. For instance, earlier this year Wyndham Grand launched Brew Parlor, a caffeinated take on happy hour featuring signature cold-brew creations.
"Bringing the coffee shop experience right into the hotel, Brew Parlor is a perfect match for Wyndham's approachable-by-design promise," Checchio says. "It's been so successful that many of our hotels with large meeting spaces have departed from the age-old afternoon coffee-break tradition by serving Brew Parlor concoctions like biscotti coffee with almond whipped cream and five-spice shaken coffee with Thai chilies instead."
Boosting Individual Properties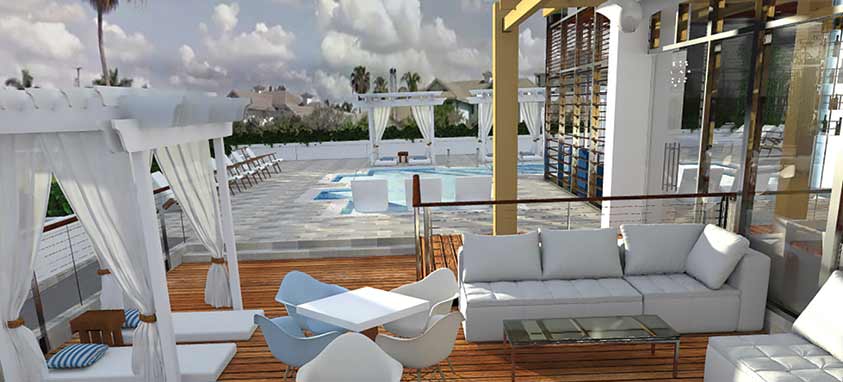 Wyndham Fort Lauderdale Maritime Hotel, Florida, rendering
Along with the new company-wide transformation efforts, Wyndham is continuing to improve the quality of its individual properties. During the past two years, it has been removing substandard properties and added more than 650 newly constructed hotels.
"We are reiterating the importance of our brand standards, ensuring that the millions of travelers who go through Wyndham Hotel Group's hotels around the world expect—and get—the best," Checchio says.
This includes improving the caliber of hotels joining the WHG portfolio, and building more and better guest rooms by developing a pipeline of 124,000 rooms for 2016 and beyond. It also involves rolling out a cloud-based property management system with automated revenue capabilities to give economy and midscale hoteliers the tools needed to succeed.
WHG relaunched Wyndham Rewards in 2015, allowing members to benefit from an abundant points-earning structure, along with a flat, free night redemption rate. In October, the company launched Go Meet, which enables meeting planners to earn one point for every qualifying dollar spent, with no minimum spending requirement and no maximum point cap. The lack of restrictions enables planners to more quickly obtain meaningful rewards, such as free nights.
Go Meet is the first formal rewards program of its kind to cater to both professional and casual planners across every hotel segment. Every planner is eligible to earn, from the corporate meeting planner booking a large-scale convention at a full-service property to a coach coordinating accommodations at an economy hotel for a basketball tournament.
"Planners told us about the challenges they face, like minimum spend thresholds, maximum point limits and a lack of value," said Geoff Ballotti, president and CEO of Wyndham Hotel Group, as he announced the new program. "We're addressing these pain points head-on with the world's most generous rewards program for meeting planners.
"Not only are we giving them a simple program and faster, more meaningful rewards, but with 230 hotels with 10 or more meeting rooms and 145 hotels with at least 10,000 sq. ft. of function space, we can meet all of their event needs."
Exciting Openings & Renovations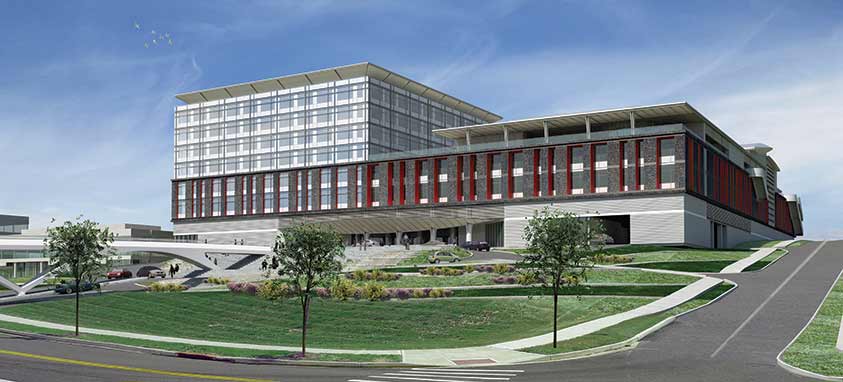 Dolce Cincinnati rendering
Wyndham continues to strengthen and add to its portfolio around the globe. Here are some of the highlights.
Tryp by Wyndham Isla Verde Carolina, Puerto Rico opened in late 2015 featuring a chic, cosmopolitan vibe. Located steps from a beach, it has 109 guest rooms, spectacular dining venues, a pool and 2,000 sq. ft. of meeting space.
Located across from Nordelta Bay in Tigre, Wyndham Nordelta Tigre Buenos Aires was unveiled in December. Situated in a six-story building, it offers spectacular views. Its restaurant, Root, specializes in international cuisine, while B76 Lounge Bar offers small bites and cocktails. The hotel has 141 guest rooms and 7,685 sq. ft. of meeting space.
Wyndham Grand Clearwater Beach, Florida, scheduled to open in early 2017, will feature 450 guest rooms and approximately 24,000 sq. ft. of event space. Located at the north end of the prominent Beach Walk, it will offer one of the largest banquet and meeting facilities in Florida's Pinellas County.
Slated to open in spring 2017, 150-room Tryp by Wyndham Fort Lauderdale Maritime Hotel, Florida will feature a European-style tapas bar, a trademark of the Wyndham brand, including 11 aquariums that showcase local marine life. Among the other highlights of the property will be a rooftop lounge, outdoor deck, pool, gym, basketball court and 2,500 sq. ft. of multifunction space.
Another property scheduled to open in 2017, Dolce Cincinnati is a new-construction hotel and conference center less than 10 miles from downtown. The 217-room hotel will become the centerpiece of the $124 million Madison Center mixed-use development project. Dolce Cincinnati will include an eight-story atrium, rooftop garden, health club and restaurant, bar and lounge. Some 22,000 sq. ft. of meeting space will be available.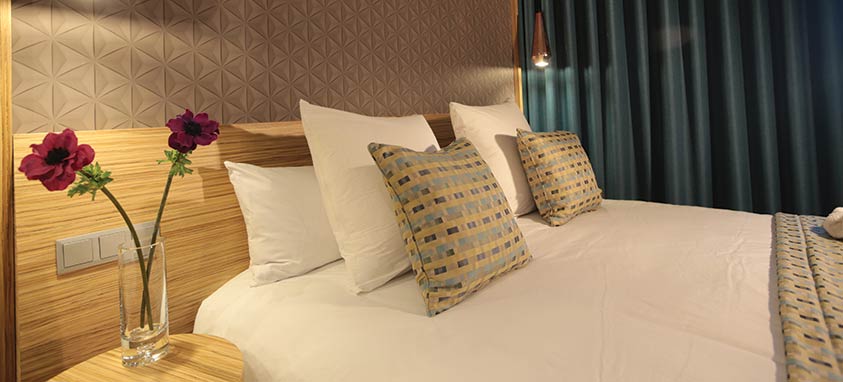 Wyndham Grand Athens, Greece, rendering
The company's first hotel in Greece, Wyndham Grand Athens, Greece is scheduled to open in Athens City Centre in early 2017. The property, which is being transformed from Hotel Athens Imperial, will offer 273 guest rooms, 26,910 sq. ft. of conference and event space, a restaurant, bar, spa and a roof garden with a pool and a 360-degree view of the city skyline.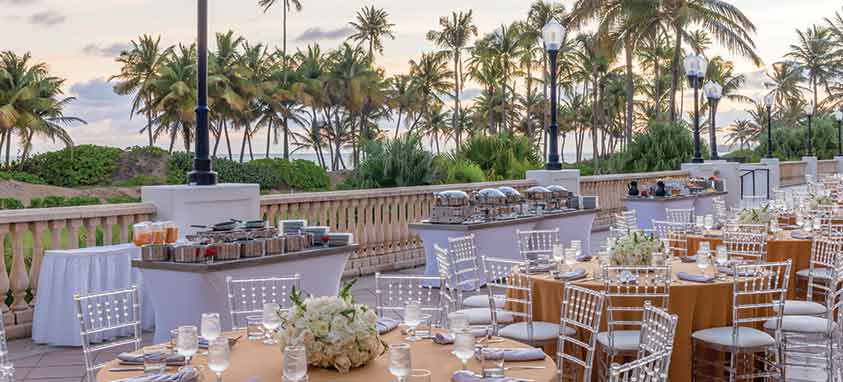 Wyndham Grand Rio Mar
Two significant Wyndham properties recently finished renovation projects. Wyndham Grand Rio Mar Beach Resort & Spa, Rio Grande, Puerto Rico recently rejuvenated its 48,000-square-foot conference center. KNA Design firm incorporated design elements reminiscent of El Yunque National Rainforest and Rio Grande. The conference center now features jungle decor, including lush foliage, waterfalls and rivers.
The resort also includes a 7,000-square-foot casino, entertainment venues, a spa and fitness center, two world-class 18-hole golf courses, an international tennis center, a water sports center and two beachfront pools.
Dolce Norwalk Hotel & Conference Center in Connecticut renovated its lobby space, public space flooring and wall covering, Market 32 restaurant and 1904 bar/lounge. The hotel has 121 guest rooms and 10,500 sq. ft. of meeting space.