Napa County, California
Meetings inspired by wine trail travels
The United States has come a long way since grapes were first cultivated on the East Coast by our Founding Fathers. Today it is the fourth-largest wine-producing nation in the world, with thousands of vineyards spanning all 50 states.
Though Prohibition temporarily halted production, many wineries have emerged and re-emerged larger than ever. These wine country transformations are the force behind grape-driven pilgrimages, adding more hotels, event centers, restaurants and destinations to hold meetings of all shapes and sizes.
Today, new wineries continue to pop up in the most unexpected places: historic fur-trading areas, cattle country and even potato farms. Grapes are an adaptable bunch, and clearly the right combination of soil and climate has paved the way for delicious fruits of the vine. While some of these regions may never be as well known as Bordeaux, their charm lies in their small-town setting, quality of wine and relaxed pace.
Below is a mix of established and emerging wine regions sure to please even the pickiest of palates.
California
Napa Valley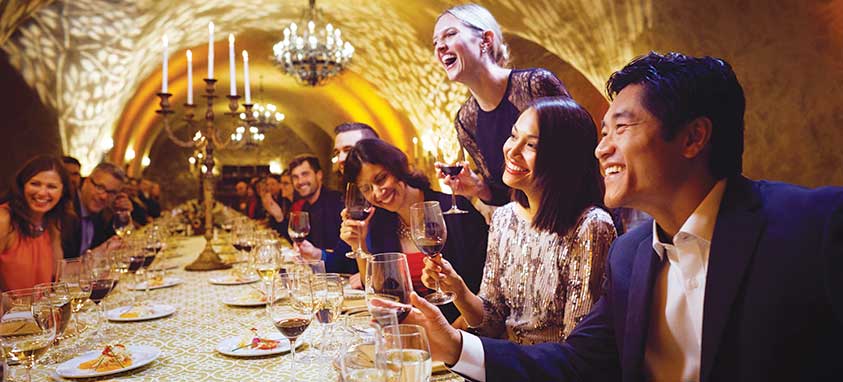 Estate Cave Dinner at Meritage Resort and Spa, Napa, California
Perhaps no place embodies the good life more than the Golden State. "California is the No. 1 state for wine and food tourism in the U.S.," says Nancy Light, vice president of communications for Wine Institute. "Nearly 24 million visitors visit California's diverse wine regions each year, adding $7.2 billion to the local economy."
Napa Valley is probably the best known of California's wine regions. Declared the state's first American Viticultural Area (AVA) in 1981, it is internationally recognized for cabernet sauvignon and merlot.
There are two main wine trails in Napa: Highway 29 and the Silverado Trail. Highway 29 takes you through the wine-country towns of Oakville, St. Helena and Yountville, where you'll find century-old wineries such as Beringer Vineyards and Charles Krug. The bucolic Silverado Trail winds past smaller wineries, including Rombauer Vineyards and Robert Sinskey.
Visitors will also find a thriving culinary culture in Napa. Yountville alone is home to more Michelin stars per capita than anywhere else in North America. To sample locally grown goods, head to Oxbow Public Market, where purveyors of all things wine country hawk their wares, or pick up picnic fixings at the Oakville Grocery, the oldest continuously operating grocery store in California.
Conference space is numerous and varied. The 66-room Napa River Inn in downtown Napa boasts a picturesque location along the Napa River and 1,925 sq. ft. of meeting space. Andaz Napa in downtown Napa has 140 loft-like guest rooms and suites, and 9,000 sq. ft. of meeting and event space. Meritage Resort and Spa has 322 guest rooms and 50,000 sq. ft. of event space in a spectacular setting. The luxurious Carneros Resort and Spa offers 86 luxury cottages, 10 suites and two- and three-bedroom homes, as well as 15,000 sq. ft. of flexible indoor and outdoor meeting space.
Sonoma Valley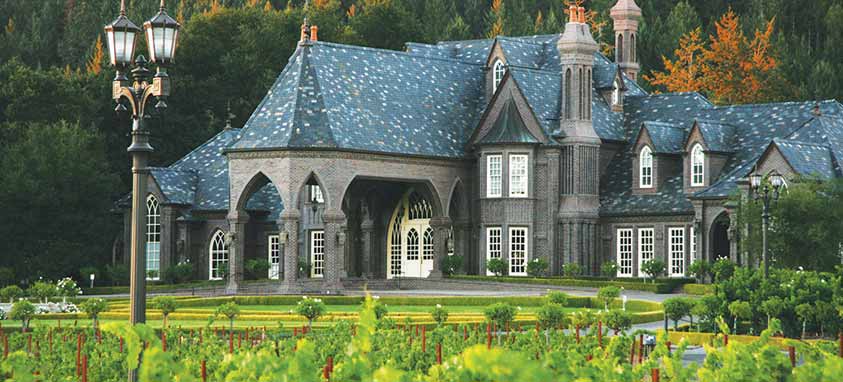 Ledson Winery & Vineyards, Kenwood, California
Sonoma Valley vineyards were planted as early as 1824 by the Franciscan fathers at Mission San Francisco Solano, and today the area remains a hub for the wine industry.
"Napa Valley and Sonoma County, home to well over 1,000 wineries, remain the top destinations for California wine country visitors," Light says.
Highway 12 northwest of the town of Sonoma is the main wine route, where you'll find an impressive selection of wineries, ranging from the castle-like Ledson Winery & Vineyards to the French-inspired Chateau St. Jean, both in Kenwood.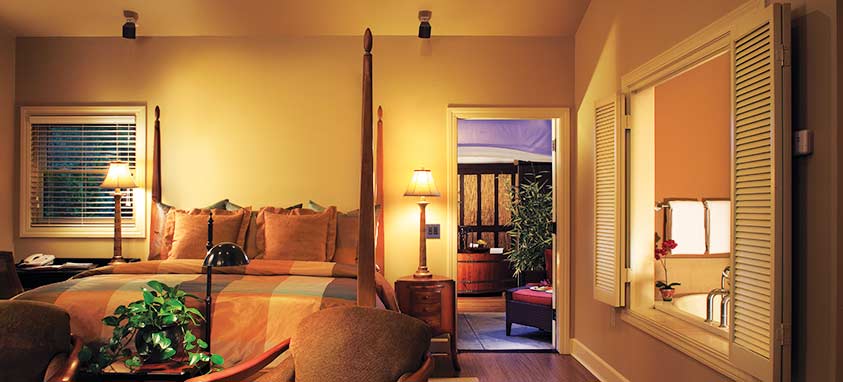 Garden Spa Suite at MacArthur Place, Sonoma, California (photo by MacArthur Place Hotel)
The luxurious 64-room MacArthur Place, four blocks from Sonoma Plaza, is a good base for meetings. A two-story Victorian house built in the 1850s anchors the property, which includes facilities ranging from the rustic Rodeo Tack and Stetson Room to historic gardens.
Santa Barbara
Santa Barbara's winemaking tradition goes back 200 years, when Father Junipero Serra planted vine cuttings at the historic Mission Santa Barbara. By the 1960s, 45 vineyards were cultivating wine grapes. Today, some 200 wineries populate the Santa Barbara region, with two dozen tasting rooms near downtown.
"Santa Barbara County is a popular destination, with its prime location on the Central Coast, downtown tasting rooms and bucolic valleys," Light says.
What makes Santa Barbara County unique is its climate: A marine layer sweeps fog and cold wind into the western part of the county, while inland areas enjoy warmer temperatures. These diverse microclimates produce more than 50 wine grape varieties.
Santa Barbara County holds several wine and food events each year, including Vintners Spring Weekend in late April. For the Celebration of Harvest Festival Grand Tasting, held Columbus Day weekend, nearly 150 wineries pour at Mission Santa Ines in downtown Solvang.
When it comes to meeting spaces, few can compare to the 41-room San Ysidro Ranch in the Montecito foothills. Originally part of land titled in 1769 by the King of Spain, the 500-acre property was purchased by Hollywood actor Ronald Colman and turned into a sanctuary for celebrities. Today, it's a haven for small meetings. The Hydrangea Cottage accommodates 60, the Wine Cellar holds 30, and the circa-1825 Old Adobe has room for eight.
The 92-room Belmond El Encanto has been a landmark since the 1920s. Planners will find 9,820 sq. ft. of indoor and outdoor function space, including Arbor and Lily Pond, holding 200, and the Riviera Ballroom, accommodating 300.
Carmel Valley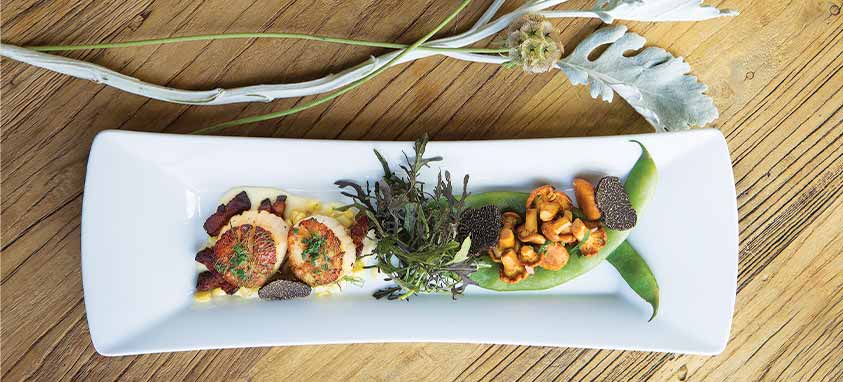 Bernardus Lodge & Spa, Carmel Valley, California (photo by Bernardus Lodge)
Located 12 miles inland, the Carmel Valley wine region produces wines in the rich Bordeaux style. The Carmel Valley attained AVA designation in 1983.
Tasting rooms fill the charming village of Carmel Valley. Bernardus Winery Tasting Room is where former race car driver Bernardus Pon offers his Marinus Estate red wine, realizing his dream to create a wine equal to Bordeaux's best. Pon also owns the 73-room Bernardus Lodge & Spa, set on 26 acres of organic gardens and vineyards and offering 4,300 sq. ft. of meeting space.
Stonepine Estate caters to events of up to 250. Set on 330 acres, the Mediterranean-style resort served as a retreat for the Crocker banking family in the 1920s and was renamed in the 1980s for the towering stone pines upon its conversion to an eight-bedroom, three-house luxury retreat.
Virginia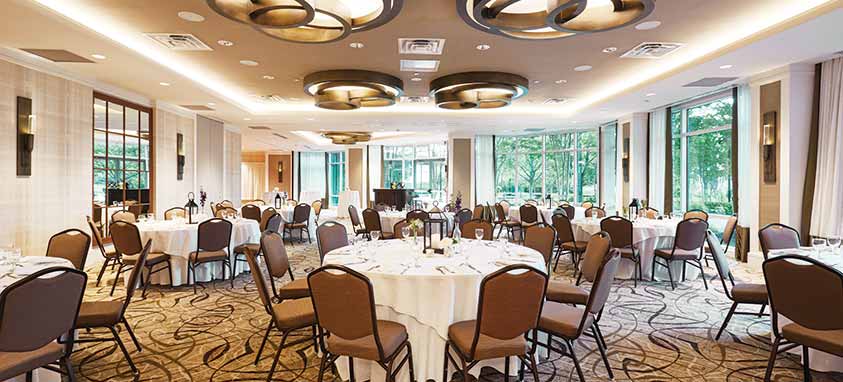 Ballroom at Lansdowne Resort and Spa, A Destination Hotel, Leesburg, Virginia
Virginia might not be top of mind when one thinks of vineyards, but the nation's first wines were produced there more than 400 years ago. Today, the state ranks fifth in the United States among Old World grape-growing states.
Virginia has seven American Viticultural Areas, with appropriate names such as George Washington Birthday AVA, Monticello AVA and Middleburg AVA. Wines produced include petit verdot, viognier, vidal blanc and cabernet franc. In Monticello AVA—where Thomas Jefferson's home, Monticello, is located—Jefferson spent years trying to grow European grape varieties.
The area is also home to several AAA Four Diamond conference resorts, including the 425-room Kingsmill Resort, with a 16,000-square-foot conference center, 16 meeting rooms and two ballrooms; and the 296-room Lansdowne Resort and Spa, A Destination Hotel, on 476 acres overlooking the Potomac River, with 55,000 sq. ft. of meeting space, including three ballrooms that hold up to 900.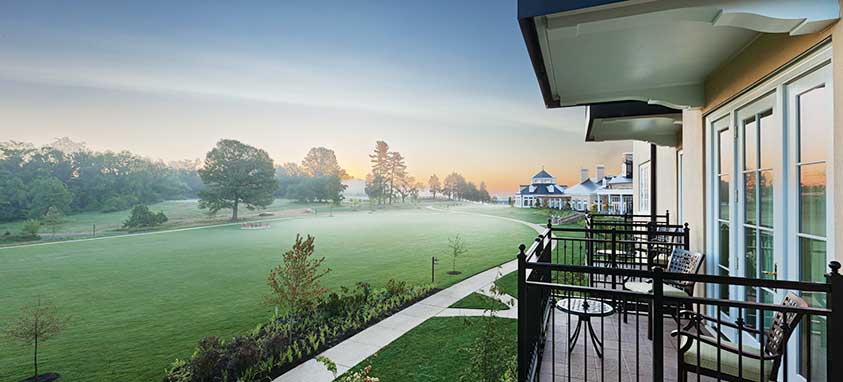 Grand Lawn at Salamander Resort and Spa, Middleburg, Virginia
Salamander Resort and Spa in Middleburg has 168 rooms and 6,800 sq. ft. of indoor meeting space, plus the 110,000-square-foot Grand Lawn.
Michigan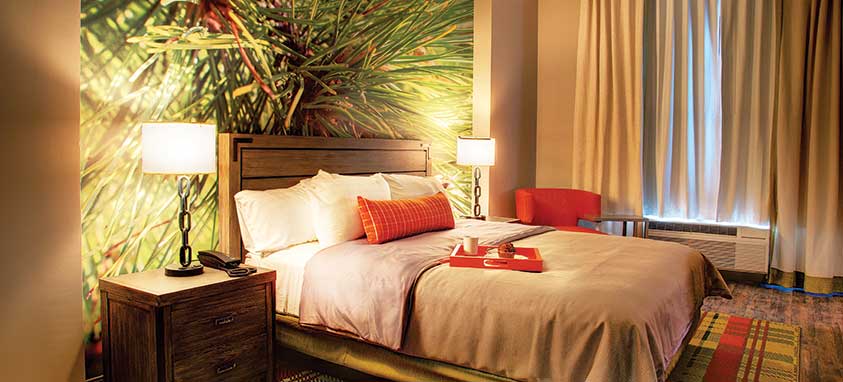 King room at Hotel Indigo Traverse City, Michigan
Once covered with fruit orchards, Michigan's Old Mission and Leelanau peninsulas are now home to nearly 40 wineries. The area's reputation for good wines began with light German-style whites, such as Riesling and gewurztraminer, but today chardonnay and pinot grigio are popular choices.
"Few wine-growing regions are located so far to the north," says Michael Norton, media relations director for Traverse City Tourism, "and, strangely enough, it's that 'northernness' that makes the wine so good."
Visitors can take a scenic drive along the 20-mile-long Old Mission Peninsula, home to nine wineries. A good stop is the award-winning Black Star Farms, maker of A Capella Ice Wine, which was served at the White House for presidents George W. Bush in 2002 and Barack Obama in 2008.
Among the meeting resorts here is The Homestead, with four hotels and condominiums set on 500 acres surrounded by the Sleeping Bear Dunes National Lakeshore. There are 110 hotel rooms in total, plus 110 condos with one to five bedrooms. The complex includes a variety of meeting facilities accommodating groups of six to 180.
Spider Lake Retreat is a 16-room resort with 450 feet of private sandy beach outside Traverse City that is popular for small board meetings. The new 107-room Hotel Indigo Traverse City in the trendy Warehouse District has an industrial-chic vibe to its 5,500 sq. ft. of meeting space.
Looking for something different? Try the 2,600-square-foot Victorian-style Kirkbride Hall, located in the former chapel of Traverse City's 19th-century mental asylum, now a mixed-use community. The newly restored Cathedral Barn at Historic Barns Park has 3,535 sq. ft. for events.
Idaho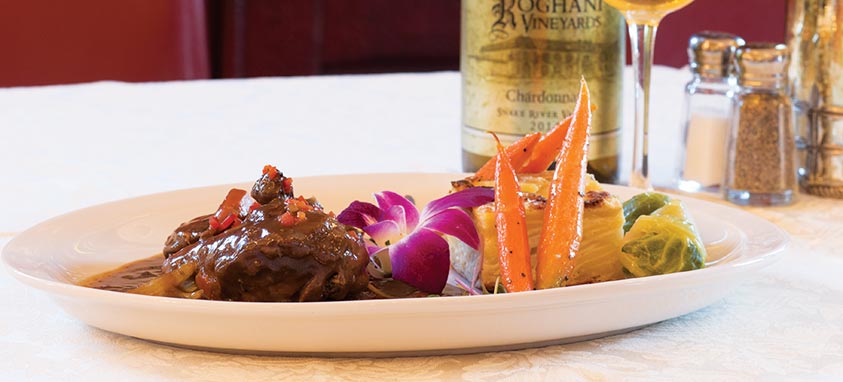 Le Coq d'Or, Eagle, Idaho
Sometimes considered the "other" state in the Pacific Northwest, Idaho is one of the unsung wine regions in America. Its rich, volcanic soil attracted grape growers a century ago, and today its wineries and vineyards rival some of the greatest in the nation.
"With considerable growth in quality, sophistication and global awareness, Idaho wine is no longer a hidden gem," says Moya Shatz Dolsby, executive director of Idaho Wine Commission. "The rising success of the industry is dramatically boosting the state's economy, creating new jobs and drawing more national attention to the state."
Meeting space near wineries is also attracting notice. The recently expanded Boise Centre, an 86,000-square-foot convention center, borders outdoor event venue Grove Plaza. Inn at 500 Capitol is the new kid in town, offering 110 rooms and 2,300 sq. ft. for meetings.
The 303-room Riverside Hotel, on the banks of the Boise River, has 20,000 sq. ft. of functional space and sits minutes from popular vineyards such as Telaya and Cinder.
Boise also spoils visitors with its fine restaurants. State & Lemp received national attention when chef Kris Komori was named a James Beard Award semifinalist. Le Coq d'Or, in Eagle, prepares locally sourced dishes that combine classic French cuisine with new twists.
Texas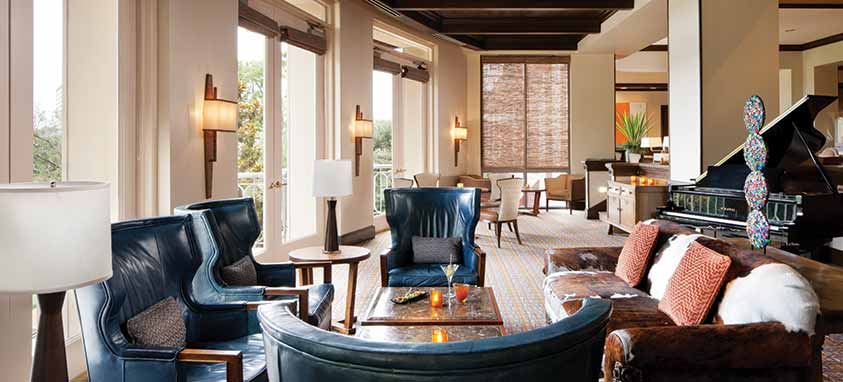 Lobby at Four Seasons Hotel Austin, Texas (photo by Don Riddle)

Better known for barbecue than barbera, the Texas Hill Country, with its rich soil and Mediterranean-like landscape, is establishing itself as a formidable wine region. An easy way to tipple is by exploring Wine Road 290, a 30-mile route between Fredericksburg and Johnson City lined with 15 wineries.
Despite the scenic setting of the Hill Country, the best selection of conference facilities is in Austin, about 48 miles east of Johnson City. Trinity Hall can accommodate 800 for special events. The 463-room Renaissance Austin Hotel has 70,000 sq. ft. for functions; and the 263-room Four Seasons Hotel Austin, on the banks of Lady Bird Lake, offers 18,000 sq. ft. for meetings.
Washington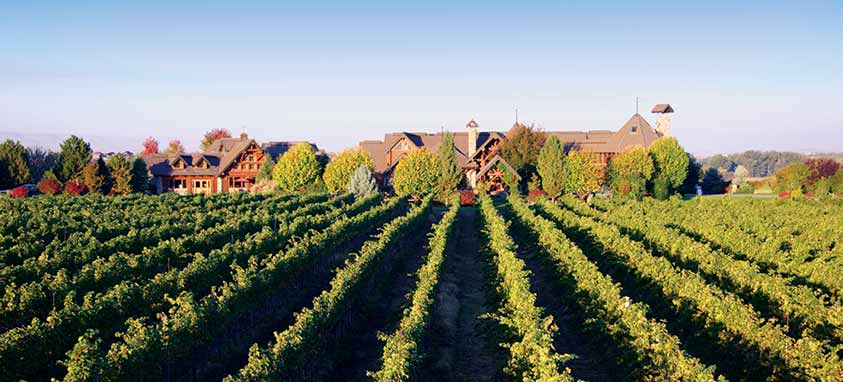 Vineyard at Basel Cellars, Walla Walla, Washington
Two hundred years ago, Meriwether Lewis and William Clark made their way across the beautiful terrain that is now Washington. The same beauty they encountered remains today, along with several acclaimed wine regions.
Woodinville, just 30 miles northeast of Seattle, is Washington's primary growing area and home to more than 100 wineries, the best known of which is Chateau Ste. Michelle, one of the state's oldest and largest wineries. Willows Lodge is a beautiful 84-room wine country hotel in Woodinville with 5,153 sq. ft. of meeting space and surrounded by wineries and tasting rooms.
To the east of Woodinville, another 100 or so wineries await in the Walla Walla growing region, a vibrant fur-trading area during the 1800s. Downtown Walla Walla—"the town so nice they named it twice"—is chock-full of restored 19th-century buildings, including the historic 133-room Marcus Whitman Hotel & Conference Center, with 13,000 sq. ft. of event space. The hotel's Marc restaurant was named 2016 Restaurant of the Year by Washington Wine Commission.
Walla Walla wineries are popular for events. Basel Cellars can handle up to 300, while Three Rivers Winery accommodates 75 inside and 250 outside.
Oregon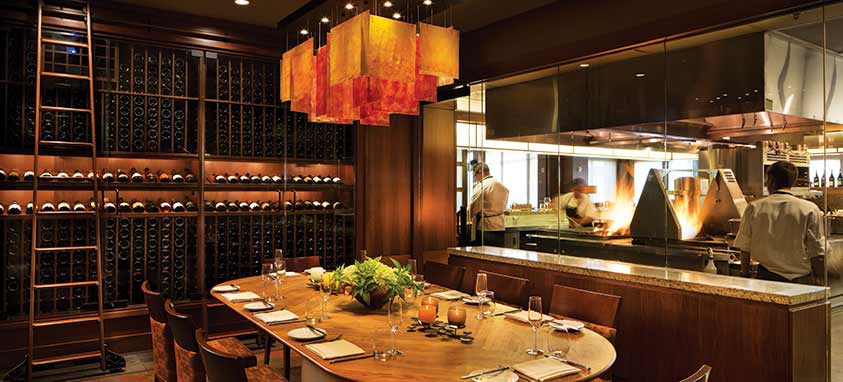 Chef's table at Allison Inn and Spa, Newberg, Oregon (photo by The Allison Inn & Spa)
Lush and rainy Oregon is the country's third-largest wine producer, behind California and Washington. Nearly half of the state's vineyard lands are classified as "certified sustainable acres." Willamette Valley is Oregon's largest wine region, with pinot noir leading varietals, followed by pinot gris and pinot blanc.
"The substantial interest in pinot noir, as well as other varietals grown here in the Willamette Valley, has not only increased leisure travel, but it has also produced an important component of traded sector economy," says Mary Pat Parker of Willamette Valley Visitors Association.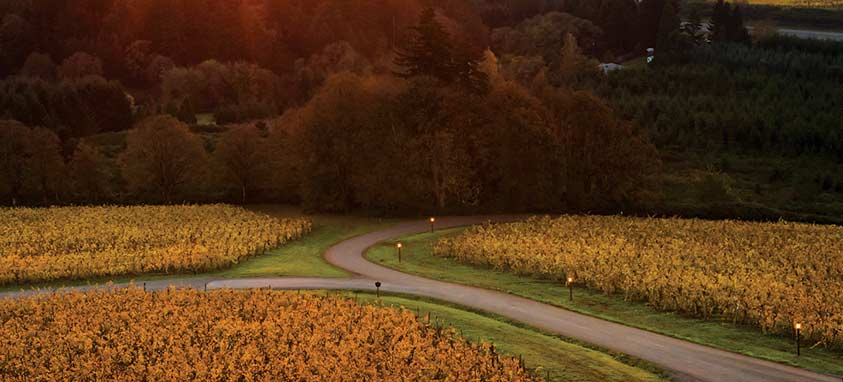 Willamette Valley Vineyards, Turner, Oregon
A good place to sample fruits of the vine is Willamette Valley Vineyards in Turner, considered one of the leading pinot noir producers in the West. Private group tours include a tasting and cheese pairing.
Allison Inn and Spa, which offers free luxury transportation to local wineries, is a 77-room conference facility in the heart of the wine region with 12,000 sq. ft. of event space. Its restaurant, Jory, features a chef's table for 10 from which diners can watch the kitchen in action through a glass wall.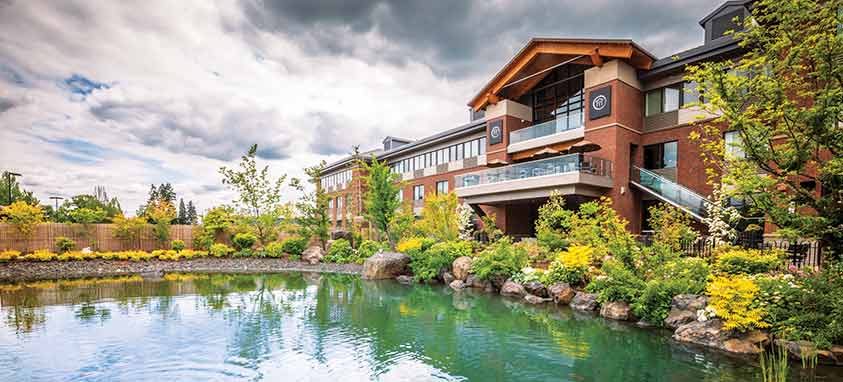 Boulder Falls Inn, Lebanon, Oregon
At Boulder Falls Inn, a new 84-room Best Western property in Lebanon, the Japanese garden with waterfalls is a popular draw. There is 12,000 sq. ft. of event space and a garden bar that serves cocktails on a heated and covered deck overlooking the koi pond below.
---
Culinary Capers: Nothing to Wine About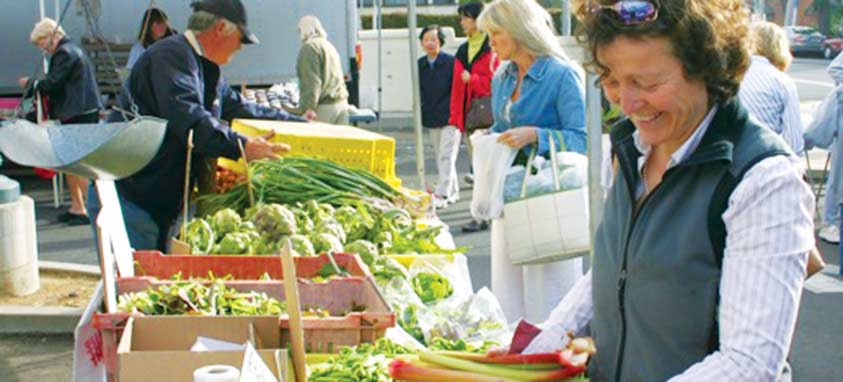 You can take the wine experience a step further by adding culinary classes or interactive experiences to wine country meetings.
In Santa Barbara, groups can shop for seasonal local ingredients with a professional chef and then learn how to use them as part of Saturday Market Forays (pictured above).
At Oregon's Willamette Valley Vineyards, chef DJ MacIntyre conducts cooking classes in the Estate Tasting Room on topics such as how to pair food with wine.
Little Washington Winery in Virginia and Chateau Chantal in Traverse City, Michigan (pictured), offer wine boot camps for aspiring food and wine enthusiasts.
Roll your pant legs up for group grape stomps at Napa's Grgich Hills Estate and Clos du Val, or Reynolds Family Winery on the Silverado Trail, which also offers talks on grape varietals and how oak barrels impart flavor.
Team-building cheese-making classes are the hallmark of Sonoma cheese-maker and chef Sheana Davis' business, The Epicurean Connection.
For customized lectures, contact The House of Wine in Boise, Idaho, where popular presentations include Bubbles, Bubbles and More Bubbles and Pinot Noirs from Around the World.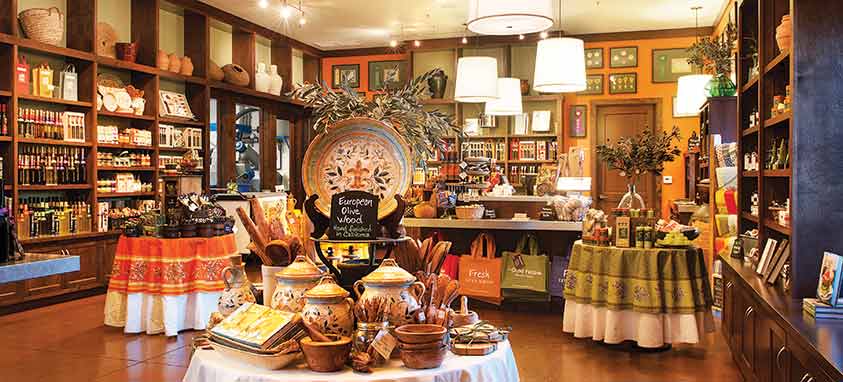 All things olive oil is the theme when Sonoma neighbors Jacuzzi Family Vineyards and The Olive Press (pictured) partner for an afternoon of olive and wine tasting.