From left to right: Hyatt Centric The Loop Chicago; Innside New York NoMad, New York City; Hudson New York, New York City; Mondrian London at Sea Containers
9 reasons these chic venues are smart meeting spaces
The dramatic changes happening across the hotel landscape are providing planners with many meeting options, including nontraditional hotels. Whether it's called a lifestyle, personality or boutique hotel, these hip hot spots offer a different kind of experience that can maximize results. At a time when even megabrands have their own versions of hip hotels (such as Marriott's AC and Moxy, or Tru by Hilton), it's clear that attendees are ready to try something different. And hip doesn't have to mean funky or down-market. Hip hotels can have all the technology, services and even luxury elements of legacy brands, but with a twist.
A generational shift has caused historic changes in the design, service and approach of even the most traditional brands, making these fresh meeting places a popular choice. Here are nine reasons why you might want to meet in a hip hotel—and why there's a good chance you might have your next meeting at one.
1. Something Different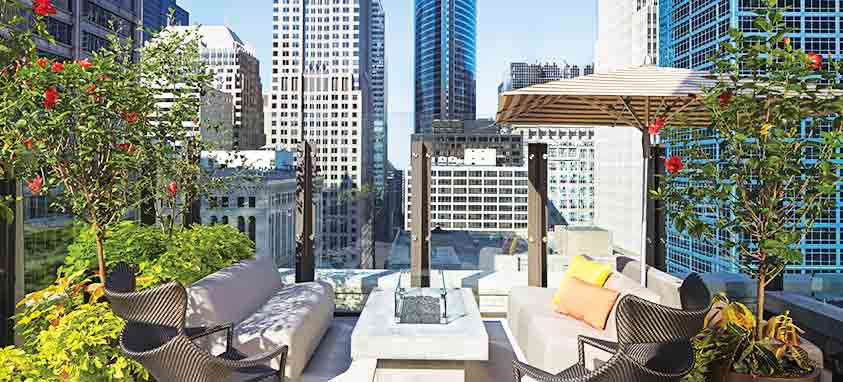 Hyatt Centric the Loop Chicago
Daniel Lewellin, director of sales for Hyatt Centric The Loop Chicago, says, "We are finding more and more over the last few years that people are looking for something different and unique—spaces that organically spark imagination and creativity that keep attendees focused and intrigued. Our spaces do exactly that."
The need for a space to feel different has been more than met, thanks to a growing group of eclectic properties to satisfy every guest's needs.
"We get a lot of requests for nontraditional space," says Laura Van Daal, director of sales and marketing at The Nines Hotel in Portland, Oregon. "Planners do not want cookie-cutter meeting rooms."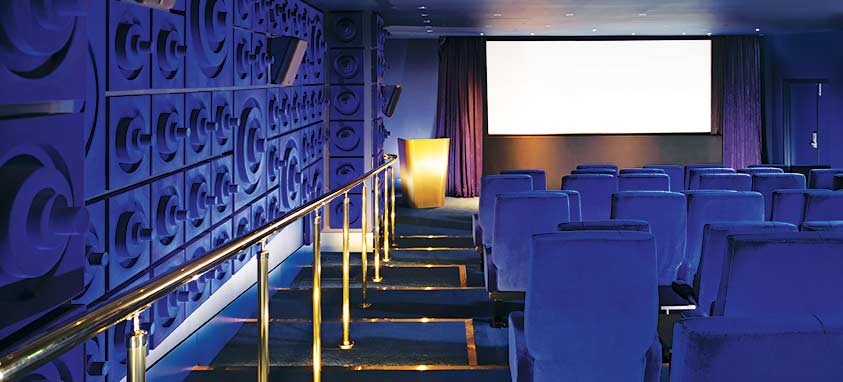 Screening Room at Mondrian London at Sea Containers
Darrell Hartman, a documentary film maker, hosted an event at Curzon Cinema in Mondrian London at Sea Containers. "Rather than going with more of a multipurpose social space or meeting space that happened to have screening capabilities, we thought it would help if we hosted the event in an actual movie theater," Hartman says. "Arriving at the Curzon just put people in a better, more receptive mood from the get-go. Who doesn't love going to the movies? If surprising and delighting is part of your business model, as it is with us, it's even more logical to go this route."
2. Design for Innovation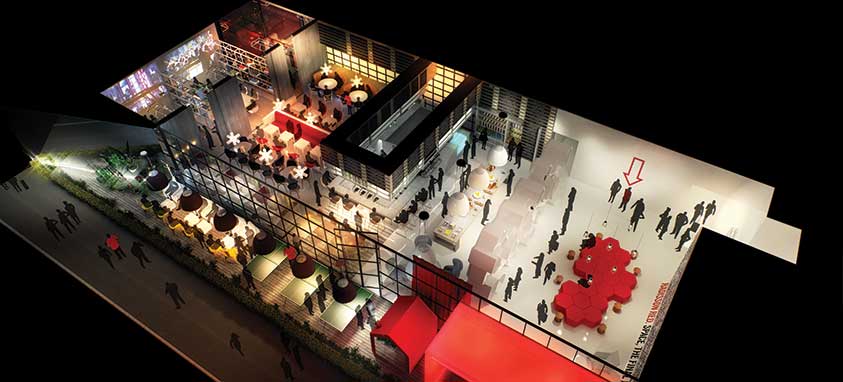 Rendering, Radisson Red Brussels
At Radisson Red, the hotel's lifestyle select brand, the goal is to enhance the guest experience by infusing art, fashion and music into the stay, according to Richard Flores, vice president of branding for Radisson and Radisson Red.
"The meeting and event space is a vital part of our big common area," Flores says. "In fact when the meeting space (which is called the event studio) is not being used, it becomes part of the lobby separated by different kinds of doors depending on the location. Planners can close the blinds to have a private event or even leave them open if they decide that being part of the lobby activity makes sense for that specific meeting."
At the 319-room Hotel Van Zandt in Austin, Texas, one room is filled with vintage radios and microphones. "It reflects the city's musicality without being too hokey," says Chuck Moses, director of sales and marketing. "Instead of traditional chandeliers, we might use lighting made from reclaimed bicycle pipes. There's lots of wood and leather, all designed to create a warm, comfortable feeling that is less intimidating for attendees."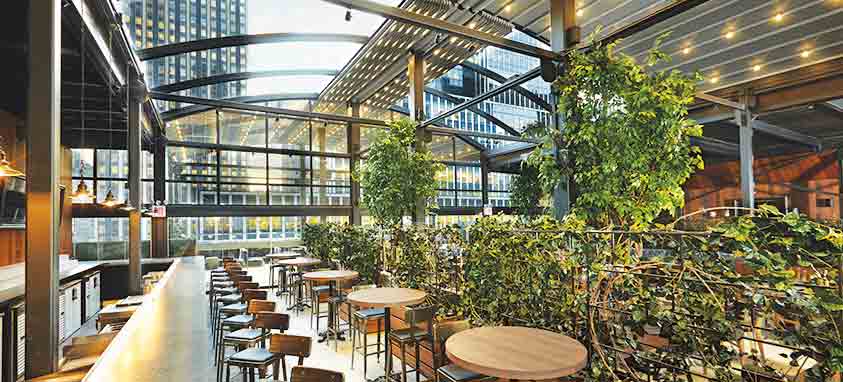 Renaissance New York Midtown Hotel, New York City
The newly opened U.S. flagship Renaissance New York Midtown Hotel in New York City (348 chic rooms) offers meeting and lounge space with glass air walls. On the seventh floor, floor-to-ceiling windows showcase magnificent views of the city, while stylized inspirational quotes from fashion greats such as Coco Chanel and Oscar de la Renta painted on the raw concrete wall pay homage to the neighborhood.
"Spaces in hip hotels celebrate design," says Zie Zie Senzaki, vice president of sales and marketing for Provenance Hotels. "You are not going to get the traditional floral carpets and gray walls with pull-down screens. The Pettygrove Room at our Hotel Lucia in Portland, Oregon, features iron girders and brick that expose and honor the history of the building. It's a nontraditional approach but feels appropriate to the destination and is compelling for groups." The 127-room hotel was built in 1909 and has been added to the National Register of Historic Places.
3. With Hipness Comes Flexibility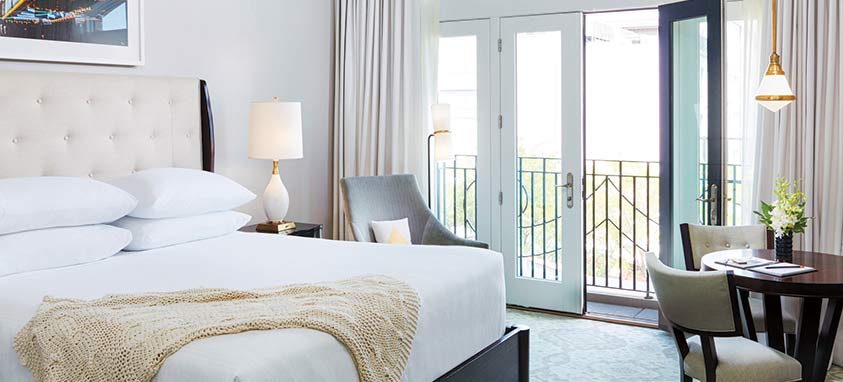 The Spectator Hotel , Charleston, South Carolina
Now more than ever, planners are looking for a blank canvas that allows them to be as creative as their companies and teams.
Roberto Sanchez Simon, director of corporate strategy for Room Mate Hotels, a Spanish brand that's expanding in the United States, says, "All of our spaces are flexible. We bring the lighting and design and say, 'Here's the space; do what you like.' Also, we love to use suites as meeting rooms, especially when privacy is important."
Hotels are adapting to the need of becoming creative spaces with the same freedoms as home offices and coworking spaces.
"Planners have total flexibility at Radisson Red," Flores says. "You can have the space with nothing in it or a team-building exercise where [attendees] can write on the walls. The same space can be used for a fun meeting with bean bag seating and pingpong, or a serious meeting with A/V and privacy. You can even book the space an hour before your meeting if it's available."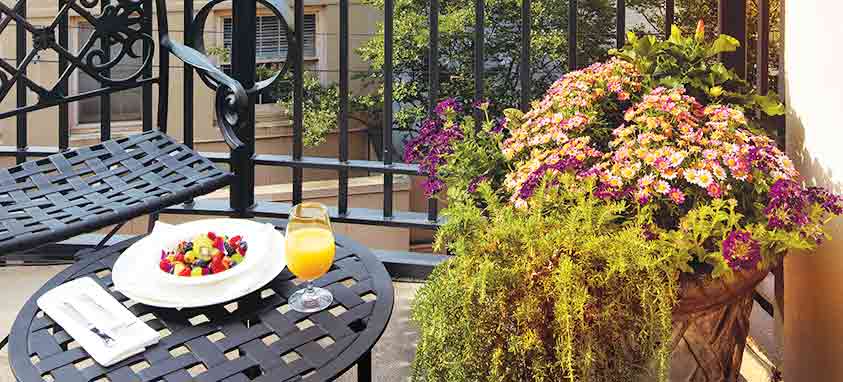 French Quarter Inn, Charleston, South Carolina
Jessica Bowman, director of sales for three Charlestowne hotels in Charleston, South Carolina's historic district, said planners can rent all or most of the three properties and use them as they wish.
"We had one company buy out our French Quarter Inn (50 guest rooms) and most of the The Spectator Hotel (41 rooms) so that we were able to transform the entire lobby and terrace of the French Quarter Inn into a beautiful dinner and cocktail reception," Bowman says. "We removed the furniture and put in custom furniture for the event. It completely transformed the space, something you couldn't do in most hotels."
4. Creativity Comes to the Fore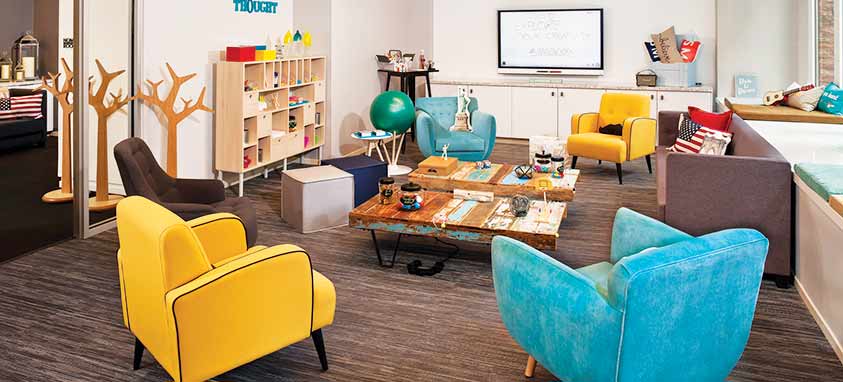 Creative Meeting Room at Innside New York NoMad, New York City
Hip hotels, by definition, allow you step out of the traditional office or meeting space into a more creative, collaborative and social space.
"They are ideal for product launches," Senzaki says. "What better environment to introduce new products and to generate excitement about a brand? And, because hip hotels have a natural sense of fun, they are the perfect place for team building."
The new 313-room Innside New York NoMad, a Melia property, in New York City, has The Creative Meeting Room, where colleagues can meet and participate in team-building exercises and brainstorming sessions. "The room is furnished with large sofas and chairs, as well as fitness balls and cushions where guests can lounge and let their creativity and thoughts flow," says Michael Newman, director of sales and marketing. Amenities include a stocked mini-bar as well as toys such as Rubik's Cubes, a ukulele, miniature basketball games and yo-yos.
5. Hip Means Tech-Forward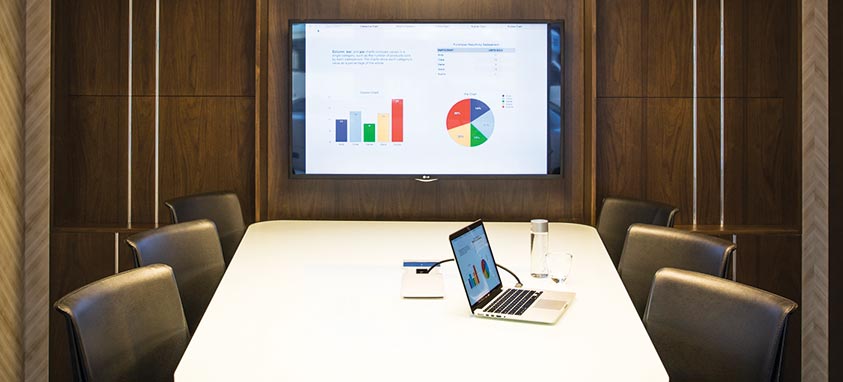 AC Hotel New Orleans Bourbon/French Quarter Area
If there's one prerequisite of being a hip hotel, it's providing cutting-edge technology to match. And that fact is not lost on these properties.
"Our space was designed so the meeting planner could run the technology with ease," Lewellin says. "Each room [at Hyatt Centric the Loop Chicago] has dedicated A/V—whether it is one of our smaller spaces with wall-mounted televisions that can be accessed by plugging in your laptop with the cords that we provide, or in our ballroom that has touchscreen controls that allow you to dim the lights, drop down the screen, control the volume of the music and even close the shades. We try to make it as easy as possible to avoid any complications during the meeting."
Marriott's AC Hotels has created a partnership with Startup Grind, the global community designed to educate and connect entrepreneurs to provide attendees with inspirational places to work, while surrounded by like-minded individuals. To facilitate frictionless service, Kallpods, (or wireless service buttons) are provided in public areas and meetings spaces enabling guests to immediately request a staff member's attention.
Innside New York NoMad offers Kapp Digital dry erase boards, which can be connected to a laptop or mobile phone via Bluetooth. Guests can upload images directly from their device to the board.
6. Authenticity Lets You Meet Like a Local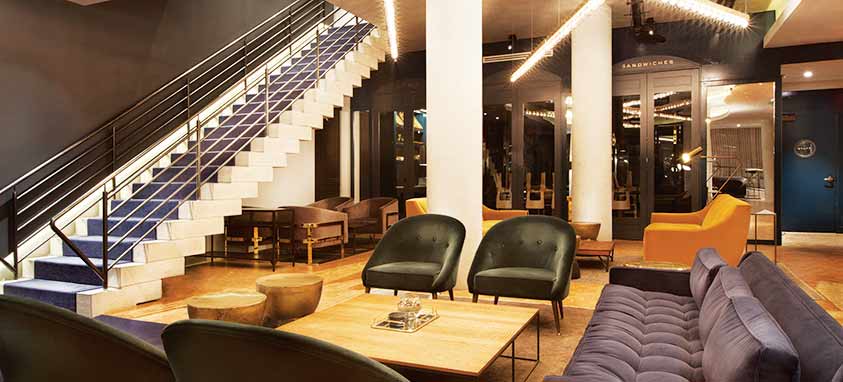 Dazzler Brooklyn Hotel, New York City
Hip hotels tend to reflect the surging demand for guests to get a sense of place—rather than a meeting room that could be anywhere. Moses says, "We wanted to create a hotel that authentically connected to Austin—and not with just having a wall of records. Our [Hotel Van Zandt's] bigger spaces, like the ballroom, have floor-to-ceiling windows with natural lighting—some with lake views and some with city views."
Carlos Gareis, general manager of the new 174-room Dazzler Brooklyn Hotel in New York, says the property was designed to reflect Brooklyn in the 1950s and '60s. Its location between Manhattan and Brooklyn provides the hotel with the opportunity to merge the glamor of Manhattan with the industrial feel of Brooklyn, says Szandra Toth, founder of Cl-oth Interiors, which did the design.
"Today's millennial traveler is self-aware and craves authentic, unique, sharable experiences," Stoeckl says. "They choose brands that they personally resonate with—fun and youthful in spirit, fashion forward in design, and ahead of the curve in technology. It's more than just a demographic: It's about the psychographic of specific consumers that are millennial or influenced by what the generation stands for."
7. Food Reflects Fads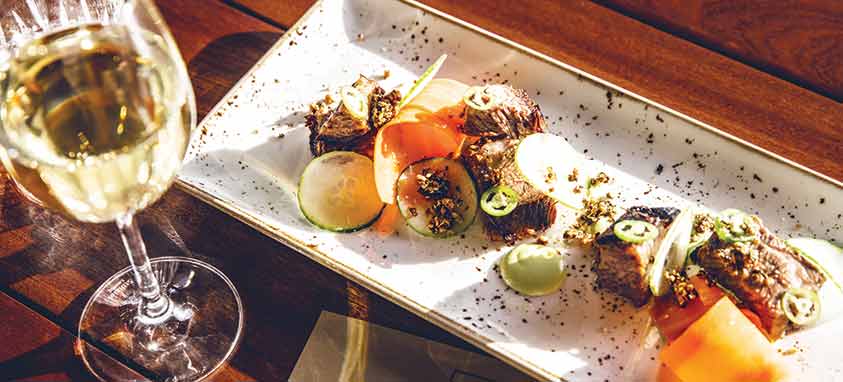 Barbecued short ribs at Geraldine's, Hotel Van Zandt, Austin, Texas
With food having become central to the travel and meeting experience, hip hotels aim to stay ahead of the cuisine curve, as well.
"We can roll in a mini-food cart to the meeting room with dessert or ice cream," says Flores of Radisson Red. "We don't have traditional catering services but we do have food inspired by street food and food trucks."
Food is just as important a component after meetings are over as it is during the meeting breaks. Attendees are looking to do more than just refuel, and want to take in as much local flavor as possible.
"Our restaurant, Geraldine's, is a hot place to be in town, and we take that same food into the meeting space," Moses says of Hotel Van Zandt.
8. The Sky's the Limit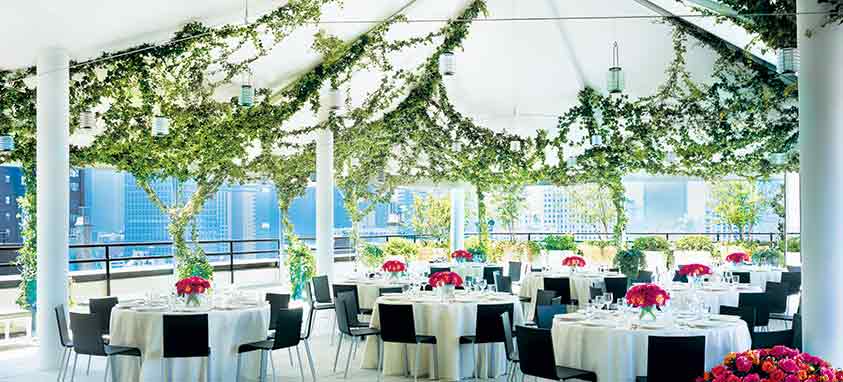 Hudson New York, New York City
Rooftops have become incredibly popular and hip hotels tend to have active rooftops. "Our roof deck has a pool, a sundeck and cabanas that overlook the city and Lady Bird Lake. We get lots of buyouts of that space," Moses says.
The 24th-floor Tented Terrace located on the rooftop of the nearly 900-room Hudson New York in New York City boasts incredible urban and Hudson River views. The climate-controlled terrace includes a private outdoor open-air space and luxury suite accommodations. All culinary needs are addressed on the premise.
9. Mirroring the Generational Shift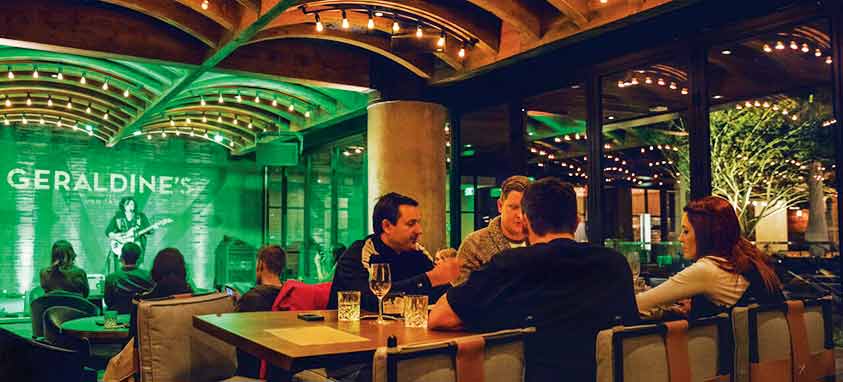 Live music at Geraldine's (photo by Aubrie Pick)
Younger attendees want to stay where it's cool. "The common denominator for the millennial planner is that they want results right away, but also something meaningful," Moses says. "They don't want to be in a typical hotel space."
Flores says, "[At Radisson Red] the meeting spaces have pingpong and pool tables. We can play movies, set up bean bags or whatever. But at the same time we have all the technology and tools, like a projector, that you need for a meeting."
Of course, a big part of choosing a venue is driving attendee excitement and—more importantly—attendance. "A hip or distinctive venue is probably a better choice if it's part of a larger effort to get the people attending the meeting excited," Hartman says.
Hip hotels will often deliver something you won't find anywhere else. Hotel Van Zandt's director of music and social programming, Lauren Bucherie, coordinates the live music in the restaurant and also creates themed meeting playlists.
"It won't be uncommon to see a meeting group's team-bonding activity involving a quirky song-writing experiment or for guests to sit shoulder-to-shoulder with artists and entertainers in the hotel's Writer's Lounge," Moses says.
---
Harvey Chipkin is a freelance writer who has been covering the hospitality and meetings industries for many years.
---
Special Spaces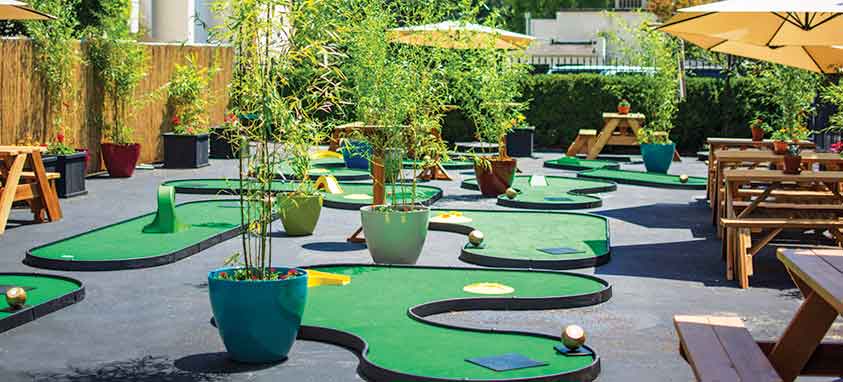 19th hole, Hotel deLuxe, Portland, Oregon
Do you want your meeting room to have a statue of a life-sized horse with a lamp on its head? How about a reception in a suite with a bathtub in the middle filled with ice and beverages? Imagine hosting a function in a New York hotel with a pool and swim-up bar? Hip hotels have spaces that know how to get conversations started.
The Barrel Room at The Nines hotel in Portland, Oregon, has a giant horse sculpture with a lamp on his head and a dividable wine wall.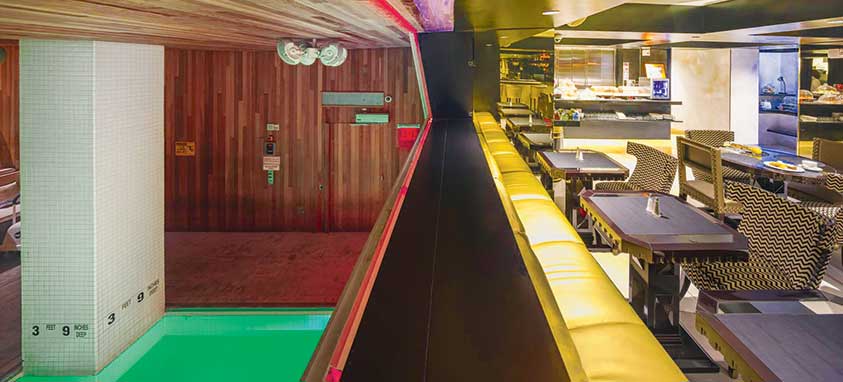 Room Mate Grace, New York City
The bar at Room Mate Grace in New York City (every Room Mate hotel has a person's name attached to it) is one of the few hotels in the city with an indoor pool complete with swim-up bar. Guests can enjoy cocktails from a window in the pool or while seated in the surrounding bar area. And a suite at Room Mate Oscar in Madrid has a bathtub right in the middle that is often filled with ice and drinks.
Each summer the flat parking lot at Hotel deLuxe in Portland, Oregon, is given a makeover for the season as a miniature golf course with a food truck. The space gives groups the opportunity to host networking events outside and to do something fun and nontraditional.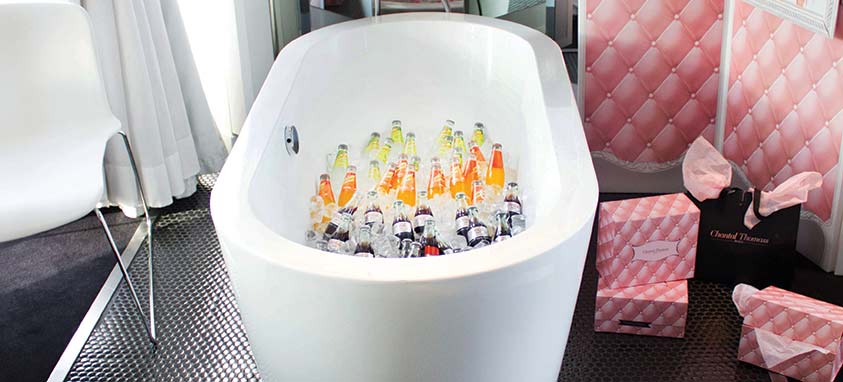 Room Mate Oscar, Madrid
The Wine Cellar at the 39-room The Ashton Hotel in Fort Worth, Texas, can welcome up to 20 guests for dinner. It's an elegant room surrounded by a wine reserve. A gold-pressed tin ceiling, slate floor, natural stone walls, rich wood accents and soft lighting give the Wine Cellar a refined ambience.
Mondrian London at Sea Containers' Rumpus Room is a rooftop bar and lounge inspired by a moment in time when the Bright Young Things, who were a pleasure-seeking band of bohemian party-givers and blue-blooded socialites, romped through the newspaper columns in 1920s London. Rumpus Room brings back this era with dramatic views of London.