Grand Hyatt Kauai Resort & Spa, Koloa, Hawaii
More frequently than ever, incentive programs incorporate authentic experiences
These days, planning incentive-travel that hits the mark for both the participants and the host organization is a complex undertaking. Given the younger generation of incentive winners (which tends to be adventurous and socially conscious) and the older generation of incentive winners (which has often experienced award trips before), planners need a sophisticated approach to each program in order to satisfy participants and drive a strong return on the company's investment.
In light of this, the incentive firm The Performance Group (TPG) in Emeryville, California, is "tapping into what is authentic in each destination, and leveraging those elements to make the experience more meaningful to attendees," says Deb Parsons, president. "We've become a curator of all the truly local possibilities in a given place so that we can touch participants in a deeper way. Our clients now expect that from us."
TPG did just that with a spring 2016 program that brought a group of incentive winners and their companions to Beijing, where 600 attendees devoted a day to visiting the Great Wall of China—but not as tourists. Rather, they were volunteers who did planting, painting and brick repair work on one of the most iconic structures of human civilization.
"Being in the Chinese countryside, seeing the magnitude of the wall and learning about its past and present importance, and leaving our own little footprint on it made such an impact on everyone," Parsons says. "Out of all the things we did in China, everyone said that was the highlight of the trip."
Kevin Devanney, president of Incentive Travel Solutions in Pineville, North Carolina, researches a destination's possibilities for months to find experiences that will connect attendees to it in an unforgettable way. "We'll often go beyond the suggestions of the local DMCs to see if we can uncover an idea we know our attendees would talk about for years," he says.
Devanney discovered a family estate in the hills outside Seville, Spain, where his 80-person group ate lunch under a canopy of olive trees while learning how olive oil is made. Afterward, the group watched ranch hands train adolescent bulls to perform in front of thousands of people in Madrid.
He also escorted a group of 60 people on a day trip by rail from Paris to the medieval village of Giverny, home of impressionist master Claude Monet. "We learned about Monet from a historian during dinner the night before, and the next day had a private event in the rose garden of Monet's estate, where he painted his most famous works," Devanney says.
For participants, Devanney set up a simple picnic-basket lunch along with a few bottles of Champagne—a setting nearly identical to one Monet used as he painted his own guests more than 120 years before. Devanney had a local artist capture his incentive group in that setting, and a copy of the finished product was given to each participant at the final-night gala. "So, our people are now part of a famous painting," he says. "They are forever connected to that place."
Living Local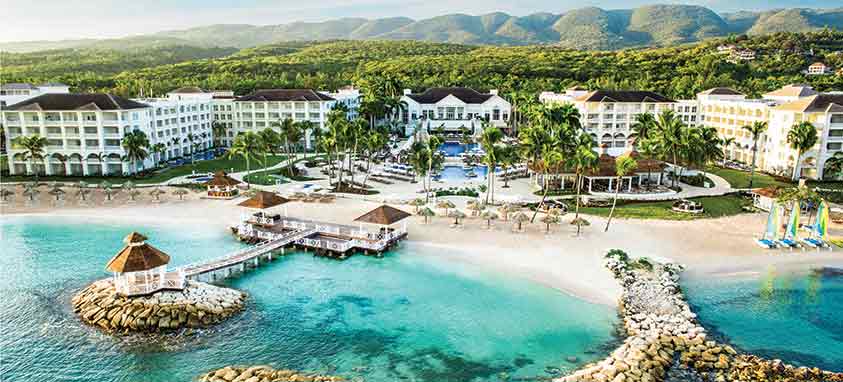 Hyatt Zilara Rose Hall, Montego Bay, Jamaica
Many of the traditional incentive destinations across North America and the Caribbean have adapted to incentive groups' desires to infuse more local personality into their programs. Even among shorter, four-night programs and programs that use all-inclusive properties, the culture of a destination and the ways of its residents are getting more attention from groups.
"DMCs are now marketing more offsite options related to local culture around our properties," says Monica Legrottaglie, regional director of meetings and incentive sales for Playa Resorts, which owns the all-inclusive Hyatt Ziva and Zilara properties in Mexico and Jamaica. "We encourage every group to do at least one offsite excursion, and use the destination as a backdrop for team building and bonding."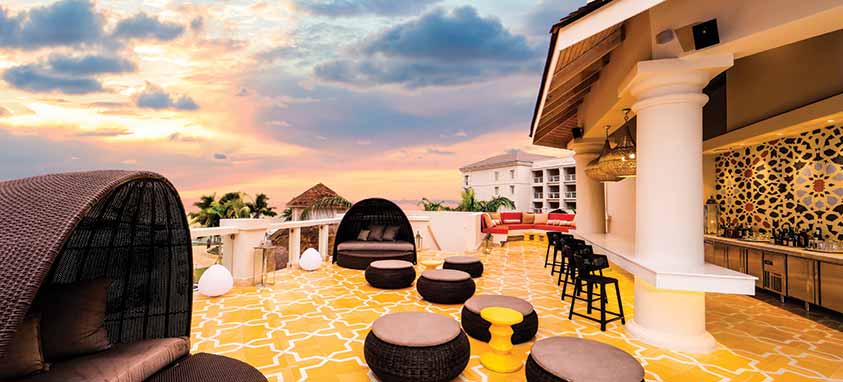 Hyatt Zilara Rose Hall, Montego Bay, Jamaica
One example Legrottaglie cites is a treasure hunt where participants use Segways or Jeeps and GPS technology to get around different neighborhoods in a destination, gathering or photographing certain items at local food and craft markets, along with interesting landmarks. The most adventurous of these hunts can even incorporate a zipline ride above the forest canopy.
Jay Klein, chief operating officer of A-Plus Meetings & Incentives in Miami, finds that active pursuits led by local instructors and guides are popular choices on the activity menu of most incentive programs.
"Actually, the ziplines appeal to all ages," he says. "Open-water kayaking gets solid interest from younger participants. They want to be led by someone who can explain the flora and fauna around them, and how that environment is being protected by the resorts and residents."
In Mexico and Hawaii, surfing lessons that also explain the activity's historical significance are seeing greater demand with each passing year.
Devanney took advantage of Western Canada's personality during a summer 2014 insurance-firm incentive to Banff, Alberta. "We found a secluded mountaintop with a clearing that had unbelievable views," he recalls. Nearly 100 guests rode up to the clearing on horseback to find a large tent set with tables draped in white linens. While sipping cocktails, a local guide explained how the dramatic landscape was formed over time and the types of wildlife residing there.
When the event ended, guests came down the mountain via horse-drawn hayride. "Nobody had ever done an event in that spot," Devanney says. "Our people were awed, even those who had been to Banff before."
Learning the Roots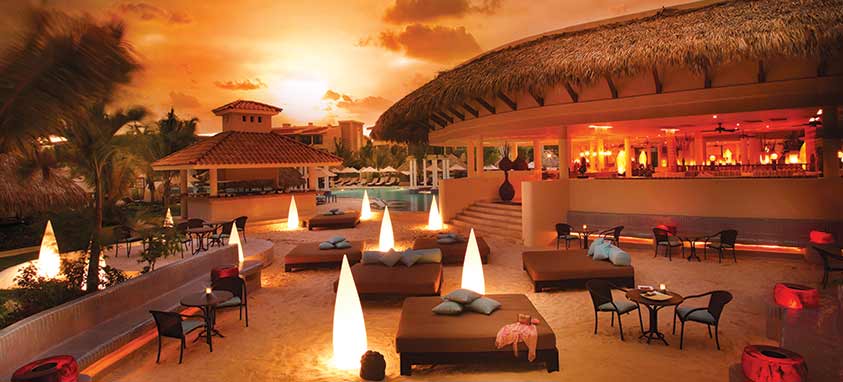 Paradisus Punta Cana Resort, Dominican Republic
Naturally, food and beverage is a central component of incentive programs. Learning about how the local cuisine developed resonates strongly among attendees. Parsons sets up farmers' market tours led by a resort chef. "They say, 'Here's where I shop when I am at home, and here's what I buy.'" The group can also bring items back to the resort for a cooking demonstration and tasting.
"We take guests to an offsite restaurant to learn to make regional dishes from local chefs, and then they help prepare lunch," Klein says. In Los Cabos, Mexico, he's used a scenic 10-acre valley venue, Flora Farm, for cooking demonstrations and farm-to-table meals, plus tequila and margarita education and sampling. "People are very interested in regional wine, beer and spirits," he notes. "We've had big success with that."
In the Dominican Republic, the resorts of Punta Cana are convenient to immersive half-day experiences that show how local food is produced, and its role in the local economy and culture. It begins with a brief tour of a nearby sugarcane plantation, followed by a visit to a shaded hillside village where residents pick coffee beans, fruits and vegetables, and collect eggs.
The activities available at AAA Four Diamond Paradisus Punta Cana Resort marry entertainment with local culture. From candle-making to glass-staining classes and learning the salsa, bachata and merengue, guests staying at the 736-room resort receive an authentic, only-in-Punta-Cana experience.
In Cancun and Riviera Maya, the Mayan culture provides unique opportunities for incentive groups.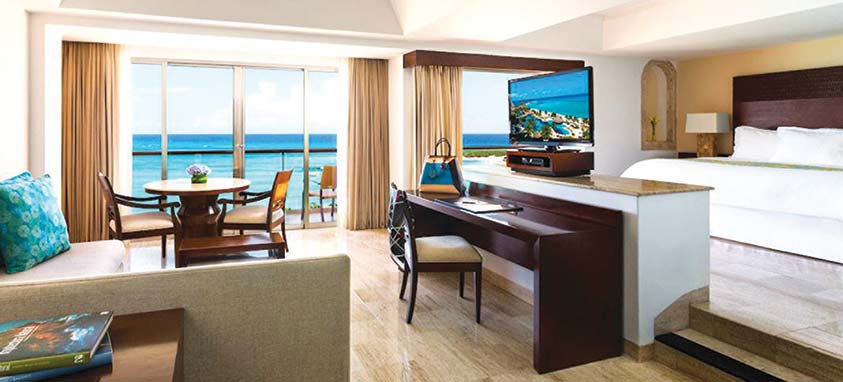 Grand Fiesta Americana Coral Beach Cancun, Mexico
"There are only a few places in the world to see pyramids, and one of the largest is in Chichen Itza," says Casimiro Ramirez, regional sales director for Grand Fiesta Americana Coral Beach Cancun. Ramirez notes that despite the three-hour ride from Cancun's hotel zone, Chichen Itza hosts many incentive groups that travel there via luxury coach, accompanied by ample food and drink, and a historian who discusses Mayan history.
Parsons and Klein find that corporate social responsibility (CSR) has become a consistent offsite element that their clients desire. And Katy Britzmann, director of sales and marketing for the Grand Hyatt Kauai Resort & Spa, says that among hoteliers, "we're seeing social consciousness as a focus among many attendees, not just the younger ones. They feel obligated to make an impact outside of the resort."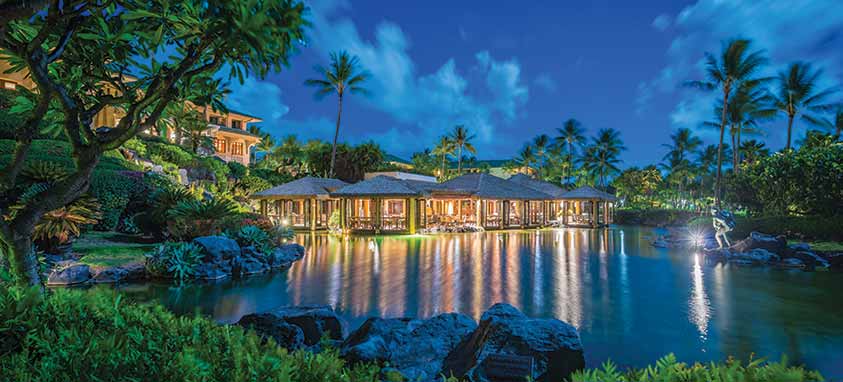 Grand Hyatt Kauai Resort and Spa, Koloa, Hawaii
Some incentive groups using the 602-room Grand Hyatt have spent a half-day landscaping, repairing, refurnishing and repainting a women's shelter, a Boys and Girls Club, and several elementary schools. A few tech groups have even donated computers for entire grades and provided basic instruction.
"Some groups offer a CSR event as an option, but others have mandatory participation," Britzmann notes. "It serves as together time for the group. And if they want to have unstructured time at the resort in the evening, that's fine because their team building is accomplished."
In Cancun, Playa Resorts' Lagrottaglie has had groups not only spruce up the Convene House—a center serving orphans, autistic children and seniors—but also spend quality time with the residents.
"Participants bring crayons and coloring books for the kids, flowers and music for the older folks, and do other things to interact with and entertain them," she says. "Participants gain a better understanding of the way of living in that destination and that culture, which broadens their minds and gives them a better perspective on their own lives. Many companies appreciate how powerful that can be."
Sense of Place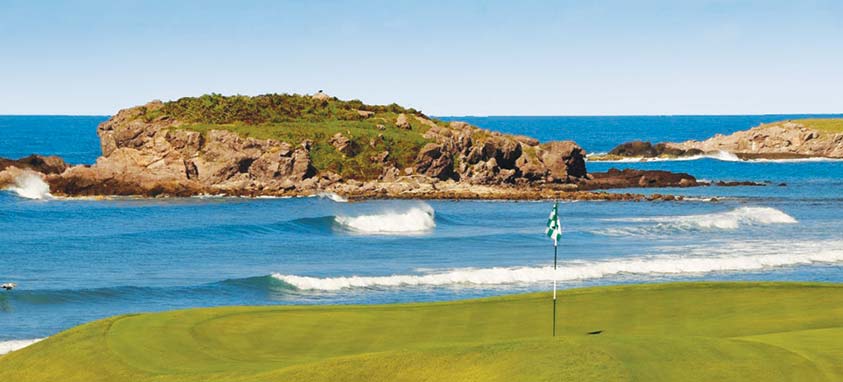 Four Seasons Punta Mita, Mexico
Partnering with local residents to bring a destination's unique cultural elements into on-property events can deliver great benefit, as well.
"Some programs don't want to be off-property a lot, and sometimes you can't be off-property too much because the service element there isn't what you need," Parsons says. "So we bring the community in to interact with us, and participate in the local economy with goodwill."
During a recent program at the Four Seasons Punta Mita, outside Puerto Vallarta, "every gift and every bit of decor we used was created by people from the surrounding area," Parsons says. A handmade beach cover-up was delivered to each guest room and a gifting promenade was set around the pool for the opening-night reception.
"Everything people touched and experienced was about the destination," Parsons says. "We gave participants a stronger sense of place by using the local economy and culture to fascinate them."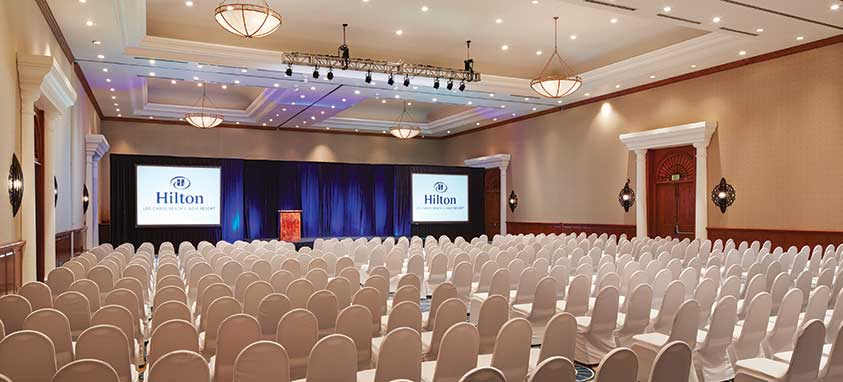 Hilton Los Cabos Beach & Golf Resort is a leader in incentive travel for its balance of luxury accommodations and local opportunities. Guests staying from July to November can witness the hatching of Olive Ridley sea turtles right alongside the 375-room resort. The Hilton is certified by Semarnat & Profepa environment agency to protect the threatened species. Guests can also enjoy a camel safari, complete with an authentic Mexican dinner provided by a local ranch.
On Kauai, the Grand Hyatt has a manager of Hawaiian culture on staff, plus a committee of employees of local origin, all of whom coordinate with incentive planners to weave authentic elements into onsite events.
"At the opening reception, we can do a traditional welcome chant and blessing, and the group's leader is presented with salt to set the tone of togetherness," Britzmann says. "It's really well-received because incentive participants are becoming more global in their perspective and in their curiosity. Having people on staff who can satisfy those things makes a difference."
Given these examples, it's clear that many hoteliers are approaching incentive groups more holistically than in the past.
"We really don't want guests to come to us just for our accommodations and amenities," Lagrottaglie says. "We want them to get the full picture of the destination and go home with deep impressions."
---
Rob Carey is a business journalist and principal of Meetings & Hospitality Insight, a content marketing firm for the group-business market.
---
Two Sides to Vegas: The Cosmopolitan of Las Vegas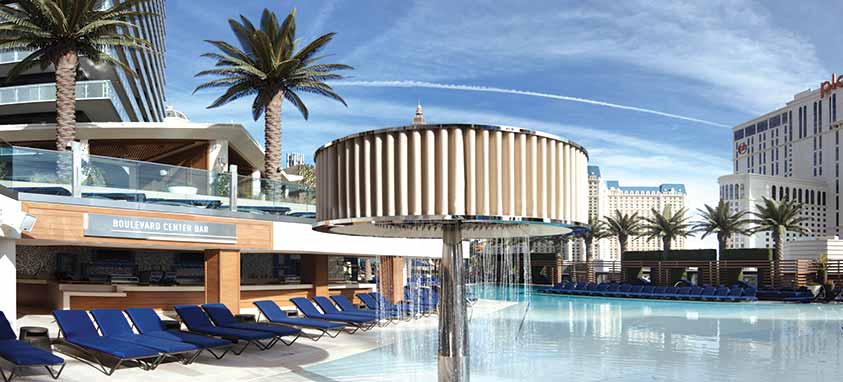 For the most part, incentive groups heading to Las Vegas know what they're going to get: a glitzy atmosphere, high-energy entertainment options and great food. And there's no better place to receive the best Strip experience than The Cosmopolitan of Las Vegas. From the Marquee Nightclub & Dayclub to dive-in movies at Boulevard Pool and endless dining options, the 2,435-room, 561-suite hotel and casino offers a unique luxury experience that captures the imagination.
There also are a few options that incentive planners can add to a Las Vegas program to expose participants to the area's unique natural landscape, ancient history and present local culture, which is separate from the city's central theme.
"The most interesting thing you can do these days is get away from The Strip and downtown for a few hours," says Deb Parsons of The Performance Group. "There are some amazing restaurants where the locals go that don't have a celebrity name attached. We're always looking for these off-the-beaten-track places to do at least one event during each program."
For groups that want action in their itinerary, there are tours of nearby Hoover Dam, followed by lunch aboard a Mississippi riverboat on Lake Mead. Red Rock Canyon National Conservation Area is less than an hour away.
---
Smart Dispatch: Queenstown Stands Out as Top Incentive Destination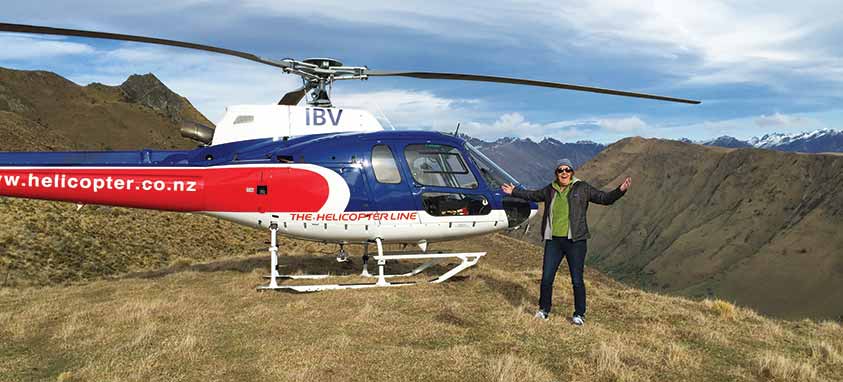 The Helicopter Line
To motivate and blow away top performers, consider organizing an incentive trip to Queenstown, New Zealand, the adventure capital of the world. Throughout the South Island's famous mountain destination, there are all kinds of things to do, including bungee jumping, ziplining, mountain biking, trekking and seasonal skiing.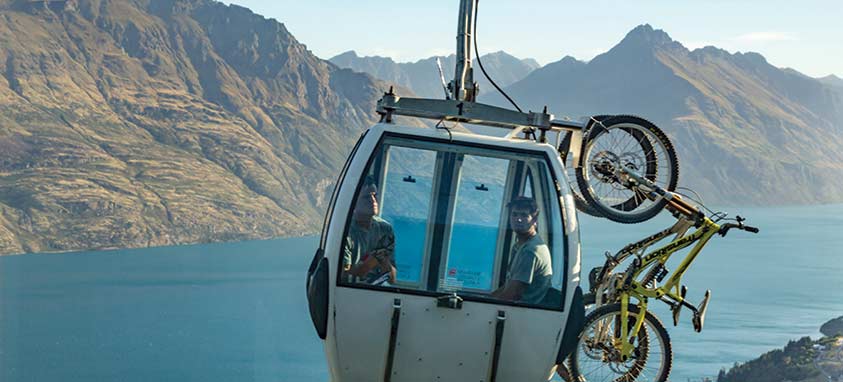 Skyline Queenstown Gondola
Queenstown is so cool that there's an adventure park just a five-minute walk from the central part of town. Skyline Queenstown features a scenic gondola ride and very cool hand-controlled luge ride that is as daring or chilled as you wish. Stunning views of Lake Wakatipu serve as the perfect backdrop for a group photo. Afterward, hold your awards reception or banquet at the park's restaurant or 3,338-square-foot event room.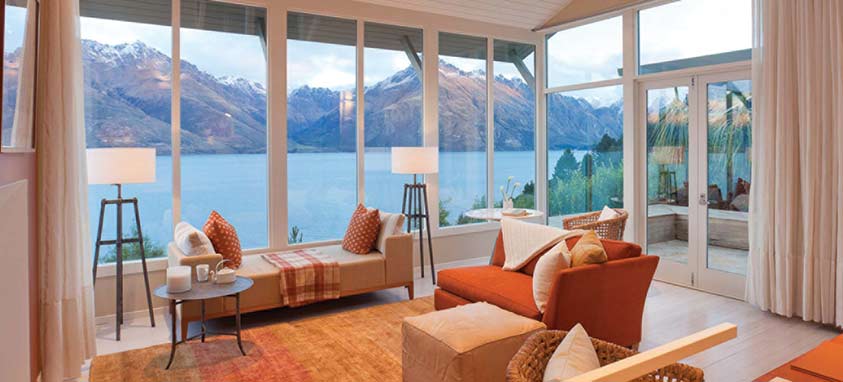 Matakuri Lodge
While in town, Sofitel Queenstown Hotel and Spa makes a great base camp for executives, with 80 guest rooms and meeting space for up to 90. Matakauri Lodge, a member of Luxury Lodges of New Zealand, is just seven minutes from Queenstown on Lake Wakatipu, with mountain views. It features 12 jaw-dropping suites and a four-bedroom cottage.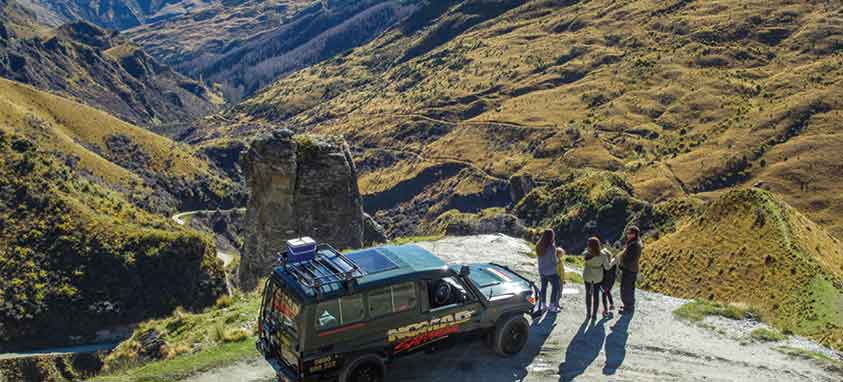 Nomad Safaris
Get to know New Zealand's gold mining history through Nomad Safaris. Fully equipped Land Rover Defenders plow through riverbeds and over small boulders to let participants pan for gold. It's estimated that half the people in each group actually strike gold. The ride also showcases locations where Lord of The Rings was filmed.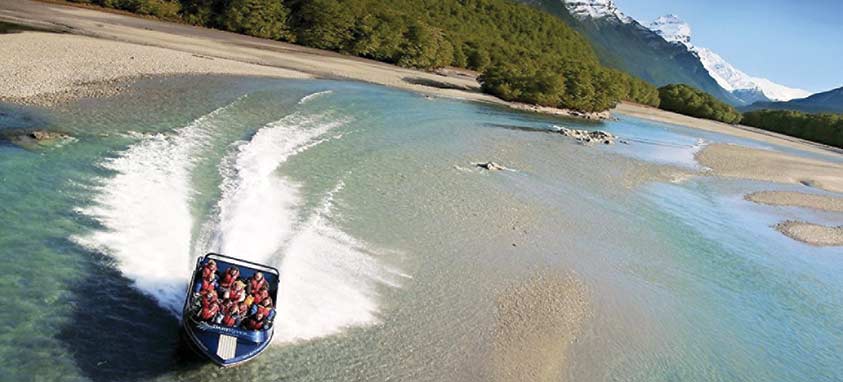 Dart River Jet Boat
The small village of Glenorchy, about 45 minutes north of Queenstown, is a jumping-off point for adventure seekers. Dart River Jet Boat trips transport riders into protected wilderness, offering spectacular views of snow-covered mountains, forests, waterfalls and mist-induced rainbows. The tour explores Mount Aspiring National Park, which is part of Te Wahipounamu-Southwest New Zealand World Heritage Area.
Every trip to New Zealand should include a helicopter ride. It's a part of the transportation system. The Helicopter Line is New Zealand's leading helicopter company, operating a fleet of predominantly AS350 Squirrel helicopters. The Helicopter Line shows off New Zealand's parks, glaciers, lakes and snowcapped mountains.
It's easy to be high on Queenstown.
–Holly Woolard
---
Localizing Incentive Travel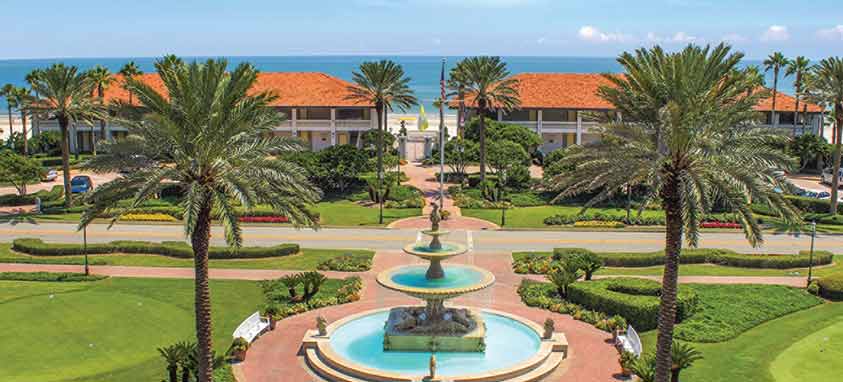 Ponte Vedra Inn & Club, St. Augustine, Florida
It's often assumed that incentive travel requires a trip overseas, but the true intention of an incentive trip is about having a worthwhile, memorable experience for one's employees. Many destinations within U.S. borders are proving they have what it takes to compete with international destinations.
Just outside of St. Augustine, Florida, quaint seaside Ponte Vedra Inn & Club offers everything a vacationer needs to feel pampered and relaxed: 36 holes of picturesque, championship golf, 15 tennis courts, a 30,000-square-foot spa, fresh farm-to-table dining, and 250 oversized guest rooms and suites, each with its own terrace or patio.
The Broadmoor in Colorado Springs is a Forbes Five Star, AAA Five Diamond resort that's found its own unique way of infusing its surroundings with its incentive activities. Just a mile from the 779-room resort, Soaring Adventure offers 10 ziplines that showcase a 1,250-foot-high canyon and 181-foot waterfall. Before treating groups to golf, the spa and other property attractions, escort them to the property in a 2015 Cadillac as part of its Cadillac Experience package.
Groups soaking up the Southern California sun in Carlsbad can enjoy a number of local activities, from some of the best golf and shopping to European-style Carlsbad Mineral Water Spa. Many area beaches offer surfing, skin diving, fishing and picnicking—just some of the reasons its visitors bureau, Visit Carlsbad, calls it one of the best places in California to visit year-round.
Iconic attractions and diverse activities for groups are what make Monterey County another great year-round California destination. It's one of the largest wine growing and producing regions in the state, which makes for incredible venue backdrops. According to See Monterey, the area offers more than 12,000 guest rooms, 700 restaurants, 99 miles of shoreline and more than 50 wineries and 40 tasting rooms.