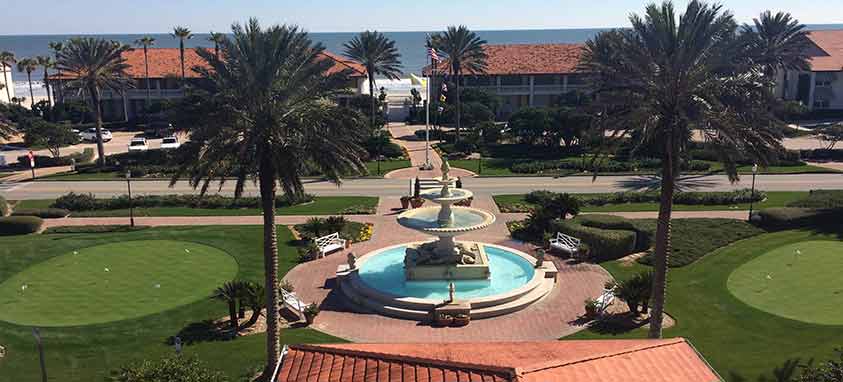 Making a long-lasting impression is about delivering unique experiences, and with so many hotels and resorts attempting to make names for themselves, it's not an easy promise to deliver on.
At Ponte Vedra Inn & Club and Ponte Vedra Lodge & Club, unique experiences start when you walk in the door, and they're carried throughout the meals, spa services, activities, and amenities.
Take this first impression, for instance, from a recent fam trip to the resort. You've heard of fresh-baked cookies upon checking in, but how about personalized cookies? These edible icons were served alongside "cereal milk," a creation thought up by a chef who wanted to recreate the taste of the milk that's left in your bowl after the cereal is gone. The result was delicious.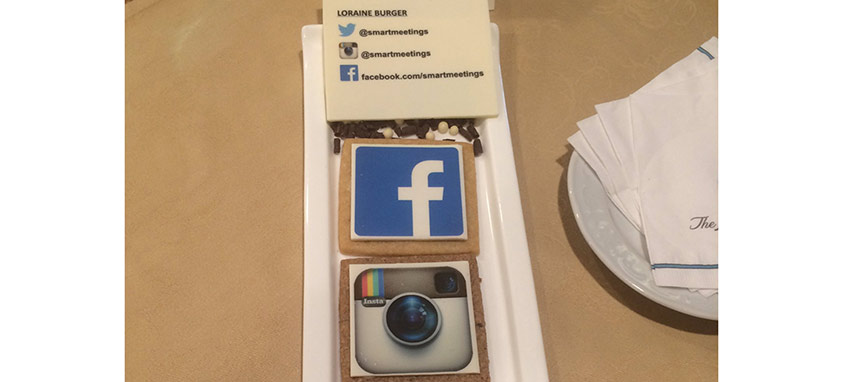 The Mediterranean-style AAA Four-Diamond rated resort was all about unique experiences that made an impact.
Endless Beachfront Views
How often do you arrive at your meeting destination and find yourself in a boardroom that could literally be anywhere? No windows, no décor that reflects the region, and predictable menus with no local flair. It makes you wonder why you left the office at all.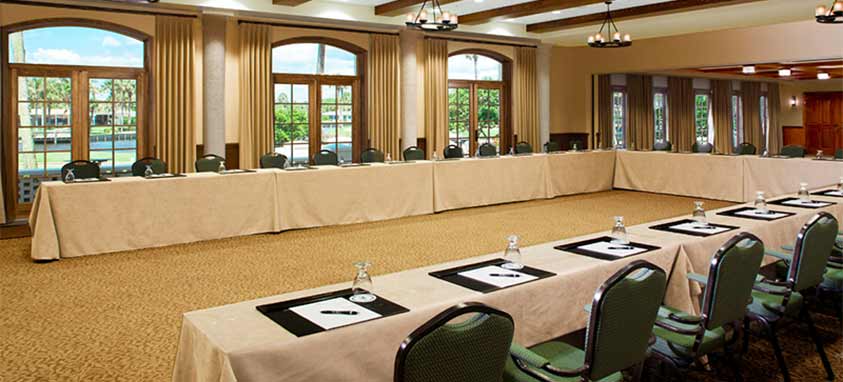 Terrace A offers bright, airy meeting space overlooking the property
Of the 21 function and meeting rooms at the Inn and at the Lodge, 20 of them have windows, and many of those are ocean-facing. The conference center, which will undergo a $2.5 million renovation in August, boasts a 6,200 sq. ft. grand ballroom and a 3,000 sq. ft. brick terrace.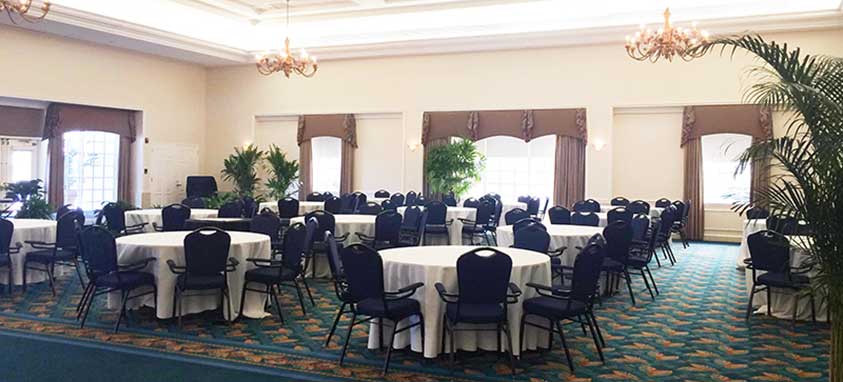 The grand ballroom at the conference center
Several of the meeting spaces are also circular, so that attendees find themselves not only taking in the views of the ocean, but also have a full view of everyone in the room. More and more professionals distance themselves from the traditional boardroom tables and theater-style seating, and these kinds of rooms allow for unique set-ups that inspire teamwork and participation.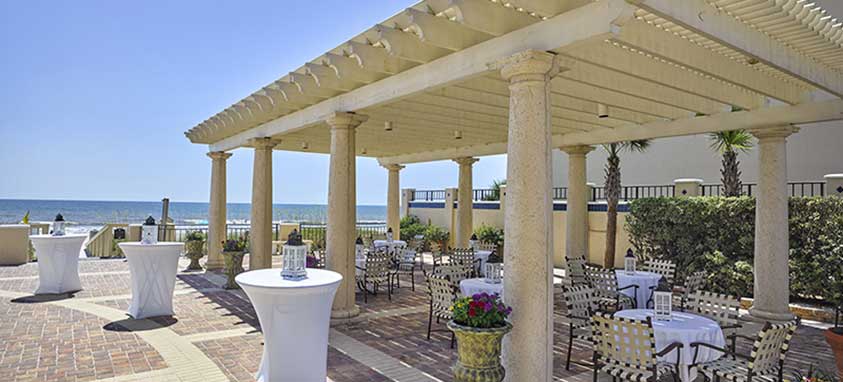 The Trellis at the Lodge serves as a great outdoor function space
The Lodge & Club runs closely along the Atlantic Ocean, providing not just oceanfront views in every one of their 66 upscale rooms and suites, but each is literally only steps away from the white sand beach and crashing waves.
The Inn & Club also boasts 200 oceanfront rooms out of its total 240.
Many of the smaller function spaces offered at the Lodge offer nearly 180 degrees of floor to ceiling windows, showcasing beachfront as far as the eye can see in either direction, as well as the pools and patios directly below.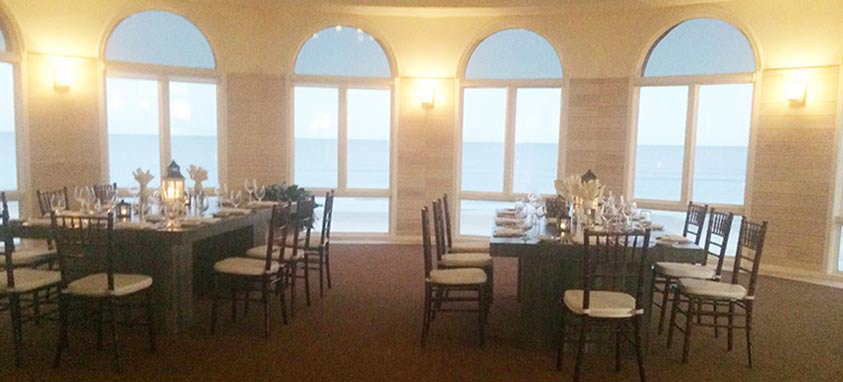 The Lodge Dining Room
Even the 20,000-sq. ft. of fitness space is ocean facing—indoor and out, so you always know just how close to the Atlantic you are throughout your stay. The 8,000 sq. ft. gym boasts 75 exercise stations and a huge and diverse class schedule.
Seasonal Food & Drink
The chefs at both the Lodge and Inn are strong supporters of fresh, farm-to-table dining, offering many delicious seafood selections that can be found in season right on the Florida coast. Menu options included fresh Florida snapper, lobster tail, lamb chop with an eggplant confit, Florida tuna tartar, and a local seasonal favorite: chia-crusted Atlantic golden tile, a hearty white fish served with Lil Moo cheese—a dense, delectable farmstead cheese made at Sweet Grass Dairy Farms in nearby Georgia.
They also boast 100-mile cocktails, drinks with ingredients that have come from within 100 miles of the resort.
Not Just Any Spa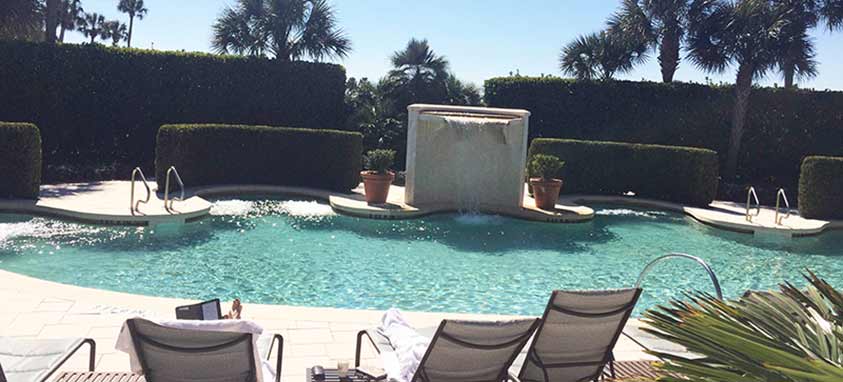 Spa pool with therapy grottos
Most spas are situated within a resort, but the ownership at Ponte Vedra made a point to keep their spa freestanding and ever-sprawling. In fact, it has moved three times since the resort's opening, to accommodate every kind of service as the spa and health movement grew. Today, it sits as a single-story 30,000 sq. ft. structure overlooking the golf course, and offers more than 100 services, 22 treatment rooms, private spa suites for couples, and a beautiful heated outdoor pool with therapy grottos.
Perhaps the biggest standout of the spa is their café—a full menu of delicious, healthy fare to enjoy before or after a treatment.
The Privacy of a Club
Ponte Vedra resorts offer private club memberships for the use of their two golf courses, spa,  locker rooms, heated pools, and many other amenities, with limited venues open to the public, giving the entire property a peaceful, exclusive vibe and a warm community feel.
Catering to Every Traveler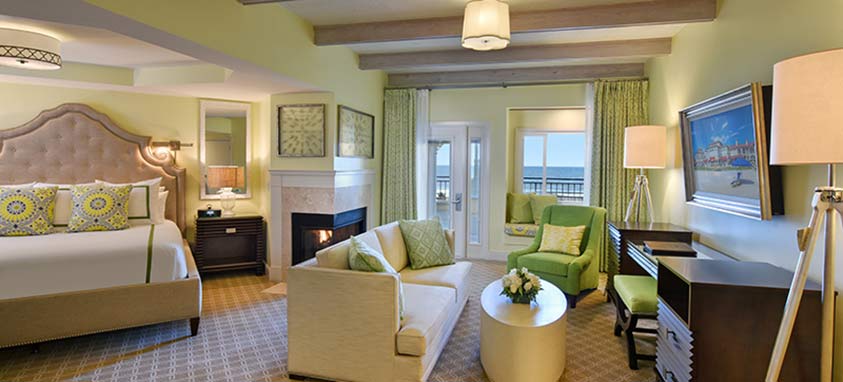 The deluxe suite at the Lodge & Club overlooking the Atlantic Ocean
The Lodge & Club offers 66 rooms including 24 suites, 8 preferred rooms, and 34 deluxe rooms, all boasting oceanfront patios or balconies. Many of the rooms also include double vanities in the bathrooms, deep soaker tubs, reading nooks, and cozy electric fire places. In other words, the resort screams couples getaway, making it a wonderful incentive travel destination.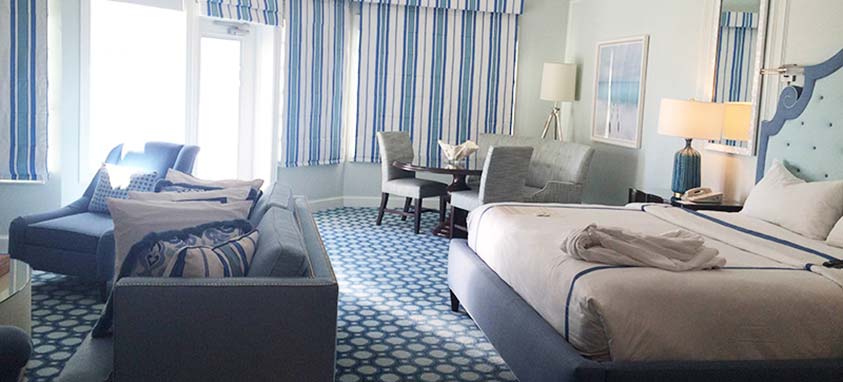 One of the spacious guest suites at the Inn & Club
The Inn & Club also offers 250 oversized guestrooms and suites, each with a private terrace or patio. The resort ensures that repeat guests receive a unique experience with every stay by offering a diverse range of room types. Every 'house' of guest suites is uniquely decorated.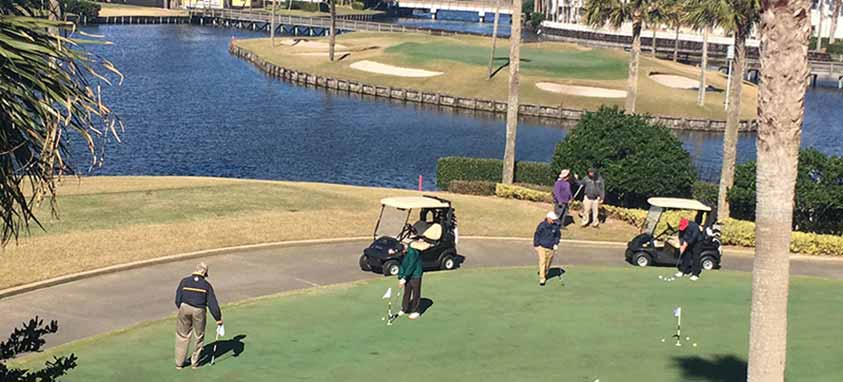 The Putting Green at the Lagoon Golf Course
There's more than 30,000 sq. ft. of meeting and banquet space at the Inn & Club, a business center, and lots to do after the meetings are over. Two 18-hole championship golf courses, 15 Har-Tru tennis courts and four decadent restaurants for starters.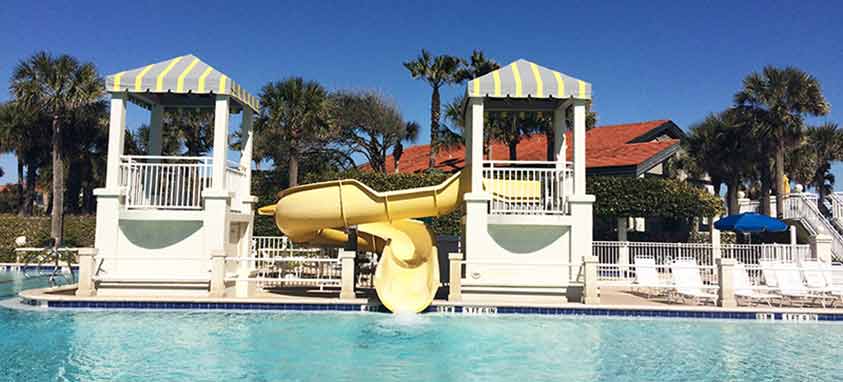 The family pool features a water slide
The Inn & Club offers both family and adults-only pools, babysitting services, and many activities that make it a family-friendly destination, including a playground, nursery, biking, sailing, deep sea fishing, plus riding stables, bowling, and movie theaters nearby.
Friendly Competition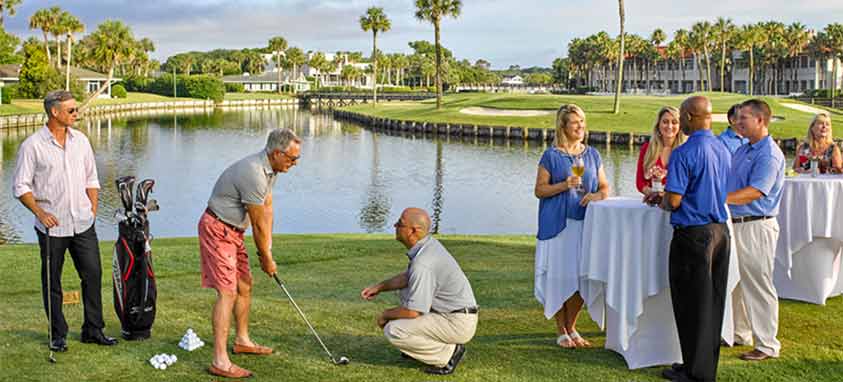 Staff combines the fun competition with a social happy hour
Meeting planners are often looking for fun and unique ways to engage their attendees and allow them to participate and even compete.  The Lodge and Inn offer several cool ways to do that.
Shoot for the pin is a fun activity in which each player has an allotted number of chances to tee off from the Inn onto a green about 70 yards away. A club employee stands on the island green to measure who made it closest to the pin. The staff has discovered it's a game even those who have never picked up a club enjoy playing, and the staff can arrange to set up a bar outside and light up the area to combine the activity into a social hour.
Not far away is a putting green, where attendees can also test their putting skills.
At the Tavern, the bar located within the Inn, planners can arrange a mixology class led by the bartenders, who educate attendees on what ratios make the perfect balanced drink. Attendees can then get behind the bar and test out their own concoctions and taste-test each creation.
The Ponte Vedra resorts continue to reinvent themselves, with several upcoming renovations to freshen both their guest rooms and meeting spaces to provide continuously unique and memorable experiences to their guests, so there is always a reason to come back.