Allegretto Vineyard Resort, Paso Robles, California
Lesser-known varietals offered in unexpected U.S. wine countries
America's wine consumers have their favorite chardonnays, cabernet sauvignons and merlots—and boy, do they love them. In fact, they're the best-selling wines in the country. Consumers also have their favorite wine country destinations—led by California's Napa Valley, Sonoma County and Santa Barbara County—where they can enjoy their preferences.
But there's a new trend playing out these days: Wine enthusiasts are diversifying their experiences and taking a closer look at lesser-known wine appellations, as well as each wine region's ambience and amenities, from hotels and restaurants to spas and recreational activities.
Similar to their better-known rivals, these American Viticultural Areas (AVAs) have a storied history. Some wine-growing regions date back to the 1600s; some got their commercial start after the repeal of Prohibition in 1933; and many emerged during the 1970s, which was considered a watershed decade for the modern wine industry. One constant in all wine countries, however, is the vision and perseverance of pioneers (not necessarily a united front) who recognized the viability of an area for wine grapes—or particular varietals—and infused it with their passion.
If you'd like a fresh twist to your next wine country meeting, consider these potential destinations across the country. You could follow the example of Gary Eberle, affectionately known as the "godfather of Paso Robles," who was a trailblazer not only in the region but also in grape varietals. "I was intrigued by syrah…I asked around and there was no good reason not to plant it. So I just went out and did it," says Eberle, who in 1978 was the first winemaker in California to produce a 100 percent syrah.
Grapevine, Texas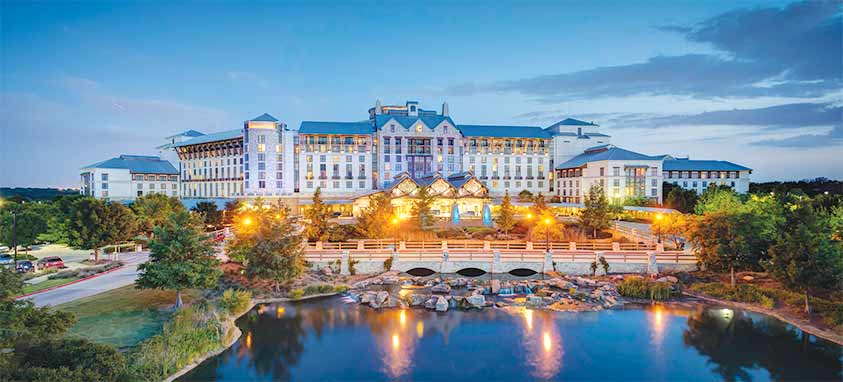 Gaylord Texan Resort & Convention Center, Grapevine, Texas
When we think of Texas agriculture, herds of long-horned cattle immediately come to mind. Changing the mindset a bit, the Lone Star State is the fifth-largest producer of wine in the country. (In fact, it's the site of the first vineyard established in North America by Franciscan missionaries, circa 1662)
A small but growing wine industry was devastated by Prohibition and didn't recover for many years. According to Debbie Reynolds, executive director of Texas Wine and Grape Growers Association, it wasn't until 1978, when a group of professors at Texas Tech University planted some research vineyards specifically for wine grapes, that the modern industry began, followed by exponential growth in 2005 due to a change in shipping laws. Today, the major grape varieties grow across the board here, as do Texas-native blanc du bois, viognier, sangiovese and tempranillo, plus popular newcomer roussanne. Its 350 wineries encompass eight recognized AVAs.
Challenging the Texas mindset even further is the city of Grapevine. While this city received its name in 1843 from the area's prolific wild mustang grapes, today it's a wine country of an entirely different sort. Only 10 minutes from Dallas-Fort Worth International Airport (DFW), Grapevine offers a haven of tasting rooms from some of the finest producers in the state.
The city's Urban Wine Trail meanders through the downtown historic district, where eight tasting rooms are surrounded by art galleries, boutiques, restaurants and shops; its two additional tasting rooms are nearby. "Along with our excellent hotels and meeting facilities, Grapevine's Urban Wine Trail offers a variety of spectacular venues. These unique venues allow meeting planners flexibility in planning after-hours and breakout events," says Brady Closson, director of sales for Grapevine Convention & Visitors Bureau.
Gaylord Texan Resort & Convention Center, which is about to embark on a $120 million expansion, is a destination unto itself, with shopping, dining and expansive indoor gardens. It offers 1,511 guest rooms and 400,000 sq. ft. of meeting space. After the expansion, which is expected to be complete in 2018, the resort will have an additional 300 guest rooms and 86,000 sq. ft. of meeting space, making it the largest resort convention hotel in Texas. Besides an 80,000-square-foot water park, Great Wolf Lodge provides 605 guest rooms and 20,000 sq. ft. of function space.
Long Island, New York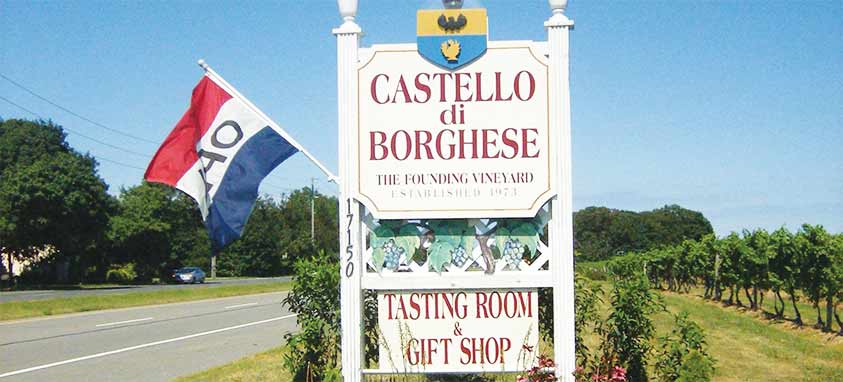 Castello di Borghese Vineyard & Winery, Long Island, New York
While it's likely that settlers in "Lange Eylandt" were training native grapes onto their backyard arbors as early as the 1640s, the modern viticulture era on Long Island—in a familiar pattern—didn't begin until the 1970s, when the first wine grapes (cabernet sauvignon, pinot noir and sauvignon blanc) were planted. The first winery, now Castello di Borghese Vineyard & Winery, was founded by Alex and Louisa Hargrave. It opened in 1975 and launched an industry that now encompasses 4,000 acres of grapevines and 56 wineries spread throughout three AVAs.
Proving that what's good for the grape is good for meetings, Long Island's maritime climate produces long, warm summers tempered by cool breezes and winters that are buffered from frost. Convenient to Manhattan, the 1,401-square-mile island has myriad opportunities for outdoor recreation, championship golf, historic home tours and—as any New Yorker will tell you—excellent beaches.
According to Long Island Convention & Visitors Bureau, Long Island beaches have twice been crowned first place on Dr. Stephen P. Leatherman's Top 10 Beaches list. Accommodations range from full-service hotels and estates with conference centers to historic inns, and many wineries have meetings-worthy event spaces. (See the Long Island insert in this month's magazine for more information.)
New Jersey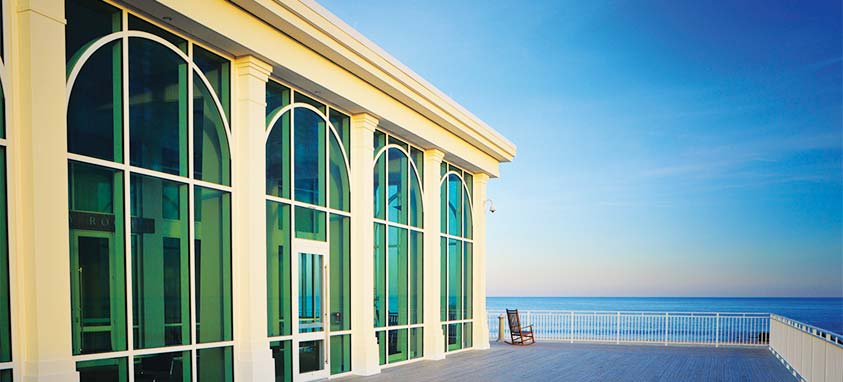 Cape May Convention Hall, New Jersey, Photo courtesy of Craig Terry/Cape May County Tourism
The Judgment of Paris in 1976 crowned Napa Valley as a superstar in the wine world. The Judgment of Princeton in 2012 pitted New Jersey wines against wines from the same producers as the contest in Paris. New Jersey produced three of the top four whites and took home third place among the reds. The event recognized a new era in the state's wine industry, once noted primarily for its fruit wines and sweet wines.
Today New Jersey boasts over 40 wineries producing wine from a variety of grapes, including chardonnay, chambourcin and cabernet franc. According to John Cifelli, executive director of Garden State Wine Growers Association, "The story of New Jersey wines is growth, with an increasingly large production of grape wine and drier wines."
Two areas in the southern part of the state have clusters of wineries ideal for meetings. Cape May is a beach town known for its historic inns. The 20,000-square-foot Convention Hall overlooks the waves. Close by are several award-winning wineries, including Cape May Winery and Hawk Haven Vineyard & Winery, where groups staying at Congress Hall can be wine-tasting within minutes.
An hour from Philadelphia and New York, rural Hunterdon County has rolling hills fit for postcards, as well as recreational activities such as hiking, horseback riding, kayaking and canoeing. The 26-room Lambertville House, a classic boutique inn with several meeting spaces, is well-positioned for exploring the area. Among the wineries with event space are Beneduce Vineyards and Unionville Vineyards.
Traverse City, Michigan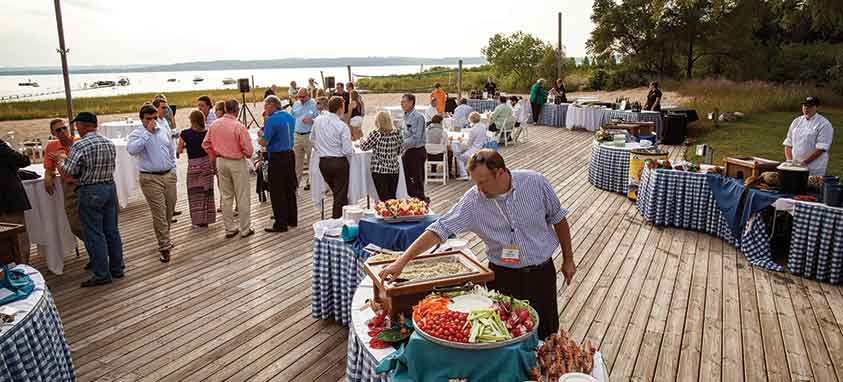 Grand Traverse Resort & Spa, Acme, Michigan
While Traverse City may seem an unlikely location to grow delicate wine grapes, it has a built-in natural advantage: Lake Michigan's cool, deep waters keep the area's two wine-growing peninsulas warmer than the mainland in winter and help prevent frost in the spring. The area was long known for its fruit wines and sweet wines, but in 1964, Bernie Rink (an irascible librarian at a local college, according to Mike Norton of Traverse City Tourism) decided the area was suitable for growing rieslings and chardonnays. He was laughed at by neighbors, Norton says, but his experiment became the first commercial wine vineyard in northern Michigan, and his ensuing Boskydel winery laid the groundwork for an entirely new industry.
Fast forward to 2016, where two AVAs (Leelanau Peninsula and the narrower Old Mission Peninsula) produce not only these varietals, but also cooler-weather reds such as pinot noir and cab franc.
As a wine country, Traverse City offers seasonal delights such as freshwater beaches and downhill skiing in addition to well-developed meetings infrastructure. "Almost all of the major meeting venues here have a relationship of some kind with wine country," Norton says.
Large groups gravitate to Grand Traverse Resort & Spa in nearby Acme, with nearly 600 guest rooms and 86,500 sq. ft. of meeting space. For smaller groups and venues among the vineyards, consider Inn at Black Star Farms, a scenic winery estate on Leelanau Peninsula with 10 guest rooms and seven spaces for meetings and events. Inn at Chateau Grand Traverse, on Old Mission Peninsula, is ideal for a mini corporate retreat, offering six guest rooms and 13,000 sq. ft. of event space.
Napa Valley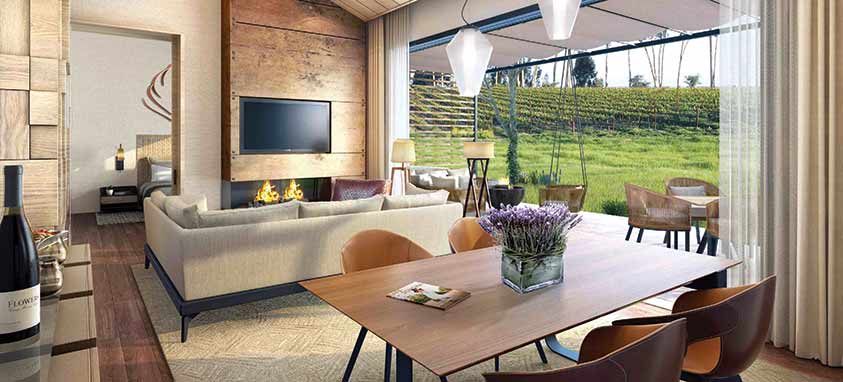 Rendering of stand-alone cottage at VieVage Napa Valley, Carneros region, California
Located in Napa's downtown hub, Andaz Napa is an ideal meeting destination for corporate retreats, with 3,000 sq. ft. of flexible meeting space, including a sun room and adjoining mercantile terrace. The boutique hotel has 141 guest rooms, all just a five-minute walk from Napa Valley Opera House.
"The Andaz is located in the heart of downtown Napa, making it convenient to walk to nearby shops, restaurants and wine tastings rooms," says Angela Jackson, media relations director of Visit Napa Valley. "The hotel also offers lovely meeting space and an outdoor rooftop terrace which is perfect for group gatherings."
The dozen tasting rooms in downtown Napa are very convenient for meeting-goers, making it possible to convene in the morning and wine taste in the afternoon without having to get in a car.
This year, Auberge Resorts Collection will break ground on VieVage Napa Valley, a new property in the Carneros region set on 95 acres of the 712-acre Stanly Ranch. The resort, scheduled to open in 2018, will feature 130 stand-alone cottages to accommodate groups and families, along with a casual restaurant and bar, winery and outdoor gathering spaces. Opening in November in St. Helena is Las Alcobas, a Luxury Collection Hotel, with 68 guest rooms and suites, a 3,500-square-foot spa and meeting space.
Silverado Resort and Spa features a full-service spa, two PGA championship golf courses, tennis courts, hiking and biking trails and more than 15,000 sq. ft. of meeting space within its multimillion-dollar Silverado Mansion Conference Center, which includes a ballroom, 13 meeting rooms and several outdoor spaces.
Just across the Sonoma border in Napa, The Carneros Inn is undergoing soft renovations to its outdoor areas, accommodations and guest reception areas, which are expected to be complete by March 30. The 27-acre property offers more than 14,000 sq. ft. of indoor and outdoor event space, 86 charming cottages, 10 suites and luxurious private homes. Farm restaurant, with new executive chef Aaron Meneghelli, and a full-service spa, help make this property a hit for executive retreats.
The Meritage Resort and Spa features premier meeting space in Napa Valley, with 50,000 sq. ft., including a 10,490-square-foot ballroom and a 5,439-square-foot prefunction area. Smaller groups will enjoy the Estate Cave, which can accommodate up to 200. There's also a deck that rises above the property, offering room for 200. The AAA Four Diamond property has 322 guest rooms.
In any industry, even when you're at the top, you always need to keep improving, increasing and reinventing. It's especially true in the wine industry, where new vintners with innovative ideas and growing expertise—not to mention new vineyards—continue to jump into the arena.
California's most well-established wine countries are not resting on their laurels. Napa Valley, Sonoma County, Monterey County and Santa Barbara County continue to dig deeper, so to speak, in destination upgrades as well as terroir. Meanwhile, other California wine destinations continue to pique the interest of enthusiasts looking for vineyards less traveled.
Sonoma County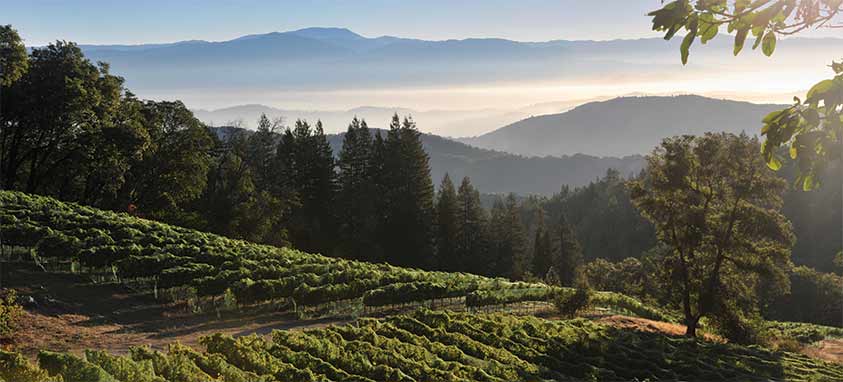 Photo courtesy of Sonoma County Tourism
Access is all important when it comes to Sonoma County wine country, and the Charles Schulz-Sonoma County Airport (STS) in Santa Rosa will see additional airlift this month, when Horizon Air begins nonstop service from John Wayne Airport (SNA) in Orange County. In hotel news, H3 Guesthouse, a 39-room boutique hotel in Healdsburg, is slated to open in spring 2017 adjacent to its sister property, H2.
"The best thing about hosting meetings in Sonoma County is the amount of diverse activities and lodging opportunities here," says Tina Luster of Sonoma County Tourism. "You can even host your offsite in a wine cave."
Sonoma County is larger than Rhode Island and boasts more than 400 wineries. For a quick taste of wine country, visit Sonoma Plaza in the town of Sonoma, which features nearly 20 tasting rooms, plus restaurants and quaint shops. The plaza is also home to a Franciscan mission that dates back to 1824.
Monterey County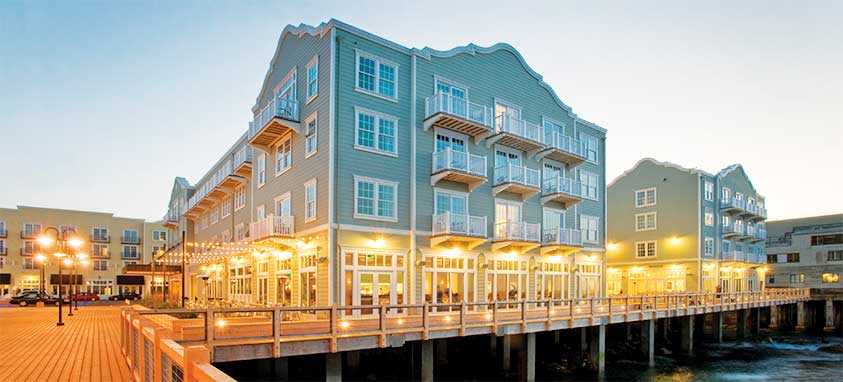 Intercontinental The Clement Monterey
Monterey County Convention and Visitor's Bureau says its famed meeting destination is "a location that is unmatched in terms of nature's design, with a vast array of unique places and extraordinary spaces to create life- and business-enriching moments."
InterContinental The Clement Monterey complements its aquatic surroundings, with 189 guest rooms and 19 suites. The downtown property is adjacent to the marine sanctuary and next to Monterey Aquarium. It has 16,000 sq. ft. of indoor and outdoor event space.
"It's steps from absolutely everything," says Larisa Godick, the senior sales manager.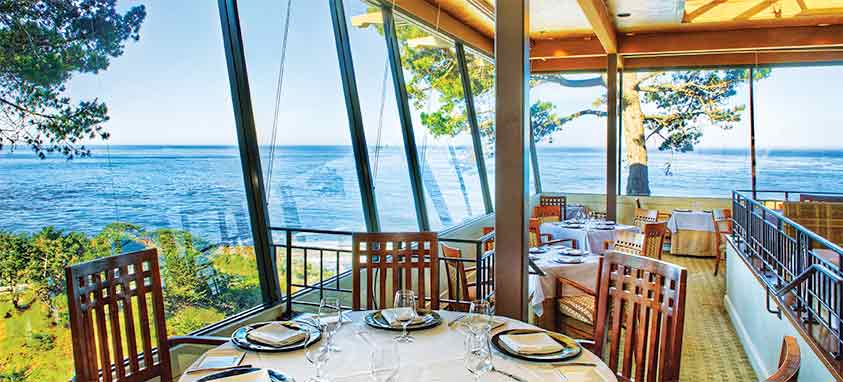 Pacific's Edge Restaurant, Carmel by the Sea
There are many places meeting attendees can experience the region's varietals, including Carmel Ridge Winery Tasting Room, which offers spectacular Pacific Ocean views and even an occasional whale sighting.
Folktale Winery & Vineyards, situated on 15 acres of sustainably farmed vineyards, boasts many indoor and outdoor event spaces, including the 10,000-square-foot Barrel Hall.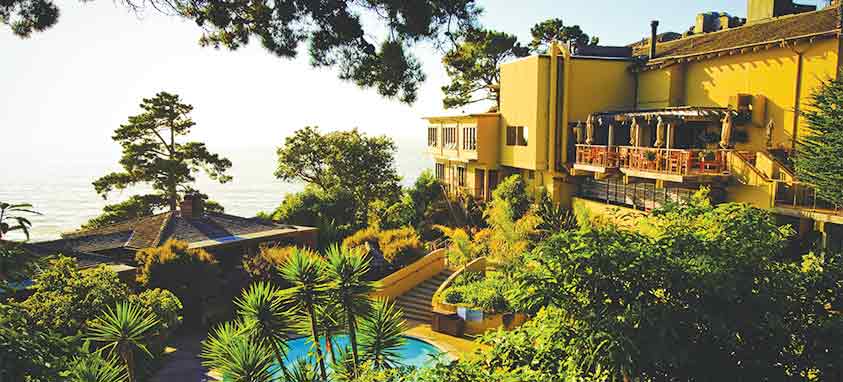 Hyatt Carmel Highlands
Hyatt Carmel Highlands has recently undergone renovations of its Pacific Edge restaurant to add a new 1,200 square-foot patio. The hotel boasts 4,945 sq. ft. of function space and four conference rooms with glass walls overlooking the majestic Big Sur coastline.
Santa Barbara County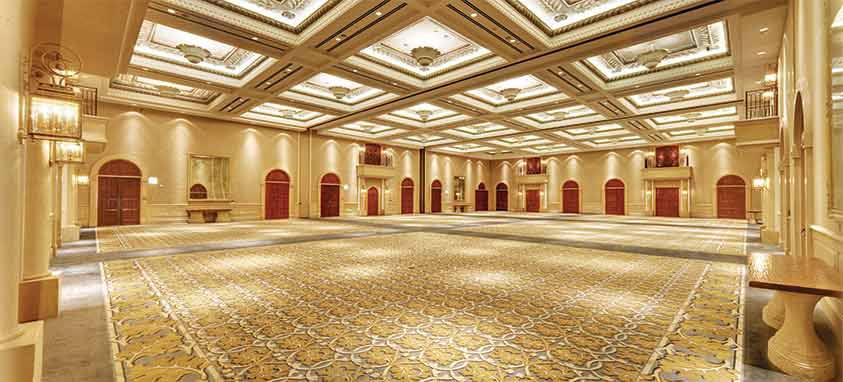 Bacara Resort & Spa
The city of Santa Barbara is home to Bacara Resort & Spa, which has completed more than $20 million in major upgrades. Santa Barbara Inn reopens this spring after a renovation that includes a new conference and banquet room for up to 80 guests.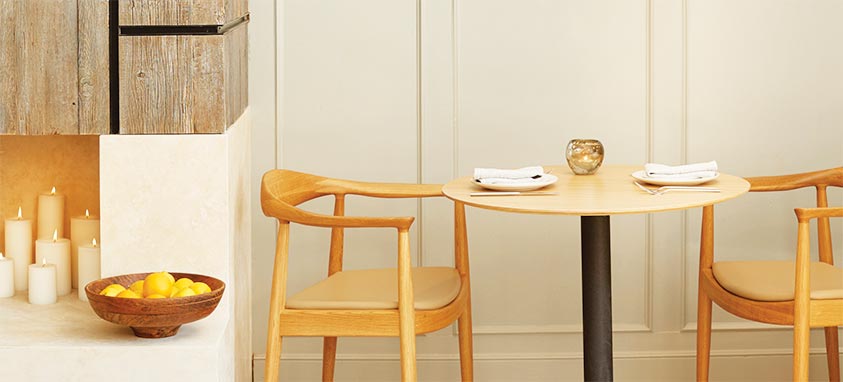 The Landsby, Solvang
New and upgraded hotel properties proliferate this region. In the Santa Ynez Valley, Hotel Corque in Solvang has remodeled all its meeting spaces and ballrooms, which encompass 7,500 sq. ft. The boutique Landsby (a AAA Four Diamond reflag) reopened after a major overhaul.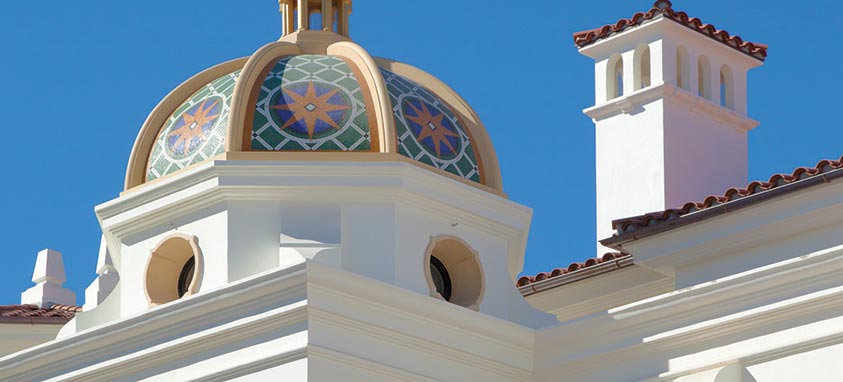 Santa Barbara Inn
Solvang offers more than a dozen tasting rooms and wine bars, all within the confines of a quaint Danish village, which is sure to captivate attendees. Tucked away in the heart of Santa Barbara County wine country with the Santa Ynez Mountains as a backdrop, Solvang is a great home base to explore more than 100 wineries in the region.
Paso Robles, California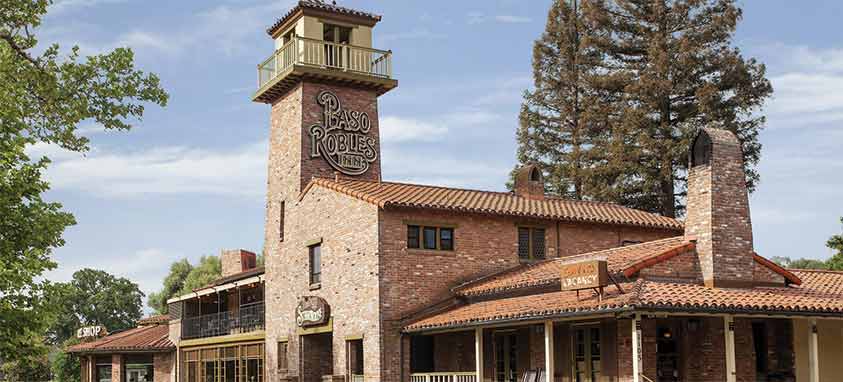 Paso Robles Inn, California
As a wine country, Paso Robles has an intangible maverick spirit that goes beyond terroir and wine varietals to the personalities of the region, says Amanda Diefenderfer of Travel Paso. Over the years, the area has attracted people who have respect for the past, but have also been inspired to push the boundaries further and take this little-known area, about 30 miles inland from the central coast, to a new level.
When Eberle came on the Paso scene in 1973, some of the first cabernet, pinot noir and chardonnay vines were newly planted—a departure from the zinfandels that had dominated the area for decades. With partner Cliff Giacobine, he planted 700 acres of vineyards, including cabernets and the first modern commercial acreage of syrah in the state, thereby establishing the largest winery in the area. Recognizing the importance of AVA status, Eberle, along with several others, led the charge to have Paso Robles recognized, and today there are 11 sub-appellations under the original Paso umbrella.
This scenic countryside is home to more than 250 wineries and more than 40 wine grape varieties. Inns and winery event spaces provide several options for planners to consider. Allegretto Vineyard Resort—a Tuscan-style property with 171 guest rooms and suites—is close to Eberle Winery, which Eberle founded in the late 1970s, with room for smaller gatherings in its caves. Vina Robles across the street has 5,000 sq. ft. of indoor meeting space and outdoor meeting areas including a 3,300-seat amphitheater. Founded in 1864 as a mineral springs hotel, Paso Robles Inn in downtown Paso features indoor and outdoor venues, including a 3,600-square-foot ballroom.
Willamette Valley, Oregon
Hilton Eugene, Willamette Valley, Oregon
If a grape varietal can be synonymous with a region, it's pinot noir and Oregon's Willamette Valley, tucked between the Cascade Mountains and the Coast Range. This is the cool-climate grape that pioneer David Lett and his wife, Diana, planted in 1965—against expert advice—at The Eyrie Vineyards, on a slope in the Dundee Hills about 45 minutes south of Portland.
Other adventuresome pioneers followed at the north end of the valley and near Salem to the south. Today, valley vintners have succeeded in creating a wine country where more than 14,000 acres are devoted to the varietal—far outpacing all others. Its 507 wineries currently represent 74 percent of wine production and 88 percent of pinot noir production in the entire state.
It's not surprising, then, that Willamette Valley is emerging as a popular wine country destination. "Willamette Valley is a hub for things to taste and things to do, from food and wine activities to hiking and paddling along the river," says Emily Richardson, associate director of Willamette Valley Wineries Association. "It comes with a culture of camaraderie, a friendly down-to-earth destination with laid-back small towns, rolling hills and beautiful farmland."
Nestled in cozy Newburg, The Allison Inn & Spa boasts 77 guest rooms and eight suites with sweeping views, plus 12,000 sq. ft. of function space that can accommodate 200.
Convenient to the valley's wine trails are Hilton Garden Inn Corvallis (153 guest rooms, meeting space for up to 75) and Hilton Eugene—(269 guest rooms, 30,000 sq. ft.)—plus the ever-growing hotel scene in Portland.
Cheers to Variety
It's a classic meeting planner's dilemma—questing for new, different, exciting destinations and experiences within budgets that may still be constrained. Lesser-known wine countries throughout the United States can deliver it all.
---
Carolyn Koenig is the former editorial director of Smart Meetings and is a frequent contributor.