How advocates for accessible foods are reshaping event menus
When Sarah Matheson went on vacation to Thailand in Phuket with her family and her then-three-year-old son, rushing her young child to the emergency room in response to extreme anaphylaxis was the last thing she had planned on. But her son had eaten a cookie full of nuts after being told it only contained chocolate chips, illustrating the extreme challenges facing people with food allergies.
"Our life as a family changed then," says Matheson, explaining the laborious effort to find suitable food for her son after moving to the U.S. from Australia in 2011. "I literally had to go to over a dozen supermarkets," she says. "The challenge with food allergies is that they go everywhere with you—there's no off switch and there is no choice," she continues, noting that people who have had an extreme reaction to a food allergy remain skeptical about how food is produced, which oftentimes prevents them from speaking up regarding their personal needs.
Since then, Matheson has gone on to found Hungry Harry's, which offers five different baking mixes that are free of the top 14 allergens that account for 90% of food allergies. Hungry Harry's baking mixes are extremely versatile and can be used with various ingredients depending on a specific food restriction, to be "baked the way you need to bake." The same mixes that can be used to make muffins can also be used to bread fried chicken or any other application that calls for flour. In addition, the ingredients used for Hungry Harry's products are lab tested to guarantee the safety and quality of the products.
Cooking with Strategy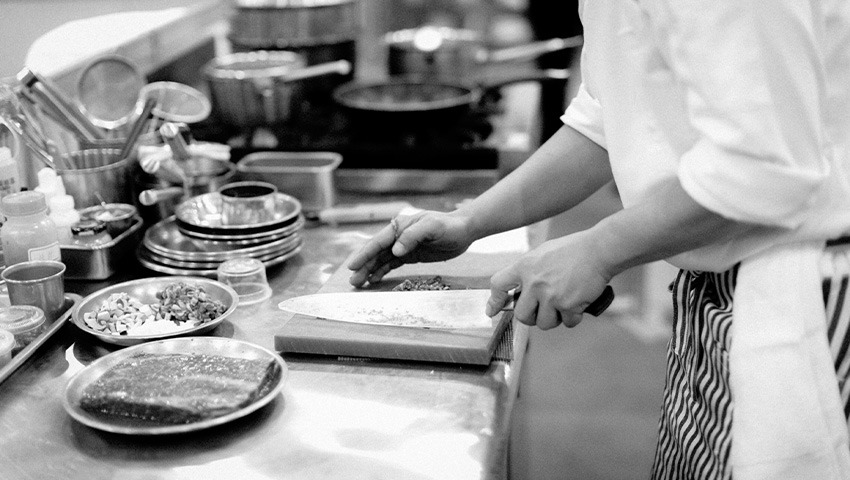 Much of the issue surrounding allergy-friendly diets falls under the umbrella of inclusivity and diversity, Matheson says. "It's challenging but it's also a fact of life," adding that one of the key objectives of events—namely engagement—is dealt a serious blow when attendees can't be fed properly. That is why she is passionate about sharing the steps planners can take in bringing a remedy to the issue.
Read More: How a Storied F&B Kitchen Went Halal to Accommodate Allies
Successfully accommodating attendees with food allergies often stems from insufficient timing of the distribution of questionnaires. When the majority of event menus are confirmed roughly 45 days in advance, the conversation must take place much earlier to ensure that planners can coordinate with vendors and caterers to provide attendees with an inclusive menu.
"What we're trying to do is help meeting managers support their clients, and clients and companies support their employees so that everybody can be included," Matheson says. "Inclusivity shouldn't be a really sophisticated strategy," she says, pointing out the current recovery efforts underway to help the meeting industry rebound from Covid, which can and should include menu items that are safe for everyone. "You mean I can have something—joy!" says Matheson. "And imagine what it does for the brand."
Reshaping the Approach
In 2008, the Americans with Disabilities Act was amended, according to Tracy Stuckrath, CSEP, CMM, CHC, at Thrive! Meetings & Events, adding new terms to the ADA's list of major life activities including "eating" and "breathing," she says, ultimately providing civil rights protections to individuals with food allergies.
Roughly 10% of the adult population in the U.S. are impacted by food allergies, she says. Stuckrath, who is a fierce advocate for accessible menus, argues that inclusive menus can ensure that a higher percentage of attendees will return if fed well during an event. It can also drive up food and beverage purchases at a venue serving allergen-free foods by over 30%.
The Food Modernization Act requires that chain restaurants with over 20 locations provide nutritional and allergen information but that guideline isn't applicable to hotel and convention center catering menus regardless of how many locations a particular brand might own.
Read More: 5 Tips for Improving Accessibility for Meetings
The solution? Like Matheson with Hungry Harry's, Stuckrath suggests that planners not only start asking attendees about food allergies and restrictions far in advance but also place dietary questions in the accessibility section along with hearing, vision and mobility in order to better identify any potential allergies.
Dietary restrictions don't end with allergies, she continues. Questionnaires should include a second opportunity for an attendee to identify any other dietary restrictions such as being vegan or religious practices.
Once the feedback from event questionnaires has been collected, labeling at event buffets becomes a crucial aspect of the catering service, Stuckrath says. Labeling items at a buffet can better inform people which items contain allergens as well as ingredients such as pork or shellfish to adhere to a person's religious needs. But different venues and catering services have various processes for preparing menus, placing the onus of ensuring that menus are inclusive on the planner during the submission of an RFP.
"You have to ask these questions upfront," Stuckrath says, adding that this allows event planners to assess the capabilities of a catering service while allowing time for a chef to respond to any questions on ingredients and cooking procedures, noting that food allergens can spread through cross-contamination.
The Impact on Attendees
One of the largest hurdles in providing inclusive menus at events is attendees who are reluctant to speak up because they believe that doing so would cause a hassle or draw undue ridicule. And so, the time has arrived for event planners to allocate additional effort in making sure all their attendees can eat and participate during events. This is also the time to begin speaking up for more suitable menus.
When asked about her dining experience at events, executive attendee Lauren Soltwisch said that it's been tricky and oftentimes led to avoidance when raising concerns over accommodations, recalling the stigma she felt around food allergies as a child. "When I was a kid, I was the only one in the entire school with a food allergy," she says. "Really, my whole life has been in strict avoidance." This approach later forced her to avoid corporate events. She had little desire to constantly explain herself in situations that felt awkward, or where she lacked the confidence that the food was actually free of allergens.
Soltwisch faced her food allergen issue head-on when planning her wedding. "We had to find a venue that was not going to restrict us on certain caterers," which is a major concern, she says. "We had to find a food allergy-friendly caterer who could guarantee my safety and make a meal for me." There were also legal hoops to jump through as well, she explains, as she hired a baker to deliver pastries and the venue required she sign a waiver to release the venue from any possible liability resulting from food poisoning.
From there, she took a more proactive approach to confronting the stigma and obstacles associated with food allergies and joined the Rising Stars Committee of Food Allergy Research and Education (FARE) and had the opportunity to be part of a panel that discussed young professionals facing food allergies. "People were in tears," she says, recalling the summit. "They could actually eat a meal and not have to worry about going into anaphylactic shock." The impact was very apparent, she says, remembering one of the catering staff commenting that they have never seen a more grateful group at the conference center.
One aspect of moving towards a viable solution, Soltwisch says, is including the food allergy community more in efforts towards diversity, equity and inclusion, recognizing allergies as a disability. She predicted that a large part of the next generation in the workforce will likely have food allergies, making it crucial that vendors and planners start preparing for those challenges now.
Omakase with a Dash of Caring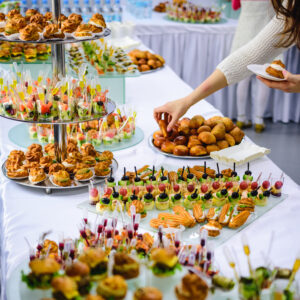 Event and catering services are also now beginning to be proactive in creating inclusive dishes and menus to help alleviate some of the workload from the shoulders of event planners and stress from the minds of attendees.
Levy Foods Executive Chef Christopher Pulling is busy cooking up a storm of delicious dishes for large groups at Wisconsin Center in Milwaukee, Wisconsin. He has made it a priority to have alternative ingredients ready to go for most menu items while avoiding gluten altogether—allowing the catering staff to confidently say that their menu items are gluten-free and providing attendees with peace of mind. Chef Christopher sources alternative ingredients with the intent of not compromising a dish's in flavor or texture.
"We won't put nuts in an entrée," he says. Pulling often adds toasted or candied pumpkin seed pepita nuts. "That allows the crunch of a nut, but there's no nuts on it." To avoid dairy, Pulling's kitchen uses oat milk for dishes like mashed potatoes and all salad dressings are vinegar-based, which can be emulsified using additional ingredients such as mustard to create a creamy texture.
"We really, as much as we possibly can, try to make our menus inclusive," he says. That way his team won't have to scramble to prepare an allergen-free dish while the guest sits and waits for their meal. "That's certainly something we don't want to happen."
Another aspect of Pulling's strategy when preparing inclusive menus or fulfilling special requests is to cook slightly more than requested to avoid allocating more time than is necessary. "If a vegetarian dish is requested for 20 people, we may make 35 and use the same standards for other specialty dishes that are gluten free," he says. In doing so, every guest is guaranteed to have a great meal while not sidetracking the kitchen staff during a high-volume event. "When we stop what we're doing to make a special request, that means that something else isn't getting done at that time."
Pulling leverages open-source tools such as Compass Group's Flik for alternative and creative recipes for different occasions and dietary needs. "Our goal is to provide something unexpected at the convention center and unconventionally good, if you will."
This article appears in the January 2023 issue. You can subscribe to the magazine here.