Rosen Shingle Creek
Rosen convention properties boast exciting new features
It's wonderful, albeit a bit disconcerting, to visit the three Rosen full-service convention properties in Orlando. They are 12 to 27 years old, but everything about them, from the fresh smell of the immaculate common areas to the recently redesigned guest rooms, suggests that these are brand-new hotels.
It takes the dedicated work of many staff members to maintain and improve upon this standard, which is expected by Harris Rosen, founder and chief operating officer of Rosen Hotels & Resorts. Since opening his first property, Quality Inn International, in 1974, and renaming it Rosen Inn International, Rosen has opened seven additional hotels in Orlando, and recently purchased two more properties, which he plans to open in the next few years.
He opened Clarion Plaza (now known as Rosen Plaza Hotel) in 1991, and four years later, he unveiled Omni Rosen (now known as Rosen Centre Hotel). The third and largest property, Rosen Shingle Creek, opened in 2006. The properties have much the same feel, though each has carved its own distinct identity.
Rosen Plaza Hotel
The oldest of the company's convention hotels, Rosen Plaza Hotel also is decidedly chic. It features a hip, new lobby bar and 3Nine, the only evening entertainment venue on International Drive. The 5,000-square-foot venue offers music, casual dining and specialty drinks, and can accommodate 500 for private events. It's connected to a pool deck and patio, which can accommodate an additional 1,000 attendees.
Rosen Plaza has three dining options, including the ever-popular Jack's Place, which displays hundreds of pen-and-ink drawings of famous people from all walks of life—including the Dalai Lama, Queen Elizabeth, Pablo Picasso and Albert Einstein—by Rosen's father, Jack Rosen. He created the works after observing the luminaries firsthand at Waldorf-Astoria Hotel in New York City, where he worked as a safety engineer.
The property completed a floor-to-ceiling refurbishment of its 800 guest rooms two years ago that included adding modern touches, such as granite counter tops and walnut cabinets. The 60,000 sq. ft. of meeting space includes the 26,000-square-foot grand ballroom, 12,500-square-foot foyer and 22 meeting rooms. Groups needing additional space can arrange for it at Orange County Convention Center, which is connected by skybridge to Rosen Plaza and Rosen Centre hotels, and offers some 2.1 million sq. ft. of exhibit space.
Rosen Centre Hotel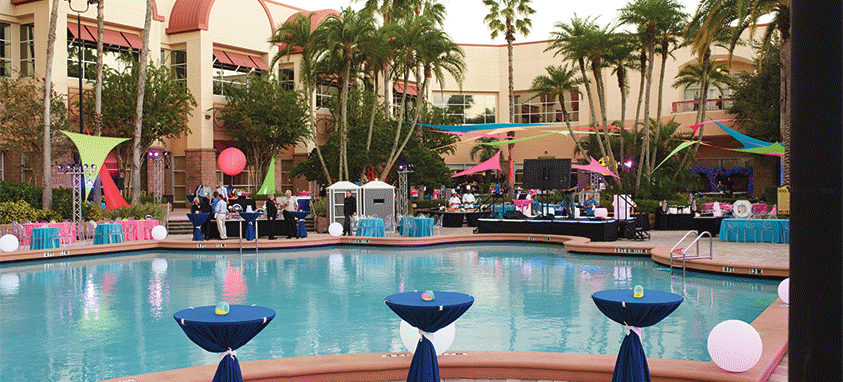 One of the main features at Rosen Centre Hotel is its wide range of culinary choices. Groups can enjoy Banshoo Sushi Bar, highlighting chef Yoshi Yoshimura's creations; 98Forty Tapas & Tequila, where chef Emeterio Luna combines traditional Spanish tapas (small plates) with unique Mexican dishes; Harry's Poolside Bar & Grill, with Caribbean-Cuban-infused cuisine; Everglades, where chef Fred Vlachos provides his unique spin on the flavors of South Florida; and Cafe Gaugin, featuring dishes that span the globe—and reflecting the travels of the restaurant's namesake, French painter Paul Gaugin.
Rosen Centre also is known for its advanced high-tech features. Each of the 1,334 recently renovated guest rooms includes a quartz-topped dresser desk that enables guests to spread out and use multiple laptops and electronic devices, which can be charged simultaneously on a multi-outlet connectivity bar below a new, 50-inch flat-screen television.
The hotel provides more than 150,000 sq. ft. of meeting space, including a 35,000-square-foot grand ballroom, 18,000-square-foot executive ballroom, 14,000-square-foot junior ballroom and 35 meeting rooms.
Rosen Shingle Creek
Situated on 255 acres of lush landscape, the elegant Rosen Shingle Creek is the largest of the convention properties, boasting 1,501 guest rooms and 524,000 sq. ft. of meeting space. Like the other two convention properties, it recently underwent a renovation that significantly enhanced its appeal.
The lobby now features a golden palette, with jewel tones of honeycomb yellow and orange-tangerine, and the walls now include metal art murals that display the colors of a sunset reflecting on the waters of Shingle Creek. The property has 12 dining options, most notably two AAA Four Diamond restaurants: A Land Remembered, a steakhouse that serves a variety of other cuisine; and Cala Bella, specializing in North Italian food and featuring beautiful Italian artwork.
Rosen Shingle Creek also includes an 18-hole championship golf course redesigned by Arnold Palmer Design Company and a 13,000-square-foot spa with nine treatment rooms. Meeting space highlights are the 95,000-square-foot Gatlin Ballroom, one of the largest column-free ballrooms in the United States, and 98 other meeting rooms.
Beyond the Hotels
Besides running his successful hotels, Harris Rosen is a noted philanthropist. No visit to his cluster of properties is complete without stopping by Rosen Preschool, the newest addition to a campus that serves young children from the low-income Parramore neighborhood.
Also well worth a visit is Rosen College of Hospitality Management, which was established after Rosen donated $18 million to the University of Central Florida. It is situated on a 159,000-square-foot, state-of-the-art campus, making it the largest facility ever built for hospitality management education.