The Davenport Grand Hotel
Spokane's revitalization boosts its meeting offerings
Fam trips are most exciting when they're full of surprises, revealing totally unexpected, fantastic features about destinations. Such was my experience during a visit to Spokane, Washington, last month.
I was somewhat familiar with the city and learned that it had recently upped its game as a meetings and tourism destination, but I was totally blown away by what I experienced. I had thought that this city of some 216,000 people—situated about 20 miles from the Idaho border, and 279 miles from the nearest major metro area (Seattle)—was likely to be a nice spot for local and regional meetings, but probably not ready for national prime-time. I couldn't have been more wrong.
Superb Meetings Sites
Spokane is undergoing a huge revitalization effort that is making the already-enticing downtown area a much more alluring meetings location. Central to the attraction is Spokane Convention Center, which was expanded in 2015 to include more than 650,000 sq. ft. of space, including a 120,000-square-foot exhibit hall, three ballrooms and 40 breakout spaces.
It's connected to DoubleTree by Hilton Spokane Civic Center, with 375 guest rooms and 21,000 sq. ft. of meeting space and The Davenport Grand Hotel, which opened in June 2015 with 716 guest rooms, and 63,000 sq. ft. of meeting space that offers outstanding views of Riverfront Park and the Spokane River.
A sister property, The Historic Davenport Hotel, could hardly be more different from The Davenport Grand Hotel. Whereas Davenport Grand is modern, vibrant—and even splashy—The Historic Davenport is one of America's magnificent historic properties. It opened in 1914 and was closed from 1985 to 2002, but then reopened with the lobby, ballrooms and public spaces restored to their original glory. The timeless elegance of The Historic Davenport can be experienced throughout the hotel, including its 660 guest rooms and 33,000 sq. ft. of meeting space.
Stunning Urban Wilderness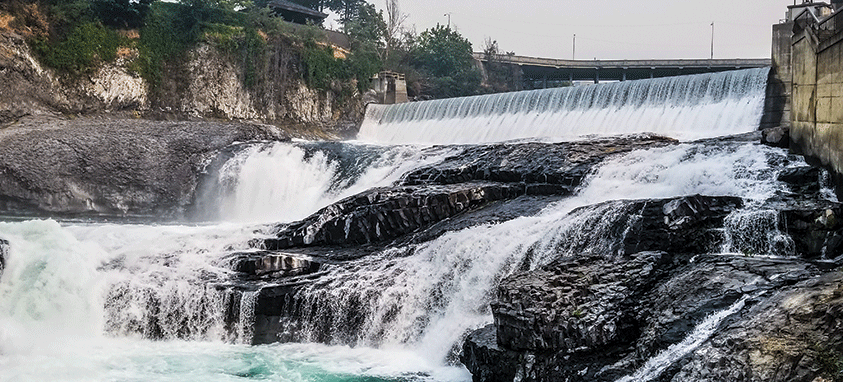 Vivid scenery abounds in Spokane, but perhaps the most striking feature is the Spokane River, which can be viewed from many restaurants and businesses. Plenty of cities have rivers running through them, offering a nice, peaceful alternative to the busy pace of work life. But the Spokane River takes the experience much further: It's a clean, fishable and swimmable, and winds through the downtown area, where two waterfalls and dramatic cliffs contribute to a decidedly wilderness setting.
Adjacent to the river, 100-acre Waterfront Park—home of the 1974 World's Fair—is undergoing a $64 million renovation that will create a new home for the historic Looff Carrousel, restore the Pavilion to add event space, establish an "ice ribbon" for skaters that will replace the old rink, add a new Skyride facility, and provide a nature-based playground and outdoor learning area. The project is scheduled for completion in 2020.
Since my visit was brief, I didn't have a chance to explore areas outside the city, but the options are plentiful. The Canadian border is just a little more than two hours away and Coeur d'Alene, Idaho, is a 38-minute drive east. Known for its luxury resorts, Coeur d'Alene also offers water sports on Lake Coeur d'Alene, and trails in Canfield Mountain Natural Area and Coeur d'Alene National Forest.
Innovative F&B
Spokane's new hotels offer plenty of great food and beverage, but groups will also want to sample from an emerging restaurant scene. One that I visited, Zona Blanca, features a ceviche bar from celebrity chef Chad White of Top Chef, Bravo's hit cooking show. Many of the dishes are coastal Mexican, and very good. Wild Sage American Bistro specializes in regionally sourced Northwest cuisine. I had the delicious Bing Cherry Chicken, consisting of French bone-in chicken breast, cherry-arugula salad, Walla Walla sweet onions, Kansas City bacon lardons, white cheddar grits and cherry-port balsamic glaze.
Craft beers can be enjoyed at many downtown restaurants, as well as by touring some of the 46 breweries along the Inland Northwest Ale Trail, which runs through the city. Grapes from the heralded appellations of Walla Walla, Yakima and Columbia Valley can be found in wine-tasting rooms throughout the city.
Arbor Crest Wine Cellars, located 20 minutes from downtown Spokane, is an ideal spot for social gatherings. Featuring four beautifully landscaped acres and an array of outdoor spaces, it captivates guests with its Florentine influence and panoramic views of Spokane Valley. Tastings can be blended into group gatherings.