Peerspace
Sharing economy apps simplify the planning process
For smaller meetings and company offsites, it is no longer necessary to enter the same process of booking a hotel or venue for larger conferences and events. Meeting planners can avoid the hassle and cost of contracting months in advance for smaller groups, which require minimal space for a much shorter period of time.
Welcome to the world of reserving venues with the touch of a button. The sharing economy has found its way into procurement with meeting and event planning apps designed to reduce the legwork and uncomplicate the planning process.
Spacebase
This innovative booking platform was built on the premise that most meetings are boring, unstimulating and time-consuming. The German startup breaks the mold with a wide selection of stimulating environments and unique locations based on the type of event, session, meeting or workshop. It's also easy to indicate necessary extras and amenities, such as wheelchair access, Wi-Fi, refreshments and audiovisual equipment. Plus, users can leave helpful reviews after each experience, making event planning more transparent than ever. Spacebase has a network of more than 1,700 venues in more than 15 cities.
"Spacebase makes finding, comparing and booking unique meeting and workshop venues as simple as can be," says Tessa Anaya, U.S. editorial and public relations director for Spacebase. "Spacebase hosts diverse meeting and event locations in their digital profile, making it easy for you to find the perfect space anywhere across 25 countries. They also have a friendly operations staff that provides quick and easy help for planners."
Peerspace
Peerspace works the same way as some of the other meeting planning apps, but with a few extra advantages. Peerspace showcases underused loft spaces and photography studios on its platform. For an additional fee, the online marketplace partners with local vendors to provide services such as catering, security, transportation, furniture rental, event staffing and rental of audiovisual equipment. Peerspace supports bookings in various cities within the United States, including San Francisco, Los Angeles, New York City and Chicago.
MeetingsBooker
MeetingsBooker pulls together everything from traditional hotel conference rooms to modern event spaces. The website is targeted at meeting planners searching for venues on short notice. Accommodations, conference space, and food and beverage service also can be arranged through a simplified request for proposal (RFP) process. With more than 70,000 bookable meeting spaces around the world, planners can immediately view rates and instantly book rooms. Properties can also submit bids for group business online.
"MeetingsBooker allows companies to book meeting rooms online in minutes," says Ciaran Delaney, founder of MeetingsBooker. "Just search and book amazing venues around the world."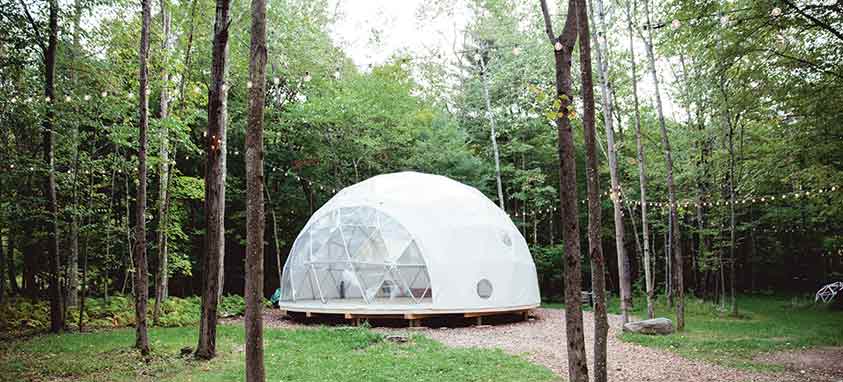 Splacer
Meeting planners can enjoy the convenience of Airbnb while booking small meetings and events with Splacer. Started by a group of architects and techies, the internet company compiles unique short-term listings in New York City, Los Angeles and San Francisco. Venues range from renovated foundries and rustic lofts to commercial galleries and stunning homes. Event planners can filter the search by size, location, activity and keyword, and later connect with the host the same way as booking a vacation.
"Splacer has been described as the 'Airbnb of event spaces,'" says Lihi Gerstner, co-founder and chief marketing officer for Splacer. "Breweries, art galleries, boxing gyms, former factories and houses of worship are among the unconventional venues listed for rent, along with some of the hippest, most magical, best-designed apartments and homes a city has to offer. All spaces are curated by Splacer's team of architects and designers, with an eye toward aesthetics."
LiquidSpace
LiquidSpace is one of the largest commercial real estate networks of bookable office space. Reserve executive boardrooms, private meeting rooms and modern co-working spaces for a few hours or even a few years. Small businesses and growing teams looking for short-term office rentals can connect directly with real estate owners and operators who list their space on the website, without the restrictions of traditional leasing. Meeting room options are also abundant, with high-speed internet included and a range of amenities from which to pick and choose.
Breather
With a similar interface to Airbnb, Breather makes browsing meeting rooms and workspaces as easy as booking a stay on the home-sharing website. Punch in the time frame, budget, duration and number of attendees, and Breather will generate clean, minimalist workspaces that fit your specifications. Companies such as Uber and Facebook regularly use the platform to hold everything from team offsites to client meetings and product launches. Each listing provides square footage, room layouts and capacities.
Bizly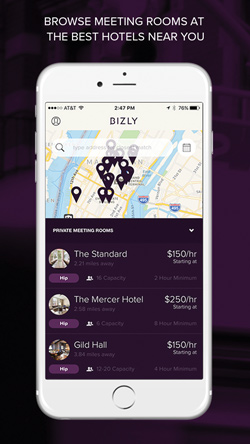 Specializing in meetings booked in 30 days or less, Bizly was created as a solution for luxury hotels and restaurants looking to fill empty meeting rooms and private event space on short notice. Smaller groups can forego drawn-out contract negations and RFPs with a curated list of meeting rooms at discounted hourly rates, from breakout spaces and executive boardrooms to flexible studios and penthouse suites. Bizly works with leading hotel brands, including W Hotels & Resorts, Four Seasons Hotels and Resorts, Omni Hotels & Resorts, Hilton Hotels and Resorts, Loews Hotels and The Ritz-Carlton Hotels.
"Bizly is a platform for sourcing and booking small meetings (under 100 guests) at thousands of premier hotels and restaurants, enabling direct messages with venue event teams and seamless checkout," says Ron Shah, CEO of Bizly. "Bizly provides all the tools for meeting planners, TMCs, DMCs and corporations to create effective small meeting programs."