Native-American artists and craftspeople exhibit their wares in front of the Palace of Governors building.
Santa Fe's irresistible, unique style lures groups
Perched at the southern edge of the Rocky Mountains at an altitude of 7,199 ft., Santa Fe, New Mexico, is a bit remote in comparison with many other meeting destinations, but is a favorite of virtually all the groups that gather there.
Early in the 20th century, city officials began calling it The City Different, and if anything, the name applies now more than ever. It boasts many of the same features as other top destinations—outstanding food, hotels, shops, restaurants and landscapes—but in its own distinctive style.
This style is heavily influenced by the city's Native-American heritage, which can be seen in virtually everything, from the large—including building architecture—to the small—such as your dinner plate at a restaurant. But Spanish, Mexican and other cultures also have had a profound impact on the city, and in many ways have blended with Native American influences to create vibrant styles and products—and a unique lifestyle that lures prominent artists, writers, chefs, healers and other creative dreamers.
Captivating Santa Fe Plaza
I visited Santa Fe on a fam trip this fall, and the lifestyle there was a dramatic change from that found in the ultra-active cities I had recently visited—Las Vegas, Miami and New Orleans. These cities are all great in their own way, but in Santa Fe, the pace is much slower, people are much more relaxed and there is a greater sense of safety. It's a seductive city that gives one a sense of well-being. These qualities are found even in the busiest area, Santa Fe Plaza.
Bordered by San Francisco Street and Washington, Palace and Lincoln avenues, the plaza has been the heart of downtown Santa Fe for nearly 400 years. Still a central part of the city, it hosts Indian and Spanish markets, annual events, and community gatherings and concerts. Surrounding the plaza are dozens of shops, featuring everything from basic souvenirs to high-end art.
One of the plaza's main attractions is The Palace of Governors building, a National Historical Landmark that was built in the early-17th century as Spain's seat of government for what is today the American Southwest. The building now houses New Mexico History Museum, which offers exhibitions and public programs, but the main activity takes place directly adjacent to the building, where a long line of American Indian artists and craftspeople from 41 pueblos and tribes gather daily to exhibit their wares.
It's not only a great place to buy hand-made items: It also provides an opportunity for visitors and locals to talk with the artists and craftspeople, and to learn about their work, and their pueblo or tribe.
Artistic and Culinary Creations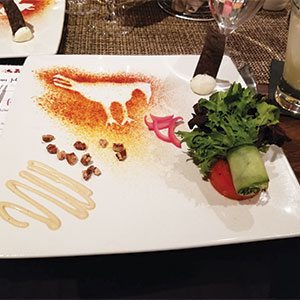 Another highlight of the trip was a visit to The Georgia O'Keeffe Museum, which houses the largest collection of O'Keeffe's works in the world. Though mainly associated with her flower paintings, O'Keeffe—who was a longtime Santa Fe resident—worked in other artistic mediums and focused on a wide variety of subjects during her celebrated career.
The city's plethora of fabulous restaurants—many of which feature unique twists on Southwestern cuisine—also was a highlight. We enjoyed our meals in the excellent hotel restaurants throughout the city. And for one meal, we made our own food—or at least part of it. The group visited Santa Fe School of Cooking, where chef and instructor Deena Chafez taught us about New Mexico's cooking traditions, and then showed us how to make tamales. All of us then made tamales and dared ourselves to eat them—surprisingly yummy!—along with the rice and beans that had been prepared for us. It was a great team-building activity.