Sustainability a core value of host properties and trade show
Timing is everything. The same year that IMEX Group ventured across the pond for its first U.S. show in 2011, Las Vegas Sands properties made a commitment to environmental stewardship by developing a five-year plan to achieve significant green milestones.
Today, Sands Expo Center, The Venetian Las Vegas and The Palazzo combine to form one of the largest LEED Gold certified meeting complexes in the world, helping event organizers make their conventions as green as possible. It's an attribute that Carina Bauer, CEO of IMEX Group, says is part of her company's core values, as well.
"For us, sustainability is about more than simply having a recycling program," Bauer says. "Sustainability is about looking at how we do business during the year and at our shows. It's about operating an event that has as low a footprint on the environment as possible and which is also sustainable in terms of the benefits that we bring to our business community. Driving forward an agenda of sustainability is not always easy, but it is always worth it."
Sands' Five-Year Analysis
Sands ECO360, the corporate sustainability program of Las Vegas Sands, released a report in June documenting results from its five-year sustainability strategy. The pillars of the initiative are green buildings; environmentally responsible operations; green meetings; and stakeholder engagement. Here are some of the achievements outlined in Sands' five-year analysis.
• Exceeded carbon footprint target, with an 8.1 percent reduction from the 2010 baseline for existing properties and a 19.6 percent reduction from the 2012 baseline for newly opened properties.
• Improved waste diversion rate by 11.5 percent and 12.2 percent over baseline at existing buildings and newly opened properties, respectively.
• More than 24,000 tons of materials diverted/recycled, which represents 30 percent of the company's waste.
• Reduced electricity consumption by 16.8 percent over baseline in existing properties and 11.8 percent in newly opened properties.
"Leading the global sustainability efforts of the organization affords me with the unique opportunity of seeing firsthand the tremendous efforts our team members make on a daily basis to reduce our impact on the environment," says Katarina Tesarova, vice president of global sustainability for Las Vegas Sands. "Developing and implementing a comprehensive sustainability strategy focused on leaving a responsible, cleaner and safer world for future generations is incredibly rewarding."
IMEX America Report
IMEX America has created its own sustainability report card with the help of MeetGreen, which works with organizations to integrate green practices into events. The 2015 Sustainability Report for IMEX America reveals that the trade show takes full advantage of best practices provided throughout the Las Vegas Sands properties.
IMEX America takes its green message outside the trade shows walls to the local community, providing funds and education for a recycling program at The Shade Tree Women's Shelter, for example. During the 2015 trade show, IMEX America and Sands also donated 12,500 meals to Las Vegas charities.
According to Aaron Elliott, project manager for MeetGreen, IMEX America has made great strides in reducing waste, with a 13 percent decrease per person from 2014 to 2015. That result is due in part to clear communications, which allow attendees to make more informed choices and better understand their environmental impacts. Communications include social media, email, onsite digital signage, talks and post-event reporting.
Elliott also applauds IMEX America's donations of leftover exhibitor materials at the end of shows. IMEX provides dedicated donation bins throughout the show floor for exhibitors to easily contribute their leftover materials to Las Vegas community organizations.
IMEX America takes waste sorting a step further by re-sorting it all before sending it to the waste hauler. Not only does this help with measurement accuracy and landfill diversion, but proper sorting also decreases the likelihood that a haul is rejected due to contamination.
Areas for Improvement
Elliott says one area for improvement is getting exhibitors to select cardboard materials for signage over polystyrene-based material. Alternative materials such as Falconboard are becoming more cost-effective and are much easier to recycle. He also suggests IMEX America should minimize mailings and shift to digital for some communications, thus reducing cost, waste and shipping emissions.
"IMEX America sets a great example by incorporating more standard sustainability best practices, as well as practices that reflect their particular principles and values as a company," Elliott says. "Many of the results shown in the report are a direct result of pre-event planning."
---
2015 IMEX America Sustainability Report
IMEX America makes sustainability a priority throughout the planning process. Reducing waste year after year, despite an increase in attendance, is just one example of steps taken to ensure the major meetings and events trade show is as green as possible. IMEX America and MeetGreen have teamed up to monitor the show's environmental footprint, thus helping to educate suppliers and attendees, and set green goals for future shows. Here are a few insights and findings from the 2015 IMEX America Sustainability Report.
Action strategy
Pre-event: MeetGreen and IMEX America met following the completion of the previous year's event to review performance and ideas for moving forward. MeetGreen also worked with staff and vendors to identify critical data to be collected and reported post-event. Environmental expectations were included in vendor contracts. Onsite green stakeholders, including caterers and contractors, met regularly to discuss areas for improvement, address challenges and monitor targets.
Onsite audit: MeetGreen was onsite for five days to observe practices. These observations were taken into account during post-event analysis.
Post-event: Vendors and staff provided post-event data, which was analyzed by MeetGreen, including attendance, waste, donations, emissions, energy, and water and material use. A final report summarized observations, outcomes and recommendations for future events.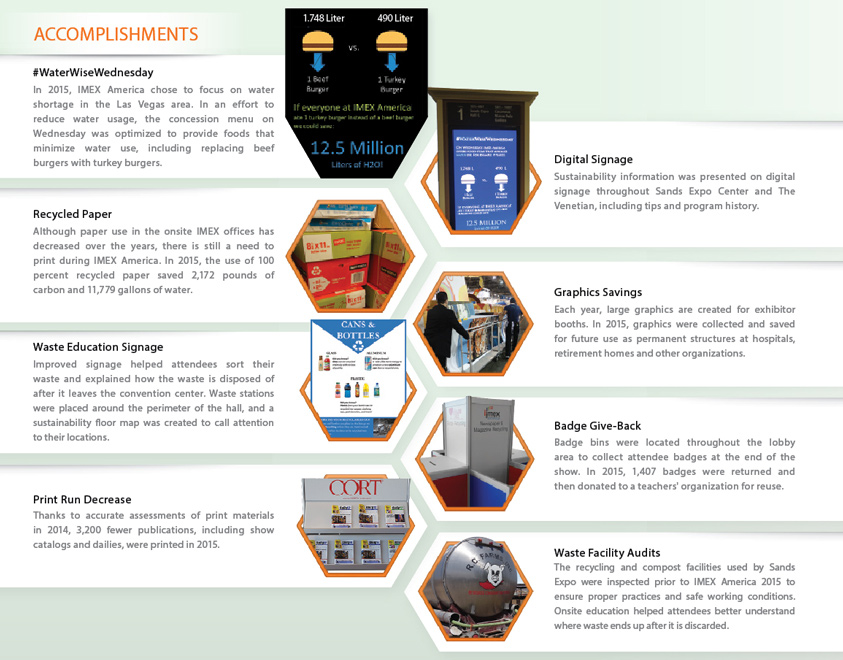 ---
For more on IMEX America 2016, click here.