Omni Providence Hotel, Rhode Island
Omni Providence Hotel in Rhode Island completed a $15 million renovation of the 564 guest rooms, landings and public spaces—including ballrooms and breakout rooms—that includes fresh, sophisticated designs that blend with New England flair. The property provides 22,877 sq. ft. of meeting space.
"The Omni Providence Hotel showcases the look and feel of New England, and truly provides our guests a sense of place," said General Manager Burnell Goldman. "We have made the hotel a focal point of Providence, and everything from the design to decor, culinary experience and amenities is reflective of this great city."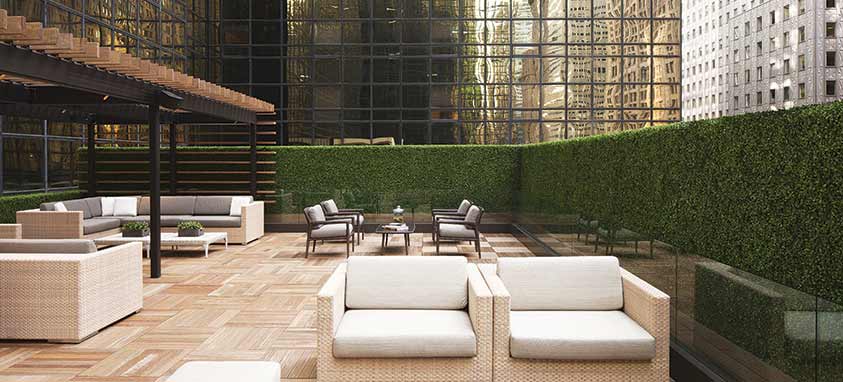 The iconic Grand Hyatt New York in Midtown Manhattan debuted a multimillion-dollar renovation of its Conference Level earlier this year that included 12,000 sq. ft. of meeting space and 18 breakout rooms. The property has 1,298 guest rooms, more than 60,000 sq. ft. of meeting space, a fitness center, in-room spa services, New York Central restaurant and The Lounge at New York Central.
Resorts Casino Hotel, Atlantic City, New Jersey
Resorts Casino Hotel, a Mohegan Sun property, is in the midst of a $25 million renovation project in Atlantic City, New Jersey. Hotel rooms are being completely renovated with new bathrooms, furniture, windows, window treatments, wallpaper, carpet, artwork and linens.
The resort's conference center also celebrated its grand re-opening.
"We are seeing a bump in regional group business, with a 65 to 70 percent repeat factor for conventions," said William Jackson, the director of sales and marketing. "Since Atlantic City is within a 2 1/2-hour drive of more than 60 million people, it makes sense that a high percentage of our meetings are driven here."
Since 2012, Resorts Casino Hotel has completed more than $100 million in renovations. This has helped the hotel to obtain an increase of $17.8 million in net revenue. The property has 942 guest rooms and 65,000 sq. ft. of meeting space.
The Hunt Valley Inn rebranded as Delta Hotels Baltimore Hunt Valley in March and wrapped up a $15 million renovation that included updating the 392 guest rooms and 30,000 sq. ft. of meeting space—which involved two ballrooms and 16 meeting rooms—and redesigning the hotel's restaurant, Cinnamon Tree. The hotel now features a restaurant serving American fare and local craft beers.
"We remain highly selective in partnerships during this exciting period of global growth for the Delta Hotels brand," said Greg Durrer, global brand leader of Delta Hotels at Marriott International. "Hunt Valley Inn has a long, proven track record in hotel operations and management excellence, particularly given its desirable proximity to the major metro areas of Baltimore and Washington, D.C."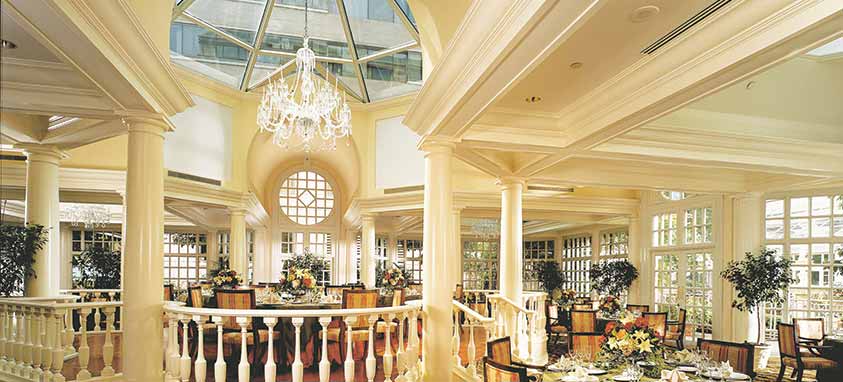 Fairmont Washington, D.C., Georgetown
Fairmont Washington, D.C., Georgetown finished a $27 million, two-part renovation. The first phase included refurbishing its 413 guest rooms and adding the new 2,990-square-foot Kennedy Ballroom. The second phase included redesigning the entire lobby, loggia and courtyard garden.
Hilton Daytona Beach Oceanfront Resort is wrapping up a $25 million renovation. The 744-room Florida property, which is located across the street from Ocean Center convention complex, is updating its main entrance, lobby, dining and entertainment venues. It has 60,000 sq. ft. of meeting space.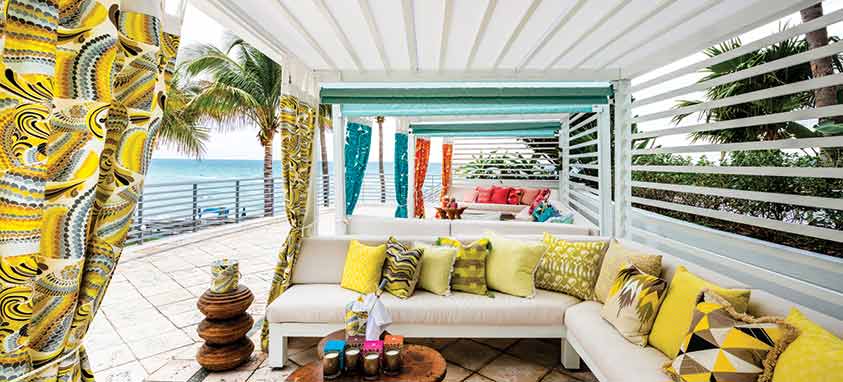 The Diplomat Beach Resort, Hollywood, Florida
Diplomat Resort & Spa in Hollywood, Florida, underwent an extensive $100 million makeover and emerged earlier this year with a new name: The Diplomat Beach Resort. All of the 1,000 guest rooms and suites have been renovated and now feature one of two distinct designs schemes: Sunrise or Sunset.
Other amenities include 10 new dining concepts meant to deliver an all-encompassing group experience, an indoor-outdoor lobby and bar, an infinity pool, featuring two cascading waterfalls and 200,000 sq. ft. of meeting space.
The next stage of Walt Disney World Swan and Dolphin Resort's $140 million renovation, which has been ongoing for several years, will be a $12 million redesign of the lobby at the Dolphin portion of the Orlando, Florida, property. The work on the new lobby—which will provide a new, sleek contemporary space—began in the spring and is scheduled to be completed by the fall. Other new lobby features will include a geometric ceiling, increased lighting, contemporary decor and furnishings, and twice as much seating.
"This lobby will mark the final piece of an exciting transformation for the Walt Disney World Swan and Dolphin Resort," said General Manager Fred Sawyers. "This space is designed specifically to cater to today's guests and offers an inviting place where they can come together to relax, network and grab something to eat or drink."
During the renovation, the 2,267 guest rooms and more than 329,000 sq. ft. of meeting space also are being transformed.
Hilton Chicago O'Hare Airport Hotel recently completed a renovation that included adding Andiamo Restaurant, featuring fresh seafood, pizza and pasta using ingredients imported directly from Italy, paired with an extensive wine list. The Twilight Room, a private event space for up to 24 people, added a new video wall that features four 55-inch high-definition screens. Sports Editions Bar features a dozen new high-definition, 50-inch, flat-screen television and multifunctional communal tables for groups to gather. The property offers 860 guest rooms and 37,000 sq. ft. of meeting space.
Following a $12 million renovation, DoubleTree by Hilton Atlanta Perimeter Dunwoody opened in May. All 250 guest rooms and meeting spaces feature modern furniture and hand-painted artwork from local artists. The lobby offers natural lighting, dramatic wooden beams and Southern Grove, a Modern Eatery & Bar, which serves breakfast, lunch and dinner daily.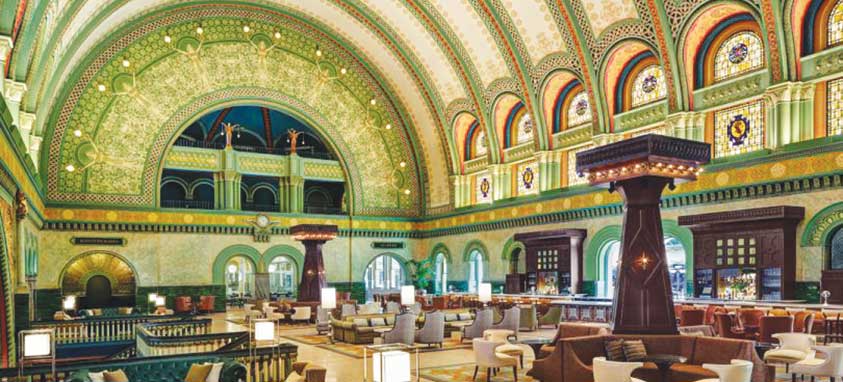 St. Louis Union Station Hotel
St. Louis Union Station Hotel–a DoubleTree by Hilton Hotel recently was rebranded as St. Louis Union Station Hotel. Now a Hilton property, the hotel is known for its stylish upscale features and amenities. It is undergoing a renovation that will result in more guest rooms (587) and meeting space (137,000 sq. ft.).
Further Reading: