These 10 unique, international cities have really stepped up their meetings game
It's no secret the world is rapidly changing, and this is clearly reflected not only in the mind-boggling growth of international meetings, but also in the wide variety of places where they are often occurring.
The 2016 Statistics Report compiled by the International Congress and Convention Association (ICCA) shows that a record 12,212 international association meetings took place in 2016. This total is more than double the number of meetings held in 2006.
Cities holding the most meetings—Paris (196), Vienna (186), Barcelona (181), Berlin (176) and London (153)—along with many other high-ranking cities, have been popular meetings destinations for quite some time. But many other cities are making great strides, as shown in ICCA's report.
In fact, it's very challenging to single out just a few as the most rapidly rising meeting destinations. Nevertheless, we have picked 10 of them (not in order of ranking), because of the increase in the number of international meetings they are hosting as well as their overall appeal and the dedicated efforts they are making to attract groups.
Some of these cities are instantly recognizable by many, while others are much less well-known. But all of them offer outstanding meeting facilities, incredible hotels and unique attractions that will satisfy even the most hyper-local-focused groups.
1. Brisbane, Australia
Brisbane, the capital of Queensland, Australia, offers an intriguing mix, including an eclectic art scene, outdoor adventures, hip new restaurants, lovely riverside gardens and manmade beaches.
It's also becoming an increasingly popular meetings destination, leaping from No. 93 in 2015 to No. 76 in 2016 in international meetings held, according to the ICCA's annual reports.
"These positive results can be attributed to Brisbane's proven track record for hosting conferences of all sizes, the city's growing international reputation, quality venues, expanding infrastructure and transport links," says Juliet Alabaster, acting general manager of Brisbane Convention Bureau.
Brisbane offers several large conference centers, all near the abundance of accommodations in the thriving central business district. Brisbane Convention & Exhibition Centre has won a host of high honors, such as being named the World's Best Convention Center at the Annual General Assembly of the International Association of Congress Centres) in Nantes, France, in June 2016. The center consists of 215,278 sq. ft. of meeting space, including 44 meeting rooms.
Excellent meeting hotels include Stamford Plaza Brisbane, located on the banks of the Brisbane River, with 252 guest rooms and 25,000 sq. ft. of meeting space; Hilton Brisbane, featuring the much-heralded Vintaged Bar & Grill, 319 guest rooms and 20,000 sq. ft.; and Pullman Brisbane King George Square, a newly renovated property with 438 guest rooms and 16,000 sq. ft.
Groups seeking a hyper-local experience often opt for a Brisbane Greeters Tour, during which local volunteers take groups on a jaunt through the city. Tours can be tailored to a group's preferences, and focus on almost any topic.
Other popular choices are an exclusive, behind-the-scenes tour of Queensland Museum (the state museum) and a curated-guided tour of the internationally acclaimed The Queensland Art Gallery/Gallery of Modern Art, which has exhibited many famous artists and designers, including Warhol and Valentino.
Adventurous contingents can scale the city's iconic Story Bridge—one of just three bridge climbs of its type in the world—to enjoy panoramic views. They also can visit Lone Pine Koala Sanctuary, where they can cuddle one of the 130 friendly koalas, hand-feed kangaroos and marvel at playful platypuses.
TESTIMONIAL: "Brisbane Marketing was an excellent host partner and its convention bureau the easiest and best we have worked with, offering good communication and support, along with a visionary can-do approach. There was a risk in moving the Capa Summit to Brisbane, but it proved to be well and truly on par with Sydney—and in fact, 30 percent of the delegates attended because of the move."
—Derek Sadubin, chief operating officer for Capa–Center for Aviation
2. Brasilia, Brazil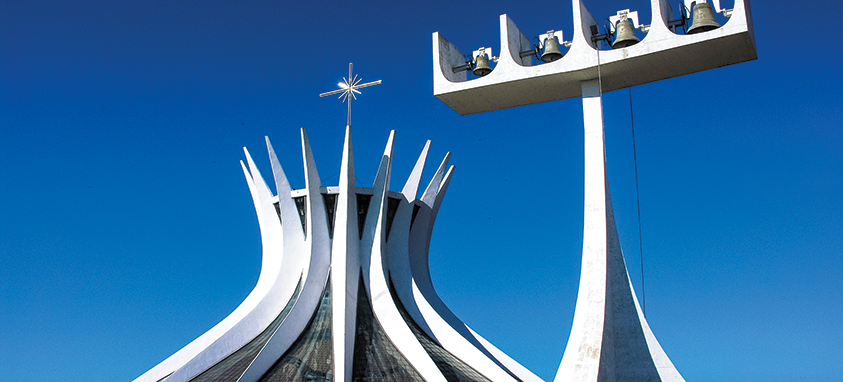 Cathedral of Brasilia
Located atop the highlands in the center-western region, Brasilia was founded in 1960 to serve as the federal capital of Brazil. It is the hub of Brazil's government, but much more. Recently, Brasilia made major investments—including improving its hotels selection and boosting other infrastructure elements—to accommodate events such as FIFA World Cup in 2014 and 10 soccer matches during the Rio 2016 Summer Olympics.
These investments are expected to bring long-term benefits, and the meetings industry is one of the beneficiaries. Brasilia hosted 19 international association meetings in 2016, the 12th most in South America, compared with 11 in 2015, according to the 2016 Statistics Report compiled by the ICCA.
"We believe that this jump reflects the gain of infrastructure we had, with the construction of modern spaces, added to the simplified logistics provided by the city's architectural design, which includes airport proximity to the city center and hotel proximity to convention centers," says Jaime Recena, deputy secretary of Tourism of the Federal District.
Brasilia has 460 places suitable for events—including convention centers, auditoriums, stadiums, clubs and exhibition halls. Two of the top venues are Ulysses Guimaraes Convention Center, a modern facility located in the center of the city, with 30 meeting rooms and 120,000 sq. ft. of exhibit space; and Brazil 21 Events and Convention Center, which has 70,000 sq. ft. of convention space spread over 20 areas.
Top hotels include Royal Tulip Brasilia Alvorada, a luxury property that is a 10-minute drive from downtown. It offers 395 elegantly decorated guest rooms and 15,000 sq. ft. of meeting space. Kubitschek Plaza Hotel offers 389 guest rooms and 20,000 sq. ft. of meeting space.
During off-hours, meeting attendees have many attractive choices, such as viewing outstanding art and architecture that is unique to the city, including the striking Cathedral of Brasilia, the seat of the Archdiocese of Brasília.
"The simple curves of the works by Oscar Niemeyer and urban planner Lucio Costa, the beauty of Burle Marx's gardens, the stained-glass windows of Marianne Peretti, and the many pieces of art by artists like Athos Bulcao and Alfredo Ceschiatti are some of the works our city offers," Recena says.
Groups also enjoy visiting Lake Paranoa, a manmade lake that is home to small crocodiles, turtles and several other animals. The lake offers running and walking spaces, restaurants and water sports, including stand-up paddleboarding, kite surfing and sailing.
3. Colombo, Sri Lanka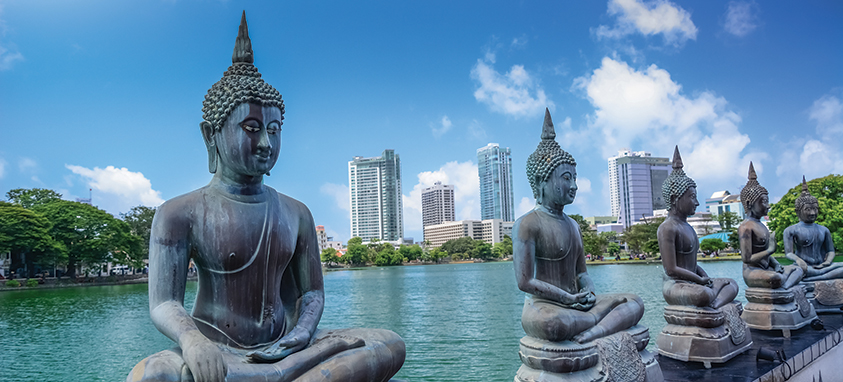 Seema Malaka Temple
Colombo was known as The Garden City of the East during the 19th century, and its garden heritage is still evident along its many shaded boulevards. Today, Colombo is a bustling cosmopolitan city with trendy eateries, galleries and shops. And a major building boom is transforming the city's skyline.
Many of the new structures are hotels and other facilities that accommodate meeting groups, a reflection of Colombo's growing popularity as a meetings city. Colombo hosted 23 meetings in 2016, nine more than in 2015, and thereby jumped from No. 182 to No. 111 in the ICCA rankings.
The city features several outstanding hotels, including the recently renovated Taj Samudra, with stunning views, 300 guest rooms and 100,000 sq. ft. of meeting space; Hilton Colombo, located in the heart of the city, and boasting 332 guest rooms and 20,000 sq. ft. of meeting space; and The Kingsbury Colombo, situated on the banks of the Indian Ocean, with 229 guest rooms and 30,000 sq. ft. of meeting space.
The much-anticipated, elegant Shangri-La Hotel, Colombo is slated to open later this year with 500 guest rooms and 48,438 sq. ft. of meeting space. (Shangri-La is also developing a second property, a 300-room resort in Hambantota, on the southern coast of Sri Lanka.)
"Sri Lanka is a country of unsurpassed natural beauty and rich in cultural heritage," says Greg Dogan, president and chief executive officer of Shangri-La International Hotel Management Ltd. "Both [new] Shangri-La hotels strategically fit into the group's ongoing expansion plans to link the Indian subcontinent and our Southeast Asia developments."
Intriguing convention spaces include Bandaranaike Memorial International Conference Hall, situated in the Cinnamon Gardens area of Colombo, with more than 16,000 sq. ft. of meeting space.
Groups find plenty of opportunities for unique experiences in Colombo. They can explore Talangama Wetland—an urban oasis with 100 species of birds, numerous species of butterflies and dragonflies—and take a train ride along the coast to Mount Lavinia Beach, one of the most popular spots on the island. The Mount Lavinia suburb is filled with great seafood restaurants and is named after Lovinia, a dancing gypsy girl who had a secret romance with one of Sri Lanka's governors.
Seema Malaka Temple, located on three island podiums on Beira Lake, is a Buddhist temple that provides a tranquil respite from the hustle and bustle of the city.
4. Ghent, Belgium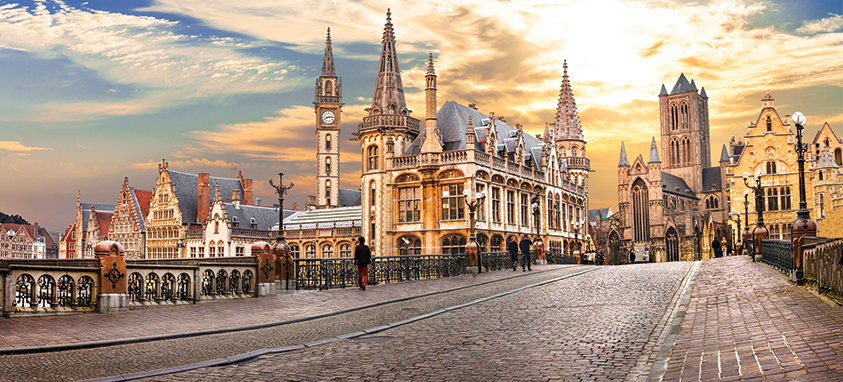 Downtown Ghent
This compact city features beautiful historic buildings, one of Belgium's largest harbors and internationally renowned Ghent University, which was founded in 1817. These and other features have made it an increasingly popular meetings destination. Ghent held 40 international association meetings in 2016 (No. 66 in the world), compared with 29 in 2015.
"A couple of years ago, we decided to focus on attracting conferences as part of our strategy," says Philippe Lefebvre, manager of Gent Congres, the local CVB. "Since we decided to focus on this, we have had better results. Also, we improved our supporting tools, such as our website—we will have a completely new version at the end of December—as well as bid books, brochures, etc."
The city has top-notch facilities for meetings. ICC Ghent-International Convention Center Ghent, located in Citadel Park (the city's largest park), offers 133,074 sq. ft. of meeting space. The chic NH Gent Belfort provides 174 guest rooms and 14,000 sq. ft. of meeting space. Sandton Grand Hotel Reylof, Gent—a grand, 18th-century, environmentally friendly hotel—has 158 guest rooms and 4,000 sq. ft. of space. Other hotels are in the process of being built, and Ghent hopes to have some 500 additional guest rooms within the next two years.
Arguably the most stunning and unique of Ghent's historic structures is Gravensteen, a 12th-century castle built for the count of Flanders. The castle has been restored to all its former glory after operating for a short time as a cotton mill. The fascinating, guided group tours bring the fabled history of the castle back to life.
Partershol quarter—the well-hidden home of many great restaurants, including 'T Klaverblad, which serves French cuisine—is the former location of leather tradesmen. The winding, cobbled lanes and tidy houses haven't much changed over the years and provide an excellent way to experience the Ghent of yesteryear.
One of the best ways for meeting attendees to immerse themselves in Ghent is through its F&B specialties. Must-try traditional Belgium offerings include Gruut beer, from a brewery is based in Ghent; stoverij, a hearty Belgian beef stew; waterzooi, a fish stew dating back to the Middle Ages; and, of course, chocolate. Belgium is world-renowned for its chocolates and those made in Ghent are arguably the best of the best.
5. Kobe, Japan
Port of Kobe
Situated 22 miles from Osaka and 46 miles from Kyoto, Kobe is a port city known for its signature marbled beef, stunning setting and one of Japan's oldest Shinto shrines, Ikuta Shrine, dating to the 3rd century. Visitors love the city's mixture of Japanese tradition and cosmopolitan vibe, and the Japan Tourism Agency (JTA) has recognized this appeal.
The JTA chose Kobe as a global MICE strategic city in 2013 and the city then strengthened Kobe Convention Bureau, began to exhibit in meeting trade shows three times per year and cultivated relationships with international meeting planners and associations.
"We try to flexibly act in order to realize what organizers would like to do whenever we receive requests from them," says Mika Kuroda, director of the CVB. "Recently, we had more chances to join bids, and it caused an increase of international meetings in Kobe."
The city hosted 21 international association meetings in 2016, a 62 percent increase from the 13 in 2015.
Kobe Convention Center became Japan's first convention center complex when it opened in 1981. It now contains Kobe International Conference Center, with a main hall for up to 692 people, a function room for 360 and 18 more meeting rooms. The convention center also features Kobe International Exhibition Hall, which has a convention hall for up to 4,000 people, and other areas that accommodate 4,000, 3,000 and 500 people.
The city has many prominent hotels. The 744-room Kobe Portopia Hotel contains Portopia Hall, with room for up to 1,702 people, and 36 banquet rooms. ANA Crowne Plaza Kobe features 593 guest rooms and 23 banquet rooms, with the largest providing 20,957 sq. ft. of space.
Kobe has plenty of unique attractions, including many sake breweries in the Nada District. The city was one of the first to introduce sake, and the breweries offer groups a chance to learn how it is made and taste it.
For many, a trip to Kobe would not be complete without a sampling of world-renowned Kobe beef. One option is to visit one of the many local cattle farms, where groups can learn how Tajima cows are raised and then taste the beef.
The city also boasts the world's largest suspension bridge, Akashi Kaikyo Bridge, with a span of 12,828 ft. Groups can participate in guided tours and climb the bridge, thereby gaining a 360-degree panoramic view.
6. Ljubljana, Slovenia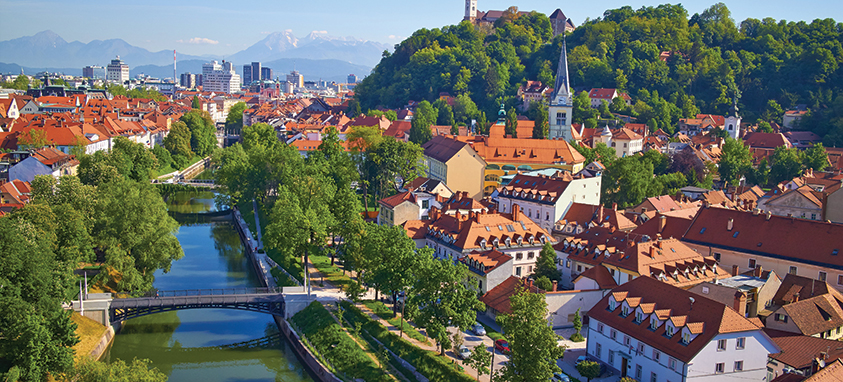 Aerial view of Ljubljana
Part of the lure of Ljubljana, situated halfway between Vienna and Venice, Italy, is that it is at the crossroads of different cultures, geographical regions and historical developments. The picturesque city features a relaxed atmosphere reminiscent of the Mediterranean and Central Europe. The city center, in particular, features outstanding architecture from different periods in history, most notably the Baroque.
Ljubljana, the capital of Slovenia, is a compact, vibrant and dynamic city with a fascinating history and a lively cultural beat. It has steadily grown, but has preserved small-town friendliness.
It's a two-hour flight from almost all major European airports and is a role model for sustainability. In fact, Ljubljana earned the prestigious title of European Green Capital 2016 from the European Commission, reflecting the city's dedicated efforts through the Vision Ljubljana 2025 initiative to pursue sustainability goals that ensure better quality of life for residents and visitors.
Ljubljana also boasts two convention centers within a 20-minute walk of historic Old Town and many hotels. CD Congress Centre offers 387,501 sq. ft. of meeting space, including 22 multipurpose halls and function rooms. Recently, the largest auditorium there, Gallus Hall, underwent a renovation that included installing new seating, and the second-largest auditorium, Linhart Hall, was refurbished.
Another popular facility, GR-Ljubljana Exhibition and Convention Centre, is comprised of 20 multifunctional halls that collectively offer 132,644 sq. ft. of meeting space, which is complemented by 95,196 sq. ft. of exhibition space.
One of the city's leading hotels, the luxurious InterContinental Ljubljana, is just a short walk from the River Ljubljanica and Park Tivoli. The property offers 165 guest rooms as well as 5,688 sq. ft. of attractive meeting space.
These attractions, facilities and accommodations have been catching the eye of meeting planners worldwide. Ljubljana hosted 54 international association meetings in 2016, 13 more than the previous year. Several major conferences with 500 to 1,500 attendees are on tap for later this year, including Lux Europa (Sept. 19–23) and UNESCO's 2nd World Open Educational Global Congress (Nov. 18–20).
7. Macao, China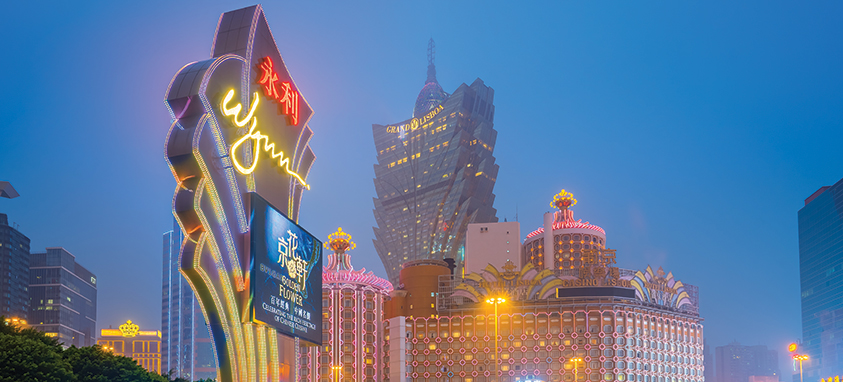 Macao skyline
Just 37 miles west of Hong Kong, the lively, visually stunning city of Macao (aka Macau) is becoming increasingly popular as a luxurious meetings destination. In fact, it jumped from No. 93 to No. 72 in the 2016 ICCA rankings by hosting 37 international association meetings, compared with 28 in 2015. According to Macao's Statistics and Census Service, 1,276 conferences were held in Macao in 2016, consisting of 693 corporate meetings, 336 organization and association meetings, 43 major conferences and 55 exhibitions.
"Efforts have been conducted by the government and private stakeholders to place Macao firmly on the map as a MICE destination, in line with Macao SAR's [Special Administration Region's] goal to develop the industry as one of the main avenues to diversify its economy," says Maria Helena de Senna Fernandes, director of the Macao Government Tourism Office (MGTO).
The MGTO has been involved in many international tourism association activities to help raise the visibility of Macao and to boost its reputation.
The rise in international meetings is also due in no small part to the efforts of Macao Trade and Investment Promotion Institute (IPIM), which became a member of ICCA in August 2012. Since then, IPIM has actively participated in ICCA activities and actively dialogued with meeting managers, professional meeting organizers and international meeting institutions.
Macao isn't exactly a hard sell. The city features a subtropical climate with a constantly blowing, cool breeze and a rich history, as reflected by its intriguing architecture and well-preserved Colonial buildings.
Groups enjoy visiting the Historic Centre of Macao, which is included in the UNESCO World Heritage List. Boasting a historic street, as well as residential and public Portuguese and Chinese buildings, the center "provides a unique testimony to the meeting of aesthetic, cultural, architectural and technological influences from East and West," according to UNESCO.
Perhaps Macau main identity, however, is as a resort city with luxury hotels and the world's largest casino gaming revenue. The Venetian Macao—a Vegas-style, Venice-themed property—is housed in a 39-story building and provides 3,000 guest rooms, 550,000 sq. ft. of casino space and 1.2 million sq. ft. of meeting space. The art-deco inspired Studio City Macau has 1,600 guest rooms, 106,000 sq. ft. of gaming and 43,056 sq. ft. of meeting space. The spectacular Wynn Palace Cotai Resort features 1,706 guest rooms, more than 200 table games and 20,000 sq. ft. of meeting space.
8. Stellenbosch, South Africa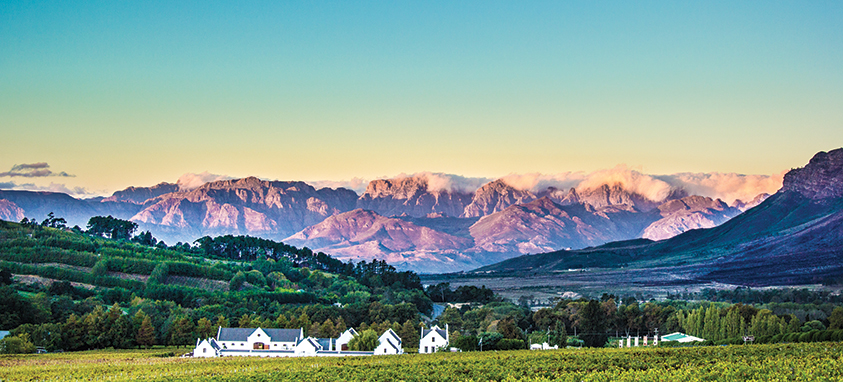 Vineyard at Stellenbosch winery
Stellenbosch isn't just about the wine, but it's a big part of its appeal. The city dates back to 1679, when the first vineyards were planted. The valley area now boasts 200 wine producers, making it the pulsating heart of South Africa's wine industry.
Many groups traverse the Stellenbosch American Express Wine Routes (formerly called the Stellenbosch Wine Route) to enjoy wine tastings and tours. Some of the wineries offer accommodations, picnic facilities, art galleries, amphitheaters and even wildlife experiences.
The city's rich, colorful heritage dates back to 1679 and is depicted in Cape Dutch, Georgian and Victorian architecture. One of the city's main attractions, Stellenbosch Village Museum, comprises four houses, each of which represents a different period in the history and development of Stellenbosch and its people.
Stellenbosch also features a collection of galleries and museums that house national and international art collections. The city draws artists from around the world, many of whom have put down roots there. Their work is on display in the many art galleries and on wine estates.
Groups frequent the city's more than 80 restaurants, offering virtually every conceivable cuisine, both in the town and on many of the wine farms.
Nature-lovers enjoy the many horse and cycle trails that meander through the coastal floral region known as Fynbos, with its mountains and vineyards. Also, Stellenbosch has three championship 18-hole golf courses and six more courses are within a 30-minute drive of the city.
One of the main hotels, The Spier Hotel, has 155 guest rooms and 17,000 sq. ft. of meeting space. It is a four-star property that also features a full-service spa and two restaurants.
Given these outstanding features, it's not surprising that Stellenbosch jumped 88 places—from No. 222 in 2015 to No. 134 in 2016—in ICCA's rankings.
The rise in popularity can be traced to 2011, when Stellenbosch Tourism and Information Authority and other key players launched a new, holistic destination brand—Stellenbosch 360—which has actively promoted the city as a premier events and conferences destination.
"Stellenbosch is the perfect example of a living conference, event and incentive destination," says Annemarie Ferns, CEO of Stellenbosch 360, the city's CVB. "We are aiming to be one of the top five meeting cities in Africa by 2018."
9. Uppsala, Sweden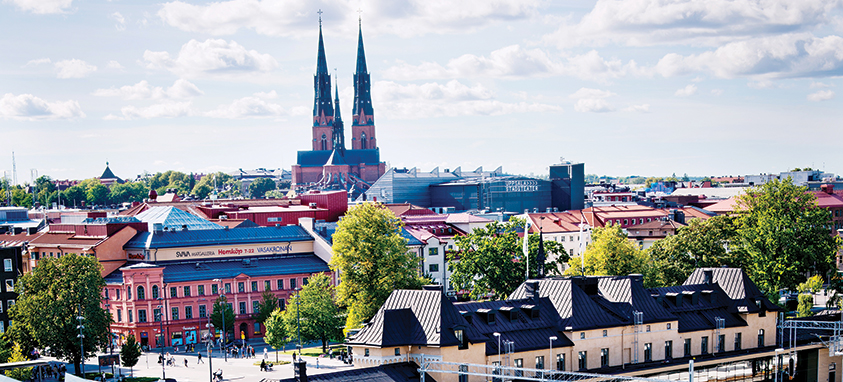 Downtown Uppsala
Traditionally, Uppsala has been known for prestigious Uppsala University, founded in the 15th century, and its many historical sites and structures. It now is trending as a very popular meetings destination, having hosted 46 international association conferences in 2016, compared with 29 in 2015, according to ICCA.
"We see an increase in meetings and events, and by looking at them in detail, understanding their origin and getting in contact with previous planners, we have been able to develop the local meetings industry," says Anna Lindstrom, director of Uppsala Convention Bureau.
Uppsala is Sweden's fourth-largest city, with a population of around 200,000. But groups often are struck by its compact, intimate nature.
Groups inevitably become fascinated with Uppsala's history and architectural treasures. The first stop often is the magnificent Uppsala Cathedral, which was consecrated in 1435, but evolved and was altered many times over the centuries. Guided tours in English are offered.
The former main building of Uppsala University is now Museum Gustavianum, which contains the university's cultural history collections, Museum of Nordic Antiquities, Victoria Museum (Egyptian antiquities) and Anatomical Theatre, as well as the spectacular University Art Collection.
The Linnaeus Museum—the former home of legendary botanist Carl Linnaeus—includes exhibitions that are dedicated to his scientific achievements as well as personal belongings, mementos, furniture and other items. The site also features Linnaeus Gardens, which he curated. Group tours are available.
One of the top hotels for groups, Park Inn by Radisson Hotel Uppsala, provides 95 guest rooms and five meeting spaces, the largest of which can accommodate 100 people. Radisson Blu Hotel, Uppsala features 185 guest rooms and its meeting facilities can handle up to 40 theater-style.
TESTIMONIAL: "When we were looking into Swedish venues for the 2017 Euro Fed Lipid congress, Uppsala was the logical choice for us. [It's] a friendly university town of the right size, easily accessible from everywhere, and with a congress center where we perfectly fit in."
–Frank Amoneit, managing director of European Federation for the Science and Technology of Lipids
10. Victoria, British Columbia, Canada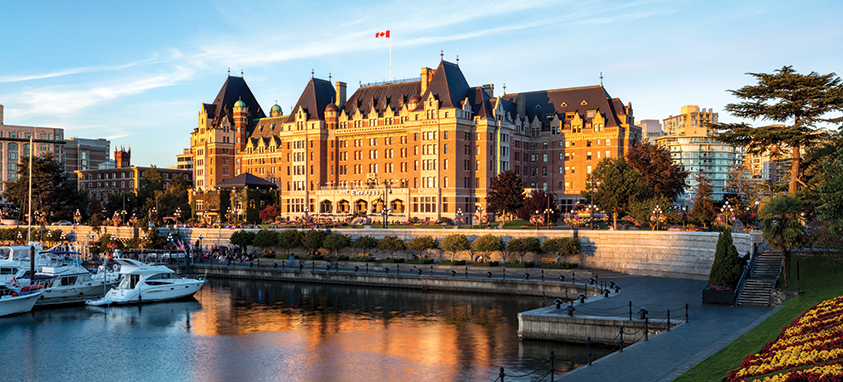 Inner Harbour
Victoria has a longtime reputation as one of the most beautiful cities in the world, and it is increasingly becoming a favorite of meeting groups, having hosted the eighth-most international association meetings in Canada in 2016.
During the past year, the sales teams from Tourism Victoria and Victoria Conference Centre have collaborated to promote the work of Business Events Victoria, which seeks to bring more meetings to the city.
Victoria offers several outstanding hotels, and many groups opt to stay at the world-famous Fairmont Empress, which has hosted royalty, celebrities and dignitaries from around the world since it opened in 1908. The hotel has been restored to its original beauty and features 477 guest rooms and 23,000 sq. ft. of meeting space. Fairmont Empress is attached to Victoria Conference Centre, which contains 73,000 sq. ft. of flexible meeting space, including 20 multipurpose rooms, a spacious exhibit hall and a 400-seat theater.
Two of the most unique experiences for groups are Afternoon Tea at the Empress (at Fairmont Empress) and a visit to Butchart Gardens.
"Home of the Empress cake, which showcases an extra-special customized chocolate developed by the executive pastry chef and experts in France, Afternoon Tea at the Empress is among the world's best unique tea experiences," says Miranda Ji, director of sales for Business Events Victoria. "Tea at the Empress is an absolute must-do event in Victoria."
The world-renowned Butchart Gardens, designated a National Historic Site, features a dazzling 55 acres of gardens year-round. Summer highlights include The Rose Garden, subtle light illuminations, a Saturday fireworks show and boat tours. In the fall, Japanese maples turn to russet, red and gold, and winter includes holiday decorations, expansive lighting and an outdoor ice skating rink. Spring features tulips, daffodils and hyacinths.