It started with a fluke, but Pete Sears and Hyatt have been purposeful ever since
Hometown: Carmel, Indiana
Occupation: Group president of the Americas for Hyatt Hotels Corporation
Family: Wife, Leigh; sons Charlie, 8, and Dylan, 6
Education: Bachelor of Science, Purdue University
It's funny how things come to fruition. If a certain hotel employee had shown up to work on the day a young Pete Sears sat eagerly awaiting his interview, he may have gotten the job, worked all summer and been on his way to a career as the executive vice president of a competing hotel brand. Or, he may have left that job at the end of the summer with a bad taste in his mouth, and returned to school with an entirely different academic focus in mind.
But the employee never came to work that day to conduct the interview Pete's uncle had arranged for him, so Sears, a college student in search of a summer job, left the lobby and walked into nearby Hyatt Regency Chicago. With no interview scheduled and no knowledge of a job opening, he approached the front desk, and 3 1/2 hours and several interviews later, walked out with a job that began the following day.
"It's like it was meant to be," a reflective Sears says. "It was fate."
Sears would spend the summer of 1986 as a front desk clerk at the hotel. When summer was over, he returned to Purdue University in West Lafayette, Indiana, where he earned a degree in restaurant, hotel, institutional and tourism management.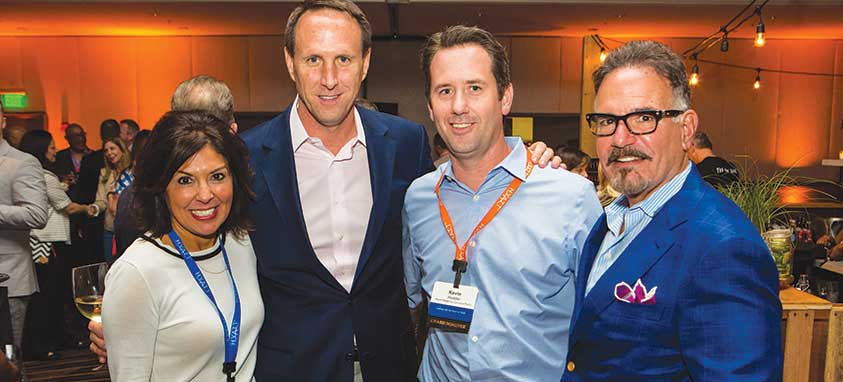 From left: Trina Camacho-London, Pete Sears, Kevin Hodder, Carlos Cabrera
The Making of a Leader
Sears is not one to boast about the impression he left after just a couple of months working at the front desk. But soon after he returned to school, his boss at the hotel contacted Hyatt's college recruiting team and insisted they find Sears and encourage him to interview for the corporate management training program. Before long, Sears was on his way to San Antonio to train.
"When I started as a trainee, my aspiration was to be a GM—which is an amazing job," Sears says. "It was the entrepreneurship and the opportunity to run your own business and impact your teams' lives—I moved fast and I moved a lot with Hyatt, and over time, those goals changed."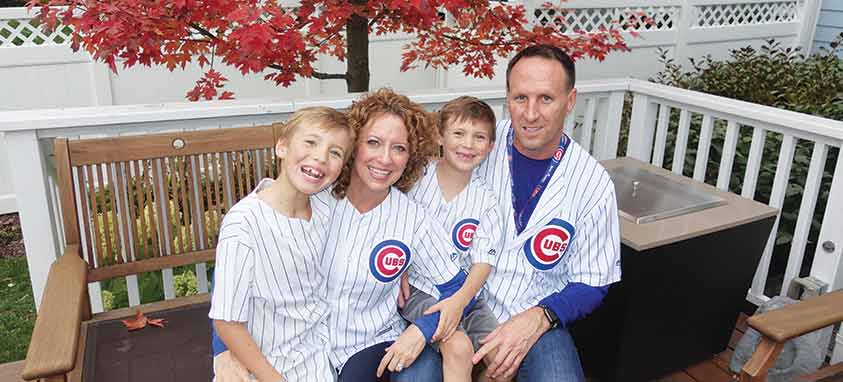 Sears with wife, Leigh, and sons, Charlie and Dylan
Despite being a public company, Hyatt is a "family-run company and a company of family," Sears says, which is why he, like many other Hyatt veterans, have never diverted from the brand.
"It's a business that's contagious, but a company with a unique culture of care and support," he adds.
After serving in general manager roles at Hyatt Fisherman's Wharf, Park Hyatt San Francisco, Hyatt Regency Orange County, Hyatt Regency San Francisco and Hyatt Regency Lake Tahoe Resort, Spa and Casino, Sears began moving up the ranks into roles with corporate. He eventually took his young family to Hong Kong to oversee operations in Asia Pacific. The opportunity, according to Sears, helped shape him into the leader he's become.
"When you're put into an uncomfortable situation where you know so little about the culture and the customers, you do a lot more listening and paying attention because it's all so foreign," he says. "That really honed my listening and my empathy skills."
Today, Sears works out of Hyatt's corporate office in Chicago, although his responsibilities often have him traveling all over the world to meet with hotel owners, discuss business strategy and inspect new properties. While there is no standard day-to-day schedule, two things remain consistent: He spends a lot of time in hotels, and he attends a lot of meetings.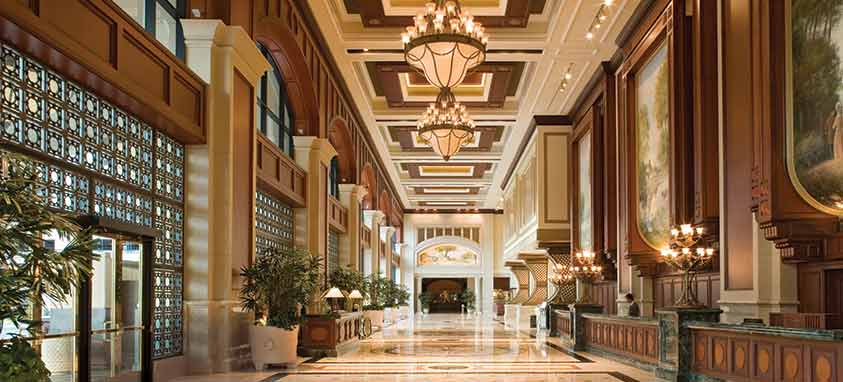 Manchester Grand Hyatt San Diego
Property Spotlight
Today, Hyatt Hotels Corporation spans 12 brands, offering more than 172,500 guest rooms in more than 36 countries. When asked to choose a favorite among them, Sears responded, "That's like asking me if I have a favorite child." After much contemplation, a few special properties came to mind—and, as with any good dad, in no particular order.
Among them is Manchester Grand Hyatt San Diego, which Sears helped with the completion of its construction and design. Only the third employee hired, he watched it come together into what is now a gorgeous, sprawling 1,628-room property—a role he jokes he was woefully underqualified for.
Also among them, for good reason, is Hyatt Regency Lake Tahoe Resort Spa & Casino. It's where his family vacations each summer; where he and his wife, Leigh, got married; and what he calls one of the most beautiful places in America. But the biggest reason? The staff.
"There's a lot of tenure on that team that makes it special," he explains. "They bring a passion and a love of Tahoe to work every day."
Sears is equally passionate about all the new and newly renovated properties in the pipeline. Having just returned from Hyatt Regency Los Angeles International Airport, he beamed about the property's great success story. Once a Hyatt and then de-flagged, it has returned to its former glory following a $75 million renovation, including a new conference center and one of the largest ballrooms in the L.A. area. Two new properties are giving Hyatt a boost in Seattle. A 1,200-room Hyatt Regency will open in 2019 next to the expanding convention center, as well as the new Hyatt Regency Lake Washington, which will offer more than 40,000 sq. ft. of meeting space.
Strategic Growth
As mergers and consolidations happen left and right, Hyatt's focus remains the same. Though growing steadily, every purchase is well-planned.
"We have 12 brands that line up end-to-end really well," Sears says. "They all offer unique experiences and there's no overlap in brands. We're not about growth for growth's sake."
Planners at the Forefront
The differentiator that keeps employees loyal to Hyatt is the same one that keeps planners and attendees coming back for their events: unique, authentic, individual care.
"In a world where hotel rooms have become commoditized, people are looking for unique experiences," says Pete Sears, group president for the Americas. "We focus on that more than anything, and we're uniquely positioned to deliver upon that."
Whether serving a frequent guest or one of 1,000 attendees at an event, Hyatt's goal is to connect in a way that leaves each person with special memories.
The brand's suite of planning tools helps planners carry out the same goal for their attendees, from an event's inception through its execution. After receiving feedback from different segments of the planning community, Hyatt launched Meetings on Demand in 2016 at 12 properties, with the goal of expanding globally in 2017.
Meetings on Demand allows planners to plan at their own convenience all in one place and with visibility into everything Hyatt has to offer.
The Event Concierge app allows onsite planners to communicate with the Hyatt team in real time electronically, so that every detail, from a temperature adjustment in a ballroom to adding extra chairs to a boardroom, can be communicated instantly to the appropriate person.
In 2015, Hyatt piloted the Event Planning Manager program for its largest customers, which essentially embeds a national planning manager into every event to better understand client and attendee needs to truly streamline the planning process. The program has since grown and is expected to continue to grow.