Improvements in platforms through mergers and launches make coordinating audiences easier
The partnership between legacy event experts Freeman Partners and startup streaming platform Hubilo announced today to create a turn-key solution for in-person and hybrid events is the latest example of how technology mergers, launches and alignments are advancing the options for meeting professionals looking to solve post-Covid challenges.
The gold ring everyone seems to be looking for is a one-stop shop for virtual, in-person and hybrid events that will arm planners with the flexibility to deliver whatever is the best platform on meeting day. For customers of Hubilo and Freeman that means one solution for custom branding, mobile-ready, personalized networking, break-out sessions, digital booths, virtual happy hours and no limits on attendees, exhibitors and sessions.
That same day, Bishop-McCann announced it was acquiring ONYX, a Kansas City meetings and incentive events company, the second acquisition for the global company that handles everything from event strategy, hotel procurement and event logistics to event technology, meeting measurement and experiential marketing.
Overall, hybrid technology has come a long way. Whether you are running parallel virtual and in-person events, year-round communities or something in between, the hundreds of companies that have grown in distinct niches over the last decade are starting to come together in multi-feature platforms.
However you meet, you will not be alone. The hybrid universe of in-person and virtual is estimated at $30 billion according to public documents from one of the industry's biggest public market debuts in 2021, Cvent Holding Corp. and Dragoneer Growth Opportunities' special purpose acquisition company (SPAC). The ubiquitous meeting technology provider went public with a valuation of $5.3 billion and the ticker symbol CVT for Cvent Holding Corp.
Industry watchers predict more of these consolidations could be on the way in 2022. As Smart Meetings Event Tech Correspondent Brand Krueger observed in January, "I think more companies will be looking to take on the likes of Cvent by becoming one-stop-shops for event management, registration, online/hybrid, audience engagement."
Following are some of the mergers and developments that advanced your arsenal of possibilities over the last year.
Read More: Asynchronous Hybrid Events: What Are They?
Merged and Enhanced
One of the first event tech deals of 2022 was the announcement in January that event platform MeetingPlay and meeting management SaaS provider Aventri were merging to create a full-service event software company under a new name to be determined in the coming months.
The deal, backed by a growth equity investment from Sunstone Partners and Camden Partners, is positioned as a blend of technology and service to close gaps in the planning process and deliver a full-service solution for meetings ranging from 100 people to more than 200,000.
New CEO Eric Lochner, who was previously president and CEO of Steele Compliance Solutions, saw the combination as a benefit for meeting professionals looking for seamless solutions.
The two companies powered a combined total of more than 50,000 events each year for more than 10,000 companies and 7 million attendees. Washington D.C.-based MeetingPlay has been developing its virtual and hybrid technology for more 10 years. Joe Schwinger, co-founder and former CEO of MeetingPlay, shared with Smart Meetings in November that he was focused on enabling meaningful interactive content on all platforms with robust reporting. Features include onsite bade-printing, turnkey digital signage and session tracking software and a mobile app that connects seamlessly the virtual platform. He will remain with the company in an executive role.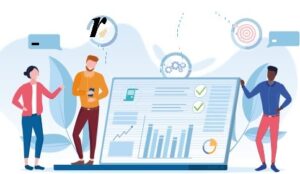 Aventri, which was founded in 2008, had grown into a global provider of data-driven solutions for event sourcing, marketing, registration, onsite technology, data security and reporting.
Healthcare intelligence company BroadcastMed acquired virtual event company Digitell at the end of 2021. The OPUS DX platform Digitell developed was seen in action at the 2021 Event Tech Live awards. The merger will enable BroadcastMed, which is backed by 424 Capital, to serve its audience of 1.7 million healthcare professionals with now options for event curation and exhibitions
Intrado (now Notified) acquired event management company Hubb in August, 2021. The merger of the Apollo Global Management affiliate and the Vancouver, Washington-based start-up will make collecting, managing, and marketing event data more efficient by creating an end-to-end solution for in-person, virtual and hybrid events.
"It will…accelerate the development of Intrado's self-service virtual event offering," said Notified President Ben Chodor.
Year-round engagement platform JUNO raised $3.5 million of seed round investment in August with an eye toward beefing up AI-powered collaborative learning opportunities through CONNECT.JUNO. The San Diego, California-based company also announced a partnership with PCMA in November at IMEX to power that organization's year-round engagement.
"Our clientele continue to move past one-time events to annually recurring contracts," said Josh Hotsenpiller, co-founder and CEO of JUNO in a statement.
In July, 2021, Hopin, an investor darling in the vitual events space, acquired Attendify. It was the London-based company's fifth acquisition of the year and was focused on enhancing engagement data monitoring and tracking.
Also announced at the beginning of 2022, was an alliance of event management software provider Cadmium and event production company INSPIRE. They formed a strategic partnership that will give INSPIRE customers access to Cadmium's registration, speaker and exhibitor management, a mobile app and learning management systems. In turn, Forest Hill, Maryland-based Cadmium will refer clients in need of a trusted event solutions provider directly to Dallas, Texas-based INSPIRE. 
"Our goal is to improve efficiencies in the event planning process…we can create simpler experiences for our clients," said Cadmium CEO Jim Obsitnik.
Bizzabo has been improving on the streaming model since it was founded in 2011 by CEO Eran Ben-Shushan and CMO Alon Alroy. The company now based in hubs in New York City; Tel Aviv, Israel; Kiev, Ukraine; and London, United Kingdom, offers what it calls an Event Experience Operating System, an open platform that provides enterprise infrastructure, hardware and software for experience-centric event management. Last year, Bizzabo acquired x.ai and Whalebone to offer AI-powered personalized engagement and networking experience.
Alroy is trying to solve for the lack of a standardized system wherein all foundational and instrumental features are fully compatible, yielding incomplete and inconsistent data reporting on how events are contributing to critical business outcomes. Event Experience acts as a digital forum through which data can flow in real-time between Salesforce, Stripe and Marketo—outside applications that can be seamlessly brought in to expand upon the platform according to individual event management needs.
Moments Creation allows meeting planners and attendees to customize their own experiences. The built-in modules' management features include marketing, sponsor management, content creation, broadcasting and attendee engagement. From the command center, the operator has a single access point to their entire "event universe." And in the command center, you'll find metrics such as engagement trends, speaker and sponsor confirmations, attendee insights and projected business outcomes.
Read More: West Hollywood Takes to Virtual, Sees Amazing Results
Companies to Watch
Splash launched Splash Studio to the power to design and execute events that can easily be adapted to whatever format is optimal at the time. The New York City-based company incorporates native live streaming in the platform without the need for additional software or subscriptions. New engagement capabilities include Q&A, chat, polling and networking hubs. Data syncs back to existing CRM and marketing automation systems.
Bravura Technologies launched Bravura Flex at IMEX in November, 2021, with touchless kiosk, appointment management, housing, exhibitor services and an integrated mobile app for live, sumulive and on-demand sessions. The New Jersey-based company has been in the space since 2006 and has served more than 2 million users at more then 2,000 events.
Array, a leading content engagement solution for life sciences events such as investigator meetings, medical advisory boards and continuing medical education symposia released a new proprietary scoring methodology in April, 2021, that allows organizers of life sciences events to evaluate audiences' level of engagement with their content and presenters. The company has now surpassed 1,500 virtual events facilitated.
"Scoring is part of an overall strategy to help life sciences companies benchmark the effectiveness of their events and improve over time," says Jeannie Griffin, Vice President of Product Management for the Denver-based private company.
Chexology, which was featured on the show Shark Tank, launched ChexPass in October, 2021, the first-ever NFC-enabled claim ticket for Apple Wallet and Google Pay. It allows contactless tracking at the checkroom and reduces wait times at the beginning and end of a show when people are dropping off and picking up their coats by 20 percent. No more fumbling for a paper claim ticket, or worse, describe what their item looks like. They simply tap their phone to the NFC reader to pull up their profile so attendants can retrieve their items.
The "tap and go" technology is part of a partnership with Live Nation Entertainment, Big Night Entertainment Group, The Bowery Presents, I.M.P. Concerts and House of Blues.