Last year, Paolo Kespradit found himself in a bind. Covid-19 hit West Hollywood, California, affecting more than 36,000 residents, causing business to shut down and forcing city hall to shutter operations, cutting off communication to the community—and the only means its citizens had to give input on city issues.
Kespradit is a management analyst for the city, which entails working closely with city council to bring its ideas to life. With everyone sheltering in place, the city needed a new outlet to speak to its community and stakeholders.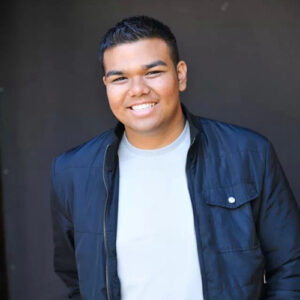 In June 2020, Kespradit and his team introduced a Covid-19 webinar series to cover topics like safety and sanitation protocols, and unemployment assistance, via livestream with Q&A.
Meetings that usually saw 50 people in person on a good day began to see upwards of 300 people during these live webinars—a 500 percent increase. "Never [had] we seen this level of reach before—not from our community nor city council meetings!" Kespradit enthused. He also noticed there were double the number of people interacting during the Q&As, compared with the city's in-person events, which could be credited to lessened fear of speaking in front of a virtual audience.
Seeing the great response, the team increased these webinars from one to two per week, resulting in 29 webinars in 12 months, all via virtual platform Livestorm. "This pandemic caused a lot of consternation and heartache, but what propelled us was the gratitude we got from the public after each of our webinars," Kespradit says.
Waves are being made with other digital platforms, too. Hubilo Technologies Inc., a virtual and hybrid event technology company that prides itself on its ability to engage attendees, claims more than 100 million event engagements in 18 months during more than 6,000 events around the world, through incorporating "activity-centric" elements such as one-on-one lounges and gamification.
"Nearly all virtual meeting and event platforms were built simply to connect people, not to engage them, whereas fostering connections is [our] core," says Vaibhav Jain, CEO of Hubilo. "Its technology enables everyone to plan and execute flawless events and attend from anywhere."
Although restrictions for live events are slowly easing, West Hollywood plans to keep using Livestorm to for at least one webinar per month. "People enjoy the platform and communicating with us. As we continue with this pandemic, there are still a lot of hot topics to cover, so we will definitely continue using Livestorm to host webinars for the city," Kerpradit says.
This easing involves the comeback of in-person meetings, but a merging of live and virtual may be in West Hollywood's future; Paolo says the city is in the early stages of looking into what hybrid-style webinars will look like. "We are exploring options for how we can integrate our existing technology and services to allow for another avenue of community engagement," he says.
"The opportunities for engagement are vast, helping us reach 500 percent more people than in-person events," he adds. "We're able to provide a lot of value to our community that we wouldn't have been able to do otherwise with another platform."