Hotels and convention centers are pushing green meetings standards ever higher
Gone are the days when a collection of recycling bins could pass for a sustainability program. Having long passed the buzzword phase, environmental responsibility concerns now permeate the business landscape, including the meetings and events industry. In the current climate, wastewater reuse and compost bins are merely signs of a venue keeping pace with eco-conscious practices, not setting trends.
Staying ahead of constantly evolving sustainability standards requires a dedicated effort, particularly in the world of meetings and events, where large-scale, off-site gatherings can test the limits of efficiency and conservation. Some hotels and convention centers employ entire teams to lead their properties toward greener pastures. The results of these eco-focused efforts include creative solutions such as a comprehensive waste diversion policy, rooftop solar arrays and programs to protect and rehabilitate the local environment.
Conserving energy and resources saves money—lots of it, over time. But being green attracts business, too. The most committed venues, such as 1 Hotel South Beach in Miami, are harvesting the fruits of a tightly managed resource stream while simultaneously attracting notice from eco-savvy planners. "Our brand ethos of eco-consciousness and sustainability aligns with many companies that are aiming to do the same," says Dilip Mukundan, the hotel's director of sales and marketing. "We're planting seeds with these companies, whether they are startups that already practice eco-friendly initiatives or companies looking for ways to start."
Planners who want to boost the sustainability quotient of their next event can confidently choose any of the green meetings superstars highlighted here. Each one carries a deeply rooted commitment to eco-consciousness, and a virtual guarantee that your event will thrive where it's planted.
Scalable Sustainability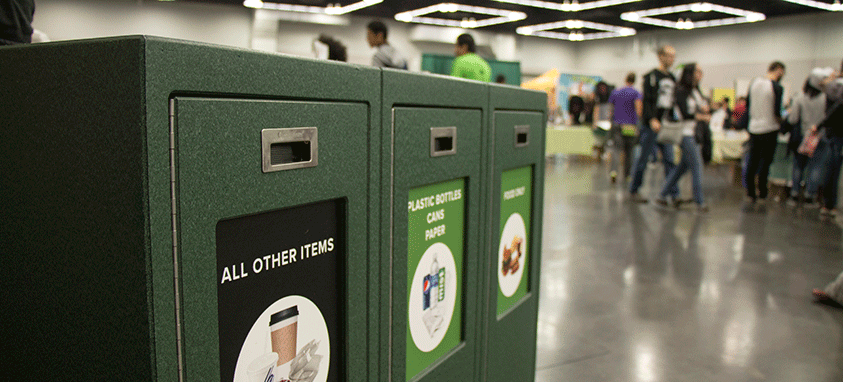 The strengths of massive facilities are typically measured in flexibility, capability to accommodate large crowds, diversity of viewpoints and potential for inspiration—not in terms of sustainability. But when venues achieve the logistical mastery necessary to minimize the environmental impact of hosting tens of thousands of conference attendees, the industry, and the planet reap significant returns.
A longtime standard-bearer in the sustainable meetings arena, Oregon Convention Center (OCC) loves to keep upping its game as a green leader in Portland, one of America's greenest cities. In 2004, it became the first convention center in the world to earn LEED certification. Ten years later, the facility achieved LEED Platinum certification, the highest level awarded.
The leap is a product of OCC's never-ending mission to reduce its environmental footprint. Sustainability programs become opportunities to show how staff, clients and visitors can work together to increase environmental responsibility.
The OCC staff takes the lead in helping clients navigate the procedures and policies unique to the site. "Because there are so few convention centers that hold clients to such high expectations, the learning curve can sometimes feel quite high," says Sustainability Coordinator Ryan Harvey. "We try to stay ahead of possible issues and confusion [by having] as much communication as possible. Our hope is that by educating event planners, decorators, exhibitors and the public, we can create the systemic change our industry so desperately needs."
For example, in 2016 the facility launched a waste diversion policy—the first of its kind for a United States convention center—to limit the amount of material brought in and left behind. Prohibited items include foam-core signage, helium balloons and plastic bags; the must-recycle list includes glass, plastic and metal containers, kitchen grease and Styrofoam; and any equipment, carpets or pallets brought in for an event must be packed out at its conclusion.
The policy, which is mandatory for contracted events, distills the overarching sustainability philosophy into checklist form, yielding tangible results.
"In 2016, 84 percent of shows were found compliant, and it is looking to be even better this year," Harvey says.
Additional large-scale sustainability initiatives at OCC include a rooftop solar array with more than 6,500 panels, which provide up to 30 percent of the facility's power. A rain garden and updated restroom fixtures aid in water conservation, while donating reusable goods and excess food to community organizations further reduces waste.
OCC offers more than just high marks for environmental awareness. The Pacific Northwest's largest convention center, it boasts 255,000 sq. ft. of contiguous exhibit space, two grand ballrooms measuring 34,200 and 25,200 sq. ft. respectively, 50 meeting rooms and a $2 million art collection that adorns lobbies and public spaces.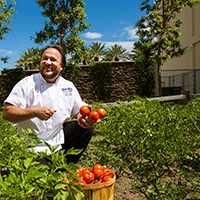 About 1,000 miles down the coast from Portland, San Diego's casino with a heart of green, Harrah's Resort Southern California, heats guest-room showers and a large onsite pool using energy derived from a 5.5-acre solar field. The CodeGreen sustainability initiative enacted across all Caesars Entertainment properties, including Harrah's Resort Southern California, aims to reduce water, energy and waste consumption through innovative solutions and community outreach. For example, the resort has donated more than 7,770 bars of recycled guest-room soap to impoverished families in the Philippines since 2016.
Groups gathering at Harrah's can make use of 39,000 sq. ft. of meeting and event space, a 2,200-seat concert venue, the 5,162-square-foot Pavilion Ballroom and Poolside at Harrah's, an outdoor space with multiple pools and cabanas, accommodating up to 275.
Sustainability might be in the DNA of the West Coast, but how about the middle of America? In Chicago, Carl Sandburg's City of the Big Shoulders, Hilton Chicago is housed in a 90-year-old Michigan Avenue building overlooking Grant Park. It is one of the largest hotels in Illinois. With 1,544 guest rooms and 234,320 sq. ft. of meeting space, the property has adopted a wide-ranging approach to operating sustainably at scale.
A cool-roof system, property-wide digital temperature controls, exhaust-minimizing kitchen hoods, glass water bottles, locally sourced ingredients, and robust recycling and composting practices are all part of the program. The heightened state of eco-consciousness affirms Hilton Chicago's status as a premier modern meeting venue, while preserving its historic ambience.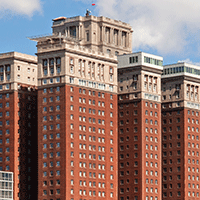 Meetings at Hilton Chicago have become greener thanks to specialized online tools. Hotel staff and meeting planners use GetPlanning as a centralized online hub for the paperwork generated by the planning process. Having updated contracts, documents and itineraries easily accessible at work and on the go drastically reduces the need for printed materials.
Printed event programs and agendas also become superfluous with the help of Hilton Chicago's onsite audiovisual partner, PSAV, which offers customized mobile apps for attendees. Groups can even track their event's carbon footprint online via Hilton's Light Stay feature, as well as receive real-time education on the impact of attendees' choices.
Eco-Friendly Oases
Groups flock to the special places on North America's Atlantic and Pacific coasts to revel in their marine environments, and so it is no surprise the best seaside hotels show an active interest in maintaining the splendor of their surroundings. The fact that their environmentally conscious practices attract like-minded meeting groups is an added bonus.
Take 1 Hotel South Beach, for example. Even at first glance, it's obvious this property is a standout among Miami Beach's sleek, sophisticated hotels. But a closer look reveals a fundamental commitment to creating a healthy environment that enhances guests', as well as the Earth's, well-being.
"The daily operation of the hotel has been carefully orchestrated to minimize its footprint by leveraging local resources, conserving nonrenewable resources, mitigating paper consumption and reducing landfill waste," Mukundan says. "Materials for construction and furnishings are regional, reclaimed or repurposed, whenever possible."
The 425 guest rooms and more than 100,000 sq. ft. of indoor and outdoor meeting and event space feature eco-conscious decor and amenities such as hemp blend-filled mattresses, reclaimed driftwood door handles, walls covered in living greenery and a signature sculpture made of 7,500 pounds of local Florida coral.
Also, 1 Hotel South Beach offers a Meaningful Meetings program complete with Zen- and creative-focused itineraries to help attendees stay mindful and present. A Spartan Gym, Bamford Haybarn spa and a vegan restaurant housed in the hotel's brand-new 20,000-square-foot wellness wing can also be utilized by meeting groups.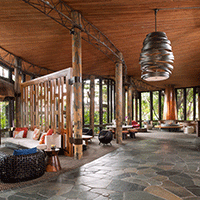 On the opposite coast, green initiatives are front-and-center at Paradise Point Resort & Spa, located on a 44-acre island in Mission Bay, minutes from downtown San Diego. The property's Eco Alley highlights recycling and composting processes to illustrate Paradise Point's active efforts to reduce its environmental impact. Eco Alley gives hotel guests a rare glimpse of sustainability in action, as well as tips for bringing eco-friendly behaviors into their own homes.
The display isn't just for show. In 2015, recycling diverted a whopping 75 percent of the resort's total waste, which otherwise would have gone to landfill.
Paradise Point is not only one of San Diego's greenest hotels: It's also one of the city's largest conference venues. The property offers more than 81,000 sq. ft. of indoor and outdoor meeting and event space, accommodating up to 1,100 attendees. Its 32 meeting and banquet rooms include eight executive boardrooms with accompanying kitchenettes.
After hours, attendees can enjoy a meal at one of the resort's five restaurants, unwind at the award-winning spa or squeeze in a blood-pumping water sports session at the full-service marina.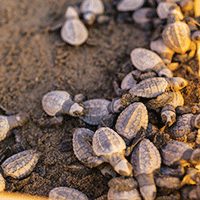 Some of meeting professionals' favorite West Coast venues are further south, in Mexico. Happily, eco-consciousness does not stop at the border. Nine miles of wooden pathways wend through the 2,500 acres comprising Vidanta Nuevo Vallarta resort complex.
The resort includes five hotels containing more than 2,200 guest rooms, 27 pools, a mile-long beach, and golf courses designed by Jack Nicklaus and Greg Norman. The opulent property, located 13 miles northwest of Puerto Vallarta, also boasts EarthCheck Gold certification.
Sustainability minded practices run the gamut, from treating golf courses with organic fertilizers made from composting to supplying the resort's 38 bars and restaurants with 100 varieties of produce grown at Alma Verde, Vidanta Nuevo Vallarta's own organic farm.
Vidanta Nuevo Vallarta hopes to expand its meetings and events business via the latest addition to the complex. May marked the debut of Grand Vidanta Convention Center, spanning more than 50,000 sq. ft.—including four ballrooms measuring more than 8,000 sq. ft. each—with space for more than 2,400 attendees.
Designed to resemble a palapa and featuring lush gardens and a towering 207-foot-tall entryway ceiling, the new facility seamlessly unites modern meeting space with the aesthetic of an oceanside paradise.
Ripple Effect
Sustainability programs deliver results that affect the planet, the properties involved and the places they call home. Here are a few examples of how eco-conscious practices reverberate across local neighborhoods and environments.
In 2014, Hilton Chicago began partnering with Windy City Harvest, which offers Chicago students a nine-month internship in sustainable horticulture and urban agriculture. Hilton Chicago helps area students learn business skills and farming techniques, and rakes in a bounty of locally grown produce for its culinary team.
At Oregon Convention Center in Portland, waste is the enemy. Community partnerships divert surplus materials that even the venue's proactive waste reduction policies cannot eliminate. In 2016, the facility donated 21 tons of usable items to local charities, and 23 tons of food to the Oregon Food bank and local nonprofits.
"We recognize that we are in a unique position to serve Oregonians in lots of different ways," says Sustainability Coordinator Ryan Harvey.
The coastal-chic beach resorts along Mexico's Pacific shores attract eager seaside revelers and adventurers aplenty. At the same time, their presence displaces native plants and animals. Vidanta Nuevo Vallarta offsets this loss of habitat by rescuing and relocating disturbed flora and fauna. Since 2012, the resort has protected and released nearly 1.3 million baby sea turtles, including more than 288,000 in 2016.